On Shed February 2015 Edition.
" Preserving the steam locomotive legacy.. and more..on film"
Front Page

People's Republic of China Diaobingshan city, Liaoning province, the eighth International steam locomotive tourist Festival.(c)JIANGLILY on Steam Tube.
Contents:
Welcome..and news…
Steam Tube Photographic Highlights
Steam Tube Video Highlights
Steam Tube Blogs (Huntley's Film Archives)
100 Trains….the journey so far….
Tornado…The Story so far…
New & ReBuild News.(Hengist, Unknown Warrior.. Miller Project)
B & O Railroad Museum TV:
A-Z Great Railway Engineers (L)
Mainline Steam Schedule
On This Day in History.
Radstock to Frome Railway Project
Christian Wolmar…
Around the World in 80 Railways. (No 54:Bulgaria/Greece)
WATTRAIN , APHTRO
30742 Charters
Welcome..and news…
A warm welcome to this February 2015 edition of On Shed.
From this edition, "On Shed" will be published on WordPress…hopefully you will be able to see the difference! And, as ever, no charge to enjoy the contents, in the main contributed by Steam Tube members ( now numbering 1,486!)….
Although a traditionally quieter time of the year, when there is little mainline steam activity..and most heritage lines are closed to enable essential maintenance to their respective infrastructure and rolling stock, there was still a good supply of photographs and videos…
Amongst these, some memorable..and very cold looking(!!) shots from JIANGILLY of Chinese steam…and Tony Wood's photographs in Ropley Shed on the Mid Hants (Watercress) Line.
Rebuilds and newbuild news is also here… if you know of any projects that could do with some support/mention here, please let us know…..although, of course, you could always set up a blog on Steam Tube if you are closely involved with a project.
So, on to this edition…..Enjoy!!
Steam Tube Photographic Highlights
Steam Tube Video Highlights
Steam Tube Blogs 
BRESSINGHAM STEAM MUSEUM AND SOCIETY NEED MORE VOLUNTEERS
Are you interested in our industrial heritage? Do you like trains? Have you been thrilled by the sight of a steam locomotive passing you by, or the power of a traction engine working at a rally? Do you have time to spare – weekdays or weekends, summer or wintertime?
If the answer to these questions is yes, then Bressingham Steam Museum could use your time and effort!
Tucked away on the Norfolk / Suffolk border near to Diss, Bressingham boasts a collection of steam engines and industrial artefacts not found in many other places. And this is not the whole picture; it's prided itself on being a family friendly venue and a great day out for young and old for years. It offers something hard to define but almost unique.
Bressingham is a registered charity and makes no profit from its activities but invests all income into the preservation and maintenance of our steam heritage. It receives no funding or assistance and is entirely self supporting. There is a small team of paid staff but since the 1960's it has relied and survived on the dedication of volunteers, who get involved in everything from administration and publicity to hands-on work repairing and maintaining the site, engines and other attractions, the miles of track or even driving the trains! However we never have enough people to cover all the work that needs to be done. The volunteers' support group – Bressingham Steam Society – is looking for more recruits! With more hands doing the many jobs required then we can maximise the attractions on offer to our visitors during the high season. If you like the idea of working in such an environment then WE WANT YOU! No prior experience or skills are required but if you do have them, all the better! The workforce at Bressingham is very welcoming and full training, including health and safety, will be provided.
If you're interested please get in touch –
· Visit our main web site at www.bressingham.co.uk and click on the volunteers' page
· Tel. 01379 686900
01379 686900
· Or email (headed VOLUNTEERS) info@bressingham.co.uk
Adrian's book published
Hello steamers!
In 2013 my 'Great Western's Last Year' was published, a book containing much proper history and amazing feats of railway work, all drawn from GWR records. The archive I had collected , a pile of folders about 2ft 6″ high, which I drew on for the 'incident' stories, I have handed over to the Great Western Society. This I intended to be my last book. But then a friend who lives in my old village of Childrey, Berks, sent me a picture of the bridge Network Rail have erected over the four tracks at Challow, replacing the 1934 bridge which carried the A417 over the tracks and platforms. He only foto'd the view taken from the tarmac but that was very horrible. I don't know why the work was done, I'd have thought the 1934 bridge was high enough for the catenary. Anyhow, the picture made me realise the uglyness that was to be imposed of the GWR main line also that I had always promised myself that I would write a book about "my" railway: Steventon to Wootton Bassett .
So now, today, Wednesday 28th January 2015, the results of my labours are available to anyone who is interested. 'Railways Through The Vale of The White Horse, 50,000 words and 200 pictures. £16.99. Any kind soul who'd like to do me a favour can order one from me, signed.
Now I am going to pick up the thread of the joint autobiography of my wife and I, from when we met in 1970, through to leaving BR(WR) in 1975 and going to restore an ancient cottage in Co.Kerry. The book will conclude with our departure from Kerry in 1982. After that I came to live in North Norfolk and adopted the M&GN – a railway I had never heard of and so I was very interested. I have written about 55 quarterly articles on the history of the M&GN and am still a volunteer signalman. In 2015, just turned 1974 and thus into my 75 year, I am happy still to be a signalman on the NNR, 27 years service. I'm looking forward to seeing this D49 'Hunt' class 3-cylinder 4-4-0 coming to the NNR in about 3 weeks.
Tornado…The Story so far…

 


Steam Tube's Log of Tornado's Career to date….

.

http://steamtube.ning.com/profiles/blogs/the-tornado-effect-the-story
Latest News: http://www.a1steam.com/index.php?option=com_content&view=category&layout=blog&id=1&Itemid=123
100 Trains…. The Journey So Far
Join Iain on his virtual train trip "Greatest Train Journeys In The World"
…..
HERE
and at  www.100trains.com.
 



New & ReBuild News.(Hengist, Unknown Warrior.. Miller Project)
"Hengist" – latest news here..http://www.72010-hengist.org/
LMS Patriot Project

We have now reached a major turning point in the construction of 'The Unknown Warrior's' chassis, with a change in emphasis from manufacture to assembly. Much still needs to be done but with the last of the major castings now complete we are turning our attentions to the myriad of smaller parts which will be required.
Read more about 2014 review – HELP US FINISH THE JOB
Project Miller
41001 Returns!.

Project Miller has been announced as winner of the MORTON'S MEDIA (RAIL EXPRESS MAGAZINE) MODERN TRACTION AWARD for "The overhaul of the prototypes of arguably the most successful form of British traction ever, in the form of the prototype High Speed Train power car, which has recently hauled a production Class 125 set on the Great Central Railway (Nottingham)."

Denmark
Help The Danish Railway Series & D 825 "Dagmar"
Organizer: The Danish Railway Series Beneficiary: Supporting the restoration of D 825 and The TDRS The Danish Railway Series want to support the restoration by donating 60 copies of two books that the TDRS are making for this project. The problem is that the TDRS can't afford the books.. – See more: HERE


US
Union Pacific Big Boy 4014



Latest News..and Video..HERE.
 The Pennsylvania Railroad (PRR) T1 Steam Locomotive Trust



More information at: http://prrt1steamlocomotivetrust.org/news.php


Chesapeake & Ohio 2-6-6-2.


Photo courtesy B & O Museum
Large Steam Locomotive of the East #1309 is transferred to Western Maryland Scenic Railroad for restoration and operation
Latest News…on Facebook


Australia
Project 6029 (Beyer Garratt 6029 ex-NSWGR) Up to date information regarding the restoration of steam locomotive 6029 in Canberra, ACT Australia. Beyer Garratt 6029 is an EX NSWGR locomotive and was a member of the largest, and most powerful class in Australia. The restoration to full working order is being undertaken by volunteers in Canberra.
Latest news at: http://blog.project6029.com/
Latest News: http://www.vicsteam.com/
B & O Railroad Museum TV:
Each month the B&O TV Network, starring actor Michael Gross, spotlights a moment in B&O Railroad history. Take a journey into the past and view one or all of these episodes posted on YouTube.
A-Z Great Railway Engineers(P)
Carl Abraham Pihl, Norway, developer of the CAP Spur alias Kapspur
Carl Abraham Pihl (16 January 1825 – 14 September 1897) was a Norwegian civil engineer and director of the Norwegian State Railways (NSB) from 1865 until his death. Pihl was one of the main architects of the use of narrow gauge railways in Norway.
Since he was the most prominent railway engineer in Norway at the time, he was hired in 1856 to work on the projects for several of the early railways in Norway, the first being the Kongsvinger Line, the Hamar–Grundset Line and the Trondhjem–Støren Line. In 1858 the office of Statens Jernbaneanlægs hovedkontor was created to manage the state railways, and Pihl was hired as its director
When building the Norwegian Trunk Railway (1850-1854), Robert Stephenson built the line in accordance with British standards of standard gauge and overdimensioned bridges and curves. This line was very expensive; Pihl argued that narrow-gauged railways would be less expensive to construct. After studying foreign designs, C. W. Bergh initially concluded that 3 ft 4 in (1,016 mm) would be suitable, but Pihl argued for extra width and opted for 3 ft 6 in (1,067 mm). Through his influential position in the department he convinced the politicians that all new railways should be built on the narrow gauge—except those that would connect with the Swedish system, where standard gauge had become the norm. During the railway construction boom of the 1870s and 1880s all but the Kongsvinger Line, the Meråker Line and the Østfold Line were built with narrow gauge, leaving Norway with two incompatible systems.
At the time it was not considered probable that the railway system would become connected, but by the turn of the century large-scale projects like the Bergen Line and the Sørland Line were connecting all the isolated railways; transshipment costs were becoming a drain on resources for the railways and all narrow gauge lines were either closed or converted between 1909 and 1949, at a cost many times larger than the initial savings of building them narrow. During the 1880s the issue of gauge reappeared, with the majority recommending the broader gauge; it was soon shown that standard gauge railways built to the same specifications as the narrow gauge could be constructed at the same cost.[4] Pihl commented in his late years that while he realized that the narrow gauge had become outdated, at the time it had been a choice between building narrow and cheap, or not building at all.[4] The final death of the narrow gauge came the year after Pihl died, when parliament decided to build the Bergen Line as standard gauge.
Livio Dante Porta (Arg)
Livio Dante Porta (March 21, 1922 – June 10, 2003) was an Argentine steam locomotive engineer. He is particularly remembered for his innovative modifications to existing locomotive systems in order to obtain higher performance, energy efficiency and reduced pollution. He developed the Kylpor and Lempor exhaust systems. The Lemprex was under development at the time of his death.
Naturally Porta's first projects were in Argentina. Taking the work of Andre Chapelon in France as his starting point he set out to show that the steam locomotive was far from reaching its maximum potential. His first locomotive project in 1948 took the remains of a metre gauge 4-6-2 converting it into a 4-cylinder compound 4-8-0 named 'Presidente Peron'/'Argentina'. This machine, Porta's first project, still holds a number of locomotive efficiency records.
Porta moved to Patagonia in 1957 as general manager of the Red de Ferrocarril Industrial de Rio Turbio coal railway (Ramal Ferro Industrial Río Turbio) in Río Turbio; his work allowed the steam locomotive fleet to remain in service for another 40 years. In 1960 he returned to Buenos Aires to become head of thermodynamics at the Argentinian National Institute of Technology (INTI).
Porta continued advancing steam technology right up to the time of his death: from the mid-1990s he worked for the Cuban Sugar Ministry (Minaz) on locomotives using new fuels such as bagasse; he also considerably influenced most if not all of the more recent steam projects worldwide, notably those of David Wardale  and the 5AT Project, and Phil Girdlestone,…
George Mortimer Pullman,(US) Pullman Palace Car Company USA
George Mortimer Pullman (March 3, 1831 – October 19, 1897) was an American engineer and industrialist. He designed and manufactured the Pullman sleeping car and founded a company town, Pullman, for the workers who manufactured it. His Pullman Company also hired African-American men to staff the Pullman cars, who became known and widely respected as Pullman porters, providing elite service. ..He developed a railroad sleeping car, the Pullman sleeper or "palace car." These were designed after the packet boats that traveled the Erie Canal of his youth in Albion. The first one was finished in 1864.
In 1867 Pullman introduced his first "hotel on wheels," the President, a sleeper with an attached kitchen and dining car. The food rivaled the best restaurants of the day and the service was impeccable. A year later in 1868, he launched the Delmonico, the world's first sleeping car devoted to fine cuisine. The Delmonico menu was prepared by chefs from New York's famed Delmonico's Restaurant.
In 1894, Pullman cut jobs and wages and increased working hours in his plant to lower costs and keep profits, but he did not lower rents or prices in the company town….this led to the Pullman strike, put down by President Cleveland approved troops. Pullman died in 1897.
 Mainline Steam Schedule
Railway Herald – Railtours
Listing offered in good faith. No guarantees offered or implied.
Please confirm runnings with operators.
Please observe Network Rail photographic guidelines.Thank you.
Saturday 7th February 2015
Wednesday 11th February 2015
Friday 13th February 2015
Saturday 14th February 2015
Sunday 15th February 2015
Monday 16th February 2015
Saturday 21st February 2015
Saturday 28th February 2015
Belmond British Pullman Luncheon Train (To Be Confirmed)
35028

London Victoria (pu) – Staines – Woking – Guildford – Shalford – Reigate – Redhill – East Croydon – London Victoria
On This Day In History
February
02/02/1901
The body of Queen Victoria is conveyed by the London & South Western,     London, Brighton & South Coast and Great Western Railways from Gosport via London to Windsor, England for her funeral
??/02/1907
Great Western Railway of England begins production of 'Star' Class 4-6-0      locomotives at its Swindon Works, beginning a series of successful 4-cylinder designs
06/02/1964      1964: Green light for Channel Tunnel
 The British and French Governments have announced their commitment to build a tunnel under the English Channel.
Both countries now have the capital and technical skills to bring the project – first mooted 162 years ago – to life but their official statements do not give a definite timetable.
British Transport Minister Ernest Marples told the House of Commons: "It remains to be decided when and how best the expense involved can be sustained."
The scheme – first proposed by Napoleon as an invasion strategy – has the keen support of French President Charles de Gaulle.
Precise details of design, engineering and financing still need to be confirmed, but the Channel Tunnel is most likely to be a twin-tunnelled rail link, costing at least £160m and taking five years to build.
The Channel Tunnel finally opened, a year late, in 1994, leaving Eurotunnel with debts of £925m a year later.
By 1999 Eurotunnel declared its first net profit.
It was voted the best construction achievement of the 20th century in a survey of 400 engineers in March 1999.
–/02/1902
Great Western Railway of England turns out prototype of 'Saint' Class 4-6-0 locomotive from its Swindon Works, beginning a series of successful 2-cylinder designs
07/02/1923       
London and North Eastern Railway (Great Britain) takes delivery of express passenger 4-6-2 steam locomotive Flying Scotsman from its Doncaster Works
12/02/1903
North British Locomotive Company established as a locomotive builder in Glasgow,  Scotland, by merger of Dübs and Company, Neilson, Reid and Company, and Sharp, Stewart and Company
13/02/1952
Bristol Castle (7013) substitutes for 4082 Windsor Castle on King George VI 's funeral train..bearing  4082's nameplates etc, which were never returned to the actual locomotive.
14/02/1927       The Hull Paragon rail accident in England kills 12 people
21/02 1804       
Richard Trevithick's Penydarren – used to transport iron across nine miles of track –  becomes the first successful steam locomotive run on rails.
26/02/1977
The final members of Class 52 diesel hydraulic locomotives (Westerns) ran on BR bringing to an end the independence of the Western Region and the GWR and the end of Swindon rule . From: John Stone


28/02/1975
A London Underground train has crashed at Moorgate, killing the driver and at least 29 passengers and injuring more than 70 in the worst-ever Tube disaster.
The 0837 train from Drayton Park to Moorgate was packed with commuters going to work when it overshot the platform and ploughed into a dead-end tunnel at 0846.
Passengers on platform nine said the train appeared to shudder and accelerate as it arrived at the station.
28/02/2001
The Selby rail crash (also known as the Great Heck rail crash) was a high-speed train accident that occurred at Great Heck near Selby, North Yorkshire, England on the morning of 28 February 2001. 10 people were killed and 82 people suffered serious injuries.
Radstock to Frome Railway Project
Latest news here…. https://www.facebook.com/groups/599580693419023/?fref=ts
Christian Wolmar…
Rail 762: On the freight train
'We are like Millwall – the rest of the industry all hates us', said John Smith, the managing director of GB Railfreight, as we head back to London after a tour of Felixstowe docks. Indeed freight is the Cinderella of the industry and the tremendous success of the passenger side ironically puts added pressure on the freight carriers.
Smith, a career railwayman, who clearly enjoys every minute of his job, is joking but is nevertheless also making a serious point. Both GB Railfreight and the port of Felixstowe are very much part of the transformation in the way that goods are moved around in the UK. GB Railfreight is a child of privatisation, one of the most successful companies to emerge from the upheavals of the mid 1990s. It was started in the aftermath of privatisation as an offshoot of Anglia which was one of the few start up companies to win one of the early franchises. 'Let's do freight' one of the directors said and Smith found himself undertaking tasks such as ordering locomotives and dealing with shipping companies for which his previous career had not prepared him.
The first contract, which started operating in 2000, was with Railtrack, which was eager to break the monopoly of EWS, at the time owned by Wisconsin Central, which ran all the trains needed for maintenance and renewal of the track. Smith ordered seven Class 66 locomotives and soon the embryonic company was battling for the container market with Freightliner, at the time the only other significant player apart from EWS, in the rail freight market.
GB Railfreight has subsequently gone through several incarnations, being bought initially by  FirstGroup and then sold onto Eurotunnel, which has invested heavily in its expansion. Turnover is around £130m this year and has risen steadily every year since the creation of the company except for a brief blip during the worst of the recession when it all but stagnated for a couple of years. The company now carries substantial amounts of coal and gypsum, and was also a supplier to Metronet, which was one of the London Underground infrastructure providers under the ill-fated Public Private Partnership.
Smith, who guzzles more Diet Coke than can be good for him, explains that to understand the rail freight market, each sector has to be viewed differently: 'Apart from intermodal [containers], coal is the biggest market but it will not remain so. That will change and railfreight will have to adapt accordingly.
It is impossible not to be impressed when touring the Port of Felixstowe. There are the largest cranes in the world, needed to cope with both high and low tides, and one of the quays is 2.6 kilometres long, seemingly stretching out into infinity in the morning mist on the November day I visited. Whole new areas are being opened up, partly reclaimed from the sea, to cope with extra demand. The biggest ships can now carry 18,000 TEUs (twenty-foot equivalent units which means, as most boxes are now 40 foot, that means around 9,000) and the cranes have to cope with the up and down movement of the tides enabling them to reach the top of the highest stacks at high tide, and stretch deep into the holds at low tide'
A little friendly tiff between Deborah Coe, the port's customer relations manager who is showing us around, and Smith highlights the delicate economics of railfreight. Smith complains that the Port charges £42 for every container put on the train, and yet does the same thing for free for trucks. However, Coe points out that the trucks move up to the stacks of boxes, whereas the Port has to supply vehicles and drivers to move the containers on to the trains: 'We are a business, not a charity' she says crisply, though, of course, the Port's use of rail is an important part of its corporate social responsibility agenda and looks good as part of its PR.
Smith says that the industry's high fixed costs, around 60 per cent, mean that much money can be lost quickly if for some reason demand falls. A train becomes profitable, highly profitable, when it is full, but that is quickly lost if 20 or 30 per cent of the capacity is empty, In some cases, shippers share in the risk, paying a set fee for the train, while in others it is the rail company that bears the risk. It is a fast moving industry where to remain profitable requires being fleet-footed in negotiations and an awareness of the changing markets.
Smith's Millwall comment is a reference to the tension between freight and passenger operators on the network. At one point during the run up to the negotiations over Network Rail's Control Period 5 (which started in April), the Office of Rail Regulation had threatened to greatly increase access charges for freight trains which currently only pay marginal costs. This would, at a stroke, have wrecked the industry. Smith told me: 'basically, I said, do you want to pay us a billion quid or so and we will all just leave, and of course the answer was no.'
Nowhere is the tension between passenger and freight needs more in evidence than on the Felixstowe branch. The hourly passenger service operated by Abellio on the branch between Ipswich and Felixstowe eats up capacity that could easily be used by the freight trains. As we sit in the cab of a Class 66 at a signal waiting for the 10 58 from Ipswich, Smith and Kelvin, the driver, estimate how many passengers there are likely to be – and when the train flashes by, they argue about who is right: 'I reckon it was just three', Smith says 'typical'. The low usage off peak in winter is hardly surprising given that the 11 mile trip takes 25 minutes but the local authority and rail groups have been adamant that reducing the frequency would kill off the line. Indeed, politically, rail passenger services, however ill-used, are sacrosanct these days and no politician would dare to advocate closure or cutbacks in service (except up North where Westminster politicians seem happy to be causing havoc, a story for another day).
Practically, it would make sense to free up those paths for trains that can take up to 50 'boxes' off the roads, boosting the 28 per cent share of rail for domestic containers landing at Felixstowe. That proportion has doubled in the past ten years. There has been some improvement as the opening of the Bacon Factory chord means that trains no longer have to reverse at Ipswich. Doubling the track on the branch would, of course, be even better, but but as I have mentioned before (Rail 738) there has been a long dispute over who exactly should pay. The Port did not see why it should have to pay when its rivals such as Tilbury and the new London Gateway have had not had to pay for their rail connections. At last there are now firm plans for a dynamic loop which will add some capacity but doubling is seen as eventually inevitable. Currently the line can take 30 trains per day (six of which are Smith's trains) in each direction but Smith reckons that any extra capacity would be taken up quickly by the Port. For now, it is clear that these are good times for both GB Railfreight and the Port but with such high levels of investment and big fixed costs, both industries are dependent on the economy remaining buoyant. Oh, and also that all those boxes keep on coming from China.
 Memo to Mark Carne: I was astonished  on the cab ride from Felixstowe to Camden Road at the amount of old rail on the tracks, far more than anywhere else I have been. Given its value and also the untidy look it creates, surely much of this could have been removed during the numerous possessions on the line over the past few years. Time to do at the next opportunity.

Around the World in 80 Railways.(No 55…Bulgaria)
Bulgarian Steam – Mezdra to Gorna Orjahovitsa via the Iskar Gorge.
Tim Hitchcock on Steam Tube.

Day 2 – Part 2 – of the 2014 Railway Touring Company "Black Sea Express" Tour of Bulgaria and Greece.
WATTRAIN , APHTRO


At this very moment in time someone will be riding a heritage tram or train somewhere in

the world and it is WATTRAIN's aim to ensure that this will be the case for many years to come.
Although different countries may have different laws and cultures, our heritage trams and trains all face the same sorts of issues; finance; restoration costs; Insurance; volunteer shortages and other similar things. WATTRAIN is here to bring organisations together, to allow them to learn from each other, passing on new ideas and also showing others what to avoid on their way to succeeding in their efforts.
If you or your organisation agrees with what we are trying to achieve, please consider joining us in our endeavours details can be found on our membership pages.

Although there are many activities in the heritage and tourist railway sector in the Asia – Pacific region, they are busily advancing their plans separately; it seems there is little co-operation between countries. On the other hand, the international co-operation has been achieved and succeeded in the other rigion: Europe, North and Latin America and Whole World. It is essential to establish and improve regional co-operation. This should be closer, more frequent and appropriate at the local level than worldwide level. APHTRO, Asia Pacific Heritage and Tourist Rail Organisation will mainly help the improvement of our treasured heritage railways and museums by forming a co-operative organisation to unite the countries. It will provide a forum where we can share experience and exchange ideas, advice and information in many aspects. APHTRO is able to act an important role and contribute to the growth and development of the heritage and tourist railways in the Asia – Pacific region.
Latest APHTRO Newsletter at http://www.aphtro.org/news/LocoShedNo1.pdf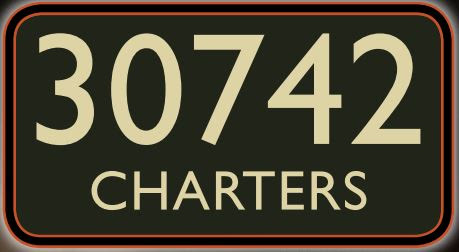 Updates: Find 30742 Charters on Facebook at www.facebook.com/30742charters
"Dinmore Manor" at Toddington 2nd April 2014 during a 30742 Photographic Charter.
Stafford Railwayana Auctions News
Railwayana Auctions News 
Railwayana Enquiries


Rail enthusiasts often want to acquire a bit of railway history, be it a LOCO nameplate, NUMBER PLATES, GWR CABSIDES, Station totems , whistles, lamps, SIGNALLING, POSTERS or any other RAILWAY RELATED item(s) that links in with the railway past, or do you need a trusted price, age or value?
Do you have any railway collectable items 'For Sale'?
Are you looking for a specific nameplate, numberplate or sign?
Website: http://www.railwayana.com/index.html
Speak to Neil on….. 01242 620020
01242 620020  or 07836 225711
07836 225711

Back Page
No 600090″Union of South Africa" Steaming Through Oxenholme" (C) Stuart Hill on Steam Tube.