"On Shed" – March 2015 Edition
" Preserving the steam locomotive legacy.. and more..on film"
Front Page
On a very atmospheric morning in South Devon, GWR 0-6-0 no. 3205 departs Buckfastleigh station for Totnes.(C) Nigel Power
Contents:

Welcome..and news…
Steam Tube Photographic Highlights
Steam Tube Video Highlights
Steam Tube Blogs( Tales From Chasing Steam – Hatton Chapter One(WHTS)
Book Review – 'Pre-Grouping Atlas and RCH Junction Diagrams' ( Ian Allan)
100 Trains….the journey so far….
Tornado…The Story so far…
New & ReBuild News.(Hengist, Unknown Warrior.. Miller Project)
B & O Railroad Museum TV:
A-Z Great Railway Engineers (R)
Mainline Steam Schedule
On This Day in History.
Radstock to Frome Railway Project
Christian Wolmar…
Around the World in 80 Railways. (No 54:Bulgaria/Greece)
WATTRAIN , APHTRO
30742 Charters
 Welcome
A warm welcome to this March 2015 edition of "On Shed", the monthly online magazine of "Steam Tube – The Home of Steam on the Net!"
We hope that new members this month will enjoy the ambience of the site..and we shall look forward to their varied contributions.
As ever, we start with a few highlights taken from the photographs and videos uploaded by  Steam Tube members (now numbering 1,491)..and adding to the large library of 30,658 photographs and 6,600 videos!
Included in this edition is a book review from long standing member and contributor Dick Bodily..and the "Around the World in 80 Railways" features a video of a Romanian 10 day holiday earlier this year, filmed by Roni.. one of Steam Tube's most prolific and loyal members from the early days. It is, as we have come to expect from Roni, a superb example of filming, with great locations, accurate captions…in fact, at over an hour…it is an epic!
It is challenging to keep up with new build and rebuild news…so if you have any particular project that you might think we can somehow support, please let us know.
And please feel free to make any suggestions…including, for example, any names of famous engineers that our listing inadvertently omits!
Thank you all for your continuing support…and of course, thank you to those who make the odd financial contribution that help us to keep Steam Tube – The Home of Steam on the Net!
So, now, enjoy!
Steam Tube Photographic Highlights(30,658 in the library!)
Steam Tube Video Highlights(6,600 in the library!)
Steam Tube Blogs
Tales From Chasing Steam – Hatton Chapter One(WHTS)
From What Happened To Steam blog
Having made a reluctant departure from Barnt Green Main Line Signalbox on Saturday 19th September I duly reported for duty at Hatton station on my trusty Raleigh Runabout moped on the morning of Monday 21st September and made myself known to the Stationmaster. Hatton had three signalboxes, all long since swept away, which controlled the triangle, the latter of which is still in use today albeit controlled from a soulless power box in cyberspace. The pecking order of the Hatton boxes were as follows: South (Class 2) and North (Class 3)- both on the Paddington to Birmingham (Snow Hill) main line and West (Class 4) – the branch line to Bearley Junction and Stratford-upon-Avon.
Filled with anticipation and excitement at the thought of my becoming a signalman in my own right I felt on top of the world, but, like 'Humpty-Dumpty' I was due for a big fall. When I first clapped eyes on Hatton (West) my heart sank. Barnt Green had been a spacious, modern and busy box with all mod cons. Although aware that I had to start at the bottom of the ladder it appeared to me that Hatton (West) had fallen off it; it would have looked old even in a museum!
It had a toilet of sorts, a small detached Nissen hut affair, the last customer of which had probably been a baled-out German pilot, it was so antiquated. The box's most modern amenity, apart from the roof, was a small coal fire. There was no electricity and the only means of lighting was an ancient device, shaped like the inner tube of a motor car tyre, which hung precariously from the inside of the roof, being fuelled by methylated spirits and compressed air, for which a bicycle pump was supplied. The sole cooking facility was a primus stove and water for the heat-stained kettle was obtained from a stream a hundred yards down the track which constantly clogged the kettle with lime. The box was not very busy but it did at least control a double track junction; thus the scene was set for my new career.
Before I could take up this 'exalted' position there was the small matter of passing the rules etc. Two of us, myself and Barry Bickerstaffe, plus two other trainees whose names I cannot recall, spent the first few weeks flitting from one box to another to familiarise ourselves with the varied aspects of signalling. During training sessions in the ultra-busy South box I was fortunate enough to be taken under the wing of Ted Breakwell, a senior signalman and one of life's real gents. Through his patience and guidance I learned everything I needed to know about signalling, both in a theoretical and practical sense.
From time to time, when the stationmaster was absent, us trainees would be summoned to Hatton (South) for a clandestine game of cards by one of the signalmen who was a high priest of the gambling fraternity. These sessions passed peacefully until the day the stationmaster returned earlier than expected and was not spotted until he was on the footbridge adjacent to the only official exit from the box.
Panic ensued and we leapt out of various windows onto the platform and scuttled off to our respective boxes via nearby undergrowth on the embankments.
As nothing was mentioned for several days after the 'card-playing incident' by the Stationmaster we thought we had got away with it, until out of the blue he said to us rather dryly: 'Next time you lads leave the box why don't you try the stairs, the railway went to a great deal of time and trouble to get them installed.' He did not actually mention anything about our card playing in railway employment time, but must have suspected what had been going on.
Steam locomotives recorded at Hatton (mostly on the main line) the majority of which were hauling freights.
September
GWR: 2200 Class 0-6-0 No. 2211 (2l Leamington) – Stratford banker for the North Warwick line. 2800 Class 2-8-0's Nos. 2898 (81E Didcot), 3813 (6C Croes Newydd) & 3818 (88A Cardiff East Dock). 5100 Class 2-6-2T's Nos. 4158 (2A Tyseley), 4151 (2L Leamington) & 4179 (2A Tyseley). 4500 Class 2-6-2T No. 4555 – privately preserved and working from 2A Tyseley. Hall Class 4-6-0's Nos. 5927 Guild Hall (2A Tyseley), 5933 Kingsway Hall (81F Oxford) & 5992 Horton Hall (83B Taunton). 6100 Class 2-6-2T No. 6169 (85A Worcester). 4300 Class 2-6-0 No. 6364 (2C Stourbridge). Grange Class 4-6-0's Nos. 6841 Marlas Grange (81F Oxford), 6842 Nunhold Grange (2A Tyseley) 6845 Paviland Grange (2A Tyseley), 6857 Tudor Grange (2B Oxley) & 6878 Longford Grange (85A Worcester). Hall Class 4-6-0's Nos. 6904 Charfield Hall (2D Banbury), 6934 Beachamwell Hall (6D Shrewsbury) & 6952 Kimberley Hall (2D Banbury). Modified Hall Class 4-6-0's Nos. 6974 Bryngwyn Hall (81D Reading) & 6976 Graythwaite Hall (2B Oxley). Castle Class 4-6-0's Nos. 7019 Fowey Castle (2B Oxley), 7022 Hereford Castle (85A Worcester) & 7023 Penrice Castle (2B Oxley). Manor Class 4-6-0's Nos. 7806 Cockington Manor (2B Oxley) & 7816 Frilsham Manor (82C Swindon). Modified Hall Class 4-6-0 No. 7910 Hown Hall (81D Reading).
LMS: Class 5 4-6-0's Nos. 45253 (16F Burton) & 45279 (6G Llandudno Junction). Class 2 2-6-0 No. 46505 (2A Tyseley) – Stratford banker. Class 8F 2-8-0's Nos. 48342 (16E Kirkby), 48672 (16F Burton) & 48700 (16F Burton).
Book Review – 'Pre-Grouping Atlas and RCH Junction Diagrams' ( Ian Allan)
Whenever I've read a British railway history magazine article or book I've always had my trusty old copy of the Pre-Grouping Atlas at hand. Trouble has been that as I've aged a bit since I first acquired it, despite being prescribed glasses, I have increasingly struggled to make out the cramped detail on maps of such complicated layouts as Clapham Junction or the Cardiff Docklands.   But help is now at hand thanks to this impressive new reworking of an old favourite.
The old maps, which show the British railway system as it was immediately prior to the grouping of 1923, have been redrawn considerably larger making the book a bit bulky for taking on a rail journey, but this a small price to pay for vastly improved clarity.  Furthermore the maps are now accompanied by junction diagrams from the previously separately and expensively published 'Railway Clearing House Junction Diagrams'. The only thing that is missing to give a complete view of our railway system when at its most extensive are a few post – Grouping lines such as the link lines added during the Second World War, but this is about to be rectified in a further soon to appear edition of the atlas which will not feature the RCH junction diagrams.
Turning to Map Twenty which shows Lancashire, the lines around Liverpool are still a bit confusing, but wait a minute, there is a blown up version of Lancashire on Map Forty-Five. This is much clearer, but better still is the RCH diagram on the opposite page which concentrates on Liverpool, not only identifying every route and junction of this labyrinth but incidentally showing the layout of Liverpool's Dock in great detail.  There are other bonuses within the RCH diagrams, for instance one of North Wales also includes details of the routes of some of the narrow gauge lines as they served the slate quarries back in the 1920s. Another RCH diagram shows the former SMJR system apart from the extreme western section down to the last chain. In fact all the RCH diagrams show measurements between junctions in miles and chains and exactly which sections of link lines between different companies' routes belong to which. Take the diagram of Peterborough for instance and you will discover that the ownership of the 8 chains link between the Midland Railway and Great Northern Railway at Westwood Junction was split 50 – 50, with which each company owning 4 chains each.  In contrast the link from the Great Central to the aforementioned SMJR at Woodford was solely owned by the Great Central.  All fascinating stuff.
The attempt to preserve the originality of the Atlas' maps (with their retained map number index references) and the RCH's diagrams, by them retaining their separate labelling fonts and colours that depict different railway companies, has led to criticism by some reviewers. They have claimed that the layout is confusing too, but you only have to read the instructions at the head of the separate Atlas map and RCH diagrams indexes to be able to effectively use this superb reference work, obviously those who have criticised never bother to look at an index! The only minor gripe I have about the new atlas is that 66 years on from the original atlas being published Map Ten still shows Northampton shed on the wrong side of the Blisworth – Peterborough line!
All in all it's a terrific standard work.  It's priced at £30, but you only have to look on the internet to be able to pick up a copy for around £20.
(C)Dick Bodily
100 Trains….the journey so far….
Join Iain on his virtual train trip "Greatest Train Journeys In The World" …..HERE..and at  www.100trains.com.
Tornado…The Story so far…
Where to travel
Please keep an eye on this page for the annual diary of Tornado's 2015 mainline tours plus her preserved railway visits. More details will be published on this website as more trains are finalised (contact details for the rail tour companies and preserved lines appear at the bottom of the page)
30th May – 'The Cumbrian Fells Express' Britsol to Appleby and return (Tornado, Crewe – Appleby – Crewe) – Pathfinder
2nd June – 'The White Rose' King's Cross to York with D9009 Alycidon and return with Tornado – UK Railtours
4th June – The Railway Children Special – Belmond British Pullman
10th July – Surrey Hills Excursion – Belmond British Pullman
22nd July – Surrey Hills Excursion – Belmond British Pullman
8th August – Surrey Hills Excursion – Belmond British Pullman
11th August – 2nd September – Nene Valley Railway – full details here.
11th September – Surrey Hills Excursion – Belmond British Pullman
23rd September – London Victoria to Bristol and return – Belmond British Pullman
6th November – Surrey Hills Excursion – Belmond British Pullman
8th December – Surrey Hills Excursion – Belmond British Pullman
12th December – Surrey Hills Excursion – Belmond British Pullman
31st December – 'St. Mungo Anniversary Tour' York to Newcastle and return – A1SLT
The Trust respectfully requests that anyone wanting to see Tornado follows the rules of the railway and only goes where permitted.
Please carefully check Tornado's dates of operation and services on the preserved lines visits using the relevant website links below as actual dates and times of operation may vary from the above shown.
Belmond British Pullman
Tel: 020 3117 1300
Web: www.belmond.com/british-pullman-train
Nene Valley Railway
Tel: 01780 784444
Web: www.nvr.org.uk
Pathfinder Tours
Tel: 01453 835414
Web: www.pathfindertours.co.uk
UK Railtours
Tel: 01438 715050
Web: www.ukrailtours.com
New & ReBuild News.(Hengist, Unknown Warrior.. Miller Project)
Hengist: Latest news at http://www.72010-hengist.org/
LMS Patriot Project
Submitted by
admin
on 30 January, 2015 – 21:30
The LMS-Patriot Project, the charitable Project that is building the new Royal British Legion Endorsed National Memorial Engine 'The Unknown Warrior', is pleased to announce that it has received a £1350 donation from Privateer Beers. The donation has funded a new axle for one of the bogie wheelsets at the front of the 4-6-0 locomotive.
Miller in Marvellous Manchester
Beaming Project Miller team members proudly display our Heritage Railway Association award
Photo courtesy: Project Miller
On Saturday night a good number of the 125 Group Project Miller team were honoured to attend the Heritage Railway Association Annual Awards Dinner at the Museum of Science and Industry in Manchester, where we were presented with the Morton's Media (Rail Express) Modern Traction Award for our restoration of Prototype Power Car 41001.
We are very grateful to the HRA and Morton's Media for this award and for staging a thoroughly enjoyable evening, it was great to meet so many dedicated and distinguished railway preservationists.  Special sincere thanks, as always, to the individuals and companies who have supported Project Miller, we couldn't have done it without you!
US
Union Pacific Big Boy 4014
Latest News..and Video..HERE.
 The Pennsylvania Railroad (PRR) T1 Steam Locomotive Trust

More information at: http://prrt1steamlocomotivetrust.org/news.php
Chesapeake & Ohio 2-6-6-2.


Photo courtesy B & O Museum
Large Steam Locomotive of the East #1309 is transferred to Western Maryland Scenic Railroad for restoration and operation
Latest News…on Facebook
Australia
Project 6029 (Beyer Garratt 6029 ex-NSWGR) Up to date information regarding the restoration of steam locomotive 6029 in Canberra, ACT Australia. Beyer Garratt 6029 is an EX NSWGR locomotive and was a member of the largest, and most powerful class in Australia. The restoration to full working order is being undertaken by volunteers in Canberra.
Latest news at: http://blog.project6029.com/
Latest News: http://www.vicsteam.com/
B & O Railroad Museum TV:
Each month the B&O TV Network, starring actor

Michael Gross

, spotlights a moment in B&O Railroad history. Take a journey into the past and view one or all of these episodes posted on

YouTube

.
A-Z Great Railway Engineers(R)
John Ramsbottom, (11 September 1814 — 20 May 1897) mechanical engineer who invented inter alia the Ramsbottom safety valve, the displacement lubricator, and the water trough
In 1857 Ramsbottom became locomotive superintendent of the Northern Division (lines north of Rugby), based at Crewe. He is credited with designing and introducing the first water troughs to be used by locomotives to pick up at speed
In 1852 he invented the split piston ring, which provided a tight seal of the piston against the cylinder with low friction. His other inventions included the Ramsbottom safety valve, the displacement lubricator, and the water trough.
a member of the Institution of Civil Engineers in 1866. He was also president of the Institution of Mechanical Engineers in 1870 and 1871. Later he was a director of Beyer-Peacock.
Sir Vincent Litchfield Raven KBE, (3 December 1859 – 14 February 1934) was CME of the North Eastern Railway from 1910 to 1922
Raven developed some of Worsdell's designs for steam locomotives, like the T2 0-8-0 freight locomotive, as well as introducing designs of his own. In particular he favoured a 3 cylinder design with the locomotives driving on the leading coupled axle. This was applied to a series of locomotives, class S3, a mixed traffic 4-6-0, class Y, a 4-6-2T tank engine for freight work, class D, a 4-4-4T tank engine for passenger work, class Z, a 4-4-2 'Atlantic' for express passenger work, and the LNER Class A2 4-6-2, a 'Pacific' for express passenger work. The most memorable of these was the class Z Atlantics which had a reputation for speed and good riding on East Coast Main Line expresses north of York.
Raven was a great advocate of electrification, and in 1915, a section of line was electrified between Shildon in the south west Durham coalfield and Newport, on Teesside, with the intention of improving performance on coal trains from Shildon to Middlesbrough. After the grouping, the proposed electrification of the East Coast Main Line was quickly abandoned, although it was electrified by British Rail in the late 1980s. The Shildon–Newport electrification reverted to steam haulage in 1935. Falling traffic levels and the need to replace the overhead equipment were cited as the reasons.
Walter Reichel  (GER) pantograph, electric locomotives   27 January  1867 in Laurahütte , district Bytom (Silesia), † 23 May  1937 in Berlin
After a recent study trip to the USA in 1902 Reichel led the commissioning of the Berlin elevated and underground railway . In the same year Reichel presented at the Technische Hochschule Berlin-Charlottenburg the exam for engineering graduate from.
1901 were from Walter Reichel several patent applications for the connection of electrical systems for railway carriages (Means for Electrically Connecting of Railway Cars) and for shaft bearings and other structures at the US-Patent Office
1902 Reichel led the commissioning of the Berlin elevated and underground railway.He developed the electric locomotive of the DR series E 44 , which weighed only about half  of a comparable locomotive at 78 tons.
Franz Xaver Riepl (Austria) (29 November 1790 – 25 April 1847) was an important Austrian geologist, railway and metallurgical specialist.
Riepl was born in Graz, Austria. Between 1820 and 1835 he worked as a professor at the Vienna Technical University. It was from him that the initiative came to quarry the Styrian Ore Mountains using open cast mining. As early as 1828 Riepl had developed a plan for a railway link from Galicia via Vienna to Trieste and produced the detailed route diagrams. He also gave the impulse for building the important Witkowitz iron works which was important in the construction of the North railway (Nordbahn). In 1836 he produced the first plan for a railway network across the whole of Austria.
In 1904 the street of Rieplstrasse in Vienna's Favoriten district was named after him.
He died in Vienna, Austria, on 25 April 1847.
Niklaus Riggenbach, (SWTZ) (21 May 1817 – 25 July 1899) first mountain railway in Europe with rack system, steam locomotive braking system
In June 1840 he moved to Karlsruhe, Germany, and found employment in the machine works of Emil Kessler. Here he soon rose to managing director and was involved in the construction of no less than 150 locomotives. One of these steam engines was the "Limmat" of the Schweizerischen Nordbahn (Swiss Northern Railway), opened on 9 August 1847, also called the Spanisch-Brötli line, which he ferried to Switzerland in order to test it on the Zürich-Baden line.
As construction of the Basel-Olten line began in 1853, the board of directors of the Schweizer Centralbahn Gesellschaft (Swiss Central Rail Association) appointed him chief of the machine works. He made several official trips to England and Austria, and crawled under a fair number of steam locomotives and into their boilers, "to make the good even better." Various improvements in railroading bear his name. In 1856 he became a master machinist and boss of the new main workshop of the Centralbahn in Olten. Under his direction this workshop evolved into a full-fledged engine works, building the company's own locomotives and bridges.
Track grip (adhesion) on the Hauenstein line caused him concern. The difficulties led Riggenbach to the concept of the rack railway. After many attempts he discovered that one could negotiate steeper stretches of track by bolting a rack between the rails, which a toothed wheel or cog on the underside of the locomotive could engage. He built his first locomotive in 1862,[1] and on 12 August 1863 France awarded him Patent No. 59625 for the invention. The Vitznau-Rigi line was inaugurated in 1871 as the first mountain railway to use the Riggenbach system in Europe. The locomotives were equipped with his counter-pressure braking system.
Johann Rihosek (Austria) (5 June 1869 – 21 November 1956) Classification scheme for the Imperial Royal Austrian State Railways (kkStB), brakes, spark arrestors 
In 1893 he took up his post as a design engineer with the Wiener Lokomotivfabrik Floridsdorf. From 1897 he worked in the Department for Locomotive and Coach Construction headed by Karl Gölsdorf within the Imperial Royal Railway Ministry. After Gölsdorf's death in 1916 Rihosek became his successor.
The First World War and its consequences placed heavy demands on Rihosek, because the lack of materials led to problems in the manufacture of vehicles. Following the dividing up of the locomotive fleet to the new states formed from the breakup of the Austro-Hungarian empire, replacements had to be procured. This resulted in the emergence of the following classes:
ÖBB 156 (BBÖ 270)          ÖBB 58 (BBÖ 81)       ÖBB 95 (BBÖ 82)
In 1924 Rihosek left the ministry (now called the Ministry for Trade and Transport) and became an honorary lecturer for locomotive construction at the Vienna Technical University. In 1936 he became reader there and in 1944 received an honorary doctorate.
Thomas Rogers,(US)  mechanical engineer and founder of Rogers Locomotive and Machine Works of Paterson, New Jersey
Thomas Rogers was born in Groton, Connecticut, in 1792. Before moving to Paterson in 1812, he studied carpentry and blacksmithing. In 1832 he partnered with Morris Ketchum and Jasper Grosvenor to form Rogers, Ketchum and Grosvenor, building agricultural and textile machinery as well as springs, axles and other small parts for the first railroads of America.
In 1837 Rogers built his first locomotive, Sandusky, which became the first locomotive to operate in Ohio.
Listing offered in good faith. No guarantees offered or implied.
Please confirm runnings with operators.
Please observe Network Rail photographic guidelines.Thank you.
Sunday 1st March 2015
The Cathedrals Express: St. Davids Day Luncheon (Steam Dreams)
 Friday 6th March 2015
The White Rose Kipper (continues Into Saturday 7th March) (Pathfinder Tours)
Saturday 7th March 2015
The Lancs Links (Pathfinder Tours)
The Hadrian (Railway Touring Company)
Cairngorm Mountain Statesman: Day 1 (Statesman Rail)
The Cathedrals Express (Steam Dreams)
 The Red Dragon (Vintage Trains)
Sunday 8th March 2015
The Easterling (Railway Touring Company)
Monday 9th March 2015
Cairngorm Mountain Statesman: Day 3 (Statesman Rail)
Thursday 12th March 2015
The Cathedrals Express (Steam Dreams)
Friday 13th March 2015
The Cheltenham Gold Cup (UK Railtours)
Saturday 14th March 2015
The Cumbrian Coast Express (Railway Touring Company)
 Winter West Highland Statesman: Day 1 (Statesman Rail)
 The Buxton Spring (UK Railtours)
 Sunday 15th March 2015
Winter West Highland Statesman: Day 2 (Statesman Rail)
Monday 16th March 2015
Winter West Highland Statesman: Day 3 (Statesman Rail)
Saturday 21st March 2015
Belmond British Pullman Luncheon Train (Belmond (British Pullman))
 The Cumbrian Docker (Pathfinder Tours)
The Winter Cumbrian Mountain Express (Railway Touring Company)
Wensleydale & Durham Coast (Railway Touring Company)
The Esk Valley (Railway Touring Company)
Cancelled
Cairngorm Mountain Statesman: Day 1 (Statesman Rail)
The Cathedrals Express (Steam Dreams)
 Chester & Llangollen (UK Railtours)
The Cumbrian Jubilee (Vintage Trains)

Additional Tour Information
27/1: now northbound over the S&C returning southbound via Shap
Added 18:22 on Tuesday 27th January 2015
Monday 23rd March 2015
Cairngorm Mountain Statesman: Day 3 (Statesman Rail)
Wednesday 25th March 2015
The Pendle Dalesman (Compass By West Coast)
Saturday 28th March 2015
The Salopian Express (Compass By West Coast)
 The Winter Cumbrian Mountain Express (Railway Touring Company)
 Winter West Highland Statesman: Day 1 (Statesman Rail)
 The Orton Towers (UK Railtours)
Sunday 29th March 2015
Winter West Highland Statesman: Day 2 (Statesman Rail)
Monday 30th March 2015
Winter West Highland Statesman: Day 3 (Statesman Rail)
On This Day In History
March
05/03/1872
An air brake system  based upon a design by George Westinghouse  was patented on March 5, 1872. In various forms, it has been nearly universally adopted.
The Westinghouse system uses air pressure to charge air reservoirs (tanks) on each car. Full air pressure signals each car to release the brakes. A reduction or loss of air pressure signals each car to apply its brakes, using the compressed air in its reservoirs.
10/03/1906
The Baker Street and Waterloo Railway opens in London
12/03/1914
George Westinghouse, American inventor; developed the Westinghouse air brake (b. 1846) died.
17/03/1900
Great Eastern Railway of England introduces 'Claud Hamilton' 4-4-0 steam locomotive from its Stratford Works
18/03/1916
Karl Gölsdorf, Austrian steam locomotive designer  dies.(b. 1861)
21/03/1963
1963: Train drives itself.
The first automatic train on the London underground could be hurtling into stations in three weeks, the government has revealed.
The trains, which operate without a driver, are currently undergoing a series of trials commissioned by the Ministry of Transport before passengers are allowed on board.
But the public has the chance to glimpse the trains today, which have cost £60,000 to test, as they are demonstrated in South Ealing, west London, by the London Transport Board.
21/03/ 1922  
The official opening of the rebuilt Waterloo Station by Queen Mary.
24/03/1997
On this day in WSR history: 24 Mar 1997 – the first sea defence stone train arrived at Minehead.
27/03/1963
The Beeching Report!
The Reshaping of British Railways – Part 1: Report
The Reshaping of British Railways – Part 2: Maps
Radstock to Frome Railway Project
Christian Wolmar…
Maglev, still not taking off after 10 years
I am often asked about Maglev and whether it is the technology of the future. So it was fascinating to travel on the maglev between Shanghai and Pudong Airport, to find out more about it.
The line which yesterday celebrated its 10th anniversary, is not a great success. The 19 mile line cost $1.3bn to build and has never recouped any of its capital costs, just about covering its operational expenditure in a good year  Partly this is because it goes to the wrong place in Shanghai, the Longyang Road metro station which is nine miles from the town centre. Since the metro actually then continues out to the airport for just 10 yuan (about £1) many people use that rather than hopping out and taking the Maglev which costs 50 yuan (40, oddly, if you have  plane ticket). Although the metro takes 30 minutes compared with the Maglev's eight, since the latter only runs every 15 or 20 minutes, the time saving is marginal. As a result loadings are barely 20 per cent and on the morning Maglev I took, it was more like 10 per cent.
.  The ride was surprisingly bumpy and actually the maximum speed was only 300 kph, the same speed as most high speed lines, rather than the advertised peak of 430 kph because running it faster uses more energy which already accounts for two thirds of the operating costs. The whole operation of the line indeed seems a bit clunky and a weird mix of low and high tech. Before you can board the train, the various uniformed platform staff, of whom there are several, have to open a gate manually and take down a red rope strung across the gap.
While it is obviously exciting to travel at that speed, the infrastructure is immensely complex and expensive. Piling had to be done to very small tolerances in order to ensure stability and it is probably necessary to keep the track in the air on concrete tracks, which consequently is extremely expensive.
The whole scheme, therefore, does not make sense and would never have been built in that way in a country more attuned to the market.  In fact, it was really a testing ground for the technology and it has consequently failed. Initial plans to build a line between Beijing and Shanghai, which were mooted when the scheme was first given the go ahead, have been scrapped and a conventional high speed line constructed instead. While a few schemes around the world have being mooted, most have not passed a financial viability test and the incompatibility with rail and the cost of construction, combined with the difficulties of creating junctions and turn-offs, means maglev is unlikely to take off (except for the 10-15mm it is levitated above the tracks).
Around the World in 80 Railways.(No 56…..Romania)
Winter Steam & Diesel in Romania 2015 (A Roni Film)

For clickable index, please expand description!
Scenes from a 10-day winter journey through Romania mostly in beautiful cold weather with some snow. I travelled there on sleeper train "Ister" and back on "Corona". The first two days I captured scheduled CFR class 60 (Sulzer) and 65 (EMD) diesel locomotives around Sibiu and Cluj as well as partly second-hand DMUs (ex German DB class 614 and Dutch NS class DH2 "Wadloper").
The main week of the trip was spent on a Tanago photo steam charter tour on the narrow gauge logging railways of well-known Vaser Valley ( Valea Vaserului / Wassertal ) and Moldovita. In total six locomotives were under steam, one day we took pictures riding a diesel railcar. Vaser Valley Mocanita is the last timber line still in operation featuring long diesel production trains hauled by Faur L45H class 87 locomotives, draisines converted from vans plus other interesting vintage and current forestry scenes.
WATTRAIN , APHTRO


At this very moment in time someone will be riding a heritage tram or train somewhere in

the world and it is WATTRAIN's aim to ensure that this will be the case for many years to come.
Although different countries may have different laws and cultures, our heritage trams and trains all face the same sorts of issues; finance; restoration costs; Insurance; volunteer shortages and other similar things. WATTRAIN is here to bring organisations together, to allow them to learn from each other, passing on new ideas and also showing others what to avoid on their way to succeeding in their efforts.
If you or your organisation agrees with what we are trying to achieve, please consider joining us in our endeavours details can be found on our membership pages.

Although there are many activities in the heritage and tourist railway sector in the Asia – Pacific region, they are busily advancing their plans separately; it seems there is little co-operation between countries. On the other hand, the international co-operation has been achieved and succeeded in the other rigion: Europe, North and Latin America and Whole World. It is essential to establish and improve regional co-operation. This should be closer, more frequent and appropriate at the local level than worldwide level. APHTRO, Asia Pacific Heritage and Tourist Rail Organisation will mainly help the improvement of our treasured heritage railways and museums by forming a co-operative organisation to unite the countries. It will provide a forum where we can share experience and exchange ideas, advice and information in many aspects. APHTRO is able to act an important role and contribute to the growth and development of the heritage and tourist railways in the Asia – Pacific region.
Latest APHTRO Newsletter at http://www.aphtro.org/news/LocoShedNo1.pdf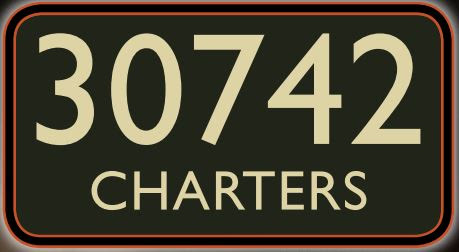 Updates: Find 30742 Charters on Facebook at www.facebook.com/30742charters
Stafford Railwayana Auctions News
Railwayana Auctions News 
Railwayana Enquiries


Rail enthusiasts often want to acquire a bit of railway history, be it a LOCO nameplate, NUMBER PLATES, GWR CABSIDES, Station totems , whistles, lamps, SIGNALLING, POSTERS or any other RAILWAY RELATED item(s) that links in with the railway past, or do you need a trusted price, age or value?
Do you have any railway collectable items 'For Sale'?
Are you looking for a specific nameplate, numberplate or sign?
Website: http://www.railwayana.com/index.html
Speak to Neil on….. 01242 620020
01242 620020
01242 620020  or 07836 225711
07836 225711
07836 225711
07836 225711

Back Page
D49 class 4-4-0 No.62712 'Morayshire' departs Wansford Station, Nene Valley Railway, 35A "New England" Winter Steam Gala, Sat 21 Feb 2015.(C) Allen Reed)