Mind the gap! Volunteers test new Thameslink Programme platforms for accessibility.(Network Rail)
Mind the gap! Volunteers test new Thameslink Programme platforms for accessibility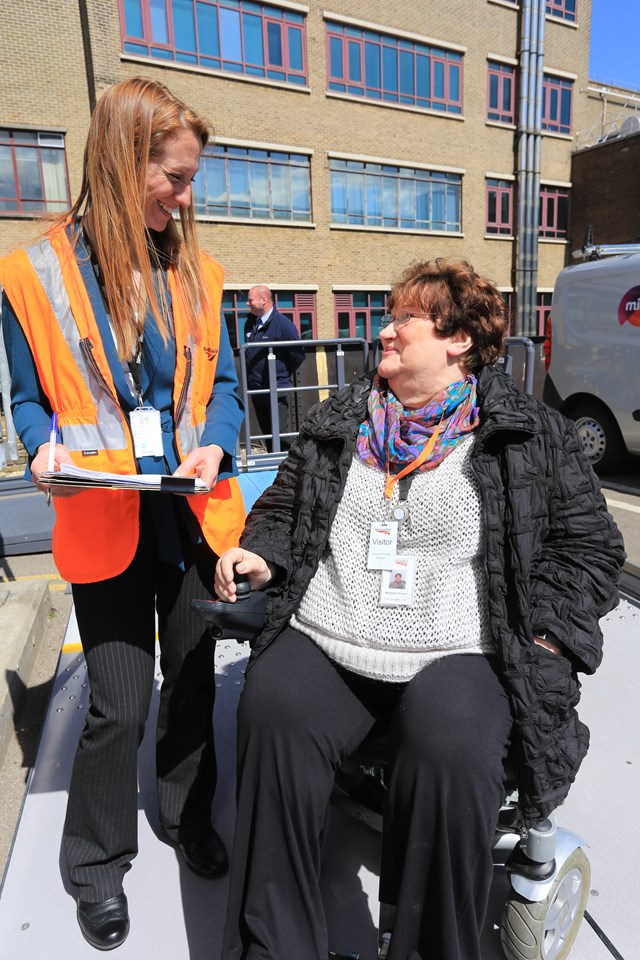 Volunteers have been helping the Thameslink Programme test a new platform surface being developed to help make the railway more accessible.
Mock-up platforms were built in a central London yard, metres from where Thameslink services will run in 2018, to allow members of the Network Rail Built Environment Accessibility Panel  (BEAP)to give feedback on how they could be improved.
Network Rail supplier Pipex px® is developing a raised platform surface (Platform Level Access 'PLA' – HUMP®), to be installed at Blackfriars, City Thameslink, Farringdon, and the Thameslink platforms at St Pancras and London Bridge. This will provide step-free access to accessible carriages on Thameslink trains and other rolling stock that may use the dedicated Thameslink platforms.
Network Rail's access and inclusion manager, and wheelchair user, Margaret Hickish, said: "This has been a fantastic opportunity for us to try this solution and offer some constructive feedback on the proposals. It's useful for us to understand the challenges of the designers, and for them to understand the challenges we face. A lot of people who are mobility impaired are actually made disabled by the built environment, and we can change that."
Volunteers included Tracey Dearing, who is partially sighted, and Sue Groves, who uses a wheelchair.
Mrs Groves said: "This is a very positive approach and something that's been needed for a long time. "Our input means we can help designers build on the existing standards to create something that works really well. It's not about regulations, it's about real people."
"The opportunity to receive valuable feedback from the BEAP has been invaluable.  It has allowed our Design team to consider the feedback, and where necessary refine the product to ensure it is "fit- for- purpose".  Understanding the end – users specific requirements is a fundamental part of the design process and this specific engineered solution. The assessment has provided a great deal of confidence with the overall product design which has been a 2 – year development project.  Pipex is very much looking forward to the opportunity to provide step-free access on the Thameslink network and improve the accessibility for PRM passengers".
Feedback received on the day included responses to the gap between the train and the platform and the colour of the tactile paving, which is helpful to partially sighted passengers.
Network Rail's senior ergonomist, Kate Moncrieff, said: "Accessibility doesn't mean spending lots of money or doing something complicated, it just means including it from the start. The Thameslink Programme is developing a solution that will lead the industry and it is vital that we get it right."
For interview opportunities please call the press office on 020 3356 8700
020 3356 8700.
Notes to editors:
The BEAP was created in 2014 to help make sure any major building works, stations designs and our other amenities across the UK are accessible and as inclusive as possible, helping us to deliver a better railway for a better Britain.  The BEAP is made up of 12 voluntary members, who are all experts involved in inclusion and access with over half of the members being disabled people.  They all have an interest or experience in accessibility to transport infrastructure, in particular the accessibility of the rail built environment as well as helping develop new solutions for inclusive access.
The panel meets throughout the year and the meetings are chaired by Margaret Hickish, Access and Inclusion Manager at Network Rail.
The new Pipex px® PLA-HUMP® platform surfaces being designed for Thameslink will be constructed on top of the existing platform surface and can be designed to the correct height. Thameslink's new trains, being built by Siemens, will be self-levelling, meaning they will match the set height of the new platform regardless of how full they are.
Older types of trains, which do not self-level, will continue to run through all other platforms at London Bridge. Therefore the new platform equipment will only be installed on the dedicated Thameslink platforms.