Making tracks at Norton Bridge.(Network Rail)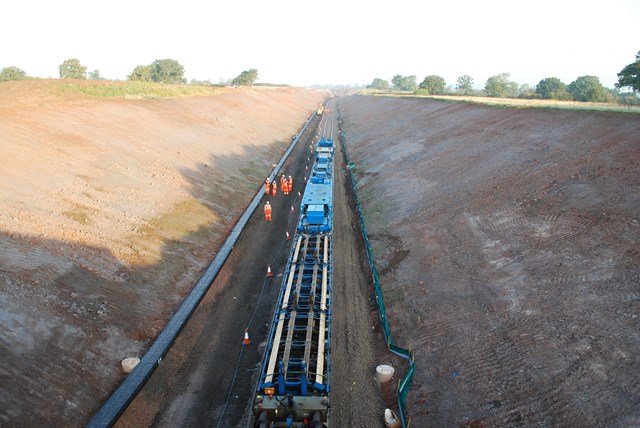 (Network Rail Picture)
New railway track is being laid at Norton Bridge using a specialist machine in the latest stage of Network Rail's £250m Stafford area improvement work.
A new section of railway line and eleven new bridges are being built to create a flyover at Norton Bridge and remove a bottleneck on the existing network. The work will improve performance and reliability and deliver the capability to run more passenger and freight trains.
Ten kilometres of new track will be laid in total from the new siding created at Little Bridgeford. The High Output New Track Construction (NTC) machine, which has laid the new railway, can lay up to 180 metres of track per hour and is up to 50 per cent quicker than conventional track laying methods.
It works by transporting new sleepers from trailing wagons and places them onto the conveyor system which moves them to the head of the train before they are placed on to the track bed. The sleepers are then aligned to the correct spacing automatically and new rail is run through a series of rollers/clamps and clipped onto them.
Staffordshire Alliance manager, Matt Clark, said: "It's great to see the track going in and the site really taking shape after all the hard work that has taken place.
"We're making great progress at Norton Bridge and it's satisfying to know our work, as part of Network Rail's wider Railway Upgrade Plan, will deliver greater performance and reliability for passengers and the capability to run more train services."
Earth has been excavated from a cutting (14 metres at its deepest) for the new line and this is being used to create embankments and bunds to protect wildlife elsewhere within the site. Around one million tonnes of earth has been moved.
Network Rail is delivering £250m of investment in the Stafford Area Improvements Programme. Line-speed improvements were delivered between Stafford and Crewe ahead of schedule in 2014 and the re-signalling of Stafford was completed on time over the August bank holiday.
The final phase of the programme is the new rail over rail flyover at Norton Bridge which will be completed for Easter 2016. The NTC machine returns to Norton Bridge in November and December for further track-laying work.
The work is being delivered by the Staffordshire Alliance – a partnership of Atkins, Laing O'Rourke, Network Rail and VolkerRail.
ENDS