On Shed…..Steam Tube's Monthly Magazine. November 2015 Edition
" Preserving the steam locomotive legacy.. and more..on film"
Front Page
Tyseley turntable line up 25th October 2015  (C) Rob Hodgkins
Welcome..and news…
Editor's Selection: Extreme Railway Journeys With Chris Tarrant.
Steam Tube Photographic Highlights
Steam Tube Video Highlights
Steam Tube Blogs
100 Trains….the journey so far….
Tornado…The Story so far…
New & ReBuild News.
B & O Railroad Museum TV
Mainline Steam Schedule
On This Day in History.
Radstock to Frome Railway Project
Christian Wolmar…
Around the World in 80 Railways. (No 64: The Reunification Express,Vietnam Railways)
WATTRAIN & APHTRO News
30742 Charters
Welcome..and news…
Welcome to this November 2015 edition of "On Shed".. the monthly magazine of "Steam Tube – The Home of Steam on the Net"…
And there are some gems appearing in the video library especially. You will notice the first uploads from Peter Smallwood, who owns the copyright to the David Swales Collection, and he has kindly started to upload some excellent footage from the 1960s…starting with Sir Winston Churchill's Funeral Train…. and some extended footage of  LMS Princess Coronation Class 6256 Sir William A. Stanier FRS at Crewe…..
A Word About Uploads.
It rarely happens, but please bear in mind our responsibility to adhere to Steam Tube's Terms and Conditions relating to uploaded video and photographic clips….
This is the first condition: Please respect copyright. Only upload videos that you have made or that you are authorised to use. So, please do not use content in your videos to which someone else owns the copyright, such as music tracks, snippets of copyrighted programmes or videos made by other users, without the requisite authorisations. A good guide would be…If in doubt, leave it out! Otherwise….upload away!!
The rest of our Terms of Service can be found HERE
As ever, we are constantly  amazed at the quality of material uploaded …and the consistency with which some members regularly contribute, keeping those of us who maybe do not have the resources to travel, and maybe not having cameras/video cameras, computers etc…or the ability to use these new fangled technological items(!!)….up to date with steam, heritage and mainline activity. Thank you all.
Perhaps we would like to show our appreciation when next we visit the site!! The Donate button is there for our convenience to proffer the odd £5 or so!!
This month's edition includes the usual features..Iain McGeachin is preparing for his 100 Trains Global Walk'n'Roll which begins 23rd January 2016… and Monisha Rajesh is coming towards the end of her train journey around the world…. ..
But we start off with a look at Chris Tarrant's Extreme Railway Journeys, currently airing on Channel 5 TV. We were able to speak with Hugh Whitworth, the one of the programme's producers……. Read on…………..
Extreme Railway Journeys with Chris Tarrant currently airs on Channel 5 on Thursday (9pm).
Extreme Railway Journeys? The clue is in the title…."Extreme" is defined as "of a character or kind farthest removed from the ordinary or average"…. and that can certainly be said of the nine trips (actually 10..but more of that in a while) that The Gamma Project undertook with Chris Tarrant. Indeed the first episode in this second series "Railroad to Mandalay" was more than "extreme". And we're not just talking about the dubious track that the team travelled on…looking like it could do with a serious bout of realignment and renewal, or the fact that parts of the route travelled on is infamously known as "The Death Railway", with all the connotations that that title recalls… but this was the trip remembered for nearly being the "end of the line" for Chris Tarrant…he experienced a stroke whilst returning to London by air….and was thankfully saved by the fast moving paramedics that awaited his arrival at London Heathrow. Otherwise, that truly would have been an "extreme", last or final, experience.
All of which serves to identify the tremendous stresses that accompany the making of TV documentaries….
Happily, Chris has made a full recovery.
Chris Tarrant: Extreme Railway Journeys Episode 1 "Railroad to Mandalay" Preview
..and here is a clip with cut scenes from the "Railroad to Mandalay" episode..
In February 2014 Engine Porn visited South East Asia to film Chris Tarrant's railway exploration of Myanmar (Burma). Starting in Bangkok we travelled on what remains of the infamous Railway of Death or Burma-Siam Railway which was built in World War II to supply Japanese forces in Burma.
In this cut scene Chris Tarrant meets expert Mick Clarke at Hellfire pass where some of the worst atrocities inflicted on the POWs and forced local labour who built this line were inflicted.
(Engine Porn on YouTube)
Hugh Whitworth, the Creative Director of The Gamma Project, shared with Rail Tube his thoughts on the making of the two series …so far…
Hugh is no stranger to TV documentaries. he cut his production teeth on BBC TV's Horizon, Tomorrow World and Antenna programmes in the 1980s.. Later, Hugh worked with John Ford at Pioneer Productions, where he produced and directed award winning flagship Discovery and TLC series . …Rail Tube readers may well be familiar with some of these programmes… the long running series Extreme Machines (Discovery/TLC),and three returning series of Massive with Chris Barrie (Discovery/ Five),
So, to the making of "Extreme Railway Journeys"..
Hugh told Rail Tube: "We had a team of six on location including Chris. The others were cameraman, sound recordist, assistant camera (onboard cameras and data wrangling and some secondary filming of trains), producer-director and assistant producer. In most countries we also had a fixer/translator and often two support vehicles with drivers as there was far too much kit and luggage to take on trains. An exception to this was Russia where we couldn't possibly follow by land so everything went on the trains…."
The special challenges met by the crews can be found in their accounts here
Hugh continues.. "The timing was that we filmed in the Andes first and then Thailand/Myanmar in early 2014.(On the return from Myanmar Chris had his illness..) We then halted production for six months. On recovery Chris decided that he wanted to finish the series and we filmed Cuba late last year (2014) and then Japan, Siberia and Canada in that order."
The second episode shown in the current series… Crossing The Andes… was filmed…. twice!
The first filming (in 2012) went well, apart from a member of the crew experiencing altitude sickness.. and in the process of returning home, the film discs were stolen whilst negotiating Sao Paolo airport……
So, the decision was taken to go back.. a case of "unfinished business".. and this second trip proved to be more satisfying than the first. In fact, Hugh thinks of this particular episode as being the most satisfying of the series……
Here is an Engine Porn preview….

Sneak Peek of our new series of Chris Tarrant's extreme railway journeys coming to your screens later this year. In this episode Chris travels on three extreme railways from the coats of Chile to the capital of Bolivia, Sucre. Each railway is unique in very different ways, the scenery is stunning and the story behind them is an extraordinary chapter in history, a saga of trains, mines and wars, long forgotten by most outside South America.
© The Gamma Project Ltd/ Engine Porn 2015
———————–
The next episode to air this week is "Slow Train to Guantanamo Bay"

Sneak Peek of our new series of Chris Tarrant's extreme railway journeys coming to your screens later this year. In this episode Chris discovers that the Caribbean island of Cuba has a vast railway network dating back to colonial days. He attempts to travel from Havana in the West to Guantanamo Bay at the Eastern end of the island, but finds out the hard way just how much the country has been struggling to keep its transport moving, cut off from the rest of the World.
© The Gamma Project Ltd/ Engine Porn 2015
Subscribe now for more beautifully produced Engine Porn!
Like us on Facebook https://www.facebook.com/pages/Engine…
Twitter https://twitter.com/engineporntv
Instagram: ENGINE_PRN
Vine: Engine Porn
————————
Will there be another series of "Extreme Railway Journeys with Chris Tarrant"?
Well, that remains to be seen…..It will likely depend, amongst other things, on ratings, Channel 5 (the current broadcaster) and Chris Tarrant.
Given the excellent production values attached to the series, it would be nice to think that a new series would be Extremely Likely!!
…………………………………………….
Rail Tube would like to thank Hugh Whitworth for his kind assistance in the producing of this article.
The Gamma Project (Extreme Railway Journeys production company)
This article first published 21st October 2015 (Rail Tube)
———————————————————————————————————————-
Steam Tube Photographic Highlights (31,820 in library!)
Steam Tube Video Highlights.

(7,126

in Library!)
Steam Tube Blogs
The Demon Barber of Alston(Dave Wilson..Steam Age Dreams)
It was quite by chance, last Sunday,(11th October 2015) that I fetched up in Alston, it was also something of a surprise to see 'Barber' a very rare locomotive indeed, and one from my own home town. Originally built, in 1908, to serve Harrogate Gas works; one can scarcely imagine a less industrial place than Harrogate, it's all Flower Shows, Spa waters and tea at Betty's, it remained there, in service, until 1949.
Barber, or 0-6-2ST No.441 Barber to be formal, was named after the Chairman of the Harrogate Gas Works Co. and saved from the scrap yard by the Narrow Gauge Railway Society, in 1953. Her road to Alston has been one of museums in Leeds, a disassembled kit of parts, and a kindly benefactor.  The firm which built Barber, Thomas Green & Co. were not major locomotive builders but their client list included 3 locomotives to run on circular tracks as Fairground rides, another went to the Lima Railway of Peru, several more found their way to Ireland and one went to Paris. The first of Green's 'conventional' locomotives an 0-4-0 'well tank' was built in 1888 and sent Australia. All in, a pretty cosmopolitan order book for a company equally at home making garden furniture and ornamental railings – they even made pub tables, not sure if they ever made a barber's chair though!
For any of you wanting to know more, or enjoy reading my blogs and the photographs, in them why not buy yourselves a copy of my book. 30,000+  words and more than 100 photographs.
The following are totally unsolicited comments from people who have read  Gricing: 'I'm enjoying your book. It's a real page-turner, thought provoking and great photos, to boot' – ' I bought and enjoyed "Gricing" etc and would heartily recommend it to readers'. – and from another 'satisfied' reader' – ' I was given what I believe to be your book called Gricing the other night.  Very much enjoyed the book if it is yours!'
This is the link to my book "Gricing: The Real Story of the Railway Children.  http://www.amazon.co.uk/Gricing-Real-story-Railway-Children/dp/1514885751
100 Trains….the journey so far….
100 Trains. THE global charity event of 2016.
What? A series of charity walks, and rolls (for wheelchair users), along the route of a 50,000km RTW train journey.
Why? To raise vital research funds for ataxia research, and as a vehicle to unite ataxia sufferers, supporters and charities worldwide
The journey will start on the 23rd of January next year, with a Walk'n'Roll through Hyde Park in London (my 50th birthday & I can't think of a better way of marking the occasion). Everyone, whether a London resident or visitor, ataxia sufferer or not, is invited to join me for a gentle stroll through London's finest park.
Ataxia UK
Ataxia UK is the national charity for ataxia in the UK. They are working very hard to find a cure for one, or all, ataxias by 2020.
They are very confident that a cure will be found (their 2020 Vision). A wee bit too late for me personally perhaps? But I've met many people in wheelchairs (both adults and children) who are also affected by ataxia, and it breaks my heart to think that future generations will also suffer from a condition that could be totally preventable.
A cure WILL be found. Of that I am sure. Research funds just need to be found first.
So please support the 100 Trains Global Walk'n'Roll in any way that you can. Thank you!
*Paypal will convert to your currency of choice.
Tornado…The Story so far…
During October 2015, "Tornado" has been at the West Somerset Railway, and the Severn Valley Railway……
Tornado's packed main line and heritage railway diary for the rest of 2015 includes (see www.a1steam.com for details):
6th November – The Golden Age of Travel lunchtime excursion – Belmond British Pullman
8th December – Christmas Lunch – Belmond British Pullman
12th December – Christmas Lunch – Belmond British Pullman
31st December – 'St. Mungo Anniversary Tour' – York to Newcastle and return – A1SLT (details tbc)
————–
New & ReBuild News.
Hengist: Latest news at http://www.72010-hengist.org/
Latest progress on P2's Facebook page…..
Project Miller 41001 Returns!.
US Union Pacific Big Boy 4014
Latest News..and Video..HERE
The Pennsylvania Railroad (PRR) T1 Steam Locomotive Trust



More information at:http://prrt1steamlocomotivetrust.org/news.php
Chesapeake & Ohio 2-6-6-2
.


Photo courtesy B & O Museum
Latest News on Facebook..HERE
Australia
Project 6029 (Beyer Garratt 6029 ex-NSWGR) Up to date information regarding steam locomotive 6029 in Canberra, ACT Australia. Beyer Garratt 6029 is an EX NSWGR locomotive and was a member of the largest, and most powerful class in Australia. The restoration to full working order has been  undertaken by volunteers in Canberra.
Claud Hamilton:
Fund our Frames!
Donate just £5 to help to get this project started. We are starting with the buffer beam, We have been quoted a cost of £1300. Thats if 260 people donate just £5, we will be able to see the first part of a Claud for over 50 years.
We aim to build and operate the Great Eastern Railways legendary 4-4-0 D16/2 "Claud Hamilton" steam locomotive, No.8783 to be named "Phoenix".
The Claud Hamilton group is now linked to the Whitwell and Reepham Railway, Providing expert help and a home base for the locomotive in the future.
V499
To read about the "Ground Up Club", and the latest news about the V499 project, go to
http://www.vicsteam.com/
As you are all aware we have finally got agreement in order to be able to secure 1498s future however there is still a long way to go, we need to find her a secure long term home and to this end we are currently in talks with heritage railways more details on this will be released as and when known. However before this can happen we need your help we need to raise an awful lot of money in order to purchase the unit and then move it off the E O R, so please folks consider helping us to secure 1498's future. We need your help so please donate to us the address for donations is on this page so please help us and remeber everything you donate large or small helps us to secure her future everything goes to buy move and restore 1498. Please help us please donate today. Many thanks 1498 Preservation Group.
You can now donate to the group through this Facebook page by visiting the DONATE tab above and then clicking donate or via this link
http://486586541488843.link.thndrpnny.com/gLWN4
B & O Railroad Museum TV:
Each month the B&O TV Network, starring actor

Michael Gross

, spotlights a moment in B&O Railroad history. Take a journey into the past and view one or all of these episodes posted on

YouTube

.
Mainline Steam Schedule
This listing is offered in good faith, so there is no guarantee offered or implied.
Please confirm running with the relevant tour operator.
And adhere, please, to Network Rail's photographic guidelines

…..HERE
The tour schedule for September 2015..and beyond..can be found  at 

Railway Herald
On This Day In History
November
–/11/1920
H. P. M. Beames succeeds Charles Bowen-Cooke as Chief Mechanical Engineer of the London and North Western Railway
01/11/1929
The Southern Railway celebrates the 21st "birthday" of the Southern Belle passenger train with ceremonies at each end of the train's route between London and Brighton
(For an opportunity to travel five journeys through time on Britain's Trains, including the Brighton Belle, get Andrew Martin's book.."Belles and Whistles" Available here.)
01/11/1907
Terence Cuneo, British railway artist (d. 1996).
01/11/1908
The London, Brighton and South Coast Railway introduces the Southern Belle passenger train between London and Brighton.
??/11/1908
Following experiments, the Great Western Railway of England begins to introduce Automatic Train Control on its main lines
04/11/1925
Opening of Khyber Pass Railway, from Peshawar to Landi Kotal
05/11/1967
At least 40 rail passengers have died and 80 more have been wounded after a commuter train derailed in south-east London.
The 19:43 express train was travelling from Hastings to Charing Cross when at 21:16 it crashed off the rails between Hither Green and Grove Park stations near the Southern Region Continental goods depot.
It happened just over a mile from the scene of the Lewisham train crash in 1957 in which 90 people were killed and 175 were injured.
06/11/2007
The queen re-opens the renovated and rebuilt St. Pancras station
07/11/1805
(Source : Wikipedia)
Thomas Brassey, the railway contractor, is born. By 1847, it is estimated he had built about one-third of the railways in Britain, and by time of his death in 1870 he had built one in every twenty miles of railway in the world.
07/11/1885
The last spike was driven into a newly constructed track in British Columbia                     fulfilling promises made to link Canada by rail.
09/11/1903
The 2 ft 6 in (762 mm) gauge Kalka-Shimla Railway opens in India
11/11/1918
The Armistice with Germany is signed between 5:12 AM and 5:20 AM in Marshal Foch's railway carriage, CIWL #2419, in Compiègne Forest bringing an end to World War I.[8]
13/11/2014
New Eurostar train (e320, built by Siemens) unveiled at London St Pancras
13/11/2014
THE first of three pre-series Super Express Trains (SETs) being supplied to Britain under the Department for Transport's Intercity Express Programme (IEP) was revealed to the press at Hitachi's plant in Kasado, Japan, on November 13.(IRJ)
13/11/1851
Opening of the St. Petersburg and Moscow  railway.
18/11/1822
The Hetton colliery railway, near Sunderland, opens for locomotive traction. It is designed by George Stephenson to be wholly steam worked.
(Source: Wikipedia)
18/11/2008
November 18th 2008, the date of  "Tornado's" final main line test run, York-                        Newcastle-York….
20/11/1898
(Source: Wikipedia)
Sir John Fowler, civil engineer and builder of railways, dies. He was Chief  Engineer of the Manchester, Sheffield and Lincolnshire Railway and was engineer of the East Lincolnshire Railway, the Oxford, Worcester and  Wolverhampton Railway and the Severn Valley Railway. In 1853, he became chief engineer of the Metropolitan Railway. He was also engineer for the District Railway and the Hammersmith and City Railway.
Construction of the Metropolitan Railway close to King's Cross station in 1861
(Source: Wikipedia)
23/11/1984
Almost 1,000 passengers were trapped in smoke-filled tunnels for three hours after a fire at London's busiest underground station, Oxford Circus.
Emergency services arrived at Oxford Circus within minutes of the blaze breaking out. There were no deaths and only minor injuries.
But the damage caused was substantial, and it is expected to be many days before normal service resumes at the station.
The cause of the fire, which started at about 2220 GMT in a tunnel connecting the northbound Bakerloo and Victoria lines, is thought to have been caused by an electrical fault on a train or in tunnel cabling.
27/11/1965
7029 Clun Castle heads final steam train on WR
27/11/2014
East Coast Mainline(ECML) franchise awarded to Stagecoach/Virgin consortium.- Inter City Railways.
28/11/1864
The first Bombay Baroda and Central India (BB&CI) train on the western coastal lines of Bombay (now Mumbai) came into Grant Road station from Ahmedabad in Gujarat.
30/11/1934
On 30 November 1934, running a light test train, 4472 "Flying Scotsman" became the first steam locomotive to be officially recorded at 100 mph (160.9 km/h).
Radstock to Frome Railway Project

Latest News from this group can be found

HERE
Christian Wolmar…

With the author's permission, Steam Tube ..and Rail Tube ..is able to offer to its valued members and readers an opportunity to get a signed copy of one of Christian Wolmar's excellent railway histories…
Serious students of railway history will already know of the writer's expertise in gathering the facts, and putting them altogether into a coherent whole..so why not get your personally signed copies of his best selling works..
We have a limited supply… indicated by the accompanying (number)..and price…
(unless otherwise stated, all titles are HardBack, in very good condition ..used in displays at events)
Engines of War (3) (£15-00)
Great Railway Revolution (2) (£15-00)
Fire and Steam (4) (£15-00)
Fire and Steam (Audio Book) (1) (Total Length 14 hrs+ Read by Christian Wolmar) (£15-00)
Iron Road-The Illustrated History of the Railways (2) (£15-00)
To The Edge of The World (1) £15-00)
Blood Iron & Gold (3)   (£15-00)
Blood Iron & Gold (Audio Book)(1) (Total Length 15 hours.Read by Michael Tudor Barnes) (£15-00)
Christian Wolmar introducing his six railway histories..  .Subterranean Railway, Fire and Steam, Blood Iron and Gold, The Great Railway Revolution, Engines of War, To The Edge of the World to the Oxfordshire Railway Society. 14th October 2015
Around the World in 80 Railways. (No 64: The Reunification Express,Vietnam Railways)
A groan came from the bunk above, followed by the sound of a pillow being punched, then furious muttering. I don't speak Danish but I recognise foul language when I hear it. Mandolin music had begun to whine from a speaker outside our compartment accompanied by a woman's voice so shrill that only dogs should have heard it. As it swelled and flooded the carriage it was now my turn to let loose a few expletives. At 6am this was not conducive to a relaxing journey.
I had departed Hanoi at around 9pm the previous night on board what is commonly known as The Reunification Express – though no single train in Vietnam bears the name. Completed by French colonists in 1936, the line running from Hanoi to Saigon was severed in 1954 when Vietnam was divided into north and south. The railway then suffered from American bombing throughout the Vietnam War, but resumed its regular service in 1976. Now it's a run-down, shabby service that has lost custom to budget airlines, but it is still the only way to witness the country in all its glory.
During peak season an extra service numbered SE17, the Limited Express, is put on to cope with the demand and, to my delight, was limited in more ways than one. Paint peeled off the walls like dead skin and the air conditioner's grill was secured by four pieces of sellotape – two of which were flapping off. The berths creaked, squeaked and clanked and the gold polyester curtain contained more dust than the inside of a Dyson. But the magic of this journey lay outside the carriages.
For the first hour the train ran parallel to the highway with little more than a single wooden fence separating us from couples on scooters and trucks flitting past in the opposite direction. Racing neck and neck with lorry drivers chewing cigarettes and casting sideways glances into our compartment, the train then broke away from the road, swerving into the guts of the city and disappearing into the darkness of run-down houses lit by hurricane lamps and strung with children's laundry. But the city soon fell away and the train thundered on through the night.
By morning tiny tufts of cloud hovered around the sun as it rolled its way alongside the train. Thick waxy leaves flapped at the sides of the carriage parting to show stacks of green bananas like fists of fat fingers. Palm trees stood to attention and buffalo wallowed in lotus-filled water, tiny white birds perched on their backs. Children clattered from one end of the carriage to the other, peering into compartments then running away while parents in vests gazed out of the windows or played cards. Patriotic classical hits were cranked up high and a metal cart of deep-fried chicken legs, cabbage and rice was wheeled up and down around noon.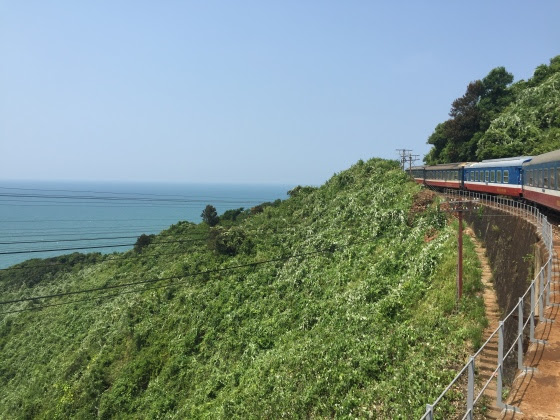 Between Hué and Danang the jungle crept up the hill and wrapped itself around the train, rising up like a green fortress. This section is renowned for its scenery and as the train slipped in and out of tunnels, and curled around cliffs, the ocean appeared below. Strips of creamy yellow sand trimmed the edges of the water at Lang Co Bay and continued all the way to Danang where I had decided to break up my journey for a few days and grudgingly disembarked. From Danang to Saigon I could only book a ticket sitting upright overnight surrounded by Vietnamese families eating tinned luncheon meat in baguettes, but that's another story…
vietnam-railway.com is a sales agency which will book your tickets and have them promptly delivered to your hotel in Vietnam.
….the journey continues…
WATTRAIN , APHTRO

It is a great honour for the Railway Preservation Society of Japan (RPSJ) to host a triennial congress of the World Association of Tourist Trams & Trains (WATTRAIN) in Saitama, Japan
The theme of the 2015 Conference is "Sustainability – Inspiring the Next Generation" of our tourist and heritage trams and trains. An impressive list of speakers from all over the world will be addressing the conference over two business days. The full programme will include tours to Japan's railway museums with journeys by Shinkansen (Bullet) trains together with preserved steam hauled trains.
The conference programme began on Friday 23rd October 2015……..
Still to come, at this time of writing…..
Day 7 (Thursday 29th Oct.): We visit to SC Maglev and Railway Park (a huge collection of EMU's and Shinkansen high speed trains and levitation vehicles). In the afternoon we visit Meilimura Museum, an open air museum with a large collection of 19th century buildings and preserved locomotives and trains.
 Day 8 (Friday 30th Oct.): We visit Umekoji Steam Locomotive Museum (Japan's largest collection of steam locomotives). We then visit Umekoji Park to see an old preserved tramcar. In the afternoon there will be sightseeing in Kyoto. There will then be a farewell dinner in Kyoto.
 Optional add-on tours 
Day 9 (Saturday 31st Oct.): Transfer to Wakasa by train to visit the Wakasa Railway which is preserved by a volunteer group and a local authority.
Day 10 (Sunday 1st Nov.):  Transfer to Misaki Town by coach. Visit Katagami Railway (a small private railway preserved by a voluntary group). Late afternoon transfer to Hiroshima by coach.
Day 11 (Monday 2nd Nov.): Visit Hiroshima Electric Railway, (Japan's largest existing tram network, preserving some old tramcars). We then visit Miyajima and Itsukushima Shrine. (This a World Heritage Site and one of Japan's most popular tourist spots with a beautiful shrine).
Day 12 (Tuesday 3rd November): Depart from Hiroshima by Shinkansen then transfer for steam train at Shim-Yamaguchi. Next we visit Tsuwano (small but beautiful town with medieval surroundings). We return to Shim-Yamaguchi by steam train then Shinkansen to Hiroshima for a farewell dinner.
Day 13 (Wednesday 4th November): The final journey is from Hiroshima to Tokyo by Shinkansen for your journey home.

Although there are many activities in the heritage and tourist railway sector in the Asia – Pacific region, they are busily advancing their plans separately; it seems there is little co-operation between countries. On the other hand, the international co-operation has been achieved and succeeded in the other rigion: Europe, North and Latin America and Whole World. It is essential to establish and improve regional co-operation. This should be closer, more frequent and appropriate at the local level than worldwide level. APHTRO, Asia Pacific Heritage and Tourist Rail Organisation will mainly help the improvement of our treasured heritage railways and museums by forming a co-operative organisation to unite the countries. It will provide a forum where we can share experience and exchange ideas, advice and information in many aspects. APHTRO is able to act an important role and contribute to the growth and development of the heritage and tourist railways in the Asia – Pacific region.
APHTRO Conference took place in Bangkok, Thailand, 20(optional),

21-23 October 2015.


Please visit our website for news updates http://www.aphtro.org/
30742 Charters

Latest News
Find 30742 Charters on Facebook at www.facebook.com/30742charters
 Back Page
 20150213132549 横道河子机车库 (Hengdaohezi
Depot) (C) JIANGLILY