On Shed…Steam Tube's Monthly Magazine. (February 2016 Edition)
" Preserving the steam locomotive legacy.. and more..on film"
Front Page
The first train of the day for 60103 facing the right way on Saturday, 16/1/2016 (C) Peter Parnell
Welcome…and news….
Editor's Selection: "Meet The Author – The Great Railway Revolution by Christian Wolmar"
100 Trains….the journey so far….
Steam Tube Photographic Highlights
Steam Tube Video Highlights
Steam Tube Blogs
Tornado…The Story so far…
New & ReBuild News.
B & O Railroad Museum TV
Mainline Steam Schedule
On This Day in History.
Radstock to Frome Railway Project
Christian Wolmar…
Around the World in 80 Railways (No 67: Extreme Railways with Chris Tarrant)
WATTRAIN & APHTRO News
30742 Charters
Welcome…and news….
Editor's Selection:
"Meet The Author – The Great Railway Revolution by Christian Wolmar"
This next week, starting Monday 1st February 2016, BBC2 starts the 15 part "Great American Railroad Journeys" with Michael Portillo…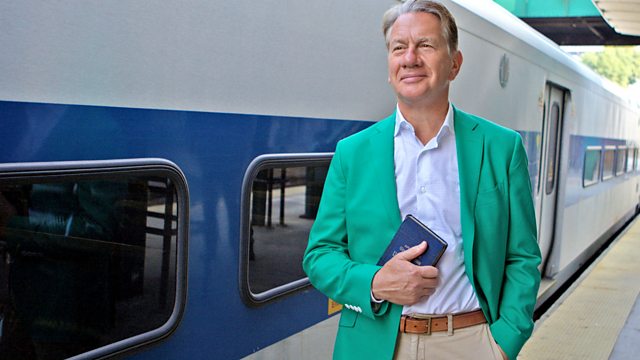 Courtesy: Boundless TV
In the first week, Michael Portillo, starting from Grand Central Terminal visits Broadway, gets a personalized Chattnooga Choo Choo , visits Albany, Niagara Falls, Buffalo City, Philadelphia, Atlantic City…
So we shall follow the trip with interest.
But to get a full account of the railroads' progress in the United States, nyou will need a copy of Christian Wolmar's excellent history.."The Great Railway Revolution"
Christian Wolmar. "The Great Railway Revolution- The Epic story of the American Railroad"Atlantic Books.
436 notes. Drawn from an extensive Bibliography.   414 pages.32 illustrations. 5 maps
Christian Wolmar 's latest book gives us as comprehensive overview of the history of US railroads as you would wish to read.
Before I read this volume, my own appreciation for American railroad history was minimal, apart from passing acquaintance with one or two key events (such as the meeting at Promontory Point).
Christian Wolmar writes in such a way that you almost believe that he witnessed the unfolding events himself…that is the mark of the historian…he demonstrates a grasp of all the key issues.
So, what will we find, as we read this epic story of the American Railroad?
The Railways Win Out
Charles Carroll, at the ceremonial turning of first sod for the start of Baltimore and Ohio on 4th July 1828 said: " I consider what I have just now done to be among the most important acts of my life, second only to my signing the Declaration of Independence,If indeed, it be even second to that."
Of course, there is another view…and railway development , using the crucial legal precedent (notably illustrated in a 1837 New York court case) ..to obtain "eminent domain", (which was the right to take over whatever property was needed in return for fair compensation…on the basis that the railway created wider benefits for the public, despite any damage caused to the land owners or property owners) did not always work in the best interests of unfortunate landowners – the public advantage outweighing the disbenefits to the few unlucky proprietors whose land just happened to be in the wrong place.
A Passionate Affair
Local railroads, enabling travel to the next town, were broadly welcomed. Demonstration runs were festive affairs..brass bands , parties, local celebrities on hand and given a ride on the train……
The railways were meant to be private businesses, but financing a capital hungry business was- and is -just a dream with federal or local funding also needed….somehow….
The Railways Take Hold
According to Ralph Waldo Emerson, Americans were taking to this "contrivance….as if it were the cradle In which they were born". Yet parochial and small minded approach to development initially delayed the vision of a unifying national force….Perhaps the 450 mile Erie Railway epitomized the potential of the railroad, with its linking Lake Erie with the Atlantic Ports.
Politicians preferred local small, fragmented railroads….It would be something of a two edged sword, for now people could travel far away from their own home town, and also, goods could come in from afar, threatening the very people, and farmers, who had hope to benefit from their reaching markets farther afield.
Consolidation would later occur between smaller lines..and so by 1850 US railroad mileage had risen (tripled!) to 9,000 miles. Chicago became established as a major railway hub.
Not all travellers were enamoured of the railroads – Charles Dicken's travel experiences in 1842 were not to his liking..
The Battle Lines
Southern lines were not as advanced as their northern counterparts, which would be costly in the ensuing Civil War…
In fact, the Civil War, and its outcome, despite the ebbs and flos, can partly be explained by the superiority of the railroads in the North's areas of influence…
Harnessing the Elephant
In this chapter we are acquainted with the skulduggery and chicanery that have bedevilled similar projects elsewhere.
Outright fraud, the Credit Mobilier scam, merciless displacement of Native Americans are a not too happy legacy of these times. The pity is that the tremendous engineering achievement, especially of the Transcontinental, pales almost into insignificance when taken as a whole with the mistreatment of contractors, workers (including Chinese immigrants) and native Americans.
Railways to go Everywhere
Lines built on the cheap using convict labour, were a particularly nasty piece of exploitation…
The Hoosac Tunnel, 4.5 miles long, was a Herman Haupt initiative, but he was forced out by claims (unfounded) that his engineering methods were at the root of the problems being experienced. Eventually completed in 1875, 23 years after being started, and 10 times over the original $2m dollar budget, and with 200 construction workers killed.
Railway company agents operating in Europe, were offering cheap land, in typical sales fashion, to try to lure settlers out west. They targeted minority groups..such as the Russian Mennonites….34 of these families were persuaded to Kansas in 1874..
And wild west was a fitting name too, since , undisciplined and unruly towns were left in the railway's wake .
Dodge City was named after, and full of, crooks!
Getting Better All The Time
For some , travel became a little more comfortable. Webster Wagner's sleeping cars- (Cornelius Vanderbilt put up the money for some of these cars)- but George Pullman is remembered best for this advance in travelling comfort….His name has become synonymous with luxury railway travel.
Still, even with increasing comfort levels, accidents were known… there were 2 serious ones in 1853
And the Picnic Train disaster (17th July 1856) on the North Pennsylvania Railroad (with 56 fatalities….and an engineer, later exonerated of blame, who committed suicide) speeded up the use of telegraph communications.
Development of the automatic coupler, the air brake, and George Westinghouse's "continuous braking"…some railroads slow to adopt, but Lorenzo Coffin's zeal resulted in these safety items being made mandatory, by law. (The Railroad Safety Appliance Act –August 1900).
Then there were the issues associated with train robberies.. (the Pinkertons reputations) …hoboes….immigrant train discomforts….snobbery, segregation.. and farmers complaining about sky high prices, at a time when fierce competition between rival railroads had seen reductions in freight rates..The ensuing farmers' campaign, painting the railroads as "monopolistic villains", started to see the railways being turned on by the public…..
Strange, isn't it, that the railways, which were at first seen as the height of modernity, and brought certain tangible benefits wherever they went, came to be seen, not as local business, but remote corporate affairs not really concerned with local Issues and peoples. Christian Wolmar suggests that this is part of the "natural cycle" with developing railroad companies being viewed as "rapacious monopolists". The love affair had ended.
The railroads had a burgeoning commuter market, had opened up tourism, made national conventions possible for more people….and had to respond to the increasing interurban systems, labour disputes and more.
The Roots of Decline "started in the 1920s when the federal government dithered over what to do with the railways that they controlled"…culminating in the consolidation of the railways , not always popular , with some railroads (such as the Pennsylvania Railroad which took the view that it was above the others!) reluctantly involved.
By now, the automobile, and the airplane, were fast becoming serious threats. And the development of the Interstate Highways appeared to put the final nail in the coffin of the railroads.(Although freight increased during this period…carrying the materials necessary for the highways project!)
The speeding up of certain services was an attempt to combat road and air competition..
An article appearing in "Trains" magazine of April 1959 entitled "Who Shot The Train" (Christian Wolmar describes this article as "remarkably prescient") gave a series of reasons for the railway's demise.."…profitability has been frustrated by archaic regulation, obsolete labor contracts, unequal taxation, and publicly sponsored competition".
Where has that claim been made before?
The railroads wanted to get out of the passenger business, and concentrate solely on freight, and used some underhand methods to try to achieve this…but government intervention saw the creation of Amtrak…(much better sounding than Railpax!!)
Today, there is much talk in the US about high speed trains (California.. will it? Or won't it?) and Amtrak's hopes to speed up its services.
Many cities operate suburban and commuter rail services, and a younger generation not so attached to the car, may find rail travel more attractive since they can still use their electronic gadgetry whilst travelling..(an interesting observation!)
And the increasing cost of flying and environmental concerns may yet give America the opportunity to "relearn the joys of railways which have served them so well in the past".
An excellent book which will come to define the history of the American Railroad.
An important contribution to American Railroad history.
Review by Peter S. Lewis 
Rail Tube  in conversation with Christian Wolmar, and his book "The Great Railway Revolution"

See also www.christianwolmar.co.uk
100 Trains….the journey so far….
100 Trains. THE global charity event of 2016.
Steam Tube and Rail Tube are pleased to give our support to Iain McGeachin's train journey around the world…..for as long as his health and strength permits…and the more who can join him enroute, then this will surely serve to encourage him on his way!
The following is Iain's own explanation of his project…….
What? A series of charity walks, and rolls (for wheelchair users), along the route of a 50,000km RTW train journey.
Why? To raise vital research funds for ataxia research, and as a vehicle to unite ataxia sufferers, supporters and charities worldwide
So what is this "ataxia"?  Iain tells us…
"Ataxia is a rare genetic condition. It affects communication between the brain and body. The ability to walk is usually the first to go. Then speech/swallowing, sight and hearing. At it's worst, it is terminal.
There is currently no cure (although Ataxia UK, and similar charities across the globe, are funding the very hard work that is being done to find one).
And worse still, ataxia is a progressive condition. Meaning that affects only gets worse with each passing day.
So while I still can, I will organise, and participate in, a whole series of "walk'n'roll" events in 2016 (with your very kind support of course!)."
In addition, Rail Tube is inviting contributions to a unique collection of travel and railway related book excerpts and blogs. .. all put into one volume. The profits from this will be donated to ATAXIA.org. Already, the list of participating authors and bloggers reads like a "Who's Who" of the best railway and travel writers currently around…with contributions covering the Great Western Railway, Indian Railways, World Railway History, fictional work….It will be a book containing the very best of railway and travel related writing…and all for a good cause. So, if you would like to donate some of your already published..or new..work to this "Anthology for ATAXIA, please contact me …peterlewis2@gmail.com. Thank you in advance of your willing support and contribution.
Steam Tube Photographic Highlights (31,825 to view!)
Steam Tube Video Highlights (7,236 to watch!)
Steam Tube Blogs (500 to read!)
WENT TO SEE A SCOTSMAN & CAME HOME WITH A CRAB.
On a frozen Saturday morning, in an icy Lancashire landscape, Hughes' Crab, No.13065, hauling a nicely mixed rake of maroons and blood and custards, is almost the only colour to be seen. I had gone to the East Lancashire Railway, primarily, to see, after all the 'fuss',   No.103/502/60103 'Flying Scotsman' depending on which side you saw her from, 60103 if you saw her head on. Sadly, from a photographic perspective, Flying Scotsman was facing in the wrong direction, i.e. down hill and, if that wasn't a difficulty, the class 31 diesel, in EWS livery, coupled inside, was. It was pretty neigh impossible to hide the class 31's garish colours when seen alongside Flying Scotsman's 'undercoat / War time guise' – a couple of coaches in silver/blue livery strengthening the maroon MK1s didn't do much for the colour palette either.
Yes it was nice to see and hear Scotsman and I'm sure when she's all finished she will be fabulous. However, on the day I can only say I was a little disappointed, that what was billed as a spectacular, was, sadly, a bit of a dogs breakfast. And, to top it all, the weatherman didn't quite get it right either, the promised day of unbroken sunshine turned out rather cloudy and then snow set in on the way home – nice, but not to drive through from Northumberland almost to Perth – so nil points for forecasters! Is that 'crabby' enough?
Oh! and here's the 'Star'
No.103 Flying Scotsman departing from Rawtenstall.
If you've enjoyed my photographs and blog, you might enjoy my book "Gricing: The Real story of the Railway Children"
These are some of the totally unsolicited comments from people who have read  Gricing:  ' treated myself to a copy of "Gricing" for Christmas, excellent reading.'  'I'm enjoying your book. It's a real page-turner, thought provoking and great photos, to boot.'  ' I bought and enjoyed "Gricing" etc and would heartily recommend it to readers'. – and from another 'satisfied' reader' – ' I was given what I believe to be your book called Gricing the other night.  Very much enjoyed the book if it is yours!'
This is the link to my book "Gricing: The Real Story of the Railway Children.  http://www.amazon.co.uk/Gricing-Real-story-Railway-Children/dp/1514885751
"On Shed" would like to thank Dave Wilson for his very readable series.
Tornado…The Story so far…
Forthcoming tours:
14th February – 'The Red Rose' – Paddington to Worcester and return – bookings through UK Railtours
2nd April – 'The Devon Belle' – Waterloo to Exeter and return – bookings through UK Railtours
=================================================
New & ReBuild News.
Hengist: Latest news at http://www.72010-hengist.org/
Latest progress on P2's Facebook page…..
Project Miller 41001 Returns!.
US Union Pacific Big Boy 4014
Latest News..and Video..HERE
The Pennsylvania Railroad (PRR) T1 Steam Locomotive Trust



More information at:http://prrt1steamlocomotivetrust.org/news.php
Chesapeake & Ohio 2-6-6-2
.


Photo courtesy B & O Museum
Latest News on Facebook..HERE
Australia
Project 6029 (Beyer Garratt 6029 ex-NSWGR) Up to date information regarding steam locomotive 6029 in Canberra, ACT Australia. Beyer Garratt 6029 is an EX NSWGR locomotive and was a member of the largest, and most powerful class in Australia. The restoration to full working order has been  undertaken by volunteers in Canberra.
Claud Hamilton:
Fund our Frames!
Donate just £5 to help to get this project started. We are starting with the buffer beam, We have been quoted a cost of £1300. Thats if 260 people donate just £5, we will be able to see the first part of a Claud for over 50 years.
We aim to build and operate the Great Eastern Railways legendary 4-4-0 D16/2 "Claud Hamilton" steam locomotive, No.8783 to be named "Phoenix".
The Claud Hamilton group is now linked to the Whitwell and Reepham Railway, Providing expert help and a home base for the locomotive in the future.
V499
To read about the "Ground Up Club", and the latest news about the V499 project, go to
http://www.vicsteam.com/
It's 2016 and we have a big year planned for the V499 Project. For those who have been following us on Facebook you will have seen the progress made throughout 2015 on the tender frame. Work is continuing at a reasonable rate and we are planning to complete the unit by the end of the year into a rolling frame once again.
More News at: www.vicsteam.com
With special thanks to Jonathan Newton
As you are all aware we have finally got agreement in order to be able to secure 1498s future however there is still a long way to go, we need to find her a secure long term home and to this end we are currently in talks with heritage railways more details on this will be released as and when known. However before this can happen we need your help we need to raise an awful lot of money in order to purchase the unit and then move it off the E O R, so please folks consider helping us to secure 1498's future. The cost of moving the 3 car set will be in the region of £4,000 plus applicable VAT at 20%. ..plus the cost of buying the set, for which we will need about £20,000+. 
We need your help so please donate to us the address for donations is on this page so please help us and remember everything you donate large or small helps us to secure her future everything goes to buy move and restore 1498. Please help us please donate today. Many thanks 1498 Preservation Group.
The Facebook page for all the latest news HERE
From 1st February 2016, a new website HERE
If able to help the group in anyway…membership secretary etc, contact Stuart at  3cig@mail.com
B & O Railroad Museum TV:
Each month the B&O TV Network, starring actor Michael Gross, spotlights a moment in B&O Railroad history. Take a journey into the past and view one or all of these episodes posted on YouTube.
Mainline Steam Schedule
This listing is offered in good faith, so there is no guarantee offered or implied.
Please confirm running with the relevant tour operator.
And adhere, please, to Network Rail's photographic guidelines…..HERE
The tour schedule for February 2016..and beyond..can be found  at  Railway Herald
On This Day in History.
February
02/02/1901
The body of Queen Victoria is conveyed by the London & South Western,     London, Brighton & South Coast and Great Western Railways from Gosport via London to Windsor,England for her funeral
??/02/1907
Great Western Railway of England begins production of 'Star' Class 4-6-0      locomotives at its Swindon Works, beginning a series of successful 4-cylinder designs
06/02/1964      1964: Green light for Channel Tunnel
 The British and French Governments have announced their commitment to build a tunnel under the English Channel.
Both countries now have the capital and technical skills to bring the project – first mooted 162 years ago – to life but their official statements do not give a definite timetable.
British Transport Minister Ernest Marples told the House of Commons: "It remains to be decided when and how best the expense involved can be sustained."
The scheme – first proposed by Napoleon as an invasion strategy – has the keen support of French President Charles de Gaulle.
Precise details of design, engineering and financing still need to be confirmed, but the Channel Tunnel is most likely to be a twin-tunnelled rail link, costing at least £160m and taking five years to build.
The Channel Tunnel finally opened, a year late, in 1994, leaving Eurotunnel with debts of £925m a year later.
By 1999 Eurotunnel declared its first net profit.
It was voted the best construction achievement of the 20th century in a survey of 400 engineers in March 1999.
–/02/1902
Great Western Railway of England turns out prototype of'Saint' Class 4-6-0 locomotive from its Swindon Works, beginning a series of successful 2-cylinder designs
07/02/1923       
London and North Eastern Railway (Great Britain) takes delivery of express passenger 4-6-2 steam locomotive Flying Scotsman from its Doncaster Works
A refurbished Flying Scotsman on an early afternoon train from Rawtenstall to Heywood on 16/1/2016.(C) Peter Parnell.
12/02/1903
North British Locomotive Company established as a locomotive builder in Glasgow,  Scotland, by merger of Dübs and Company, Neilson, Reid and Company, and Sharp, Stewart and Company
13/02/1952
Bristol Castle (7013) substitutes for 4082 Windsor Castle on King George VI 's funeral train..bearing  4082's nameplates etc, which were never returned to the actual locomotive.
14/02/1927
The Hull Paragon rail accident in England kills 12 people
21/02 1804       
Richard Trevithick's Penydarren – used to transport iron across nine miles of track –  becomes the first successful steam locomotive run on rails.
Monument to Richard Trevithick Replica steam engine.  Attribution: RAY JONES. Reuse under the Creative Commons Attribution-ShareAlike 2.0 license.
26/02/1977
The final members of Class 52 diesel hydraulic locomotives (Westerns) ran on BR bringing to an end the independence of the Western Region and the GWR and the end of Swindon rule . 

Heritage diesel D1015 Western Champion approaching Taunton with an excursion train from Tame Bridge to Penzance. It is carrying 'The Cornishman' headboard. 28 June 2014
(C) Geoff Shephard  (Licensed under the Creative Commons Attribution-Share Alike 3.0 Unported license.)
28/02/1975
A London Underground train has crashed at Moorgate, killing the driver and at least 29 passengers and injuring more than 70 in the worst-ever Tube disaster.
The 0837 train from Drayton Park to Moorgate was packed with commuters going to work when it overshot the platform and ploughed into a dead-end tunnel at 0846.
Passengers on platform nine said the train appeared to shudder and accelerate as it arrived at the station.
28/02/2001
The Selby rail crash (also known as the Great Heck rail crash) was a high-speed train accident that occurred at Great Heck near Selby, North Yorkshire, England on the morning of 28 February 2001. 10 people were killed and 82 people suffered serious injuries.
Radstock to Frome Railway Project
Latest News from this group can be found HERE
Christian Wolmar…
Rail 790: Northern's new leaf
The new Northern franchise represents a shift in thinking about the railways in the North. The old franchise was based on the premise that there was no growth but the new one, due to start in the Spring, is predicated on increased rail use and consequently includes expansion and improvement of services.
The timing of the Northern franchise could not have been better for those seeking to improve the local rail network. The invitation to tender was issued in February, just before the election campaign hotted up and consequently, with the Conservatives suddenly discovering that there were lots of constituencies north of Watford, it had to contain lots of good news. The creation of something called 'Northern Powerhouse' (a term which will be banned from this column except in inverted commas) meant that politically it was impossible not to promise lots of goodies just in time for xmas for both Northern and TransPennine.
And so it turned out: New trains, scrapping of the Pacers, 200 extra services per weekday and 300 on Sundays, and various other  improvements  with only a bit of obfuscation about who exactly would pay for all this. All three bids for the Northern franchise had lots of promises about improvements.
Certainly, Alex Hynes, the Managing Director of Northern Rail, the current train operator which is jointly owned by Abellio and Serco, is convinced that the new franchise will be a game changer, transforming rail services in a way that was not envisaged in the current deal that started in 2004. I spent a day touring part of the network just before the franchise announcement with Hynes who told me: 'The old contract was negotiated at a bad time with the Strategic Rail Authority when it had run out of money because of having to bail out Railtrack. This is completely different.'
The improvements have, in fact, already started. Hynes decided to show me the newly electrified line between  Manchester and Liverpool. We met at the lovingly restored Manchester Victoria station which can now boast the only Starbucks on a Northern Rail station, situated in a previously abandoned area next to the ticket office which itself looks unchanged since 1844. Indeed, the upstairs offices are still vacant and I suggested to him that Northern should let them out cheaply to artists seeking space to work, since such accommodation is increasingly difficult to find in city centres:   'That's not a bad idea, I'll look into that', he said.
He showed me one of the consequences of the boom in usage on his 'no growth' franchise – a series of barriers and notices with platform numbers just behind the newly installed ticket barriers: 'The Xmas market  crowds are so big that we have to manage the passengers, getting them to wait for particular trains in the pens.' Victoria station is right under the Manchester Arena and Northern Rail is getting better at managing massive events, having learnt from the experience of the Tour de France Grand Depart in Yorkshire last year which, Hynes reckons, 'we got  a lot right, but it was also a learning experience'.
He attributes Northern's  recent growth, currently running at an impressive 5 per cent, to both the improvement in services over the years with better punctuality – 'we are no longer improving but it is not getting worse' and wider social factors: 'We are becoming more like London with a growth in white collar jobs in town centres.  That means unlike the factory workers of the past, these people are taking the train to get to work in town centres'. As we leave Victoria station, he points to several big development sites:  'I've been told that they are building 13 new hotels in Manchester at the moment', he said.  Town centres are becoming increasingly important in other respects. The shopping district in Leeds is a huge magnet, widely recognised as the best in the North, and Leeds station therefore is crowded  seven days out of seven.
There are other factors, too. Like elsewhere, young people are flocking to the trains as they can use their mobile devices while on the go, something that is not possible if they are driiving. Hynes has noticed an interesting contrast in the way under 30s buy tickets: 'They would not be seen dead at a ticket office. They want to buy in advance, which is why we have started offering that facility on the Manchester – Liverpool route but they don't do it a month or even a week in advance. They buy the ticket the night before, as that is how they run their lives. As a train operator, we have to adapt to that.'
There is a real old-fashioned sparks effect on the Liverpool Manchester services where there is currently an 11 per cent annual increase, some 6 per cent more than the average across the franchise. Hynes puts this down not just to electrification, but to the fact that there is now a consistent service:  'In the past, they might have got a Pacer or, better, a 150 or 156, but now they know that they will have a pleasant electric  train. That encourages regular users'.
In the December timetable changes, several other routes to places such as Preston and Wigan became electrified, which will not only improve services on those lines but lead to a 13 per cent increase in capacity across the network. Thanks to getting an agreement with the Department for Transport, Northern is keeping all the old stock cascaded because of electrification: 'We considered where to put all these trains and decided that it was in the North West where there was the greatest need and they will nearly all go there'. He cites the example of Bolton where currently people cannot get on the peak trains and now all the morning services will have at least six carriages, the maximum possible because of platform lengths.
Northern is still the most expensive network in terms of subsidy, receiving around £300m per year with passenger income covering only about half the operational costs but Hynes points to the fact that this is mainly the result of railway economics: 'There is a lot of track in the North and the franchisee has to pay the track access charges, and gets subsidy to do this. If the money were paid direct, then we would not need so much subsidy – or indeed possibly any at all'. Part of the high cost base is the fact that the trains, though, are all double-staffed, something that Hynes reckons will not change: 'the platformS are simply not geared up to one person operation and since so many stations are not staffed, there is a revenue issue too. ' Indeed, as we talk,  the friendly conductor comes round to check our tickets.
Hynes is convinced that the politicians understand this, and are no longer looking to cut services, as had been threatened during the consultation period for the franchise. As we pass the 319 ex Thameslink train that has now been named, by George Osborne no less, Northern Powerhouse, for the second tme, Hynes tells me he is convinced that the politicians' promises about improvements to rail services in the North cannot be reversed:  'The north is seen as a key political battleground and at the 2020 election if they have not delivered on better rail services, people will ask what all the idea of the Northern Powerhouse was about.  We are the sixth biggest economy in the world and this morning I travelled on a Pacer train from Stalybridge.  People simply won't tolerate that any more'.
Northern remains a spartan network. There is no catering, fewer than a third of the 464 stations have any kind of ticket selling facility, mechanical or human and there will still be plenty of DMUs chundering around the network in the 2020s. However, no longer will it be a Cinderella railway. The railways are seen as crucial to creating a perception, at least, that the North is able to compete with the South.  While HS2 is seen by many in the North as important, in many respects it is the ordinary day to day services, used by thousands of commuters daily, that will contribute most to that view.  Given all the hype and the political heft, people now have high expectations of improvements and if they are not met, there will be trouble for ministers and the railway companies. Arriva will need to up its game given the high level of complaints on two of its other two franchises, CrossCountry and Arriva Trains Wales. It could do worse than hire Hynes whose attention to detail and focus on performance is legendary has earnt him a reputation as one of the up and coming stars on the railway.
Reproduced by kind permission. First Published Rail790 28th December 2015 
Around the World in 80 Railways.(No 67..Extreme Railways with Chris Tarrant)
Get your copy here
Chris Tarrant: Extreme Railway Journeys – The World's Bounciest Train?
Chris Tarrant embarks on his first train in Myanamar (aka Burma) en route to Mandalay. With limited funds the Myanamar government has tried to improve the vast railway network that was built by the British in the days of the Raj. Unfortunately upgrades to this stretch of line have gone horribly wrong…
(Clip on YouTube Courtesy: The Gamma Project)

The latest from WATTRAIN      HERE

Some of the projects which APHTRO is currently supporting:
Transforming former Taipei Railway Workshop into Railway Museum in Taiwan.
Steam train revival plan by Manila Railroad Club in The Philippines.
Steam locomotive mechanical inspection at Royal Railways in Cambodia.
30742 Charters

Latest News
Find 30742 Charters on Facebook atwww.facebook.com/30742charters
BACK PAGE
Wintery January 2016(C)Roni
—- For clickable index please expand description! —
January 6: electric trains in snow south of Vienna, Austria
January 22: Bratislava, diesel action around Nitra, Slovakia
January 29-30: Alpine electric, narrow gauge steam and diesel
————————— clickable index ————————-
0:11 Vienna Meidling station, Guntramsdorf Südbahn
3:12 Bratislava station, diesels and old infrastructure near Nitra
7:52 into the Salzburg Alps
9:30 Pinzgau narrow gauge diesel, JZ 73-019 steam