"On Shed" Steam Tube's Monthly Magazine…March 2016 Edition
" Preserving the steam locomotive legacy.. and more..on film"
FRONT PAGE
"Flying Scotsman" Passing Tempsford en route to York from London King's Cross. (C) Dick Bodily.
Contents
Welcome…and news….
Editor's Selection: The Return of "Flying Scotsman"
Editor's Selection: "Meet The Author – Christian Wolmar in India"
100 Trains….the journey so far….
Steam Tube Photographic Highlights
Steam Tube Video Highlights
An Announcement from Dumpman Films.
Steam Tube Blogs
Tornado…The Story so far…
New & ReBuild News.
B & O Railroad Museum TV
Mainline Steam Schedule
On This Day in History.
Radstock to Frome Railway Project
Christian Wolmar…
Around the World in 80 Railways (No 68: Extreme Railways with Chris Tarrant)
WATTRAIN & APHTRO News
30742 Charters
Around the UK Heritage Railways- Llanberis Lake Railway
Back Page: Secrets of the Underground (Londonist)


Welcome…and news….
A warm welcome to all "On Shed" readers for this month's edition.
Editor's Selection: The Return of "Flying Scotsman"
Well, at last ..the moment arrived..and passed off, almost without incident….but leaving a bad taste in the mouths of responsible railway photographers and enthusiasts.
Firstly..the event itself..The inaugural run of the expensively refurbished "Flying Scotsman" from London King's Cross to York on 25th February 2016. The National Railway Museum, carers of the iconic locomotive, produced a film for YouTube, which we share here…..

The disappointing aspect was the non attention – by some – to Network Rail's Guidance for Photographers and Enthusiasts…which we reproduce here for the benefit of all those who care about public safety, and the continuing ability of people to photograph freely on the national network….
Railway enthusiasts
We welcome rail enthusiasts to our stations
The following guidelines are designed to help you to have a safe and enjoyable experience. Please print them out and take them with you when you are at Network Rail managed stations.
You may also wish to take a copy of the Railway byelaws which are available from the Gov.uk website.
Before you go on the platform
When you arrive at a station, please let the staff at the Network Rail Reception Desk know that you are on the station. This will help keep station staff informed so that they can go about their duties without concern as to your reasons for being there.
You may require a platform ticket to allow access to platforms.
On the platform
You need to act safely and sensibly at all times.
Stay clear of the platform edge and stay behind the yellow lines where they are provided
Be aware of your surroundings.
Please do not:
Trespass on to the tracks or any other part of the railway that is not available to passengers
Use flash photography because it can distract train drivers and train despatch staff and so is potentially very dangerous
Climb on any structure or interfere with platform equipment
Obstruct any signalling equipment or signs which are vital to the safe running of the railway
Wear anything which is similar in colour to safety clothing, such as high-visibility jackets, as this could cause confusion to drivers and other railway employees
Gather together in groups at busy areas of the platform (e.g. customer information points, departure screens, waiting areas, seating etc.) or where this may interfere with the duties of station staff.
If possible, please try to avoid peak hours which are Monday to Friday 6:00am – 10:30am and 3:30pm – 7:30pm.
Report anything suspicious
If you see anything suspicious or notice any unusual behaviour or activities, please tell a member of staff immediately.
For emergencies and serious incidents, either call:
The British Transport Police on 0800 40 50 40
The Police on 999.
Your presence at a station can be very helpful to us as extra "eyes and ears" and can have a positive security benefit.
Photography
You can take photographs at stations provided you do not sell them. However, you are not allowed to take photographs of security related equipment, such as CCTV cameras.
Flash photography on platforms is not allowed at any time. It can distract train drivers and train despatch staff and so is potentially very dangerous.
Tripod legs must be kept away from platform edges and behind the yellow lines. On busy stations, you may not be allowed to use a tripod because it could be a dangerous obstruction to passengers.
Railway byelaws
For safety and ease of travel on the railway system (which includes passengers, staff, property and equipment), the byelaws must be observed by everyone. You can download the railway byelaws at Gov.uk.
General
Train companies must put the safety of their passengers and staff first.
You may occasionally be asked by station staff to move to another part of the station or to leave the station altogether. Station staff should be happy to explain why this is necessary.
If you are travelling by train, they may ask you to remain in the normal waiting areas with other passengers. If this occurs, please follow their instructions with goodwill as staff have many things to consider, including the safety and security of all passengers, and are authorised to use judgement in this regard.
Please print out a copy of these guidelines and take them with you when you are on the railway.
Thank you for reading and following these guidelines.

No doubt we can expect to see plenty of "Flying Scotsman" images, legally taken, appearing on Steam Tube over the coming months
Editor's Selection: "Meet The Author – Christian Wolmar in India"
During February, Christian Wolmar has been in India, researching material, and getting the feel for, the subject of his next railway history book on..Indian Railways.
We are pleased to share some of the images Christian posted on Twitter during his visit….
Details:
1.Chhatrapati Shivaji Terminus  & with Rajendra B Aklekar
2.Mumbai Churchgate Station & with Deborah Maby at Thane
3.Laxmipur Road railway station & Early Morning at Mumbai CST
4.Kolkata Station awaiting the Rajdhani Express & 2 Nilgiri Railway Locomotives.
5. The saddest picture of all detailing the deaths on Mumbai Railways..averaging 10 per day…..
So, look out for the new book on Indian Railways in due course!!
In the meantime, Rajendra B Aklekar's book "Halt Station India" ..on Mumbai's first railways, will get you warmed up for the subject!

100 Trains….the journey so far….
100 Trains. THE global charity event of 2016.
Steam Tube and Rail Tube are pleased to give our support to Iain McGeachin's train journey around the world…..for as long as his health and strength permits…and the more who can join him enroute, then this will surely serve to encourage him on his way!
The following is Iain's own explanation of his project…….
What? A series of charity walks, and rolls (for wheelchair users), along the route of a 50,000km RTW train journey.
Why? To raise vital research funds for ataxia research, and as a vehicle to unite ataxia sufferers, supporters and charities worldwide
So what is this "ataxia"?  Iain tells us…
"Ataxia is a rare genetic condition. It affects communication between the brain and body. The ability to walk is usually the first to go. Then speech/swallowing, sight and hearing. At it's worst, it is terminal.
There is currently no cure for ataxia (although Ataxia UK, and similar charities across the globe, are funding the very hard work that is being done to find one).
And worse still, ataxia is a progressive condition. Meaning that affects only gets worse with each passing day.
So while I still can, I will organise, and participate in, a whole series of "walk'n'roll" events in 2016 (with your very kind support of course!).
The best description that I've heard is: "Ataxia. It's like Multiple Sclerosis ganged up with Parkinson's, and played a dirty trick on Cerebral Palsy". So. Not very nice then.
And because ataxia is a lot rarer than it's more well-known big brothers, fundraising events are rarer too. But sadly, ataxia is no more fun to have."
——–
The first of Iain's "Walk n'Rolls" took place at the end of January 2016……Thank you to all those who turned up to support Iain..
He is resuming his trip as follows…..
"I'm off. Well, not quite yet, but a leaving date has been decided upon.March 31.
I'm travelling down to London on that date (a Thursday), via a stopover in Manchester. I'll then continue down to London on the Friday – and actually "start" my journey (well, the European leg) on the Saturday (2nd April) – with a "walk" along the Southbank, jump on the Eurostar (either Saturday evening or Sunday morning), and "walk" in Paris on the Sunday (along the "Promenade Plantee" – a disused, high-level train track, which was converted into a walking path/garden a few years ago). Being a former railway line, it keeps to the railway theme. And I did learn quite a bit about relatively unknown attractions during my time in Paris. Yes, there
are more "well-known" walks (particularly on a Sunday when they close the road along the right bank of the Seine to traffic). But I've walked along the Promenade Plantee before, and it is an exceptional stroll. Especially in the Spring when the flowers are starting to bloom. And being a former railway line, it is flat and level (and there is a lift to the elevated start section).
This will then be the start of a month-long trip around Europe. The plan is to walk in 15 major European cities (in addition to London & Paris),and I've added the itinerary to the dropdown menu on www.100trains.com.But roughly, it involves me spending one day on a train between cities,walking the next, and back on the trains the next day.
It has been deliberately planned to be very busy. For a couple of reasons.
First, as before, I want to "force the issue" – so that if there is a
physical problem when travelling this way, then I'd quite like to find out about it when I'm relatively close to home. The second reason, also explains the change in focus of the overall trip now. Whereas before, the focus was on the trains and journeys themselves, the focus now is on fundraising. Which means walks. As many as possible. And because more people means more potential for fundraising – then the vast majority of the destinations are in major population centres…"
We wish Iain well..and if there is any way we can offer support, then why not visit his website, and also
ATAXIA.org
to show your support by means of a donation.
Friends of the Walk'n'Roll for Ataxia
Very kind people have made this event possible. Please support my supporters.
Steam Tube Video Highlights
(7,279 in the Steam Tube Library)
An Announcement from Dumpman Films..
Dumpman Films has been out and about to make the first film of the year and is proud to present:
Westerham Branch Line Explored
Having had the M25 built over part of it, this was always going to be a somewhat peculiar outing. Ferreting around in the prickly undergrowth next to busy motorway junctions featured, as did tearing along the motorway with a camera bolted to the roof of the car (Polocam). Happily, there was also some delightful meandering through lovely countryside while following the course of the old track bed. The trusty (rusty) Raleigh Chopper didn't get used for this film, but promises to make an appearance in a couple of months time.
Firm plans are still in place to cover the Hawkhurst branch line and Moretonhampstead branch line in March and April, which will undoubtedly see some Chopper action. More news will follow when these two are complete.
The last ten years have been a delight and I am very grateful for all the support, especially for those who have been along for the ride since the start and buy everything I come up with. Good health and fair weather permitting, Dumpman Films will continue for another ten years and beyond, as there are many, many more disused railways that need to be explored and made available to a charming armchair audience.
Welcome to my favourite spot, isn't it splendid ?(Courtesy: Dumpman Films)
To mark the anniversary, the 8 dvd set, The Disused Railways of Sussex in 2006 will be marked down to £10 for the rest of this year. Being the first collection of the catalogue, it's a pretty rough and ready production, but it did mark the start of something that appears to have enduring appeal. Anyone buying three or more of any of the titles in one transaction directly from me can expect the usual generous discounts.
Full details are on the website www.dumpman.co.uk and all titles are listed on ebay for those of you who prefer that route. 
If you are interested in these or any of the other titles then by all means email directly.
My sincere thanks, I will be back with news of more new material in April or May.
Chris
______________________________________________
Steam Tube Blogs
(508 in the Steam Tube Library)
Dave Wilson is a regular contributor to this feature in "On Shed".
Here is one of his most recent blog posts..
PICTURES OF TRAINS
A little while ago, in his "Thin Red Line" column, David Wilcock, the railway journalist and photographer challenged railway photographers to become more imaginative to look beyond the ¾ front view from tried and tested locations – the 'Kinchley Lane syndrome', as he described it. As an exemplar Wilcock chose the work of Colin Gifford, and Gifford was, unquestionably, one of the great railway photographers. However, what Gifford photographed was the death throes of the steam operated railway, warts and all. Grimy, steam-oozing, work stained locomotives in back streets and sidings, in run down engine sheds, or down some 'freight' only branch line, scenes which, sadly for some, are no longer with us. The pits are shut, many of the terraced houses have been demolished, one of Gifford's more potent images is of terraced houses in Accrington being demolished, as a goods train passes in the background. Now, even the humble 20ton mineral wagon is a part of the 'heritage' 'Windcutter' rake. Today's railway photographers simply do not have the trains, landscapes or opportunities that Gifford and his peers worked with. In short, we are where we are.Wilcock acknowledges that Gifford's work went beyond simple railway photography, entering the realms of social documentary. Gifford worked predominantly in monochrome whereas today's photographer works primarily with colour – this alone creates a very different atmosphere and flavour to a photograph. Today a debate rages about the levels of digital manipulation – in Gifford's era there was still manipulation and hours could be spent dodging and shading and experimenting with different exposures in the darkroom – a finished print could be, and often was, a very different picture to the one captured on the negative.
Gifford was an Art School graduate and would, as a result, have been taught about composition, aesthetics, and 'creative' techniques and thinking. The benefit of his education in the creative arts should not be underestimated. There is another issue here and one which is central to this debate and that is – one man's 'great photograph' is another man's 'what's that all about'. Monet, Turner, and Van Gogh painted 'railway pictures' but one wouldn't call them 'railway artists' as we would Cuneo, or Philip Hawkins. Indeed what seems to be most valued in 'railway' artistry is photo-realism. The nearer to photographic reality the railway artist gets the greater is the general acclaim, amongst lovers of 'railway' art. Surely there is a contradiction here? On the one hand we want our 'railway' artist to produce works with a high degree of 'photo-realism' whilst wanting our railway photographers to become more artistic / imaginative in their interpretation of the steam railway.
The best photographs, and for that matter the best paintings, are usually as much about the light and its quality as about the actual subject. I've heard photographers on the lineside say 'if there's no sun they don't even bother going out to take pictures' – and editors do, most definitely, favour the sunlit shot. Why shouldn't they when it is the light which brings the picture to life.
However, Gifford made use of the flat light of a grey misty morning in a manner which is hard to duplicate for many of the reasons I've already given. Similarly, Gifford's use of light in his 'engine shed' photographs was largely possible only because of the dilapidated structures of the sheds themselves. Today we are very short of dilapidated engine sheds – Didcot, Tysely, Barrow Hill, and Marley Hill, on the Tanfield Railway, are practically the only surviving examples and they are not really noted for their dilapidation. Carnforth with its Cenotaph coaling plant is, to all intents and purposes, off limits.
Over the years there has been a steady growth in the 'photo charter' market; photo charters usually consist of smallish numbers of people banding together to hire a locomotive and train, specifically to cater to their photographic requirements, be they run pasts with volumes of black clag, or posed shots, after dark, in a station, with accompanying 're-enactors' in suitable period garb. Even, O Winston Link style, night time line side photography is staged, with the engine crews in on the act. Whether all this is 'being more creative' is, perhaps, debatable. What seems to be going on is re-creative, in so much as tableaux are being designed, actors posed, lighting set, not to create something new and novel, but to re-capture scenes, which were once common-place, the lone couple, a la Brief Encounter, or the squaddie going back to barracks, I'm sure you get the picture. This nostalgically mediated past, digitally enhanced, and meticulously detailed does move away from Wilcock's 'Kinchley Lane Syndrome' and ¾ front view, but in what direction.
Unlike yesteryear, when trains rumbled by, day and night, all year round, and in all weathers, today's steam railway photographer has limited locations, limited running days, and limited motive power and that's not to mention that trains such as goods, minerals, parcels, TPOs etc; are even more limited, usually only appearing for gala events, or in the aforementioned photo charters. Night time and 'after dark' operations are similarly limited in scope and number. The railway landscape too has changed and is still changing. The views of old mills are now of 'industrial' units, the rows of terraced houses, which were being bulldozed in Gifford's photographs, are now 'modern' housing complexes, lines of trees and shrubbery obscure once open views.
The very nature of the heritage railway line takes it away from the mundane, workaday, railway Gifford photographed so eloquently. The heritage environment isn't about bulldozed houses, piles of rubble, and burning rafters, it's more of a cream tea and gentility vision – pictures of a grim, grey, Northern wastelands don't really feature as a tourist draw.
If you've enjoyed my photographs and blog, why not try my book "Gricing: The Real story of the Railway Children". This is the link:
http://www.amazon.co.uk/Gricing-Real-story-Railway-Children/dp/1514885751
Tornado…The Story so far…
With "Flying Scotsman" returning to the mainline, "Tornado" might now seem to be pushed out of the limelight… No doubt, though, that just as "Tornado" appeared and gave an impetus to railway heritage..and mainline.. steam, so "Flying Scotsman", with its fantastic history will provide further encouragement to the railway heritage enthusiast to get out the camera, and get out and about to obtain those classic lineside photographs…legally, we might add.
Tornado's Forthcoming Programme
The A1 Steam Locomotive Trust is proud that Tornado will continue to be operated on the Network Rail main line by DB Schenker, which has worked successfully with the Trust since the locomotive's completion in 2008.
You can download the 2016 Tour Guide here.
2016
12th March – Belmond British Pullman – Surrey Hills
25th to March 28th – Easter at Didcot Railway Centre
29th March – Driver Experience at Didcot
New & ReBuild News.
This feature now includes a couple of other worthy contenders for your support and consideration.
Can you get behind this project?
Merchant Navy 35011 General Steam Navigation Project
This society intends to transform this locomotive back into its original form as it was built in Eastleigh works back in 1944.
Further information at: General Steam Navigation Locomotive Restoration Society
Or perhaps your memories are for the Brighton Belle… featured in Andrew Martin's book "Belles and Whistles"?
In which case, take a look……Donate to The Brighton Belle

A 1972 newsreel depicting the final run of the Brighton Belle all-Pullman electric service which commenced services from London to Brighton (using the same stock depicted here – SR Class 5BEL/BR Class 403) in 1933. Is the large bearded gentleman passenger depicted but not named none other than the late, legendary Led Zeppelin manager Peter Grant?(Courteys: Southern Railway Films on YouTube)

Hengist: Latest news at http://www.theclanproject.org
Latest progress on P2's Facebook page…..
Project Miller 41001 Returns!.
US Union Pacific Big Boy 4014
Latest News..and Video..HERE
The Pennsylvania Railroad (PRR) T1 Steam Locomotive Trust



More information at:http://prrt1steamlocomotivetrust.org/news.php
Chesapeake & Ohio 2-6-6-2
.


Photo courtesy B & O Museum
Latest News on Facebook..HERE
Australia
Project 6029 (Beyer Garratt 6029 ex-NSWGR) Up to date information regarding steam locomotive 6029 in Canberra, ACT Australia. Beyer Garratt 6029 is an EX NSWGR locomotive and was a member of the largest, and most powerful class in Australia. The restoration to full working order has been  undertaken by volunteers in Canberra.
Claud Hamilton:
Fund our Frames!
Donate just £5 to help to get this project started. We are starting with the buffer beam, We have been quoted a cost of £1300. Thats if 260 people donate just £5, we will be able to see the first part of a Claud for over 50 years.
We aim to build and operate the Great Eastern Railways legendary 4-4-0 D16/2 "Claud Hamilton" steam locomotive, No.8783 to be named "Phoenix".
The Claud Hamilton group is now linked to the Whitwell and Reepham Railway, Providing expert help and a home base for the locomotive in the future.
V499
To read about the "Ground Up Club", and the latest news about the V499 project, go to
http://www.vicsteam.com/
It's 2016 and we have a big year planned for the V499 Project. For those who have been following us on Facebook you will have seen the progress made throughout 2015 on the tender frame. Work is continuing at a reasonable rate and we are planning to complete the unit by the end of the year into a rolling frame once again.
Many thanks to Jodie G. for her pledge of $25 and also to Jarrod N. who has given another $200 on top of his initial pledge of $50 that he gave a few weeks ago. That takes us to 35% pledged, and a total of $2,475. Please help us to achieve our target of $7,000Au so we can build this brand new component (the cab) of V499. A pledge of $50, $100 or more will make such a massive difference.  http://www.pozible.com/project/203981
..
Class 421 1498 Preservation Society.
The Facebook page for all the latest news HERE
From 1st February 2016, a new website HERE
Donation Page HERE
If able to help the group in anyway…membership secretary etc, contact Stuart at  3cig@mail.com
B & O Railroad Museum TV:
Each month the B&O TV Network, starring actor Michael Gross, spotlights a moment in B&O Railroad history. Take a journey into the past and view one or all of these episodes posted on YouTube.
More recently, a special visitor was received at the B & O Museum, along with a different companion than would maybe expected…..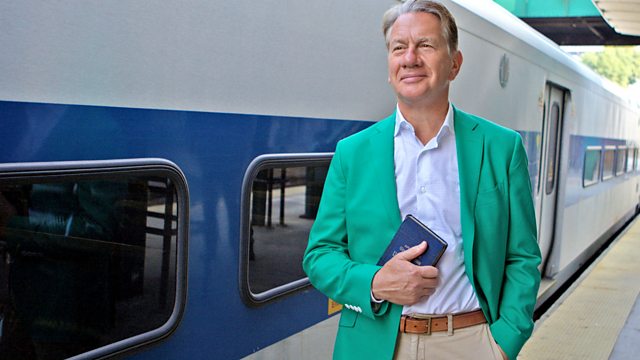 Courtesy: Boundless TV
More next month….
Mainline Steam Schedule
This listing is offered in good faith, so there is no guarantee offered or implied.
Please confirm running with the relevant tour operator.
And adhere, please, to Network Rail's photographic guidelines…..HERE
The tour schedule for February 2016..and beyond..can be found  at  Railway Herald
On This Day in History.
March
01/03/2015 East Coast, the publicly owned British train operating company running passenger services on the East Coast Main Line between London, Yorkshire, the North East and Scotland, hands the franchise over to Virgin East Coast
04/03/1890 Forth Rail Bridge opened by the Prince of Wales (later King Edward VII)
05/03/1872 An air brake system based upon a design by George Westinghouse was patented on March 5, 1872. In various forms, it has been nearly universally adopted.
The Westinghouse system uses air pressure to charge air reservoirs (tanks) on each car. Full air pressure signals each car to release the brakes. A reduction or loss of air pressure signals each car to apply its brakes, using the compressed air in its reservoirs.
06/03/1833 William Stroudley, locomotive and carriage superintendent for Highland Railway 1865-1870; locomotive superintendent at London, Brighton and South Coast Railway's Brighton Works 1870-1889, is born (d. 1889).
10/03/1906 The Baker Street and Waterloo Railway opens in London
10/03/1800 George Hudson is born. Railway financier who, controlling large parts of the railway network in the 1840s, becoming known as "The Railway King." Hudson's success was built on dubious financial practices…the shareholders received their dividends from capital rather than money the companies had earned.
Courtesy: Wikipedia
12/03/1831 Opening of the Glasgow & Garnkirk Railway.
12/03/1914 George Westinghouse, American inventor; developed the Westinghouse air brake (b. 1846) died.
17/03/1900 Great Eastern Railway of England introduces 'Claud Hamilton' 4-4-0 steam locomotive from its Stratford Works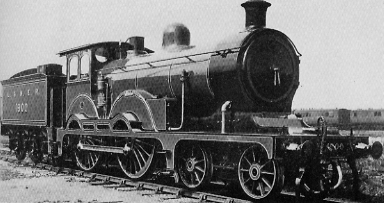 (Courtesy: www.lner.info)
18/03/1916 Karl Gölsdorf, Austrian steam locomotive designer dies.(b. 1861)
18/03/1960 2-10-0 No 92220, the last steam locomotive to be built for British Railways was named 'Evening Star' by Mr K W C Grand at Swindon where she was built.
"Evening Star" on the right
21/03/1963 Train drives itself
The first automatic train on the London underground could be hurtling into stations in three weeks, the government has revealed.
The trains, which operate without a driver, are currently undergoing a series of trials commissioned by the Ministry of Transport before passengers are allowed on board.
But the public has the chance to glimpse the trains today, which have cost £60,000 to test, as they are demonstrated in South Ealing, west London, by the London Transport Board.
21/03/ 1922 The official opening of the rebuilt Waterloo Station by Queen Mary.
24/03/1997 On this day in WSR history: 24 Mar 1997 – the first sea defence stone train arrived at Minehead.
27/03/1963 The Beeching Report!
The Reshaping of British Railways – Part 1: Report
The Reshaping of British Railways – Part 2: Maps
Radstock to Frome Railway Project
Latest News from this group can be found HERE
Christian Wolmar has recently spent some time in India, getting to know India, and its railways, in prearation for his next railway history book on..Indian Railways. 
Around the World in 80 Railways.(No 68..Extreme Railways with Chris Tarrant)
Chris Tarrant has completed a second series of "Extreme Railways".
In the following clip, courtesy Engine Porn on Youtube, we take a look at that most infamous of lines that became known, for obvious reasons, as Death Railway.
(Courtesy: The Gamma Project on YouTube)

The latest from WATTRAIN      HERE

The APHTRO conference 2016 is planning to be held in New Delhi, India. Everyone with an interest in heritage railways and museums will be warmly welcomed.
Venue & Schedule
The venue of the conference is New Delhi, the capital of India.
Schedule of the conference prgramme is;
15 – 18 Oct : Pre-Conference Tours chosen from 9 options include Nilgiri, DHR and Kalka Simra, World Heritage Railway sites.
19 – 21 Oct : Main programme includes AGM & Business Sessions, Steam Train ride and visiting Railway Museum in New Delhi.
22 – 23 or 29 Oct : Post-Conference Tours chosen from 2 options, Steam Train ride to Sariska or India Maharaja Express.
APHTRO 19-21 Oct 2016 Leaflet (1)
For more information: www.aphtro.org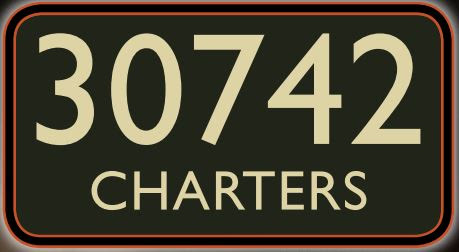 Latest News
Find 30742 Charters on Facebook atwww.facebook.com/30742charters
Around the UK Heritage Railways – Llanberis Lake Railway
The heritage railway movement/industry, with over 200 individual locations UK – wide, makes a significant contribution to tourism.
To get to appreciate the challenges faced by some of the scenic railways, On Shed was able to ask Jenny Gorton, Chief Engineer at the Llanberis Lake Railway ..
The railway is a narrow-gauge steam train line set alongside Lake Padarn in the heart of Snowdonia.


(Llanberis Lake Railway Picture)
How long have you been there?
"I've been at the Lake Railway since 2009. It's somewhat different here to most heritage railways, in that the company was originally set up for the purpose of providing employment for local people after the closure of the quarry. As a result, we have no volunteers. We have had a few people do some work for us on a voluntary basis, but we do not advertise for volunteers and run as a self sufficient company.
How many staff are needed to operate the line successfully?
As you will have seen from our timetable, we run a fairly busy schedule and this is operated by paid staff. We have 10 full time staff year round, and take on additional staff for the season. Generally, we would have less than 20 staff across the company even at the busiest times. Really, anyone visiting us a second time is likely to see the same faces at each visit."


(Llanberis Lake Railway Picture)
How large is the engine fleet/rolling stock?
We have 3 steam locos. All quarry Hunslets (two Alice class and one Port class) which were bought at auction from Dinorwig quarry when it closed. So these locos are still in their original location more or less. Our workshop is part of the quarry buildings! (the rest of the site now being occupied by the National Slate Museum). Two of these are in working condition (although as I write this, one is being repainted) and the third is currently undergoing a major rebuild. We also have 4 diesel locos (all Rustons) 2 of which are in working condition and in daily use. We have 12 carriages (and a 13th waiting for a rebuild).
What visitor numbers make for a profitable operation?
As for visitor number required, that would be difficult to estimate, we could probably estimate at about 67,000 at current fares, but as we try to increase the spend per head in other areas such as our café and shops, this number may come down.
Are there any particular challenges from your point of view for the railway in the future?
Our biggest challenges at the moment, are remaining competitive whilst improving and adding new things for our visitors. We do not seem to appeal as much as some railways to the enthusiasts, and are seen as a tourist attraction. This means that we find ourselves competing with the ever increasing number of tourist attractions in the area. The new "Bounce Below" and the "Zip World" attractions opened fairly recently to name but 2 extra attractions. The Snowdon Mountain Railway has increased their capacity and started taking online bookings, and as a result, there are less people in Llanberis itself, where once there was often a large number of people in the area who had come for a trip up the mountain to find the first available train was not for several hours. We are looking to make improvements to our infrastructure which is also challenging. As we have such a small staff, the day to day operations and such have to come first, and then we try to fit anything else in around this!


(Llanberis Lake Railway Pictures)
For more information on this delightful line…
http://www.lake-railway.co.uk/
With grateful thanks to Jenny Gorton for taking the time to speak with "On Shed". Best wishes for a successful 2016!
So, are you planning a visit to Llanberis Lake Railway during 2016?
Well, print off the vouchers below to present when you next visit!!
Secrets of the Victoria Line(Londonist Ltd on YouTube)
Geoff Marshall travels the length of London's Victoria Line, picking out some of the more unusual features in the stations. (With grateful thanks for permission to reproduce here)