"On Shed" April 2016 Edition.
" Preserving the steam locomotive legacy.. and more..on film"
FRONT PAGE
Flying Scotsman at the head of the ex 1230 Grosmont to Pickering service passes Beckhole.(C) Nic Burden
Contents
Welcome…and news….
Editor's Selection 1: The Return of "Flying Scotsman"(2)
Editor's Selection 2: "Meet The Author – Christopher Vine and Peter's Railway at Toddington, Gloucester Warwickshire Railway"
Editor's Selection 3: "Meet The Author- Great American Railroad Journeys with Michael Portillo"
100 Trains….the journey so far….
Steam Tube Photographic Highlights
Steam Tube Video Highlights
Steam Tube Blogs
Tornado…The Story so far…
New & ReBuild News.
B & O Railroad Museum TV
Mainline Steam Schedule
On This Day in History.
Radstock to Frome Railway Project
Christian Wolmar…
Around the World in 80 Railways (No 69: Monisha Rajesh..
WATTRAIN & APHTRO & NERHT News
30742 Charters
Around the UK Heritage Railways – Vale of Berkeley Railway
Back Page: Secrets of the Underground (Londonist)
Welcome…and news….
A warm welcome to April 2016's edition of "On Shed"- the monthly magazine of Steam Tube – The Home of Steam on the Net!
The railway world's attention has been dominated by the return to steam of the nation's iconic locomotive, Flying Scotsman. Rail Tube was pleased to be able to speak with Colin Green, a director of Riley & Son(E) Ltd, about the work involved in getting Flying Scotsman into mainline service. Read the article in this edition "The Return of Flying Scotsman"(2)
Whilst on the subject, a word about photography. For the most part, enthusiasts and others show due respect for Network Rail's guidance on the taking of photograph's on/near Network Rail property. The advices are well placed, and not to be ignored. Public health and safety – and not least the safety of the crews and passengers on steam hauled trains – is at stake. And so, maybe, is the prospect of being able to take photographs in such places in the future. A recurrence of some of the recorded incursions onto prohibited areas would give Network Rail legitimate reason to withdraw this privilege.
(The guidance for photographers from Network Rail can be found HERE.)
Enthusiasts will also be reassured that the West Coast Railway Company is now able to resume its operations, which will come as a great relief to those hoping to experience the joys of the West Highland Line from Fort William to Mallaig this summer.
Glenfinnan Viaduct. May 2015
And experience is at the heart of what Christopher Vine does..
He wants young ones to experience the joy of engineering..so his Peter's Railway books are essential reading for future engineering prospects! This last weekend Chris was at the Gloucester Warwicks Railway at Toddington pleased to meet with all those interested in his books which are a "must read" for every child from the age of 3 to 90!!!
Michael Portillo has started taking a look at "Great American Railroad Journeys"…but not with George Bradshaw …Monica Rajesh describes a trip to the roof of the world…Iain McGeachin's Walk n'Roll for Ataxia continues…and we take a look at a little known heritage centre in Sharpness….
And there are the usual features to enjoy in this month's April 2016 edition of "On Shed"
Editor's Selection 1: The Return of "Flying Scotsman"(2)
Location? From an old slide.(C) Nigel Auckland on Steam Tube
It was built in Doncaster , emerging from the works on 24 February 1923 and initially numbered 1472. It was designed by Sir Nigel Gresley as part of the A1 class – the most powerful locomotives used by the railway. And made its name on the East Coast Main Line between London and Edinburgh, being named after the service between the two cities which had started in 1862.
In the following years, its reputation as the flagship locomotive of the London & North Eastern Railway (LNER) was enhanced by being selected to appear at the British Empire Exhibition in 1924, when it sported the number 4472, and was secured by reaching the first officially recorded and verified 100mph (30 November 1934) .. and by setting a record for the longest non-stop run by a steam locomotive when it ran 422 miles (679 km) on 8 August 1989 while in Australia…whilst under the ownership of Sir William McAlpine. Indeed, for a time, Flying Scotsman was the only steam locomotive allowed by British Railways to run on the main network, hauling steam special excursions.

Alan Pegler and John Huntley at King's Cross and St Pancras 4472 Flying Scotsman anniversary run, they discuss plans to go to the USA, 4472 departs King's Cross(Courtesy: Huntley Film Archives)
Over the last 90 or so years, the name Flying Scotsman has been associated with Sir Nigel Gresley, the LNER, Alan Pegler, Sir William McAlpine, Dr Tony Marchington, the National Railway Museum..and now Riley and Sons,Bury. The three private owners prior to the NRM had all found that restoring Scotsman to its former glory came at a price.
Sir William McAlpine in conversation with Christian Wolmar at Fawley event in May 2014.
Indeed, in a recent BBC Film on Flying Scotsman's inaugural run after restoration, Sir William said that, whilst he owned the locomotive, he never really felt that he was anything other than the guardian of it for the nation…And he now enjoys the pleasure of watching Flying Scotsman without having to worry about paying the bills!
"Flying Scotsman" at the NRM York ..June 2011 (C) Graham Rogers.
Originally, when the NRM acquired the locomotive for the nation in 2004(after a fund raising appeal) it had hoped to get the locomotive back into action by 2010. .. but it was not to be..
Additional problems were discovered, a 2012 report setting out the reasons for the delay and the additional costs. Finally in 2013, the tendered contract was awarded to Riley & Sons at Bury to bring the locomotive back and ready for mainline use…originally hoped for in mid 2015.
Rail Tube was able to speak with Colin Green a director of Riley and Sons. He was able to give us the sense of how the project almost took over the lives of those involved in it! "Blood , sweat and tears", sometimes literally.
When Paul Kirkman, the director of the NRM made the announcement regarding the contract being awarded to Riley & Sons, he said that "We are pleased to have appointed a contractor with the specialist skills and expertise required for the final stages of the project."
So Riley and Sons , Bury, started on the work, which included the alignment of the middle steam cylinder. All three steam cylinders were also oversize and needed to be fitted with new liners and rebored to a nominal 19 inch diameter. This corrective work on the cylinders meant that they were to be separated from the frames of the locomotive, which would then allow a section of the main side frames to be examined.
..in NRM York workshop (September 2009) (C) Ian Glen 
But nothing was easy to accomplish… Colin Green explained that during the project, boys had become men! They had worked on the boiler 10 years ago… but this involved special dies and forms, sussing out what was wrong, ordering the new bits, press the plates, and rebuild the boiler with the old technology .. hot rivetting…traditional skills as per the original LNER drawings. In this extensive modification, the boiler….the 18th in Flying Scotsman's lifetime, was an original A3 boiler acquired by the NRM as a spare with the locomotive.
Some might wonder how much of the locomotive is the "original " Flying Scotsman! Ian Riley explained that all the working parts had been renewed, and the front third of the main frame…
But whatever percentage is original or otherwise, the words of Creagh Maywald, who had been involved at Riley & Sons for the last 18 months, are relevant…"It's soul is original"…and he has a point. "Put a fire in it, and it comes to life"
And seeing the tremendous turnout of enthusiasts ..and others.. who crowded platforms of the East Lancashire Railway when it did its first testing runs, and those who were at London Kings Cross to see it depart on its run back home to York, resplendent in British Railways green livery, and bearing the number 60103, you get the sense of achievement that all those who worked on it will have felt, making all those "Blood , sweat and tears" worth it.

LNER "Flying Scotsman" makes it's hugely long anticipated return to service at the East Lancs Railway, as it's hauls a special service..(C) L Marsh on Steam Tube
As Colin Green said on the day of that auspicious run to York……….. "Cinderella didn't want to go to the ball.. ….but we were determined that she was going..whether she was kicking her legs, or not..and here we are…and here she is today…running like a sewing machine….everything running at the right temperatures…everything's perfect…Its been an uphill struggle…its been blood sweat and tears…and its given the engine a new lease of life"
Colin Green was keen to single out a couple of those who had given their all in seeing the project through…Chris Chesney (Project Manager) and Greg McGill…as well as all those at Riley and Son
who had worked tirelessly on the project. And not forgetting a word of thanks to suppliers and all others whose involvement at various stages of the project meant that the world's most iconic railway locomotive would once again grace the mainline, and continue to bring delight and pleasure to all those fortunate enough to travel behind her, ..or see her… and to the nation.
(Courtesy: Riley & Son(E) Bury & Jack Boskett)
So, an expensive restoration? That hardly matters now, does it?
Congratulations to the NRM, but especially Riley & Sons, Bury.. for an excellent job, well done.
"Flying Scotsman" at the head of the 0930 ex Grosmont,NYMR. (C) Nic Burden.
Rail Tube would like to extend sincere thanks to Colin Green for his help in putting together this article.
Editor's Selection 2: "Meet The Author – Christopher Vine and Peter's Railway at Toddington, Gloucester Warwickshire Railway"
It wasn't the best of weather, but Chris Vine was well protected on Toddington Station platform..and was able to meet with fans and appreciative callers to his display of excellent railway engineering books with young readers in mind.
The whole point of his "Peter's Railway " books, is to engender within younger readers an appreciation for, and maybe a desire to get involved with, engineering in its various forms… but perhaps with a desire to be biased towards railway projects!
There are currently two Peter's Railway Young Engineers' Centres..one at the Severn Vally Railway..the other on the North Yorkshire Moors Railway.
Here is a taste of the sort of thing that can be seen…

A short video clip with Chris explaining the moving parts on "Bongo".
So, if your aged between 3 and 90(!!) the next time Peter's Railway is near to where you live, take advantage of the occasion..and be inspired!
Further details of Chris's schedule can be found HERE
Editor's Selection 3: "Meet The Author- Great American Railroad Journeys with Michael Portillo"
For the last seven years ,ever since the first series of Great British Railway Journeys hit the TV screens, Michael Portillo has been inextricably linked with George Bradshaw..the publisher of the railway guides of the same name.
In the latest series, we find that George has been supplanted by Daniel….. Daniel Appleton.. (December 10, 1785 – March 27, 1849)
He started his early working life with a grocery business in the town of his birth..Haverhill, Massachusetts, before moving on to Boston, where he mixed selling dry goods with book importing…finally settling in New York, concentrating on his book importing and publishing. His first book was published in 1831, and later genres were added to the portfolio, including children's books, books for Latin America, and in 1847, travel literature….. which is how he came into the orbit of Michael Portillo.
Interestingly, Appleton's Guides started to be published just a few years after George Bradshaw's Railway Time Tables and Assistant to Railway Travelling(1839).
So, let Appleton's Guide show us the way, the sights to see, the landscapes to enjoy and the people to meet along the way.
Right from the start, we get a feel of where the programme is coming from….the introductory remarks speak of America's "Gilded Age", when "powerful tycoons" launched a railway boom that "tied the nation together"  and "carved out its future as a superpower."
And the theme music! Shades of "when Johnny comes marching home again"..but in the distinct feel of the brand that is Boundless TV's "Great Railway Journeys", be they British, Continental..or American.
Michael Portillo at the Baltimore and Ohio Railroad Museum
(Images Courtesy: Boundless TV)
A brief overview of the series….15 episodes in all..starting at Grand Central Station, that magnificent cathedral like edifice in New York…visits to the Manhattan subway system… the East Side Project (and we thought Crossrail was big!!) the Long Island Railroad… the Robling family behind that most iconic of New York sites,Brooklyn Bridge….the Hudson River …  the first all female American university….the Eerie Canal….Niagara Falls …. …Gettysburg..the Amish community..the Mason-Dixon line…. Baltimore..(the US equivalent of the Stockton and Darlington..and a museum..).. the Washington Post offices… a slave market in Virginia…. Westpoint….the Civil War…and Jamestown, the first permanent English settlement in the United States.
And along the way some illustrious names from US railroad history..and some, not so illustrious..hence "gilded age" and "robber barons" are recurring phrases….. A bit like early UK railway history…….(see Adrian Vaughan's "Railwaymen, Politics and Money")
There is a book available for pre-order on Amazon…but its not available until  January 2017… so, is there another series to come? Don't bet against it!!
In the meantime, the full 15 episodes are available to purchase from BBC Store
============================
100 Trains….the journey so far….
Europe walking route updated to include additional walks in Geneva and Pisa: http://www.100trains.com/europe-walk/
Steam Tube Photographic Highlights 

(32,069 in library)

Steam Tube Video Highlights (

7,344 in library)

Steam Tube Blogs(511 in library)
THREE HUNDRED  ..by Dave Wilson
This, according to the stats, is my 300th 'blog' – that's somewhere between a 'Streak' and 'Brit' number of words, and a little over 300 photographs – a sizeable and fairly lavishly illustrated book, if you put them all together. I don't know exactly how many people see and read these posts on Facebook, but it averages 5000+ a week, so over the 16 months that's around 320,000; on steamagedaydreams.co.ukthe count is 64,053 and rising.
The most popular article, was the one posted on May 15th 2015 when 1,206 people visited the website and read this edition:http://steamagedaydreams.co.uk/?p=1848 – a tale of my exploits with a shovel, on the former LSWR main line, that May night 50 years earlier. I have no idea how many people viewed it on Facebook, that day. Today, fifty years down the line, as it were, I shovel words into cyberspace. From 'steam age' footplateman to 'information age' Weblogger in 50 years – who'd have thought of that in 1965, but here we are. Still, you've got to do something to pass the time of day when you retire, and watching the Jeremy Kyle Show and re-runs of Location, Location, Location are simply not an option – unless of course it was "Trackside photography, location, location"!
The location is trackside at a very windy Quorn & Woodhouse during the GCR's Winter Gala. The loco, Ex-SR 4-6-0 No.777 Sir Lamiel, is just departing with the Loughborough – Rothley local service.
For anyone interested, I have written a book about my 60 years involvement with railways, on many levels, this is a link to it: http://www.amazon.co.uk/Gricing-Real-story-Railway-Children/dp/1514885751
These are some totally unsolicited comments from people who have already read  Gricing: 'treated myself to a copy of "Gricing" for Christmas, excellent reading.'
'I'm enjoying your book. It's a real page-turner, thought provoking and great photos, to boot'

'I bought and enjoyed "Gricing" etc and would heartily recommend it to readers'. 
'I was given what I believe to be your book called "Gricing" the other night.  Very much enjoyed the book if it is yours!
========================================
Tornado…The Story so far…
With "Flying Scotsman" returning to the mainline, "Tornado" might now seem to be pushed out of the limelight… No doubt, though, that just as "Tornado" appeared and gave an impetus to railway heritage..and mainline.. steam, so "Flying Scotsman", with its fantastic history will provide further encouragement to the railway heritage enthusiast to get out the camera, and get out and about to obtain those classic lineside photographs…legally, we might add.
Tornado's Forthcoming Programme
The A1 Steam Locomotive Trust is proud that Tornado will continue to be operated on the Network Rail main line by DB Schenker, which has worked successfully with the Trust since the locomotive's completion in 2008.
You can download the 2016 Tour Guide here.
2016
12th March – Belmond British Pullman – Surrey Hills
25th to March 28th – Easter at Didcot Railway Centre
29th March – Driver Experience at Didcot
2nd April – 'The Devon Belle' – London Waterloo to Exeter – A1SLT tour, bookings through UK Railtours
8th April – Belmond British Pullman – Surrey Hills
11th May – Belmond British Pullman – London Victoria to Bristol
27th May – Belmond British Pullman – Surrey Hills
New & ReBuild News.
This feature now includes a couple of other worthy contenders for your support and consideration.
Can you get behind this project?
Merchant Navy 35011 General Steam Navigation Project
This society intends to transform this locomotive back into its original form as it was built in Eastleigh works back in 1944.
Further information at: General Steam Navigation Locomotive Restoration Society
Or perhaps your memories are for the Brighton Belle… featured in Andrew Martin's book "Belles and Whistles"?
In which case, take a look……Donate to The Brighton Belle
A 1972 newsreel depicting the final run of the Brighton Belle all-Pullman electric service which commenced services from London to Brighton (using the same stock depicted here – SR Class 5BEL/BR Class 403) in 1933. Is the large bearded gentleman passenger depicted but not named none other than the late, legendary Led Zeppelin manager Peter Grant?(Courteys: Southern Railway Films on YouTube)

Hengist: Latest news at http://www.theclanproject.org
Latest progress on P2's Facebook page…..
Project Miller 41001 Returns!.
US Union Pacific Big Boy 4014
Latest News..and Video..HERE
The Pennsylvania Railroad (PRR) T1 Steam Locomotive Trust



More information at:http://prrt1steamlocomotivetrust.org/news.php
Chesapeake & Ohio 2-6-6-2
.


Photo courtesy B & O Museum
Latest News on Facebook..HERE
Australia
Project 6029 (Beyer Garratt 6029 ex-NSWGR) Up to date information regarding steam locomotive 6029 in Canberra, ACT Australia. Beyer Garratt 6029 is an EX NSWGR locomotive and was a member of the largest, and most powerful class in Australia. The restoration to full working order has been  undertaken by volunteers in Canberra.
Claud Hamilton:
Fund our Frames!
Donate just £5 to help to get this project started. We are starting with the buffer beam, We have been quoted a cost of £1300. Thats if 260 people donate just £5, we will be able to see the first part of a Claud for over 50 years.
We aim to build and operate the Great Eastern Railways legendary 4-4-0 D16/2 "Claud Hamilton" steam locomotive, No.8783 to be named "Phoenix".
The Claud Hamilton group is now linked to the Whitwell and Reepham Railway, Providing expert help and a home base for the locomotive in the future.
V499
To read about the "Ground Up Club", and the latest news about the V499 project, go to
http://www.vicsteam.com/
It's 2016 and we have a big year planned for the V499 Project. For those who have been following us on Facebook you will have seen the progress made throughout 2015 on the tender frame. Work is continuing at a reasonable rate and we are planning to complete the unit by the end of the year into a rolling frame once again.
Many thanks to Jodie G. for her pledge of $25 and also to Jarrod N. who has given another $200 on top of his initial pledge of $50 that he gave a few weeks ago. That takes us to 35% pledged, and a total of $2,475. Please help us to achieve our target of $7,000Au so we can build this brand new component (the cab) of V499. A pledge of $50, $100 or more will make such a massive difference.  http://www.pozible.com/project/203981
..
Class 421 1498 Preservation Society.
The Facebook page for all the latest news HERE
From 1st February 2016, a new website HERE
Donation Page HERE
If able to help the group in anyway…membership secretary etc, contact Stuart at  3cig@mail.com
B & O Railroad Museum TV:
Each month the B&O TV Network, starring actor Michael Gross, spotlights a moment in B&O Railroad history. Take a journey into the past and view one or all of these episodes posted on YouTube.
Mainline Steam Schedule
This listing is offered in good faith, so there is no guarantee offered or implied.
Please confirm running with the relevant tour operator.
And adhere, please, to Network Rail's photographic guidelines…..HERE
The tour schedule for April 2016..and beyond..can be found  at  Railway Herald
On This Day in History.
April
–/04/1916
Motor Rail deliver the first of over 900 petrol engined 60 cm narrow gauge railway locomotives for the British War Department Light Railways on the Western Front (World War I); substantially the same design is in production until the 1980s
1–4/04/2009
Hefei-Wuhan Passenger Railway opens for service in China
Shijiazhuang-Taiyuan Passenger Railway opens for service in China
01/04/1994
Railtrack takes over running of British Rail infrastructure.
01/04/1901
The West Highland Railway's Mallaig Extension Railway, operated by the North British Railway, is opened throughout to Mallaig on the west coast of Scotland.
05/04/1969
The South Devon Railway at Buckfastleigh, reopens as a preserved
steam railway, the Dart Valley Railway.
06/04/1927
Garratt locomotives introduced on Toton-Brent coal trains
06/04/1992
First section of Manchester Metrolink opens.
09/04/1984
Saltaire Station,West Yorkshire reopens 20 years after British Railways closure
13/04/1771
Trevithick, who was born in Cornwall on April 13 1771, patented his steam engine in 1802 and just two years later designed the first railway locomotive. He died in 1833 at the age of 62.
14/04/1951
Southern Railway (India) created as the first zone of Indian Railways by merger of South Indian Railway, Madras and Southern Mahratta Railway and Mysore State Railway
16/04/1853
New Delhi: Exactly 160 years ago and four years before the great revolution of 1857, India's first passenger train chugged out of Bori Bunder, in what was then Bombay, for Thane, 34 kilometres away.
The first railway passenger journey in India happened on April 16, 1853. Three steam locomotives, Sultan, Sindh and Sahib, took 400 invited passengers in 14 carriages on a 57 minute journey
19/04/1916
Ephraim Shay, inventor of the Shay locomotive (b. 1839).
21/04/2010
The Pretoria train accident occurred on 21 April 2010 when a train of carriages on a luxury tourist train operated by Rovos Rail )ran away for 12 miles (19 km) from Centurion Station and derailed at Pretoria. Three people were killed and seven were seriously injured.
22/04/1913
John Saxby, English railway signalling engineer (b. 1821).
25/04/1997
Construction on Phase 2 of Manchester Metrolink project begins.
25/04/1983
Driverless trains on Lille metro opening.
28/04/1996
Gatwick Express,Midland Mainline and Great North Eastern Railway franchises begin…
28/04/2008
Wrexham & Shropshire begin to run passenger services between London Marylebone, West Midlands, Shropshire and north-east Wales.
67015 at London Marylebone with its distinctive livery. (Wikipedia)
On 28 January 2011 operations ceased after a review concluded there was no prospect of the business ever being profitable.The last train was the 18:30 from London Marylebone to Wrexham General.
30/04/1972
Brighton Belle service between London and Brighton is suspended.
(To support the project.."Bringing Back the Brighton Belle"..make your donation at http://www.brightonbelle.com/)
Radstock to Frome Railway Project

Latest News from this group can be found HERE
Christian Wolmar…

Christian Wolmar has recently spent some time in India, getting to know India, and its railways, in preparation for his next railway history book on..Indian Railways.
Around the World in 80 Railways (No 69: Monisha Rajesh..From Shanghai to the Roof of the World.
| | |
| --- | --- |
| | |
Enriched oxygen was supposed to smell and taste sweet. But the stream of air hissing out of the gold nozzle by my head had dank undertones of cigarettes that induced a wave of nausea. Reaching up to 5,200 metres above sea level, train compartments on the Qinghai railway are fitted with oxygen jets to alleviate the symptoms of altitude sickness, along with several warning signs that do little to deter stubborn Chinese passengers who hide in the loos and smoke.
Pulling on my thermals, I readjusted the surgeon's mask around my mouth and nose and sulked quietly, my asthmatic lungs withering in despair. After a month on Chinese trains I'd become accustomed to the spitting, hacking and crunch of empty sunflower seeds beneath my feet, but the constant flouting of no-smoking rules had turned me into Miss Marple, and had me and my nostrils twitching our way up the train, sniffing at compartment doors to admonish the culprits.
Now resigned to the situation, I pulled down a seat in the corridor and leant against the window watching the soft, sugar-dusted brown mountains slope in the foreground. Tumbles of white cloud rolled around a sky so blue it made my eyes shrink from the glare, and rough-looking yaks nibbled at the yellow dryness of the plateau. Silver lakes like spills of liquid mercury were darkened by shadows of cloud and every hour or so the odd nomadic yurt appeared fringed with multi-coloured prayer flags. As the train climbed towards Lhasa we swept closer to the shimmering blue ice and snow of the Kunlun mountains and I soon forgot about the headaches and shortness of breath. I had seen nothing like this in my life and knew I never would again.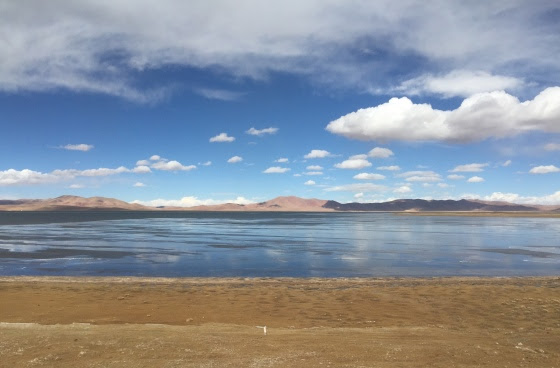 Opened in 2006, the Qinghai railway from Xining to Lhasa is a feat of engineering excellence, holding the record for the world's highest track and the highest station at Tanggula. Passing through an earthquake zone, the train travels on more than 300 miles of track built on permafrost that can melt at the slightest increase in temperature – a problem which engineers combatted by circulating liquid nitrogen below the rail bed in an attempt to keep it frozen year-round.
But complications surrounding the railway are not just limited to practicalities. The birth of the railway was considered an ecological threat to the region and also a cultural one as it opened up another route for the already huge influx of ethnic Han Chinese flooding Lhasa and displacing the Tibetan people. Even today, it's unusual to see Tibetans on board, almost all of whom are forbidden by the Chinese government from travelling in and out of Tibet.
However, I had made my peace with my choice to travel to Tibet. I had travelled to North Korea a month earlier and had had no regrets, witnessing the country first-hand instead of reading reports and forming opinions, and I wanted to do the same in Tibet. As the train approached Lhasa, red Chinese flags poked up from every house and I took a deep breath before setting foot onto the roof of the world.
(Text and Images Courtesy : Monisha Rajesh)
WATTRAIN & APHTRO News

The latest from WATTRAIN      HERE

The APHTRO conference 2016 is planning to be held in New Delhi, India. Everyone with an interest in heritage railways and museums will be warmly welcomed.
Venue & Schedule
The venue of the conference is New Delhi, the capital of India.
Schedule of the conference prgramme is;
15 – 18 Oct : Pre-Conference Tours chosen from 9 options include Nilgiri, DHR and Kalka Simra, World Heritage Railway sites.
19 – 21 Oct : Main programme includes AGM & Business Sessions, Steam Train ride and visiting Railway Museum in New Delhi.
22 – 23 or 29 Oct : Post-Conference Tours chosen from 2 options, Steam Train ride to Sariska or India Maharaja Express.
APHTRO 19-21 Oct 2016 Leaflet (1)
For more information: www.aphtro.org
NERHT is a voluntary society founded in 1999 to help railway preservation in the former Soviet Union and the other ex-Communist countries in Central and Eastern Europe
Russian Preservation Moves Forward In Russia, writes Sergei Dorozhkov, 2015 was in certain aspects a difficult year, but a fruitful and interesting one. The rail preservation process in Russia is steadily progressing. Broad-gauge locos are being removed from plinths and dumps to museums and working sheds, while the quality of restoration is slowly improving.
As for the narrow gauge, there are several newcomers to the market, which makes things very complicated sometimes. Fortunately, there is strong temptation for intensification of collaboration between our team and the new narrow-gauge museum being established in Ekaterinburg and financed by the RZhD Sverdlovsk Division.
And, of course, continues Sergei, close cooperation goes on with our old friends and colleagues Alexey and Alexander from St.Petersburg. Following acquisition of land, they are now erecting a storage shed for rolling stock.
One of the most significant achievement of 2015 was final rescue of invaluable Kolomna P24-07 0-8-0, the only survivor of the very first Kolomna batch of world-famous and most numerous narrow-gauge class. Following many years of hesitation, fear and extremely difficult negotiations, the loco finally made it to real preservation – to Ekaterinburg. In Pereslavl, work continues on refurbishment of the shed and yard. In summer part of the workshop roof was rebuilt with new crosspieces and roofing . The first two stalls received new gates with windows in the upper parts. More work is planned for 2016. Restoration moves on very slowly due to overload with other activities. Some work was done on the VP-4-2120, whose cab was replaced with a better one .
In spite of negative forecasts, tourist figures in 2015 turned equal to 2014, which was a success bearing in mind the economic situation and considerably fewer holidays last year. The first ten days of 2016 – a public holiday in Russia – also showed good results in visitors' figures, even though temperatures were often below -20 C. The Museum personnel was well prepared for winter with new uniforms, meticulously copied from the 1950s pattern (left). The hand trolley was running, as tracks were kept clean with an electric snow-sweeper, propelled and powered by the ESU2a diesel unit. In October 2015 it became possible to acquire the 1890s water crane, which was donated to the Museum by the military. It had been installed in about 1905 on a branch line leading to private warehouses to serve their shunting locomotive. Up till now we have not its precise details but it is clearly pre-1900, when standards were introduced. The branch was taken over by the military and later abandoned.
The full newsletter and accompanying photographs can be found at http://nerht.heritage-railways.com/
With grateful thanks to NERHT Chairman Stephen Wiggs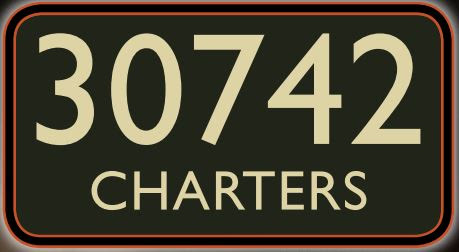 Latest News
Find 30742 Charters on Facebook atwww.facebook.com/30742charters
Around the UK Heritage Railways- The Vale of Berkeley Railway…
(Courtesy: Vale of Berkeley Railway.)
Our Aim
Our aim is to reopen the Sharpness branch line to passengers as a heritage railway tourist attraction, rebuilding some of the key structures that once adorned this historical joint GWR & LMS Severn & Wye Railway.
We have established an engineering facility based in the old Diesel Engine Shed by the docks in order to restore heritage locomotives, rolling stock and other suitable items from a by-gone era and to serve as an initial base for the Vale of Berkeley Railway.
We also plan to restore the original Sharpness station site, with suitable facilities in order to re-open the line and run heritage trains.
Opening Hours
Currently the Engine Shed is open for volunteers, who have joined as a member, to help with our restoration projects on most weekdays from 9am to 5pm and Saturdays from 10am to 4pm. For details on joining the railway please see our membership page.
Please help support the Vale if Berkeley Railway by joining as a member or even become an active volunteer, where we have a wide range of projects for people of all abilities to get involved with.
http://valeofberkeleyrailway.co.uk/
Back Page: Secrets of the Underground (Londonist)
Geoff Marshall tours London's Northern Line, looking for unusual features. Discover unfinished platforms, secret escalators, fibbing signs and a plastic owl.