"On Shed" Steam Tube's Monthly Magazine.. May 2016
" Preserving the steam locomotive legacy.. and more..on film"
FRONT PAGE
Contents
Welcome…and news….
Editor's Selection 1: In Conversation with Mark Allatt
Editor's Selection 2: Tracks Across America with Billy Connolly
Editor's Selection 3: IMPACTUK: Lifeline Express 2 Carriages Appeal.
100 Trains….the journey so far….
Steam Tube Photographic Highlights
Steam Tube Video Highlights
Steam Tube Blogs
Dick Bodily:Book Review – 'Locomotives We Have Lost'- Will Adams
Steam railways, heritage lines remain neglected in India (Rajendra B Aklekar)
Tornado…The Story so far…
New & ReBuild News.
B & O Railroad Museum TV
Mainline Steam Schedule
On This Day in History.
Radstock to Frome Railway Project
Christian Wolmar…Early Victorian Railway Excursions (review)
Around the World in 80 Railways (No 70: Tom Chesshyre)
WATTRAIN & APHTRO & NERHT News
30742 Charters
Around the UK Heritage Railways – Kent & East Sussex.
Back Page: 
Welcome…and news….
A warm welcome to this month's edition of "On Shed" – the monthly magazine of "Steam Tube – The Home of Steam on the Net"
And an especial welcome to our new members , bringing our worldwide membership to 1,562.
Your support, as ever, is much appreciated. On "Steam Tube"'s pages we have a rolling history of preserved steam activity from around the world… and there will be much more to come, for as long as train operators keep the rules on the track, and enthusiasts remember to keep off them!!
Steam Tube started its life around the same time as "Tornado" appeared. So it was a real treat to be able to meet with Mark Allatt, Chairman of The A1Steam Trust..
You will have likely seen Billy Connolly's 3 part ITV series "Tracks Across America"..enjoy the summary ..
And the Lifeline Express is everything its name suggests for poor people living in the far flung remoter areas of India.
Iain McGeachin's epic Walk n'Roll for Ataxia moves on…and in connection with that, Chris Tarrant's 6 part DVD series Extreme Railway Journeys is the subject of an auction in aid of ATAXIA…read on for details.
Rajendra B Aklekar, who provides a weekly column on Indian Railway matters for Rail Tube, provides some insight into the lack of heritage activity in India…a neglected area….
Christian Wolmar takes a look at Early Victorian Railway Excursions.. and Tom Chesshyre tells us about 49 (49!!) unusual railway journeys around the world in his book "Ticket to Ride"(book review)
In addition, there are the usual features in this month's edition..photo and video highlights, blogs, This Month in Years Past, Dick Bodily reviews – 'Locomotives We Have Lost'- Will Adams and finally in Around the UK Heritage Railways we take a look at the Kent & East Sussex Railway.
The BACK PAGE features the art of Kevin Parrish. Do indulge yourself in his work…and help Steam Tube at the same time!
Enjoy!
Editor's Selection 1: In Conversation with Mark Allatt
Mark Allatt Interview, The Canteen, Canary Wharf, London .
Friday 1st April 2016
1st April any year can be something of an "egg on your face kind of day", if you believe the headlines..and the accompanying very plausible text…but you don't pay close attention to the details….
This is the headline..with photograph and the article that was posted on social media on 1st April 2016.. and it caught me out!!
PRESS RELEASE – IMMEDIATE – PRESS RELEASE – IMMEDIATE
BUILDERS OF FAMOUS NEW STEAM LOCOMOTIVE
TORNADO ANNOUNCE NEXT NEW BUILD PROJECT
Gresley class J38 No.1416 will follow class P2 No. 2007 Prince of Wales
The A1 Steam Locomotive Trust, the registered charity behind famous new steam locomotives No. 60163 Tornado and No. 2007 Prince of Wales, is delighted to announce its next new build steam project – a new Gresley class J38 0-6-0 goods locomotive. This time the Trust will be breaking with its tradition of giving its new locomotives new numbers and identities by resurrecting a long-scrapped member of the class. The original No. 1416 (or No. 65914 as it was to become in British Railways days) was completed at Darlington Works 90 years ago on 18th March 1926 and was withdrawn from Thornton Junction shed (62A) on 19th November 1966, being disposed of on 30th June 1967 by Arnott Young of Old Kilpatrick.
The J38 0-6-0 locomotives were the first London & North Eastern Railway (LNER) group standard type, but only one batch of thirty five was built due to the advent of the more versatile J39 0-6-0 with larger diameter wheels. The J38s were used in Scotland for main line goods traffic, and for short distance mineral haulage from the Fife and Lothian coalfields to the Glasgow-Edinburgh industrial belt and the Scottish east coast ports. With the arrival of Gresley class K2 2-6-0 and J39 0-6-0 locomotives at St. Margaret's shed in about 1930, the J38s were taken off the longer distance main line goods trains and used on coal trains between the Lothian coal field and the Edinburgh docks. Occasionally these engines were seen on the East Coast Main Line fulfilling the LNER's own coal requirements. Records exist of them reaching Doncaster and Retford, and they are thought to have occasionally reached Grantham and Peterborough as well.
Maintenance was usually performed at the Cowlairs Works, although there are recorded instances of J38s being repaired at Darlington Works. This appears to have been standard practice between 1931 and 1933 when 24 locomotives went to Darlington for repairs. From February 1955, Inverurie Works also performed some of the J38 repairs.
As well as being the first LNER group standard class, the J38 proved to be the last LNER class to remain completely intact. The first withdrawals started in December 1962 when Nos. 65923 and 65928 were withdrawn. The last two locomotives (Nos. 65901 and 65929) were withdrawn in 1967. These were the last Gresley locomotives to serve with British Railways and none survived into preservation.
In April 2014 The A1 Steam Locomotive Trust received a substantial but conditional legacy from the late Mr Joseph Kuhr, a supporter of the Trust from Aprilscherz in Germany, who recalled illicit cab rides on Gresley class J38 No. 1416 during his time at Edinburgh University during the 1950s and who failed to save the locomotive from the scrapman in the 1960s. The Trust has already retrieved the drawings from the National Railway Museum and anticipates starting work in April next year at Darlington Locomotive Works alongside No. 2007 Prince of Wales, with No. 1416 being finished within three years. The Trust expects the total cost of No. 1416 to be around £2m and is appealing for 92 people to each donate £92 a month for three years to complete the new J38 in record time.
Mark Allatt, chairman, The A1 Steam Locomotive Trust, commented:
"Although a Gresley class J38 wasn't at the top of the list of extinct LNER classes of locomotive to recreate, this was just too good an opportunity to turn down. With 92% the funding for No. 1416 already in place thanks to the generosity of the late Mr Joseph Kuhr, we felt that we could fulfil the conditions of his legacy and recreate Gresley class J38 No. 1416 with minimal additional funds. Not only were the J38s both the first Gresley class to be designed for the LNER they were also the last to see service with British Railways and the original No.1416 was withdrawn from traffic on my first birthday. In just three years we could be fulfilling Jo Kuhr's dream of recreating a Gresley class J38 for use on heritage railways up and down Great Britain." ENDS
Everything about the Press Release sounded so genuine…well, I should have looked more closely……Then when I met Mark Allatt I wouldn't have congratulated him and the Trust for the announcement!! I hadn't spotted the clues….
1416…or 1.4.16 (!!)..Aprilscherz or April Fool and Mr Joseph Kuhr..or Jo Kuher..or JOKER!!! Still, the spoof shows up the skill of the marketing man…. And that is what Mark Allatt certainly is.
We had arranged to meet in The Canteen, Canary Wharf.
Canary Wharf, with its sky high buildings providing homes for the key banking organizations of the world..(HSBC,Barclays, JP Morgan..and others,) seemed the obvious place to meet with someone to discuss the all important matter of financing important engineering projects…albeit engineering projects firmly rooted in the late 19th and early 20th centuries.
The projects are in the care of The A1 Steam Locomotive Trust. And the person being met can be fairly described as a giant of the preserved railway movement. Mark Allatt, chairman of the A1 Steam Locomotive Trust, is, in his own words "out of gauge"!!, but very definitely "On Track" as far as financing these extraordinary railway preservation projects is concerned.
"Tornado " in Surrey April 2009. Courtesy: The A1 Steam Trust
The "Tornado" project" had its modest beginnings in the early 1990s..
Many will remember seeing small advertisements in certain railway magazines… ..which is how Mark Allatt began his involvement..and with that involvement, as a volunteer, he now spends several hours per day….every day.
Of course, there are many other volunteers up and down the country (around 200) who give their ongoing support to "Tornado"..and now is as good a time as any to pay tribute to their enduring support, and to say a heartfelt "Thank you", for without them, "Tornado" would not even be a whisper…..
The following summarises the conversation we enjoyed over the house special…fish, chips and mushy peas…..
PL Mark, tell us about your involvement with Tornado, from the start, in as few words as possible!
MA I remember reading about the possibility of a new A1 in one of the railway magazines around 1990..there were two meetings advertised, one in York one in London, …so living in Hampshire then I went to the London meeting…in April 1991 And when volunteers were asked for, I put my hand up…and here we are 25 years later
PL What does your work with the Trust involve?
MA I Chair A1 Steam Locomotive Trust, chair the Board of trustees, am a trustee myself, responsible for marketing, PR and fund raising, and anything else that crosses my desk!
PL How important is the fundraisng, the PR, the brand?
MA Absolutely critical..it's often forgotten how important it is, particularly with a new build project…we have so much money to raise.
The engineering is difficult..and our engineers are fantastic, and our operations people are fantastic, and none of this happens without money..and money doesn't just drift in, you have to actively go out and seek it. And to do that you have to build a brand, and you have to communicate what you are doing.
PL. And how can people support Tornado even now..?
MA: There are so many ways people can help. We still have our regular covenant schemes, which is how we funded the locomotive "An A1 for the Price of a Pint", and we're constantly looking to keep the numbers of those people up..they are the ones who effectively pay for the locomotive's five yearly overhaul..and have special privileges and access to the locomotive etc.
"Tornado" passing through Huntingdon 01/03/2016 (C) David Chandler. Courtesy: The A1 Steam Trust.
The last piece of the jigsaw of the project we started 25 years ago is to purchase the tender,which was paid for, and is owned by ,William Cook Cast Products which is leased to us. We need to buy the tender by 2021..so we're doing our fundraising for that at the moment, which is our 163 Pacifics Club which people are welcome to come on board with. Then of course, there is travelling behind Tornado as well,when we're on the mainline or on preserved railways..and I 'd also add that we have the Tornado Team which is for children to get involved with Tornado at an early age so that we can keep them involved when they become adults.
PL. And what can the railway press do to enhance what you do….and make your life easier?
MA That's an interesting question..- "make my life easier"
What I'd like to see more of, is critical coverage..I'd like to challenged more ..I'd like the railway press to get further under the skin of its subject, to really challenge people in positions of responsibility like myself, around how they're doing things, and why they're doing it, rather than being overly focussed on what you might call "fluff"
PL That sounds quite a challenge.
MA: With new build projects it is all about project planning, how are you going to build the locomotive, where are you going to build it, where is your project plan, where is your financial plan, where is your fundraising plan? And there are so many great new build projects being launched, but how many of them really have all of that in place., and how many of them are looking at their income stream as they are now and saying, looking at this, I need to get it to "X" for next year….that means I can get this locomotive finished by such and such a time..
PL.. And so you have the P2 project as well…that's going very well at the moment..
MA. Yes, it is..we're on schedule as we stand at the moment..we've said that if we can get the funding at the right level, we can complete the locomotive in seven years…by 2021…and we are on schedule, there or thereabouts….but that means, to keep on schedule we have to bring in £700,000 per year, and that is a very, very, big ask. And that's what we're working very hard at doing, alongside, of course, the engineers at our Darlington Locomotive Works.. who are building the locomotive
PL: Then there is a 3rd project, isn't there?
MA: Yes, there is our J38 that we are building thanks to the legacy from Mr Joseph Kuhr.. or Jo-Kuher as he was known to his colleagues, and I gather, Peter, that you fell for that one..
PL "I think I did"!!!!
(Well it was 1st April!!)
Following our meeting, as you might expect, questions come to mind that you wished you had asked…so I sent a couple more questions to Mark , and he responded thus..
PL:What kept you going during the early days of the Tornado project?
MA: I always knew we would finish it, and once I start something I don't give up. Plus, I wanted to follow an A1 with a P2.
PL: How did you deal with the doubters..and indeed, any personal doubts you may have had at the enormity of the prospect ahead..(mind you..you were a young man then, with even more boundless energy than you have now, though I doubt that!!)
MA: I never had any doubts. The only way was demonstrable and material progress which separated the doubters who would donate, from the armchair experts and critics who enjoyed throwing bricks and in reality were never going to donate to the project.
On shed at Didcot 27/03/16. Courtesy The A1Steam Trust and Jack Boskett. 
Steam Tube has always encouraged our 1550 plus international members to "give something back" to the preservation movement. We stand trackside (legally, of course) and visit heritage railways, and take our cameras with us to get the all important shot…and apart from buying refreshments and the odd item in the railway shops, perhaps forget the small matter of keeping the preserved locomotives well maintained..It costs the owners a small fortune!
So, perhaps now is a good time to consider supporting these two excellent preservation projects….
No 60163 Tornado.   http://ww.a1steam.com
No 2007 Prince of Wales..http://www.p2steam.com
By so doing, we take the pressure off Mark Allatt, and we can all be assured that we will be able to enjoy the sight and sound of an express locomotive on the mainline for many years ahead.
And here is the link to the interview
Editor's Selection 2: Tracks Across America with Billy Connolly
Billy Connolly: Tracks Across America.
It is undeniably a big country. To cover a total of 6,000 miles through 26 states (the book says 8,000 miles and 15 states..Billy's own words!!) – experiencing cities, coast, mountains, desert and swamp – you'd need to be a fit person. So, for Billy Connolly, 73 years old, and suffering from Parkinson's Disease, this must have taken an almost superhuman effort.
And yet, by the end of it all, you felt that he would have been able to carry on some more……and maybe that was because he relates well to people, and feels for them, especially the under privileged and downtrodden, or just plain unfortunate. Or maybe because at heart he is a wanderer….
The "Tracks Across America" came in three stages.
1. Chicago – St Paul's (Minnesota) – Williston (North Dakota) – Glasgow(?) – Shelby(Montana) – Seattle ( Washington State)
2. Portland – San Luis Obispo – Los Angeles (California) – Tucson (Arizona) – El Paso(Texas)
3. San Antonio – Lafayette – Montgomery – Birmingham (Alabama) – Baltimore – New York
And railroad travel buffs will know that the named trains Billy and the crew travelled on were…. The Empire Builder, The Sunset Limited, The Coast Starlight, and The Crescent….all holding within their names a rich unwritten railroad history, and touching on lives affected by unfolding events.
We enjoy meeting some interesting people…attending the Minnesota State Fair , enjoying the original Juicy Lucy in Matt's Bar, meeting people affected by Williston's changing circumstances due to fracking…and not for the better…but finding a bright light of hope in the midst of some despair in the Salvation Army centre, and sensing the gritty realism of those who would see the downturn out.
And then there was Glasgow…a name given to this stopover on the Chicago –Seattle railroad on the strength of spinning the globe and putting a pin in.. a bit like picking the Grand National winner….Then guesting on a local radio station which ran goods exchange programmes…a sort of ebay on the air….Again feeling the community pulling together through hard times. … and meeting the even harder men who worked the land….or in Rancher Lee's case, rearing cattle…and lots of them. Or those dealing with coyotes….and lions..
We then come across, as if by chance, a Slim Whitman-esque guitarist named Wylie who strums "Waiting for a Train"…a perfectly natural tune in the circumstances…as one passes!
On to Seattle… and Tent City, home to those who have fallen on hard times, for one reason or another.. not necessarily self inflicted or deserved, either. The chapter in the book is entitled: Tent City: A Pocket of Humanity. You'll just have to read it ..or see it when the DVD is released soon… to appreciate the poignancy of the circumstance and situation. "The peace, tranquilty..you can feel it in the air…Human beings at their very best, their trusting ,loyal, hard working very best. Deeply moved by it…shakey voice… doing something for the very best of reasons."
On the second leg we come across "Farmer Tom – No Dope".. he grows cannabis, big time….helped by the state's liberal drug reform laws, apparently. Another guitarist, Guitar Whitey.. described as "reassuringly spry"..and it comes as something of a surprise to learn that he is 94…"a kind of living advertisement for life on the open railroad" , which was certainly true in his case..he had run the rails as a "hobo" through the years of the Depression, following the fruit picking work… and never went home…
You'll enjoy reading about Nitt Witt Ridge (and its got a preservation order on it too!!), and the "unfair affair" involving the humping elephant seals in San Simeon bay…
Into Arizona, and a place, (the existence of which sends shivers down your spine) where a young woman had the world's destiny at her fingertips….well, the turning of a key….
And if this last place was to deal with those who might have invaded from the air (Soviet Russia), the stop at Tucson brought Billy face to face with those charged with preventing..or arresting…those who try to enter the US illegally from Mexico…the wrong side of the fence…
The Rocketbuster Boot Store, the openly gay "lucha libre" wrestler Cassandro, these round off the second leg.
Finally..Part 3. El Paso to New York.
Quickly passing on from high school football, Cajun music in Lafayette, swamps, the town of frogs (Rayne), and a personal pilgrimage to the tomb of Hank Williams, we reach perhaps what might be remembered as the high point of the trip..The interview with four surviving children from the dark days of Birmingham, Alabama's past, The Birmingham Child Crusades. What dignity and resilience these survivors displayed ..who could have thought that children could be treated as these hundreds of children were back then….but then we weren't subject to segregation, and all that went with that policy. Poignant indeed.
Macabre might describe one of the next encounters… Frances Glessner Lee (Born Chicago 1878), at her own expense, late in life, turned her attention to forensic pathology. "The Nut Shell Studies of Unexplained Deaths" is her lasting legacy to would be Columbo's.
A hot dog at Andy's Diner tells us that we must be nearing the end of the trip.
Billy concludes by saying that the trip had been "a joy, and above all else, an education". It had been an adventure into the past, a snapshot of the present, and a taste of the future in many ways"
When you get to read the book, or watch the DVD, you too will see things from a different perspective. This is not a boisterous Billy Connolly…but an elderly man coming to terms with his own life, and having a perspective on the big picture that perhaps only advancing years can bring.
Editor's Selection 3: IMPACTUK: Lifeline Express 2 Carriages Appeal.
As one of our valued supporters, I wanted you to be among the first to know of our hopes and plans to widen the provision and capacity of the Lifeline Express.
As you know so well, the Lifeline Express takes the hospital to the people; restoring sight, movement, hearing and correcting cleft lips, and more, completely free of cost to the most rural and impoverished communities across India.
Indian Railways recently gifted IMPACT two new rail coaches – with the potential to increase the train's medical space by 1,300 square foot.  We now hope to make the following much-needed services available to the poorest patients we serve.
* Cancer screening and referral programme
* A wider range of routine and emergency operations
* Testing for hypertension and stroke risk
* Family planning and reproductive health clinic
Whilst the new carriages are being renovated, we are urgently seeking funds to purchase vital equipment – including a mammography machine, anaesthesia work station and x-ray machine. The full details and equipment list are here
I know you will share in our pride that the train has reached this important new juncture and I hope you might share this appeal with your friends and family.
Every penny donated will count towards IMPACT's goal of meeting the healthcare needs of more people living in poverty in rural India.
With appreciation and kind regards,


Judi Stagg, IMPACT Chief Executive
MAKE A DONATION
India's hospital train Lifeline Express

Courtesy: IMPACT & w3theatre on YouTube
Watch again
Dashrath is going deaf, Bharat can't walk and baby Shiva was born with a cleft lip. They cannot reach a hospital and they can't afford the operations. BBC4's compelling documentary 'India's Hospital Train' shows how the Lifeline Express changes the lives of both patients and doctors.
India's hospital train Lifeline Express comprises a fully equipped operating theatre, diagnostic centre and post-operative ward, teaching facilities, laboratory and workshop. Using the vast rail network, it is shunted into rural sidings for a few weeks at a time where it becomes the nucleus of a comprehensive attack on causes of disability, involving the whole community. Effective, on-the-spot treatment is offered free of charge, together with health education and immunisation, benefiting thousands of people each year.
BBC Lifeline TV appeal
The actor and comedian  had been due to visit  IMPACT's programme in Bangladesh, to film a special BBC television appeal. Sadly, last minute security concerns curtailed his visit.  Instead Ade will present an appeal about the Lifeline Express later this year.  More details very soon!
100 Trains….the journey so far….
Europe walking route updated to include additional walks in Geneva and Pisa: http://www.100trains.com/europe-walk/
Details of forthcoming walks in May and June 2016.HERE
Whether you are a resident of any of the cities that I will be passing through, or are simply visiting this amazing part of the world and would like to take part in something rather different, everyone is welcome to join me for a leisurely stroll at any stage of my journey.
By necessity, all of the walks take place on flat, well-paved, walking paths, making them ideal for those already using wheelchairs. Or those of you with buggies or prams. Walks (strolls really) for everyone then.
All walks have a designated Meeting Point and Meeting Time so are very easy to participate in. In all cases, the meeting point will be very clearly marked. Just look for the "Ataxia" balloons (or a rather tall chap wearing a kilt!).
The length of each walk is around 2-4 kilometres (1-3 miles), and will usually take no more than 1 hour or so to complete (although the exact time taken will all depend on your walking pace).
If you are unable to participate in any of these walks yourself, please please please sponsor this event. Every penny counts: Direct fundraising page: Ataxia UK
100% of your donation (plus an additional 25% if you are a UK taxpayer) goes directly to Ataxia UK – to help fund their incredible work.
There are also two ways that you can support this event on an ongoing basis. Neither of which will cost you a penny!
Online Shopping Some of the biggest and best names in UK online retailing have agreed to pay me a few pennies for every customer that I send their way (typically around 5% of the amount spent). Importantly(!), this doesn't cost YOU a single penny extra (the funds come from the retailer's profits). Yes, it's only a few pennies (about 50p for every £10 you spend) – but these pennies all add up. And help me arrange, and participate in, more fundraising walks.
Hotel Booking Whenever you book your hotel online, always see if you can get a better deal by comparing rates at The UK Hotel Network (powered by Hotels Combined). This will allow you to find the best online rates for hotels anywhere on the planet. This link also allows you to book directly at some of the finest hotels in the UK.
======================
"On Shed" is pleased to be giving Iain all the support and encouragement he needs to fulfill his ambition, and to use these walks as away of drawing attention to ATAXIA, and using 100% the donated funds to fund ATAXIA research.
In connection with Iain's project, Chris Tarrant (Extreme Railway Journeys) has kindly donated a pre – release 6 x DVD set of the last series of his Extreme Railway Journeys. Indeed, early in the series, Chris was taken ill, and but for the splendid efforts of paramedics at London Heathrow, he may not have been able to continue filming this excellent series.
Contents are: 
EPISODE ONE: The Road to Mandalay
EPISODE TWO: Crossing the Andes
EPISODE THREE: One Way Ticket to Siberia
EPISODE FOUR: Slow Train to Guantanamo Bay
EPISODE FIVE: The Great Japanese Train Ride
EPISODE SIX: The Railway that Created Canada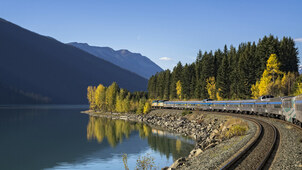 Image Courtesy The Gamma Project.
Our intention is to offer these DVDs..as a set…to the highest bidder.
Now, you would expect to pay between £15 and £20  for a set such as this. But this is a special cause..and it would not be unreasonable to suggest that bids will need to be in excess of £100 to secure them. Let the auction begin!  (This auction and offer will end on
31st December 2016
) Please send your bids..e-mail, amount bid, to
peterlewis2@gmail.com
. The proceeds will be given entirely to
ATAXIA.org
.
Steam Tube Photographic Highlights.(32,294 in Library)
Steam Tube Video Highlights.(7,392 in Library)
Steam Tube Blogs
Another in the series from Dave Wilson…
"Mytholmes, Pullmans, and the 1948 Exchange Trials."
Mytholmes, a word which reeks of  the Pennines and Yorkshire, you can almost hear the clogs and see the cloth caps and whippets. Tho' there'll be no cloth caps or whippets in yon Pullman cars, thank you very much. All stereotypes of course, but, and there's always a but, stereotypes are not without some basis in reality. The reality is that, in this photograph, No.43924, the first engine to leave Woodhams scrapyard in Barry, is hauling the 'Pullman Cream tea' service, on the Keighley & Worth Valley Railway during Good Friday, this year.
I'm partial to a cream tea myself, and, back in March 1988, I enjoyed having my birthday party, in the 'Old Gentleman's coach',  as we chugged up and down the valley being served tea, sandwiches cut into triangles, cakes, and scones with jam and cream, all  very civilised and genteel, cloth on the table and doilies on the plates. Maybe for 2018 I'll do it again, only this time in the Pullman coach. There's another thing which would be fun to celebrate in 2018 – the Locomotive Exchange Trials of 1948. I would love to see No.34067 Tangmere, disguised as classmate 34004 Yeovil tackling Drumochter and Slochd.
The fireman, on No.34004 Yeovil, during the exchanges, was Bert Hooker, who, when I went to work there in 1963, was, a 70A Nine Elms driver. I did a few firing turns with him myself and, many years later, (1990 or 1991), I went to his birthday party on the Bluebell, where we had dinner served in their Pullmans.
I have written a book about my 60 years involvement with railways, from trainspotter, via steam age footplateman, to railway author and photographer, this is a link to it:  http://www.amazon.co.uk/Gricing-Real-story-Railway-Children/dp/1514885751
These are some totally unsolicited comments from people who have already read  Gricing: Amazon Customer on 6 Jan. 2016 Format: Paperback Verified Purchase:  "Brilliant and interesting book"
Format: Paperback Verified Purchase
Not a murder mystery, but one that I found hard to put down. One of the best additions to my collection of books about railways.
'treated myself to a copy of "Gricing" for Christmas, excellent reading.'
'I'm enjoying your book. It's a real page-turner, thought provoking and great photos, to boot'

'I bought and enjoyed "Gricing" etc and would heartily recommend it to readers'. 
'I was given what I believe to be your book called "Gricing" the other night.  Very much enjoyed the book if it is yours!
===================
Dick Bodily:
Book Review – 'Locomotives We Have Lost'- Will Adams
This fascinating book has got to be the best work on British Railways steam locomotives in a long while, certainly my choice as the top railway book of 2015.  Its novel concept is to cover all those British Railways owned classes of which no example has survived into preservation.  Don't expect to find detailed statistics of wheel sizes, boiler pressures, names and build and withdrawal dates of individual engines and the like; look for those instead in standard works such as Hugh Longworth's 'British Steam Locomotives 1948-1968' or old ABC Combined Volumes from that period. But do expect long forgotten classes to be brought to life by Mr Adams' well-written, properly researched anecdotal style.  Expect to enjoy dipping into it time after time once you have initially read through it from cover to cover.
Each extinct class has an entry which varies from a third of a page to a full page, with at least one photograph. What Will Adams has covered masterfully in a very readable manner is adding substantial fact to the sketchy prose that was a feature of earlier books that covered all the classes of British Railways locomotives, for instance H C Casserley's 'Steam Locomotives of British Railways' or the various Observers Books of the 'Railway Locomotives of Britain'. The reason for each class' construction and the developments that led up to it are very adequately covered.  The text encompasses any major rebuilding or modification that have occurred to the classes.  It traces the history of not just which parts of the railway system the locos were allocated to but the sort of work that they carried out throughout their careers. Where appropriate it covers their strengths and weaknesses, often stating what the footplatemen who worked on them actually thought of them and why they christened them with obscure nicknames such as 'Crystal Palaces', 'Jersey Lilies' or 'Iron Lungs'. Finally Will Smith has researched the fate of the last few survivors of classes, discovering that many were stored for months if not years before withdrawal and that some pre- Southern Railway classes were stored as early as the late 1930s only to be put back to work as part of the war effort and in consequence surviving long enough to receive BR numbers.
For me those almost mythical classes that appeared pictured in my 1958 Observer's Book, the ones I knew I would never see such as the GWR 1101 class of Danygraig or the ROD 2-8-0 class where according to my Observer's 'all the survivors are stationed at Carmarthen', have become much more real after reading what Mr Adams has to say about them. The 1101 class he tells us were Swindon designed by GWR's Charles Collett , but actually built by Avonside, that they had short wheelbases to cope with the sharp turns in  King's and Queen's Swansea Docks, that they were never reboilered keeping their domed Belpaire boilers all through their career and unusually for GWR tanks had outside valve gear. Of the RODs (LNER class O4) he says that the GWR bought 100 and that around 1925-6 they numbered the better ones that they had 'Westernised' 3000-3049, the other 50 numbered 3051-3099 were just a short term solution to a shortage of heavy freight engines and not being in good condition were run into the ground then scrapped, some after just a few months. Furthermore he reveals that for a short while the GWR borrowed 30 more of these LNER O4s during World War 11.
Then there were all those strange often ancient looking pre-Grouping classes north of the border: Caledonian 'Pugs' with wooden tenders, the singleton surviving Great North of Scotland D40 4-4-0 and the various McIntosh, Pickersgill and Reid 4-4-0s.  Back in the '50s my family hadn't a car and I had little money for travel, I couldn't have imagined that I would ever travel to Scotland or even own a car when I grew up.  These Scottish survivors all come to life within the pages of this impressive volume where there are all sorts of facts that you are not likely to find elsewhere without a lot of searching.
The Giesl 9F at Southall 1964
Skimming through its pages I suddenly find myself reconnected with once familiar classes that haven't survived the cutter's torch: Hawksworth's 'Counties', Fowler's 2Ps, Stanier's 2-6-4Ts, Woodford's stationary boiler J39s and Raven's B16s to name a few.  I can find new to me, interesting facts about the Webb 2-4-2Ts that I have dim memories of appearing through the gloom of Northampton Castle's smoky Westbridge archway going to meet the Blisworth push and pull. There's plenty to read about the pre-Grouping SR classes that I had been lucky enough to see just the once on a tour of Bricklayers Arms, Hither Green and Nine Elms when I started spotting seriously in the late '50s: H16s, E1s and D1s,Ls and L1s and 700s. A mystery from that day has been solved too. I so wanted to see one of the C2X class as pictured with what seemed like two domes in my Observer's. I wasn't lucky enough to see a C2X with two domes, but was perplexed back at home to find I had seen C2Xs on when underlining the day's 'cops' in my ABC. The answer is to be found in Will Adams' book, only some of the C2Xs had two domes, the front one in reality being a top feed apparatus inside a dome case, and there are pictures of both variants included as well.
In compiling the list of which classes to cover Will Adams has had to draw the line somewhere when deciding exactly what criteria to use.  He decided to only include those official classes that haven't a surviving member.  This has caused some anomalies, for instance none of the Thompson A2 varieties are covered as they were officially the same class as the Peppercorn A2 60532 'Blue Peter' which has survived. They were all officially sub classes of the A2 Pacific class even though they are far more different from one another than are some of the official classes that are included. Similarly excluded from the book are the BR Standard Crosti boilered 2-10-0s which were officially Standard 9Fs 2-10-0s even though they were latterly classified as 8Fs and looked very different from the 9Fs which have survived. Another anomaly is that the WD 2-8-0 class appears twice in the book as the 63000 series ex- LNER O7 class and as the BR 90000 class.  Similarly but more justifiably the ex-GCR Robinson O4 2-8-0s also appear as the slightly 'Westernised' ROD 2-8-0 class.  But as I have said Will Adams had to draw the line somewhere and stick to a format. Let's hope he comes up with a sequel perhaps entitled 'Locomotives Still With Us' to complete the overall picture of BR Steam Locomotive Classes. I'm sure such a book would also be a first rate read.
Steam railways, heritage lines remain neglected in India (Rajendra B Aklekar)
(This article first appeared in Forbes India Magazine 16th March 2016, and is reproduced here with the author's permission)
The conservation and running of rare steam engines remain a neglected issue in India even as it thrives in other countries
Volunteers at the South Tynedale Railway Preservation Society in Cumbria, England, are working hard to raise funds so that they can restore MLR-740, a steam locomotive that they recently bought in an auction. MLR-740 is one of the four original locomotives that ran on Maharashtra's Matheran Hill Railway from 1907 to 1965. The sooner they can raise funds, the sooner will this magnificent locomotive run again, this time on the British hill railways.
Rishra, a rare small-tank steam locomotive that was once used by the Calcutta Corporation for shunting coal wagons at a water pumping station in Barrackpore and then abandoned, is now the star attraction of the Leighton Buzzard Railway in Bedfordshire, England. It is the only remaining locomotive of this type.
A Darjeeling Himalayan Railway B-class steam locomotive that originally went to an American museum now runs on a private steam railway belonging to British rail expert Adrian Shooter in Oxfordshire.
These are just a few examples of how steam locomotives that once ran in India—and were subsequently abandoned—are now not just maintained meticulously but run on heritage railway lines in England. Back in India, steam railways and heritage lines remain a neglected subject, even though there is a huge demand for their restoration and maintenance from enthusiasts across the world.
"The railways in India have always remained an attraction for enthusiasts worldwide because of its sheer size and variety," says Peter Roberts, a British rail aficionado. "Every type of locomotive, along with different track gauges, have been used in India in the late 19th and early 20th centuries—from the smallest two-foot narrow gauge rail on mountain railways in Darjeeling and Matheran, to the biggest Garratt locomotives on the Bengal Nagpur Railway, and from a monorail in Patiala to the rack-and-pinion railway in the Nilgiri mountains."
Adds Roberts: "India has been a playground for different types of railway lines and technologies, and is a favourite place for rail buffs and experts. But, sadly, there are no preserved railways or steam locomotives in running condition left in India. Whatever locos are found are on abandoned lines and, like stuffed teddy bears, are displayed on pedestals outside station buildings in the name of heritage. But the real fun and expertise will be in running on steam and its technology."
Rail enthusiasts are also disappointed with the National Rail Museum in New Delhi "that has many rare and good artefacts, but the focus remains on educational activities for children rather than encouraging steam and heritage railway restoration", says Madhusudhan Oak, a retired transport official. Bangalore-based student Avinash Kumar adds that even the new website of the museum, which was launched in a hurry this January on the directive of the railway ministry, has many non-functional links. "It is more theoretical, not interactive," he says.
The Matheran steam loco
The government's stance on the restoration of heritage steam engines can perhaps best be highlighted with the example of an original and rare steam locomotive of the Matheran Hill Railway, which was up for re-sale in 2015.
The Neral-Matheran Light Railway was built by the Peerbhoy family, financed by Sir Adamjee Peerbhoy, in 1907, to take passengers to the hill station of Matheran, near Mumbai. To work on the steep climbs of the hills, four locomotives were especially made to order from Orenstein & Koppel in Germany, with an articulated wheelbase that allows it to haul heavy trains around curves with tight radii.
The locos were very successful, and the fleet of four engines worked the 19.97 km Neral-Matheran stretch exclusively until diesel engines were introduced in 1965. The steam locos were finally withdrawn from service in 1982.
Of the steam locos purchased in 1907, three are in India lying unused, either on display or in workshops waiting to be restored. The fourth, MLR-740 (Matheran Light Railway-740), was donated to England by the Indian government in 1985 in recognition of services rendered towards the establishment of the National Rail Museum. In early 2015, MLR-740 was put on sale by Railworld museum at Peterborough, England, on the condition that the new owner should have the resources and the commitment to restore and operate the Berlin-built locomotive and make it accessible to the public.
Read more: http://forbesindia.com/article/recliner/steam-railways-heritage-lines-remain-neglected-in-india/42651/1#ixzz472rktxcx

Tornado…The Story so far…
Tornado's Forthcoming Programme
The A1 Steam Locomotive Trust is proud that Tornado will continue to be operated on the Network Rail main line by DB Schenker, which has worked successfully with the Trust since the locomotive's completion in 2008.
You can download the 2016 Tour Guide here.
Forthcoming tours (May 2016)
11th May – Belmond British Pullman – London Victoria to Bristol
27th May – Belmond British Pullman – Surrey Hills
Recent Activity:
25th to March 28th – Easter at Didcot Railway Centre
2nd April – 'The Devon Belle' – London Waterloo to Exeter
8th April – Belmond British Pullman – Surrey Hills
New & ReBuild News.
This feature now includes a couple of other worthy contenders for your support and consideration.
Can you get behind this project?
Merchant Navy 35011 General Steam Navigation Project
This society intends to transform this locomotive back into its original form as it was built in Eastleigh works back in 1944.
Further information at: General Steam Navigation Locomotive Restoration Society
Or perhaps your memories are for the Brighton Belle… featured in Andrew Martin's book "Belles and Whistles"?
In which case, take a look……Donate to The Brighton Belle
A 1972 newsreel depicting the final run of the Brighton Belle all-Pullman electric service which commenced services from London to Brighton (using the same stock depicted here – SR Class 5BEL/BR Class 403) in 1933. Is the large bearded gentleman passenger depicted but not named none other than the late, legendary Led Zeppelin manager Peter Grant?(Courtesy: Southern Railway Films on YouTube)

Hengist: Latest news at http://www.theclanproject.org
Latest progress on P2's Facebook page…..
Project Miller 41001 Returns!.
US Union Pacific Big Boy 4014
Latest News..and Video..HERE
The Pennsylvania Railroad (PRR) T1 Steam Locomotive Trust



More information at:http://prrt1steamlocomotivetrust.org/news.php
Chesapeake & Ohio 2-6-6-2
.


Photo courtesy B & O Museum
Latest News on Facebook..HERE
Australia
Project 6029 (Beyer Garratt 6029 ex-NSWGR) Up to date information regarding steam locomotive 6029 in Canberra, ACT Australia. Beyer Garratt 6029 is an EX NSWGR locomotive and was a member of the largest, and most powerful class in Australia. The restoration to full working order has been  undertaken by volunteers in Canberra.
Claud Hamilton:
Fund our Frames!
Donate just £5 to help to get this project started. We are starting with the buffer beam, We have been quoted a cost of £1300. Thats if 260 people donate just £5, we will be able to see the first part of a Claud for over 50 years.
We aim to build and operate the Great Eastern Railways legendary 4-4-0 D16/2 "Claud Hamilton" steam locomotive, No.8783 to be named "Phoenix".
The Claud Hamilton group is now linked to the Whitwell and Reepham Railway, Providing expert help and a home base for the locomotive in the future.
V499
To read about the "Ground Up Club", and the latest news about the V499 project, go to
http://www.vicsteam.com/
It's 2016 and we have a big year planned for the V499 Project. For those who have been following us on Facebook you will have seen the progress made throughout 2015 on the tender frame. Work is continuing at a reasonable rate and we are planning to complete the unit by the end of the year into a rolling frame once again.
Many thanks to Jodie G. for her pledge of $25 and also to Jarrod N. who has given another $200 on top of his initial pledge of $50 that he gave a few weeks ago. That takes us to 35% pledged, and a total of $2,475. Please help us to achieve our target of $7,000Au so we can build this brand new component (the cab) of V499. A pledge of $50, $100 or more will make such a massive difference.  http://www.pozible.com/project/203981
..
Class 421 1498 Preservation Society.
The Facebook page for all the latest news HERE
From 1st February 2016, a new website HERE
Donation Page HERE
Looking for people to fill the following no experience needed but would help.
(Chairman) (Vice Chairman) (treasurer) (Secretary)
(Membership Secretary)..also need someone to help with paperwork ( needs experience in business/charity group paperwork)
If able to help the group in anyway contact Stuart at  3cig@mail.com
B & O Railroad Museum TV:
Each month the B&O TV Network, starring actor Michael Gross, spotlights a moment in B&O Railroad history. Take a journey into the past and view one or all of these episodes posted on YouTube.
Mainline Steam Schedule
This listing is offered in good faith, so there is no guarantee offered or implied.
Please confirm running with the relevant tour operator.
And adhere, please, to Network Rail's photographic guidelines…..HERE
The tour schedule for May 2016..and beyond..can be found  at  Railway Herald
On This Day in History.
May
02/05/1859
The Royal Albert Bridge, two 450 feet arched spans over the River Tamar, linking Devon and Cornwall, is opened.
Royal Albert Bridge 2009 (C) TFC
03/05/1903
The Mersey Railway, operating between Birkenhead and Liverpool by tunnel beneath the River Mersey, England, converts from steam to electric traction
03/05/1926
U.K. General Strike commences, continuing to affect railways until May 12
06/05/1994
The Queen and France's President Francois Mitterrand have formally opened the Channel Tunnel during two elaborate ceremonies in France and Britain.
After travelling through the tunnel, which took eight years and billions of pounds to build, the Queen said it was one of the world's great technological achievements.
The tunnel is the first land link between Britain and Europe since the last Ice Age about 8,000 years ago.
The first leg of the Queen's journey took her from London's Waterloo station through the tunnel by high-speed Eurostar passenger train.
She arrived at Calais at the same time as the President Mitterrand's train which had travelled from Paris' Gard du Nord via Lille.
Nose to nose encounter
The two locomotives met nose to nose – a computer that prevents two trains travelling on the same track was switched off for the occasion.
09/05/1904
City Of Truro heads the Ocean Mail special down Wellington bank at a reputed 102.3mph
This was taken at Challow in 1960 when 3440 came back 'light' from Swindon after hauling a failed 'Warship' and its train from Didcot.Much sport was had by the keen diesel crew now driving a proper engine and all staff along the line turned out to cheer!
A beautiful shot from Adrian Vaughan!
12/05/1911
Electric trains begin work between London Victoria station and Crystal Palace
15/05/1929
Golden Arrow 1st class Pullman service introduced Victoria-Dover and Calais-Paris
17/05/1906
The Simplon Tunnel between Italy and Switzerland, the world's longest tunnel until 1979, opens to rail traffic
19/05/1907
Benjamin Baker, British civil engineer, designer of the Forth Railway Bridge (b. 1840).
20/05/1892
Last Broad Gauge train runs from Paddington to the West of England.
"Iron Duke" (replica)at Toddington in June 2010
22/05/1915
In the Quintinshill rail crash, four trains including a troop train collide, the accident and ensuing fire causing 227 fatalities and injuring 246 people at Quintinshill, Gretna Green, Scotland; the accident is blamed on negligence by the signalmen during a shift change at a busy junction.
24/05/1900
Nottingham Victoria railway station opens in Nottingham, England
31/05/1879
The first electric railway opens at the Berlin Trades Exposition.
Radstock to Frome Railway Project

Latest News from this group can be found HERE
Christian Wolmar…
Book Review
Early Victorian Excursions, the million go forth, by Susan Major Pen &
I love books that debunk myths. Just as Edison did not invent the light bulb and Marconi did not invent the radio, Thomas Cook was the not the first to run railway tours. Indeed, railway excursions predated his famous 1941 temperance tour between Leicester and Loughborough by almost a decade, but thanks to his name becoming, like Hoover or Biro, synonymous with the product he is always regarded as their inventor.
As Susan Major points out in a book which vividly brings to life a Victorian phenomenon that swept through Britain from the early 1830s, it was not outside agents such as Cook who created the railway excursion but the railway companies themselves. They had good reason to: profit. The railways were initially conceived to carry freight, but as the owners of the first major line, the Liverpool & Manchester, opened in 1830, rapidly discovered, passengers were a lucrative form of income too. And excursions, by almost guaranteeing full trains carried for the whole journey, became an important source of extra revenue.
At first, the journey itself was the main enjoyment. Major recounts a trip in July 1835 organised by the Whitby & Pickering Railway for a journey of just two miles that was undertaken by more than 1,000 people, many of whom simply rode forward and back along the line. Soon, though, longer trips were taken, often in 'monster' trains that almost match today's gigantic freight services in the US. In August 1840, 3,000 people were carried by the Midland Counties Railway between Nottingham and Leicester which consisted of 67 carriages that required, not surprisingly, four steam engines to haul it.
Excursions were organised both by the railway companies themselves but also the voluntary societies that sprang up as a result of the rapid industrialisation and displacement of people such as Mechanics Institutes, Temperance Societies and church groups.
The excursions opened up the world for their passengers. Before the advent of the railway, the potential for travel was deeply constrained by poor roads and high cost and the railway opened up unprecedented opportunities. The excursionists were off to see the world beyond their local village or town for the first time. The seaside was the most common destination but by no means the only one. Spa towns were popular, too, and large conurbations such as Liverpool and Manchester attracted both countryside dwellers and the inhabitants of smaller neighbouring towns.
The best chapter of the book, 'What was it really like', beautifully conveys the sense of adventure, excitement and even danger for these early excursionists. It was for many the first experience of crowds but there was an overall sense of bonhomie. On occasion the travellers broke out into spontaneous song, as music was an important part of early Victorian life. There were, though, men who took the opportunity of the Tube-like squashes to grope any unlucky women who happened to be close and there were greater risks given that excursion trains, often overladen and scheduled at times when signalmen did not expect them, had more than their fair proportion of accidents. The passengers themselves sometimes courted danger by hanging on to the roofs of crowded carriages or jumping out at unscheduled stops.
Overall, though, despite the crowding, the occasional mishaps and the delays, the experience was largely positive. And it contributed to the breaking down of hitherto rigid class barriers. As Major concludes: 'The railway excursion in the mid-nineteenth century did much to change society's views about the working classesen masse, generally in a positive direction.' The excursion was therefore an important phenomenon in many respects, not just in opening up travel opportunities but in expanding horizons.
As for Cook, who Major says 'played a very minor role in mass mobility in this period', helped by his son, he went on to run train trips in many parts of the world and created an international organisation that still bears his name. But he did not invent the railway excursion and let's hope that Major has killed off this myth once and for all.
This review appeared first in The Oldie on 4th April 2016, and is reproduced here with the author's permission.
Around the World in 80 Railways (No 70: Tom Chesshyre)
The phrase "Around the World in 80 Days/Railways etc" seems well chosen. So, "Ticket to Ride", the latest offering from Tom Chesshyre does seem to come up short! How? Why? Well, the subtitle is "Around the World in 49 Unusual Train Journeys"!! 49? I expect we shall get a Part 2 …"Around the World in 31 More Unusual Train Journeys"!!
I jest, of course..
Christian Wolmar writes.."Trains, dry wit, more trains,evocative descriptions, more trains,fascinating people and more trains- what is there not to like?" Mark Smith THE MAN IN SEAT 61 suggests that this volume should be "Compulsory reading"!
So, what more recommendations would you want?
And its a book,, not so much about the trains, as the people who travel on them…..The book will go a long way to answer the key question "Why do people love trains so much?"
The 49 journeys take us from Crewe, to China, Kosovo, (you can spot a gricer a mile away, apparently) and India, where we enjoy the scenic delights of the Toy Train. On to Sri Lanka aboard the Reunification Express, and  into Turkey and Iran, where honourable tourists are heartily welcomed.
Trips follow in Australia, America, North Korea, Poland, the Baltic States.
And , almost finished, we travel the West Highland Line from Mallaig to Glasgow before enjoying "England's finest rural light railway", as the Kent and East Sussex Railway describes and sells itself.
His conclusions?  "Train travel? I love it…With trains you do not have the stress and worry(when all is going smoothly , that is"
And as to people who are "into trains", heavy or otherwise, he describes them as "harmless".
I think Tom Chesshyre is someone I could get to like!!


The latest from WATTRAIN      HERE

The APHTRO conference 2016 is planning to be held in New Delhi, India. Everyone with an interest in heritage railways and museums will be warmly welcomed.
Venue & Schedule
The venue of the conference is New Delhi, the capital of India.
Schedule of the conference prgramme is;
15 – 18 Oct : Pre-Conference Tours chosen from 9 options include Nilgiri, DHR and Kalka Simra, World Heritage Railway sites.
19 – 21 Oct : Main programme includes AGM & Business Sessions, Steam Train ride and visiting Railway Museum in New Delhi.
22 – 23 or 29 Oct : Post-Conference Tours chosen from 2 options, Steam Train ride to Sariska or India Maharaja Express.
APHTRO 19-21 Oct 2016 Leaflet (1)
For more information: www.aphtro.org
*************************************
NERHT is a voluntary society founded in 1999 to help railway preservation in the former Soviet Union and the other ex-Communist countries in Central and Eastern Europe
Extracts from the latest Eastern Star newsletter:
Ukraine
Lviv Children's Railway.
We are indebted to Yaroslav Horodchuk for the following notes on this railway, which NERHT representatives visited in June. The railway was laid on an existing railway track used since the General Regional Exhibition of 1894 (it was narrowgauge, and Austro-Hungarian in its characteristics), and which connected with the Persenkivka freight station. The children's railway was opened in 1951 in Komsomolsk Park and was 1,850km in length, with three stations (in the 1970s the length was reduced to 1.2km and one station was eliminated). Trains consisted of a steam locomotive (No. Kch4-027)and four wooden cars. From the late 1960s the rolling stock was updated with all-metal Pafawag cars and diesel locomotives TU2-087, TU3-039, TU3-040. TU2-087 was painted in the style of the first broad-gauge electric VL8 electric locomotives. In the mid-80s the trains were top-and-tailed with the pair of TU3 locomotives. But in 1989 TU3-040 was decommissioned and TU3-039 today remains the only locomotive of this series anywhere. Recognizing the uniqueness of this machine, the children's railway management uses it only in special cases – on holidays and to special order. TU2-087 is the usual locomotive, as seen here.
The full newsletter and accompanying photographs can be found at http://nerht.heritage-railways.com/
With grateful thanks to NERHT Chairman Stephen Wiggs
***********************************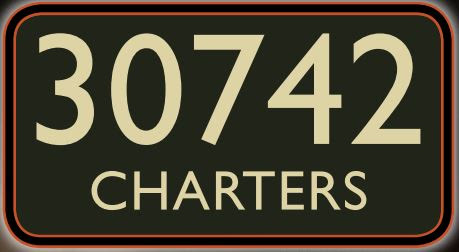 Latest News
Find 30742 Charters on Facebook at www.facebook.com/30742charters
===============================
Around the UK Heritage Railways – The Kent & East Sussex Light Railway
We came across reference to this railway in Tom Chesshyre's book "Ticket to Ride"
This is what the railway's website says about itself..
ABOUT THE KENT & EAST SUSSEX RAILWAY
The Kent & East Sussex Railway is operated by the Kent & East Sussex Railway Co Ltd, a charitable company, limited by guarantee and not having a share capital. Registered charity No. 262481. Its objectives are to preserve the Kent & East Sussex Railway for the operation and display of railway locomotives, rolling stock and other equipment for the advancement of technical and historical education and general interest.
Tenterden Town Station, Station Road, Tenterden, Kent, TN30 6HE.
Next Event..
From Saturday 21 May 2016
To Sunday 22 May 2016
(Kent & East Sussex Image)
The weekend will be an opportunity to turn back the clock and experience wartime Britain with a walk through the 1940's village scene.
Capture the unique atmosphere from Saturday 21 to Sunday 22 May 2016.
Each day will feature re-enactments, music, fashion and dancing of the era.
Singing Trio 'My Favourite Things' will be performing popular songs from the 1940's on both days and on Sunday visitors can take a seat and listen to the Beverley Big Band who will be performing throughout the day. The energetic vintage dance troupe, The Cinque Ports Lindy Hoppers, will also be entertaining visitors with their fabulous dance moves on both days.
History enthusiasts can also browse a range of civilian and military vehicles, privately owned and fully restored to their former wartime glory. There will even be the opportunity to look around a recreated plotting room.
Steam trains will operate all weekend. Tickets include unlimited train travel between Tenterden and Bodiam Stations.
The Cavell Van, which was featured in Michael Portillo's series about the Railways of the Great War on BBC 2, will also be on display. The restored Cavell Van is famous for carrying the coffin of Nurse Edith Cavell and Captain Charles Fryatt in 1919 and the unknown warrior in 1920.
The Colonel Stephens Railway Museum at Tenterden Station will also be open throughout the weekend with free entry for ticket holders.
The station refreshment rooms at Tenterden Station will be open for breakfast from 10.00am and the gift shop will be open throughout the weekend.
Admission: Adult £17, Child (3 – 15 years inc.) £11.50 and Family (2 adults + up to 3 children or 1 adult and up to 4 children) £38. Please see the timetable on the website for times of steam train operation.
For more details telephone 01580 765155, visit www.kesr.org.uk or email enquiries@kesr.org.uk
BACK PAGE
Train Crossing. (Painted in oils by Kevin Alun Parrish 1998)
Castle Class Locomotive No 7025 Sudeley Castle hauls an express train across the unusual looking Westbury Street Bridge over the Worcester Birmingham Canal on its way to Worcester Foregate Street Station in Worcester during 1965.
Forward to Hereford and beyond.
Walking on the tow path along the Worcester Birmingham Canal is a delight.
Original oil painting for sale at £375. 10% of sale proceeds to be donated to Steam Tube.
Visit my website at http://www.kevinparrish.co.uk/train-crossing/ for further details.