Passengers and community thanked for their patience as latest phase of railway electrification work between Bath and Bristol is completed.(Network Rail)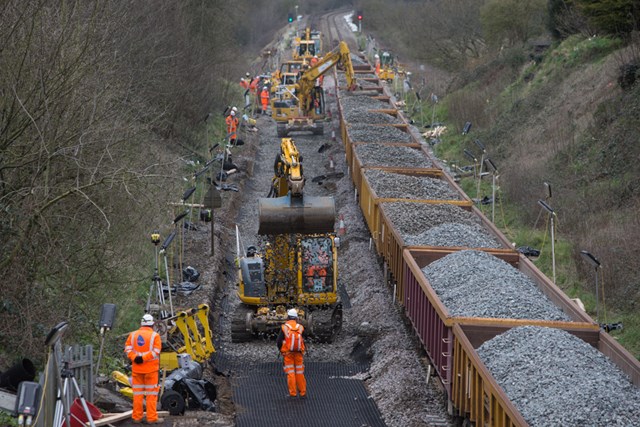 (Network Rail Image)
Network Rail and Great Western Railway (GWR) have thanked passengers and people living near the railway for their patience following the completion of the latest phase of work to prepare the railway between Bath and Bristol for a brand new fleet of electric trains.
The work forms part of Network Rail's £40bn Railway Upgrade Plan to provide a bigger, better, more reliable railway for passengers and involved the 'orange army' working round-the-clock to prepare this section of the Great Western Main Line for the arrival of a new fleet of longer, faster, quieter and greener electric trains. The extensive work started at the beginning of the month (2 April) and involved:
Lowering the tracks at Keynsham station to protect the historic architecture of its footbridge, while creating the extra space needed for the overhead electric lines that will power the new fleet of electric trains to run underneath.
Platform modifications at Keynsham station following the lowering of the tracks.
Replacing the tracks at Oldfield Park station to provide greater reliability for passengers.
Installing the foundations for the overhead electric lines.
Andy Haynes, Network Rail's project director for the west of England, said: "I'd like to thank passengers and the local community for their patience and understanding while we completed these essential upgrades.
"I'm pleased to say that following our successful track lowering work in Bath last summer, this next stage of the improvement work has also now completed meaning that passengers and residents are another step closer to the benefits that the electrification of the railway will bring.
"These benefits include faster trains with more seats and more legroom, and less noise and cleaner air for those who live close to the railway. Faster journeys and the ability to move more people by train will also benefit businesses in the area, helping to drive economic growth across the south west."
Rob Mullen, GWR's general manager central, said: "We are grateful for the patience and understanding shown by passengers as this vital work took place.
"The improvements being made will bring Brunel's railway into the 21st century, paving the way for new electric trains. These trains will make the most of electrification, providing passengers with more seats, more frequent services and faster journeys, and a step change in customer experience.
"In addition, the ability to reduce journey times while increasing capacity will benefit businesses, helping to drive economic growth across the south west."
ENDS
Notes:
The work involved:
Over 500 members of the 'orange army' working 24 hours a day
The installation of 10,000 tons of ballast (the stones under the track)
The removal of 12,000 tons of waste material
The installation of 1,500 new railway sleepers
The use of seven engineering trains
The use of over 25 buses to keep passengers moving during the work, and an additional 49 staff to provide advice and guidance.