Investment in bigger, better railway continues over spring bank holiday weekend>(Network Rail)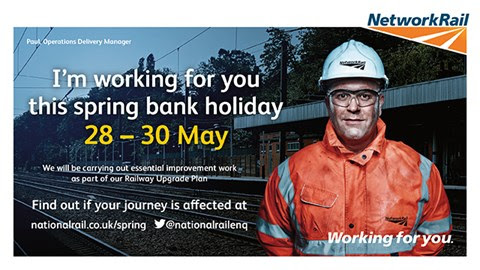 Check Before You Travel featuring Paul Clark, operations deliver manager. (Network Rail Image)
Rail passengers can look forward to better journeys as Network Rail's work to improve and upgrade the railway continues over the spring bank holiday weekend (28-30 May)

Over 9,000 members of Network Rail's orange army will be working round-the-clock over the long weekend to deliver vital elements of the company's Railway Upgrade Plan, which will provide a bigger, better, more reliable railway for passengers and businesses across Britain.
A total of £30m will be invested over three days to renew track, upgrade signalling systems and help boost the capacity of the network so more trains can run in future. The work has been planned to minimise disruption, as passenger numbers typically drop by more than half during a bank holiday. The overwhelming majority of journeys will run as normal.
Mark Carne, Network Rail chief executive, said: "Our work to build a bigger, better railway takes place round-the-clock, each and every day of the year. We've been careful to plan our work this bank holiday weekend to keep disruption to a minimum and it is good news for passengers that the majority of journeys will be unaffected.
"More than 9,000 men and women will be working hard this bank holiday weekend to improve the network as part of our Railway Upgrade Plan which will provide better, more reliable journeys for passengers and businesses across Britain."
Paul Clark, operations delivery manager and a member of Network Rail's orange army said: "We do our work at bank holidays and extended holiday periods because fewer people are travelling on the railway. It's the best time for us to get in there – we get more time to carry out the work and it's less disruptive to the public.
"What we're doing will make people's lives better in the long run. We're upgrading the existing railway, bringing it into the twenty-first century so we'll have more trains, more capacity and more frequent services."
Mr Carne concluded: "Passengers have been shown themselves to be incredibly understanding while we invest heavily to improve our railway and I'd like to thank them in advance for their patience and support."
The biggest parts of the spring bank holiday rail investment programme are:
Continuation of Network Rail's work to transform the existing tracks, infrastructure and stations in outer London, Berkshire and Essex as part of the Crossrail project.

This includes overhead electrification work to allow the new quieter, greener electric trains to run on the Elizabeth line, station upgrades including platform extensions to accommodate the longer trains that will operate and preparatory work for lift shafts that will enable the stations to be step-free.
Abellio Greater Anglia services between London Liverpool Street and Shenfield will be amended on

Sunday 29 and Monday 30 May

, with rail replacement buses for some journeys.
Completion of the £250m Stafford area improvement programme, removing one of the last major bottlenecks on the West Coast Main Line.

This will help create capacity for additional passenger and freight services in future between London, Birmingham and Manchester as well as improve reliability and journey times.
During the work Virgin Trains and CrossCountry services will be diverted while some London Midland services will be replaced by buses.
New track being laid at London Bridge as part of the Thameslink Programme, ready for the opening of the first half of the station's huge new concourse in August.

New sets of points are also being installed near Bermondsey, allowing trains to use the new Bermondsey dive-under (like a motorway flyover) once it is completed next year, improving capacity and reliability.
Southeastern services will be diverted to other stations including London Victoria and London Blackfriars while the work takes place.
The penultimate stage of a major signalling upgrade in Bristol, part of a project to re-signal the entire Great Western route to improve reliability for passengers.

The work will also pave the way for electrification and the doubling of the tracks along the Filton bank to increase capacity to cater for growing passenger numbers.
Also in preparation for electrification of the Great Western, Easton Road bridge in Bristol is being demolished and a new bridge lifted into place and piling to support new overhead line gantries continues in Swindon.
Great Western Railway and CrossCountry services will be diverted and in some case rail replacement bus services will be in operation.
Changes to airport services:
London Heathrow Airport: Crossrail work on the line into London Paddington will mean Heathrow Express and Heathrow Connect will both run half-hourly services on

Saturday 28 and Monday 30 May

, with hourly services on

Sunday 29 May.
London Luton Airport: Govia Thameslink Railway services from Luton to Sutton will run between Luton and St Pancras International only on

Saturday 28 and Sunday 29 May.
All other UK airports are unaffected.