London's newest station offers a journey time of just six minutes to two of the city's key transport hubs.(Network Rail)
Lea Bridge official first train (Network Rail Image)
Residents in Lea Bridge will now be able to reach two of London's key transport hubs in six minutes , by boarding a train at the new Lea Bridge Station in Leyton, East London from today (Monday 16 May).
Situated on the rail line that runs between Bishops Stortford and Stratford, Lea Bridge Station is expected to serve over 350,000 passengers a year by 2031, and cuts up to 35 minutes off journeys to Stratford and Tottenham Hale, that were previously taken by bus. The station sits close to the business estates around Argall Avenue, Rigg Approach and Orient Way and its links into London will help the economic growth of the area.
Network Rail managed the design and construction of the station with VolkerFitzpatrick on behalf of Waltham Forest Council. The project was funded with £5m from Waltham Forest Council, £1.1million from the Department for Transport's New Stations Fund and £5.5million from Section 106 contributions, managed by the Stratford Transport Implementation Group.
Network Rail worked closely with train operator, Abellio Greater Anglia, to ensure that the station was completed ahead of schedule so that they could prepare to welcome the first passengers on 16 May.
Richard Schofield, Network Rail's route managing director for Anglia said: "Rail is vital to the UK's economic growth. I'm proud that we've delivered this fantastic new station that will help boost the local economy by connecting thousands of passengers to two of the capital's key transport hubs, enabling them to move around London faster and improving links for local businesses."
Rail Minister Claire Perry said: "Lea Bridge Station is a great example of how our record investment in the railways and partnership working with local authorities and industry is delivering better journeys for passengers and boosting local economies.
"Passengers will now benefit from new connections and faster journeys, making it easier to get to work and visit friends and family."
Chris Robbins, Leader of Waltham Forest Council, said: "We are very excited to be reopening Lea Bridge Station after 31 years, not just for people already living in the Leyton area, but for the businesses nearby and investors who are interested in this part of our borough.
"There's huge scope for growth in Leyton and Lea Bridge and we're already working on a masterplan to look at how we can unlock its potential. The station forms a central part of our vision which will include a mix of desperately needed housing, retail and leisure space, and employment opportunities. We're already in talks with investors and are in a position where we can choose the kind of investment and projects we think are best for our borough and residents – it's really exciting."
Jamie Burles, managing director at Abellio Greater Anglia, said: "The reopening of Lea Bridge Station will make our rail network more accessible and convenient to thousands of existing and potential rail passengers. The development of the station has been a great partnership project between the London Borough of Waltham Forest, Abellio Greater Anglia, Network Rail and the Department for Transport. With half hourly services, seven days a week, in both directions to Stratford and Tottenham Hale, the new station enables local residents to have easy access to rail journeys into and across central London and beyond; up the West Anglia route to Stansted Airport and Cambridge; up the Great Eastern Main Line to Chelmsford, Colchester, Ipswich and Norwich; and of course to Stratford International Rail Station for Eurostar services to France and Belgium.  We hope the station will prove to be a great success."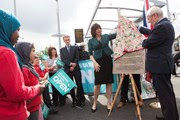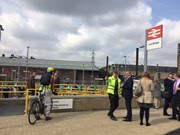 Unveiling the plaque, official opening and Lea Bridge Station
(Network Rail Images)