Residents invited to drop-in event about railway electrification work near Old Sodbury in South Gloucestershire.(Network Rail)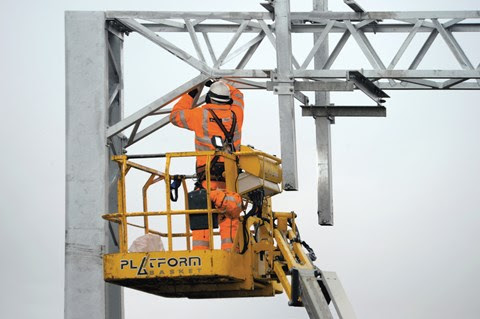 (Network Rail Image)
Old Sodbury residents are invited to attend a drop-in event to find out more about work that will soon be taking place to prepare the Great Western Main Line for the arrival of a new fleet of electric trains.
The event will take place on
Wednesday, 8 June
from
4.30pm to 7.30pm
at Old Sodbury Village Hall on Cotswold Lane. Members of the Network Rail project team will be on-hand throughout to explain more about the work and to answer any questions.
As part of the company's Railway Upgrade Plan to provide a bigger, better, more reliable railway for passengers, Network Rail's 'orange army' is preparing the Great Western Main Line near Old Sodbury for the arrival of a new fleet of electric trains. The electrification work is extensive and includes:
Installing the foundations for the overhead equipment that is essential to power the new fleet of longer, faster, quieter and greener electric trains to run underneath. Work is due to take place in the autumn/winter of 2016.
Replacing the aqueduct near Chapel Lane with a higher structure to create the additional space needed for the overhead equipment. Work to create a new compound near the site is due to begin in August 2016, with the new aqueduct installed in January 2017.
Building a new substation on top of the east entrance of Chipping Sodbury Tunnel, next to the railway near Badminton. This location was specially chosen to cause least disruption to the local community. This substation will be used to supply electricity to the overhead wires that will power the new electric trains. Work to clear the site recently began and the substation will take approximately six months to build.
Andy Haynes, Network Rail's project director for the west of England, said: "I'd like to thank the local community in advance for their patience and understanding while we carry out these essential improvements to modernise Brunel's railway.
"The work around Old Sodbury is an essential part of our Railway Upgrade Plan and will pave the way for electric trains and the benefits these will bring to residents and passengers. These benefits include faster trains with more seats and more legroom, and less noise and cleaner air for those who live close to the railway line.
"Everyone is welcome at our drop-in event and I'd urge anyone who wants to know more about our plans, or has a question, to come along."
To ensure the safety of the public during the work to replace the aqueduct, the section of Frome Valley Walkway between Badminton Road and Chapel Lane will be temporarily closed between1 August 2016 and 31 March 2017. During this time, an alternative walking route will be in place along the footpaths on Badminton Road and Chapel Lane.