Network Rail's Upgrade Plan brings jobs to the East Midlands.(Network Rail)
New Maintenance Train (NMT) at King's Cross platform.(Network Rail Image)
As many as 88 jobs are set to be created by Network Rail in Derby as part of the organisation's Railway Upgrade Plan in the East Midlands.
Two different teams within Network Rail are looking to expand their workforce, including the team behind the Midland Main Line route upgrade which will see the line between Sheffield and London St Pancras electrified and journey times improved by 2023.
The other team will support the new technology for plain line pattern recognition based, in part, on the New Measurement Train (NMT) – dubbed 'the flying banana' because of its distinctive yellow colour – a piece of highly sophisticated monitoring equipment which takes high definition photographs of the track while traveling at over 100mph to provide track engineers with information about possible faults. While a small number of jobs are based on the train itself, the majority are office based data analysis roles, with the jobs to be advertised in stages over the coming months.
The vacancies, which are split around 50/50 between the two teams, vary in terms of expertise and experience required, and range between technical clerks and document controllers to commercial and construction managers.
Gary Walsh, area director for Network Rail in the East Midlands, said: "This is fantastic news for Derby. The work we're doing in terms of maintenance to the existing railway to keep its reliability high and the infrastructure projects to bring electrification and quicker journeys to the Midland Main Line means that we need people with a range of skills, backgrounds and experience. This is a genuinely exciting time to be working on the railway, particularly on big projects which will improve rail travel in the East Midlands for generations to come."
To view all vacancies at Network Rail, visit http://www.networkrail.co.uk/careers/
Case study
Jessica Rehan joined Network Rail as an industrial placement student while studying at university. She later went on to join Network Rail and is now a Scheme Project Manager based in Derby – a role which currently has ten vacancies.
Jessica Rehan(Network Rail Image)
Jessica, who studied at the University of Derby, said: "Joining as an industrial placement student allowed me to gain skills and secure a position in the company after I finished my degree. I re-joined the company as a project management assistant and through the encouraging support of the team, I was promoted to a scheme project manager within a year."
"The team are not only focused on delivering projects safely, but improving personal development too. I have found that everyone is always encouraged to develop their skills and say yes to development opportunities. It is not always easy to see where you need to develop, but our team have created development plans to find out where you can progress."
Alongside her day job, Jessica is also now helping to recruit new people to the business, especially those at the beginning of their careers.
"As I was lucky enough to receive a fantastic start to my career, I wanted to give something back to students and new starters and so I got involved with recruitment and STEM (Science, Technology, Engineering and Mathematics) network. I have been leading the recruitment for industrial placement students and I have focused on students with the right skills and behaviours for the right team."
Background – Plain line pattern recognition (and the NMT)
Plain line pattern recognition (PLPR) has been hailed as the biggest step forward in track inspection in a generation.  Based on the NMT and other vehicles in the infrastructure monitoring fleet, this exciting new technology uses high speed cameras to take photographs of the continuous welded track, known as plain line, at 70,000 frames per second (or every 0.8mm of track).  These are streamed together and compared against the established pattern and anything that doesn't match is marked as a potential fault..
Urgent faults are flagged by an expert on the train to the local track manager for immediate attention. The inspectors then process the full stream from the shift and check each candidate for anomalies – for example lineside litter could have been mistakenly tagged as an obstruction. There are as many as 26 examination inspector roles available.
One of the key benefits is that this means our trackside maintenance teams are targeting the real areas of concerns when it is needed and we are, over time, able to remove the visual track inspections improving safety for our lineside colleagues.
Background – Midland Main Line Route Upgrade
Over the next seven years Network Rail will transform the Midland Main Line between Sheffield and London St Pancras which runs through Chesterfield, Derby, Leicester, Bedford and Luton. The route will be electrified, will have track and signals modernised, platforms will be lengthened and new trains with more carriages will be introduced. The work will involve remodelling bridges, tunnels and stations and installing overhead electrical lines helping to reduce running costs, energy usage and carbon emissions and improve journey times for passengers.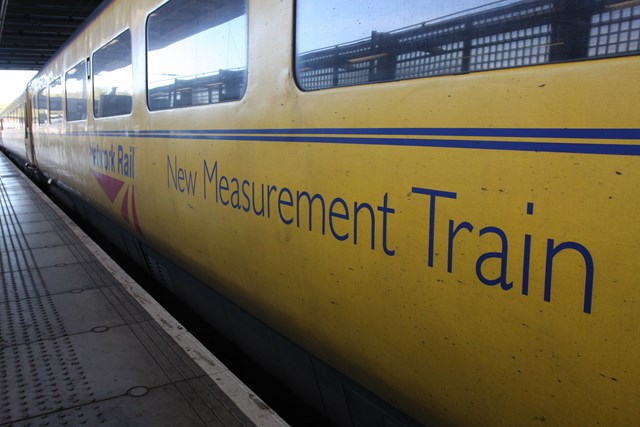 The New Measurement Train at St Pancras.(Network Rail Image)