On Shed….September 2016 Edition
" Preserving the steam locomotive legacy.. and more..on film"
FRONT PAGE
LMS Stanier Pacific no. 6201 'Princess Elizabeth' crosses the River Parrett at Langport on the Somerset Levels, 23 August 2016. This was the return leg of 'The Cathedrals Express', an excursion from London Victoria to Minehead on the West Somerset Railway.(C)Nigel Power.
Contents
Welcome…and news….
Editor's Selection 1: Hugh Oram "My Irish rail adventures-about the Cavan & Leitrim Railway" 
Editor's Selection 2: "The Coach That Made History"
Editor's Selection 3: Huntley Film Archives
Editor's Selection 4: Hugh Oram:"Chugging along: An Irishman's Diary on Dublin's vanished railway systems, the Atmospheric and Guinness
100 Trains….the journey so far….
Steam Tube Photographic Highlights
Steam Tube Video Highlights
Steam Tube Blogs.(A Visit To The North Norfolk Railway)
Tornado…The Story so far…
New & ReBuild News.
B & O Railroad Museum TV
Mainline Steam Schedule
On This Day in History.
Radstock to Frome Railway Project
Christian Wolmar…Latest Column…
Around the World in 80 Railways (No 74 – Croatia)       WATTRAIN &  APHTRO & NERHT News
30742 Charters
Around the UK Heritage Railways.(Combe Rail)      
Late News!Project Kestrel Share Scheme Announced!             Back Page
Welcome…and news….
A warm welcome to this September 2016 edition of "On Shed", the monthly review of "Steam Tube-The Home of Steam on the Net"
Hugh Oram is an author who has only recently come to our attention. He has been writing for many years, and is well respected. His "Irishman's Diary" articles appearing in the Irish Times are a fascinating look at times gone by in Ireland. And, of course, being in ireland, you will not be surprised to see that Guinness is associated with railway history!
"On Shed" also gratefully acknowledges the permission given by film maker David Doré to show the film "The Coach That Made History", and the kind courtesy of Robert Dewar at Huntley Film Archives for the selection of short films based on the London Underground. 
The usual features are found in this month's edition… Iain McGeachin's "100 Trains for ATAXIA" , progress on new and rebuilds, "This Month in Railway History", mainline steam schedule(UK)… and some helpful information on how to get involved with bringing the railway to Ilfracombe.
And for those who are interested in diesel heritage (well, "On Shed's tag line is "Preserving the steam locomotive legacy.. and more..on film").. the announcement regarding "Project Kestrel" will get them rushing to buy shares!!
Finally, another great painting from Kevin Parrish! Somebody out there will probably see the wisdom of acquiring this unique work!
So, read on, enjoy..and if you have suggestions on what you would like to see more..or less..of, please get in touch!
…………………………………
Editor's Selection 1: Hugh Oram "All aboard – An Irishman's Diary about the Cavan & Leitrim Railway"
Article reproduced by kind permission of Hugh Oram.
Read more about the author and his books at www.hughoram.com
The country's most idiosyncratic railway system
The Cavan & Leitrim Railway was the last all- steam, narrow-gauge railway to survive in Ireland; it had also managed to be the country's most idiosyncratic railway system.
It all began in 1887, after the 3ft-wide track had been laid from Belturbet in Co Cavan to Dromod in Co Leitrim. At Belturbet, it connected with the Great Northern Railway; at Dromod, it linked with the main Dublin to Sligo line.
The hub of the system was at Ballinamore, where the company had its workshops. There was also a link from near Ballinamore to Drumshanbo and Arigna, although the final 4½-mile connection from Arigna to the nearby coal mines was not completed until 1920. The original railway had cost £60,000 to build.
When the company started, eight locomotives were purchased and seven of them were named after the first names of daughters of directors. The eighth director refused to lend his daughter' s name to the last engine, so it was called Queen Victoria. In its early days, the railway looked like something out of the Wild West, as the locomotives had "cow-catchers" at the front, while early passenger carriages had verandahs and platforms at each end.
The trains were often so slow that intending passengers could walk alongside and simply hop aboard. Tickets were issued wherever they got on the train. The schedules were often nominal, as train crews were liable to stop along the way and have chats with friends and neighbours. One inspector of the rails carried a gun so that he could go wild-fowling when he was not attending to his duties.
Two successive station masters at Belturbet vanished. They each helped themselves to £7 in cash, enough for a ticket to America, with £1 left over. At a crossing just outside Mohill, trains stopped on demand for the Rev J Gargan Digges, a director of the company and renowned for his beekeeping. He was the private chaplain on the Lough Rynn estate.
In the aftermath of 1916, train crews played their part. In 1917, the Queen Victoria locomotive was painted green, white and orange and was promptly dubbed the Sinn Féin engine.
In 1920, a man from Belfast called Capt CV Rogers was brought in to bring some semblance of punctuality and discipline to the railway workers. One night, he was awoken from his slumbers by armed men, who marched him the 12 miles to Killeshandra. The next day, he fled the area.
Whenever Black and Tan soldiers boarded the trains, the crews walked off. As a result, drivers and firemen often went for months without pay. In 1922, the new manager, William McFarlane, was taken to Ballinamore station and made to sign a letter reinstating the sacked workers.
The Cavan & Leitrim Railway was absorbed into the Great Southern Railways during the 1925 railway amalgamations. The railway workshops at Ballinamore were closed and overhauls shifted to Inchicore; local working practices on the railway were extinguished. The Rev Digges lost his own private halt.
Roads were improving and cars were starting to come into vogue. Fewer women used the train to go and do their weekly shopping in Mohill or Drumshanbo. The latter had a station nameplate for years, put up by the Great Southern Railways, that read "Drumshambo" .
The railway finally closed down in 1959. During the 1950s, with three scheduled trains a day in each direction, station staff had so little to do that station gardens flourished.
The death knell had come in 1958, when the ESB opened a new generating station at Arigna, making the railway's transport of Arigna coal redundant. One of the old steam locomotives can now be found in a transportation museum in New Jersey, while the Ulster Folk & Transport Museum also has an old locomotive and a passenger carriage.
A new railway company was set up in 1993, with the aim of restoring the nearly six miles of track between Dromod and Mohill, but this never happened.
Until a couple of years ago, steam train trips were possible on a short stretch of track at Dromod. A substantial museum was opened at Dromod; it now includes not just railway memorabilia, but many other transport artefacts. A railway museum is also open at Belturbet, also with lots of material on the old railway.
The Cavan & Leitrim Railway was unique in many ways, much loved in the countryside through which it ran, but as with the other regional railway systems in Ireland, the economics provided unsurmountable.
Editor's Selection 2: "The Coach That Made History"(David Doré)
The story of the Armistice Car.
Editor's Selection 3: Huntley Film Archives

London's high rise buildings of the late 50s/early 60s. Flyovers. 60s traffic through London streets, a bus passes a tube station entrance. Diagram showing the London Underground map and the addition of a new line from Victoria to Walthamstow.

Clearing of debris at Sloane Square station bombed during WWII. View looking down on a dense crowd of people cheering and waving, there is one large Union Jack flag. A tube train travelling over ground before entering a tunnel. Platform signage showing trains departing for Colindale, Golders Green and Edgeware.

Stations and working men with bowler hats coming up from an underground station. Close up of feet walking up the station steps and umbrellas. Exterior of the headquarters of London Transport at 55 Broadway, Westminster. Close up of London Transport circular sign. Exterior of St Johns Wood station on the Bakerloo Line. Exterior of Southgate station. Platform at Dollis Hill station. Platform at Wembley Park station. Map of the tube, underground network charting its growth since 1914.
London To Edinburgh By Rail, 1940s

Version no 2 of film 8334, the edit is slightly different.
The journey from Kings Cross to Waverley Station in Edinburgh, many views and scenery on route plus interesting scenes of the passengers. For full description see synopsis on Huntley Archives website.

Tralee And Dingle Railway in Ireland. Irish country narrow gauge railway. The 'cattle special'.
"The Tralee and Dingle Railway which operated only on the occasion of the Dingle Fair on the last Saturday of every month".
The working Cattle Special.
The deserted station at Tralee. Locomotive working. Travelling to the next stop at Castlegregory Junction. Climbing the hill to Garrynadier. Fair Day at Dingle the No2T at Castle Dock. Cattle in pens. Lispole viaduct. No 8 Locomotive.
Editor's Selection 4: Hugh Oram:"Chugging along: An Irishman's Diary on Dublin's vanished railway systems, the Atmospheric and Guinness
Article reproduced by kind permission of Hugh Oram.
Read more about the author and his books at www.hughoram.com
Dublin once had two remarkable railway systems, both long vanished. One was the Atmospheric Railway between what is now Dún Laoghaire and Dalkey, while the other was the elaborate railway in the Guinness brewery at St James's Gate.
The Atmospheric Railway was opened to traffic in 1844, a decade after the Westland Row to Kingstown line had been built. The new railway ran for just under two miles, following the track of the old tramway from Dalkey quarry to the pier in Kingstown.
A pneumatic tube was laid between the rails, and the train was drawn upwards to Dalkey through the suction of a piston connecting with that tube. The train was quite fast, with the average speed around 25 mph, although the maximum speed obtained in test runs was just over 50 mph.
The service was also very regular, every half hour, between 8am and 9.30pm. The journey time was three minutes and trains could carry 200 or more passengers.
The train ran back to Kingstown by gravity, running at a sedate 18 mph, but often, on the last stretch of track, third-class passengers were required to get out and push.
It was the first railway of its kind in the world; this novel means of propulsion had been pioneered by the great English railway engineer, Brunel. But there was intense competition between him and another railway pioneer, Stephenson, who thought that trains needed locomotives to haul them. International newspaper interest in the new Dalkey railway was intense.
But the system had one fatal flaw; it needed leather flaps to keep it airtight. Extra attendants had to ensure the flaps worked properly, but rats did for the railway by gnawing at the leather to eat the grease. In winter, the flaps froze.
So 10 years after it opened, the Atmospheric Railway made way for the new main line from Kingstown to Bray, just as the rival Harcourt Street line to Bray was opening. Today, there's virtually nothing left to remind people of the old railway, except for Atmospheric Road in Dalkey, an area commonly known as "The Metals" , where the Dalkey station and the engine house for the air pump were once located.
Similar railways operated on the outskirts of Paris, in south Devon and in New York City. Modern versions of the system operate at Porto Alegre in Brazil and in Jakarta in Indonesia.
The other old railway in Dublin was the eight-mile-long narrow gauge system in the Guinness brewery. In 1873, the brewery had been substantially expanded when Guinness bought land between St James's Gate and the river Liffey. A 22-inch narrow-gauge railway system was constructed to carry materials around the brewery, as well as taking casks of stout to barges moored on the Liffey quays. Guinness even had a safe on wheels that took weekly wages round the brewery.
An ingenious spiral tunnel was built to link the higher and the lower parts of the site; this tunnel was based on the design of tunnels used in the Alps. At the time, Guinness had a highly inventive Dublin-born chief engineer, Samuel Geoghegan, who had gained much experience abroad, including in Turkey and India, before joining Guinness. He did well at Guinness; he lived in Ailesbury Road. Coincidentally, his brother William was the head brewer.
The first new locomotives didn't work well, because they couldn't keep out the dirt from the tracks, but the first steam engine designed by Geoghegan, and built in 1882, proved very satisfactory. Many more were built, including 17 at the old Cork Street foundry. They lasted until diesel working started in the 1940s.
The Guinness railway lasted until 1975 and two of its engines are preserved, perfectly restored, in the transport gallery at the Guinness Storehouse. Another of the old locos is at the Stradbally woodland railway in Co Laois. Two Guinness locos, one steam, the other diesel, are in the Ulster Folk & Transport Museum. Further examples are in the Welsh narrow-gauge railway museum and in a railway museum in West Sussex.
Another intriguing feature of railway working at Guinness was the broad gauge railway that ran for about 500 yards, linking the brewery with the goods yard in what is now Heuston station. This section of track was scrapped in 1965 to improve road traffic close to Heuston station.
Fortunately, artefacts and material relating to the Guinness railway are well preserved in the Guinness Storehouse and Archives, which means that the brewery has one of the best railway museums in these islands.
100 Trains….the journey so far….


"Hi everyone,
September kicks off this week (already!), and with it come some great opportunities for fundraising and attending events.
The annual Big Bad Bike Ride is back, and hitting the streets of York on the 10th! The 2014 event raised £960,000 for Ataxia UK; this year, they're hoping to smash the £1m barrier. Want to be part of the legacy? Sign up here www.bigbadbikeride.com/2016.php
We're racking up a great number of participants for the City Bridges Challenge on Sunday 18th, but we've still got places available for anyone wanting to join. Refreshments at the OXO Tower make a tasty finish to a fun day out in the heart of London.
www.ataxia.org.uk/news/city-bridges-challenge-2016
The Ataxia UK Annual Conference may be in October (7th and 8th), but there are a limited number of tickets. Make sure you don't miss out by booking them early! Get advice on coping with symptoms and taking care of your wellbeing, while taking the opportunity to socialise with people who understand your condition.
www.ataxia.org.uk/Event/ataxia-uk-annual-conference-2016"
One of the highlights of the year is always the Ataxia UK Annual conference. This year we are holding this popular event at the Radisson Blu East Midlands in Derby,…
"On Shed" is pleased to be giving Iain all the support and encouragement he needs to fulfill his ambition, and to use these walks as away of drawing attention to ATAXIA, and using 100% the donated funds to fund ATAXIA research.
In connection with Iain's project, Chris Tarrant (Extreme Railway Journeys) has kindly donated a pre – release 6 x DVD set of the last series of his Extreme Railway Journeys. Indeed, early in the series, Chris was taken ill, and but for the splendid efforts of paramedics at London Heathrow, he may not have been able to continue filming this excellent series.
Contents are: 
EPISODE ONE: The Road to Mandalay
EPISODE TWO: Crossing the Andes
EPISODE THREE: One Way Ticket to Siberia
EPISODE FOUR: Slow Train to Guantanamo Bay
EPISODE FIVE: The Great Japanese Train Ride
EPISODE SIX: The Railway that Created Canada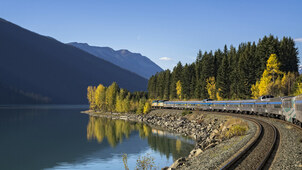 Image Courtesy The Gamma Project.
Our intention is to offer these DVDs..as a set…to the highest bidder. Now, you would expect to pay between £15 and £20  for a set such as this. But this is a special cause..and it would not be unreasonable to suggest that bids will need to be in excess of £100 to secure them. Let the auction begin!  (This auction and offer will end on 31st December 2016) Please send your bids..e-mail, amount bid, to peterlewis2@gmail.com. The proceeds will be given entirely to ATAXIA.org.
Steam Tube Photographic Highlights
(32,767 in library)


Steam Tube Video Highlights
(7,681 in library  HERE)





Steam Tube Blogs.
No blogs added for a couple of months…so here is a visit to the North Norfolk in February 2015…..
A Visit to the North Norfolk Railway
Sheringham – Weybourne – Kelling Heath Park-Holt
 In 1893, the Midland & Great Northern Joint Railway is formed as a result of the Midland Railway, and the Great Northern Railway, acquiring the Eastern & Midlands Railway Company which had fallen  into financial difficulties a few years earlier, and just 6 years from the opening of the William Marriott engineered Holt to Cromer section …which is where the North Norfolk Railway (aka The Poppy Line) is found.
And "found" is probably the right word…..access into north Norfolk today is no doubt easier than a generation ago, but compared with the major north-south motorway links, progress through the fens is noticeably slower, even though the views are very agreeable and wide open. It is not fair that the M &GN initials have resulted in unkind alternatives…such as "Muddle and Go Nowhere". On the contrary, once reached, this area of outstanding natural beauty is well worth the discovery.
As to its other name – "The Poppy Line"….In 1883 a London travel writer, Clement Scott, visiting the area,and viewing a panorama of fields and bright red poppies, named it "Poppyland"….and one hundred years or so later the late Colin Borg, marketing man on the North Norfolk Railway prevailed in persuading his colleagues that the line should be branded "The Poppy Line".
The line has enjoyed outstanding success, and is a popular destination for steam and railway enthusiasts.
So, it was to this delightful railway that I came on Wednesday 18th February 2015.
The weather could not have been better….one of those still, clear, calm ,"blue sky all day" kind of days….although noticeably chilly out of the sun.
A round trip, in a diesel multiple unit ,starting at Weybourne..down to Sheringham…returning via Weybourne (the cross over point on the otherwise single tracked line)..on to Holt (passing the request halt at Kelling Heath Park)… and back to Weybourne.
Taking a look at the stations….courtesy the North Norfolk Railway website:
Sheringham….. 
The station opened on 16th June 1887 and was extended in 1896. It was the built in the 'classic' E&M pavilion style. The current station building, externally, is broadly similar to the extended station although the where the buffet now is there was a parcels office and an open space under the overall canopy. The canopy has recently been faithfully restored in its original style.
End of the NNR line at Sheringham, showing level crossing over the link to Network Rail's tracks……  
The current signal box, used by the railway, is about 400 yards from the station on the north side of the line. Although not the original 'box, (it came from Wensum Junction), it is situated on the site of the original 'Sheringham West' signal box.
Along the line…….
LNER B12 No 8572 enters Weybourne from Sheringham with an early afternoon service train to Holt.
Weybourne
The main station was built in 1900 although other structures, of the appropriate era, such as the signal box, waiting room and footbridge have been 'imported' from other locations. (BR, on the closure of the line, raised the station and track, apart from the main station building). Its main claim to fame is as the location of the 'Dad's Army' episode, Royal Train, although it is frequently used by other film makers and artists.
Weybourne station is a mix and match site. The main station building, which was built in 1900 and opened in 1901, is largely in its original form. Whilst the majority of the station buildings on the M&GN were built in a number of standard styles, Weybourne station was unique. This may be because of the large hotel, the 'Weybourne Springs Hotel' which was built nearby and in the same timescale. The hotel was a baroque building and was intended to cater for the 'upper class'. However it was never successful and was demolished in 1940. The signal box at Weybourne was originally at Holt whilst the waiting room on platform 1 is a faithful replica of the original building, which stood in this location. During the Second World War, Weybourne served the large Army camp which was on the site now occupied by the Muckleburgh collection.
Weybourne Signal Box
Approaching Weybourne from Holt
Kelling Heath Halt.
The NNR's smallest 'station' – a request stop – consists of a one coach length platform.
The DMU didn't stop here on the occasion of my trip. Given the rising gradient towards Holt, steam hauled services will only stop on the return leg from Holt  towards Weybourne..
 

Holt
The main building itself has been relocated from Stalham, an original M&GN station. This building contains the booking hall and ticket office. There are two platforms at Holt station, which means the station can accommodate more than one train at a time. This provides much more flexibility in the timetables, particularly for galas.
A water tower has been built and locomotives can take water here. A new water crane has been built at the end of the platform to make taking water much easier for the crews.
 All things considered, it was a delightful day….and well worth another visit..
I would especially thank  Adrian Vaughan for making the arrangements that made the day what it was!
Note: Of course, there have been improvements on the line since February 2015!
Sources:
North Norfolk Railway Website
Overstrand Village website at http://www.overstrandonline.org/
http://www.lner.info/co/MGN/timeline.shtml
Tornado…The Story so far…
 
The Robin Hood, 60163 Tornado, 13th August 2016, filmed at Stamford by Dave Wadley
Wednesday 7th September – 'Belmond British Pullman' – London Victoria to Bath & Bristol
Thursday 8th September – 'The Severn Valley Venturer' – London Victoria to Bridgnorth – A1SLT promoted tour, bookings throughUK Railtours
Friday 23rd to Sunday 25th September – Severn Valley Railway Gala
Friday 30th September – 'Belmond British Pullman' – The Golden Age of Travel (Surrey Hills) (Belmond Provisional Date)
Saturday 1st October – Annual Convention
Saturday 8th October – 'The Magna Carta' – London King's Cross to Lincoln – A1SLT promoted tour, bookings through UK Railtours
Saturday 22nd October – 'Belmond British Pullman' – The Golden Age of Travel (Surrey Hills)
Friday 4th November – 'Belmond British Pullman' – The Golden Age of Travel (Surrey Hills)
Saturday 3rd December – Details to be confirmed
The A1 Steam Locomotive Trust is proud that Tornado will continue to be operated on the Network Rail main line by DB Cargo, which has worked successfully with the Trust since the locomotive's completion in 2008.
The Trust respectfully requests that anyone wanting to see Tornado follows the rules of the railway and only goes where permitted.
New & ReBuild News.
This feature now includes a couple of other worthy contenders for your support and consideration.
Can you get behind this project?
Merchant Navy 35011 General Steam Navigation Project
This society intends to transform this locomotive back into its original form as it was built in Eastleigh works back in 1944.
Further information at: General Steam Navigation Locomotive Restoration Society
Or perhaps your memories are for the Brighton Belle… featured in Andrew Martin's book "Belles and Whistles"?
In which case, take a look……Donate to The Brighton Belle
A 1972 newsreel depicting the final run of the Brighton Belle all-Pullman electric service which commenced services from London to Brighton (using the same stock depicted here – SR Class 5BEL/BR Class 403) in 1933. Is the large bearded gentleman passenger depicted but not named none other than the late, legendary Led Zeppelin manager Peter Grant?(Courtesy: Southern Railway Films on YouTube)

Hengist: Latest news at http://www.theclanproject.org
Latest progress on P2's Facebook page…..
This week's highlighted components have been listed on our Dedicated Donations Scheme Facebook Page!
Project Miller 41001 Returns!.
US Union Pacific Big Boy 4014
Latest News..and Video..HERE
The Pennsylvania Railroad (PRR) T1 Steam Locomotive Trust



More information at:http://prrt1steamlocomotivetrust.org/news.php
Chesapeake & Ohio 2-6-6-2
.


Photo courtesy B & O Museum
Latest News on Facebook..HERE
Australia
Project 6029 (Beyer Garratt 6029 ex-NSWGR) Up to date information regarding steam locomotive 6029 in Canberra, ACT Australia. Beyer Garratt 6029 is an EX NSWGR locomotive and was a member of the largest, and most powerful class in Australia. The restoration to full working order has been  undertaken by volunteers in Canberra.
Claud Hamilton:
Fund our Frames!
Donate just £5 to help to get this project started. We are starting with the buffer beam, We have been quoted a cost of £1300. Thats if 260 people donate just £5, we will be able to see the first part of a Claud for over 50 years.
We aim to build and operate the Great Eastern Railways legendary 4-4-0 D16/2 "Claud Hamilton" steam locomotive, No.8783 to be named "Phoenix".
The Claud Hamilton group is now linked to the Whitwell and Reepham Railway, Providing expert help and a home base for the locomotive in the future.
V499
To read about the "Ground Up Club", and the latest news about the V499 project, go to http://www.vicsteam.com/
It was so good to see A2 986 running last month between Melbourne and Seymour. Congratulations to Steam Rail for the amazing job they have done on the restoration.
The next two locomotive projects to look out for with anticipation is N class N441 and V class V499. Within 10-15 years these two new classes will once again grace the rails around Victoria, filling further gaps in steam preservation in this state.
Exciting times ahead indeed!(Facebook Page)
B & O Railroad Museum TV:
Each month the B&O TV Network, starring actor Michael Gross, spotlights a moment in B&O Railroad history. Take a journey into the past and view one or all of these episodes posted on YouTube.
Mainline Steam Schedule
This listing is offered in good faith, so there is no guarantee offered or implied.
Please confirm running with the relevant tour operator.
And adhere, please, to Network Rail's photographic guidelines…..HERE
The tour schedule for September 2016..and beyond..can be found  at  Railway Herald
On This Day in History.
September
??/09/1911
First Great Central Railway Class 8K 2-8-0 freight locomotive, No. 966, is turned out of its Gorton locomotive works, England. The class, designed by John G. Robinson, will exceed 650 in total and see overseas service during World War I.
63664 was a GCR Robinson Class 8K (LNER Class O4/1) 2-8-0 loco built at Gorton works in 1912. Photo atLangwith Junction in service on 7 August 1960.(Wikipedia)
01/09/1905
The Witham rail crash in England kills 11
04/09/1905
William Dean, Chief Mechanical Engineer of Great Western Railway of England 1877-1902 (b. 1840).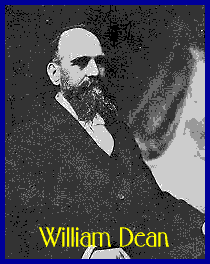 Source:http://www.swindonweb.com/
04/09/1941
Union Pacific Railroad take delivery of the first "Big Boy" steam locomotive.
By 1940, the National Defense Act encouraged railroads to develop faster, more powerful locomotives in preparation for wartime requirements. Union Pacific responded with the 4-8-8-4 Class 4000 Big Boy, a 132-foot long, 1.2 million-pound hulk. Because of its great length, the frame was articulated, or hinged, to allow it to negotiate curves. Its power was ideally suited to climb the 1.14 percent grade of the Wasatch Mountains. The last Big Boy made its final run in July 1959. There are seven Big Boys on public display in various cities around the country. They can be found in St. Louis, Missouri; Dallas, Texas; Omaha, Nebraska; Denver, Colorado; Scranton, Pennsylvania; Green Bay, Wisconsin; and Cheyenne, Wyoming.
07/09/1962
Last 'Cornishman' express ran over the Stratford-upon-Avon to Cheltenham route: this and other express trains were re-routed via the Birmingham – Gloucester line.
15/09/1830
The Liverpool and Manchester Railway opened.
During the ceremony, William Huskisson MP, became the first person to be killed by a train.
17/09/1909
Beyer, Peacock and Company of Manchester, England, steam the first Garratt articulated steam locomotive built to the design of Herbert William Garratt, K Class No. K1 for the Tasmanian Government Railways' North East Dundas Tramway
17/09/1912
The Ditton Junction rail crash near Widnes in England kills 15.
19/09/1882
Oliver Bulleid, chief mechanical engineer of the Southern Railway (Great Britain) 1937-1948, born in New Zealand (d. 1970).
19/09/1906
14 die as a result of the Grantham rail accident on the Great Northern Railway (Great Britain) when a sleeping car train is derailed passing through Grantham railway station at excessive speed.
24/09/1917
The Bere Ferrers rail accident in England kills 10 New Zealand soldiers
25/09/1913
Herbert William Garratt, English steam locomotive builder and inventor of the Garratt locomotive type (b. 1864)
27/09/1825
The Stockton Darlington Railway opened. It was the first passenger rail service, the steam locomotive travelled at 10mph.
Opening of the Stockton & Darlington Railway. (Source: http://spartacus-educational.com/)
27/09/1919
September 27–October 6 – Railway workers in the United Kingdom stage a strike, called by the National Union of Railwaymen.
28/09/1928
Third class sleeping cars are introduced on those British railways providing such a service
28/09/1883
Formal opening of first electrified section of Giant's Causeway Tramway in Ireland, utilising hydroelectricity
Radstock to Frome Railway Project

Latest News from this group can be found HERE
Christian Wolmar…Latest Column…

Nationalise the Thameslink Southern franchise!
Please note: These are Christian Wolmar's thoughts, not necessarily endorsed by "On Shed". 
Everyone hates Govia, the train company responsible for the strike-ridden Southern rail services. Passengers are at their wits' end because of delays and cancellations, staff have been alienated by intransigent management and ministers are aghast as even right-wing Tory MPs tell  them to remove the contract.
Actually, it is possible to feel sympathy for the embattled  company. The unions say, with much justification, that the dispute over the change of the guards' role is being driven by the Department for Transport and not Govia. Many of the delays are in reality the fault of Network Rail and the massive renewal programme at London Bridge station rather than anything to do with the train operator.
The whole shambles has exposed the flaw in the way that our railways are run. The pretence is that they are in the control of private companies, allowing  ministers to argue that problems are  "nothing to do with me, guv". The truth is rather different. The government sets out the terms of these contracts in great detail, and in the case of the massive Thameslink, Southern and Great Northern franchise, it has mandated the staffing changes  that Govia is having to implement.
A senior Department for Transport official, Peter Wilkinson, even admitted publicly that it is out to break the unions. Claire Perry, the well-regarded rail minister, has already fallen on her sword, saying she was "often ashamed" to be in charge of Britain's railways.
The solution is obvious. Cut out the middle man. This franchise is so big, so complex and so difficult to manage during the extensive Thameslink works that it would be better if it were run directly by government, as happened with the East Coast line when two successive operators threw in the towel.
Theresa May is taking a realistic attitude towards industrial strategy. While she accepts in general the laissez-faire approach of her predecessors, she recognises there are times when government cannot simply stand by and watch as disaster unfolds. This is clearly the case with Southern trains. Time to bite the bullet. That is not to acquiesce to Jeremy Corbyn's plan to renationalise the whole network, but simply to be pragmatic. If it ain't working, it needs to be fixed.
Latest Books from Christian Wolmar: HERE
Around the World in 80 Railways (No 74:Croatia )
During a one-week beach holiday in Croatia I did one excursion to the now 25 kV AC electrified line (formerly 3 kV DC) from coastal city Rijeka through the mountains towards Zagreb.
On the return trip I had a short stopover at Zagreb, where "overland" tram line 15 was visited, the main station and the diesel line still featuring a few GM-hauled passenger trains (although new Gredelj-built class 7022 DMUs are already in service) near Zabok.(Ronik24 on YouTube)
WATTRAIN & APHTRO & NERHT News

The latest from WATTRAIN      HERE

The APHTRO conference 2016 is planning to be held in New Delhi, India. Everyone with an interest in heritage railways and museums will be warmly welcomed.
Venue & Schedule
The venue of the conference is New Delhi, the capital of India.
Schedule of the conference prgramme is;
15 – 18 Oct : Pre-Conference Tours chosen from 9 options include Nilgiri, DHR and Kalka Simra, World Heritage Railway sites.
19 – 21 Oct : Main programme includes AGM & Business Sessions, Steam Train ride and visiting Railway Museum in New Delhi.
22 – 23 or 29 Oct : Post-Conference Tours chosen from 2 options, Steam Train ride to Sariska or India Maharaja Express.
APHTRO 19-21 Oct 2016 Leaflet (1)
Latest APHTRO newsletter HERE
For more information: www.aphtro.org
NERHT is a voluntary society founded in 1999 to help railway preservation in the former Soviet Union and the other ex-Communist countries in Central and Eastern Europe.
Access the latest Eastern Star newsletter: HERE
30742 Charters

Latest News from Martin Creese….
Find 30742 Charters on Facebook at www.facebook.com/30742charters
Around the UK Heritage Railways.
Combe Rail – Ilfracombe Branch Project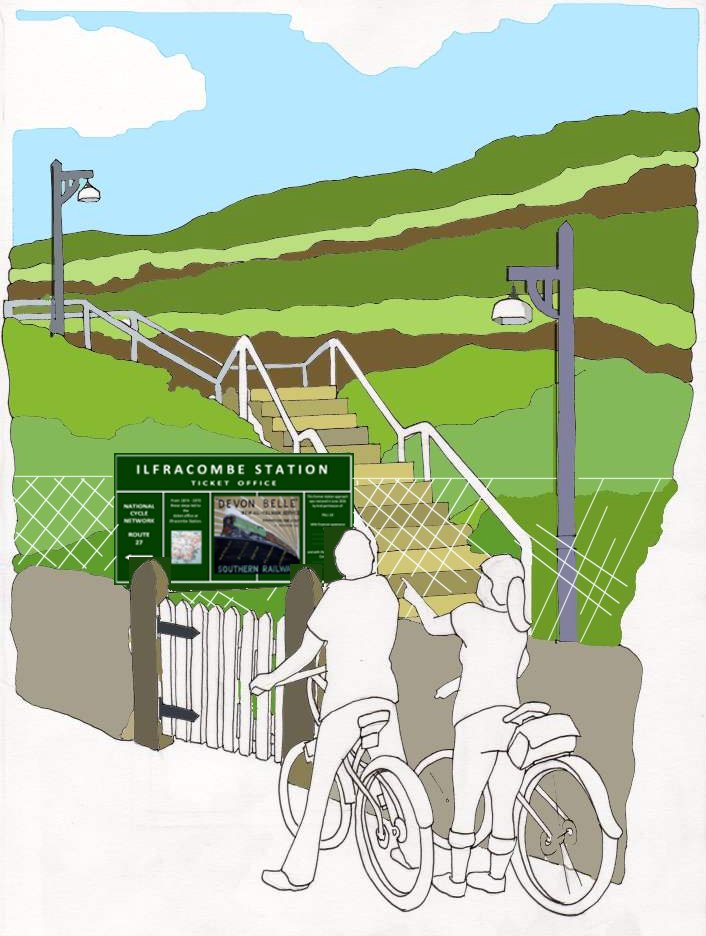 (Combe Rail Image)
Combe Rail was set up to preserve the heritage of the Barnstaple-Ilfracombe railway (1874-1970) We will do this in two ways – by restoring surviving railway infrastructure along the line, and by building and operating a heritage railway at a suitable location. Promising discussions have already begun with North Devon Council and Biosphere Service.
Combe Rail is a Charity (No.1164083) which means we can reclaim Gift Aid on membership subscriptions and donations. Join us today to rebuild the railway!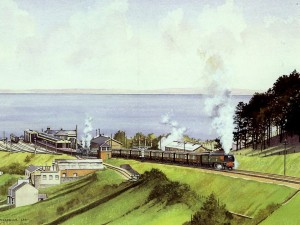 Revive this view! Join Combe Rail today!
On Shed will be keeping an eye on progress!
LATEST NEWS!!!!!!!
Project Kestrel Share Scheme Announced!

(C) Transport Topics,BRCW.
In 1967 locomotive number 711 appeared from the Brush Falcon Works in Loughborough. It's yellow ochre and chocolate brown livery wasn't the only thing different about it. It's streamlined appearance wasn't there to make it just look good but were there to help this 4,000hp giant haul passenger trains at speeds up to 110mph. The loco's number was a combination of Brush owner Hawker Siddeley and its power rating, HS4000, and a name to match that power, KESTREL.
Not only did this locomotive have the power to haul passenger trains at unheard of speeds but had the strength to haul freight trains of over 2,000 tons. Even after the loco was fitted with Class 47 bogies in an effort to reduce axle weight Kestrel regularly clipped 14 minutes off Deltic timings between London Kings Cross and Newcastle.
The loco was a testbed for several new systems, the first to use alternators instead of the standard DC generators, regenerative braking using resistors for high speed use and solid state control systems. But this all came with a weight penalty, 133 tons as built which reduced to 129 tons after Class 47 bogies were fitted still exceeded BR's requirement for a 20 ton axle load.
After the trials on passenger workings came to an end Kestrel settled down to regular freight workings around Shireoak depot. Unfortunately the writing was already on the wall. With no chance of orders for a production version Brush put Kestrel up for sale, with £127,000 being accepted from Russia.
Kestrel left the UK in July 1971 aboard the MV Krasnokamsk from Cardiff bound for St Petersburg. From there it went to the Railway Institute in Moscow for them to learn the secrets of this giant of a loco. The results were the Tep70, and later Tep70BS, which were to become the mainstay of the Russian Railways and other countries within the Warsaw Pact. After the Institute had finished testing the loco was left in dereliction for many years before finally ending its days at the Kolomna Locomotive Works. The exact date Kestrel met its end is unknown, but reports suggest it was during 1994.
Kestrel still holds the record as the most powerful diesel loco built in the UK.
We now have the chance to build a replica using modern technology to allow Kestrel to rise from the ashes. Birmingham Railway Carriage & Wagon Company Ltd was reformed in 2014 to rebuild some of the prototype locomotives and other iconic items of rolling stock currently missing from the nation's collections.
Kestrel is the first of the company's projects to reach the stage where it can be formally launched. The plan is to use a Stage 3b emissions compliant engine together with the other advances that have occurred in the last 50 years whilst keeping as close to Kestrel's classic lines as possible.
To pay for this work we are offering 500,000 shares at £10 each. There will be no minimum or maximum holding and will be available and can be purchased by regular payments to spread the cost over a number of months. Shares do not confer ownership of the loco. One share will entitle the purchaser to one years membership of the BRCW Support Group and ten will give life membership. Shareholders will be entitled to other benefits as they become available. In addition shareholders will get the chance to travel on the new Kestrel's first passenger train. Shareholders will also be able to vote for the Kestrel Project Director to oversee the project and sit on the BRCW board. All funds will be held in a separate account and treated as loans until contracts are signed to cover the required work, at which time they will be converted to donations which should then qualify for GiftAid. If the project fails to reach sufficient funds to progress all monies can either be returned or transferred to another BRCW project.
To become a shareholder please email BRCW atsimon@brcw.co (NO .UK  on the end as it will go to someone completely different) or contact us through the BRCW facebook page, www.facebook.com/brcwco,  or the Project Kestrel page, www.facebook.com/groups/kestelproject.
Back Page
Train Coming (size 10in x7in). An original oil painting on hardboard by Kevin Alun Parrish. It is for sale at £250. 10% of sale of proceeds to be donated to Steam Tube.
Class B1 no 61264 hauling a freight train of mineral wagons near Blackburn in the heyday of Steam. The locomotive is now preserved on the North York Moors Railway.