On Shed – October 2016 Edition
" Preserving the steam locomotive legacy.. and more..on film"
FRONT PAGE
Welcome…and news….
Editor's Selection 1: Rewari Steam Locomotive Shed: Preserving India's rail heritage
Editor's Selection 2 Paul Salveson(Excerps from Northern Salvo 219)
100 Trains….the journey so far….
Steam Tube Photographic Highlights
Steam Tube Video Highlights
Steam Tube Blogs.
Tornado…The Story so far…
New & ReBuild News.
B & O Railroad Museum TV
Mainline Steam Schedule
On This Day in History.
Radstock to Frome Railway Project
Christian Wolmar… Railway Historian.
Around the World in 80 Railways (No 74 – Croatia)      
WATTRAIN &  APHTRO & NERHT News
30742 Charters
Around the UK Heritage Railways.(Combe Rail)      
Late News!Project Kestrel Share Scheme Announced!
Welcome..and site news…
Welcome to this October 2016 edition of "On Shed".
Our Front Page image (Steam Tube Logo) is here to remind all that Steam Tube is alive and well….!
Ever since January 2009, enthusiasts have been able to upload their photographs and videos for the mutual enjoyment of the 1570 members from around the world. The Ning platform gave us the facility to build a substantial archive and resource…32,000 photographs and 7,000 videos. And this was all due to the fantastic support of a core of members, to whom we offer a heartfelt "Thank You".
We (Andy Thompson and Peter S Lewis..co-owners and co-founders of Steam Tube (R)) have taken the decision to move Steam Tube to Facebook. You can access the site at https://www.facebook.com/steamtube/
Also, a link has been provided on our main site Rail Tube…. www.railtube.info
So, may we encourage all those who so regularly uploaded to the original site to do so at our new address! No membership is needed….so please upload the best of your material from the last year or two..(of course, we would be pleased to have you upload all of your previous photos and videos!!)
There is no doubt that your enthusiastic support and response to this request will soon have Steam Tube being the talk of Facebook!! And you'll never hear us talk of money again!!!
Editor's Selection 1: Rewari Steam Locomotive Shed: Preserving India's rail heritage
By Anisha Dutta,INFRACIRCLE
At present, there are 5,714 diesel and 5,065 electric locomotives in the national carrier's fleet. Photos by Anisha Dutta
A dusty gramophone, an old transistor, a vintage telephone, pictures of steam engines adorning the walls—these are among the antiques preserved in the quaint office of Ganpat, who uses only one name.
The 60-year-old loco foreman, a designation which itself is a heritage, has been coming to this office since the last four years, though he has served the Indian Railways for the past 30 years.
Stationed amid an abandoned railway colony in a small town of Haryana, the Rewari Heritage Locomotive Shed lies on the Delhi-Jaipur railway route and comes under the Jaipur Division of the North Western Railway Zone.
Opposite the railway line of the town's railway station, the locomotive shed, once the largest meter gauge shed in the country, stands as a testament of the bygone era of steam engines.
"Earlier, the shed was a junction for six lines—Bikaner, Delhi, Bathinda, Hisar, Jaipur and Fulera. After steam engines started getting phased out, the shed was left in tatters. All locomotives were tendered to be removed," Ganpat reminisces.
These locomotives though 'lost steam' soon. The last meter gauge steam locomotive, Antim Sitara (The Last Star), was rolled out in 1972.  The number of steam locomotives fell from around 2,300 in the early 1990s to around 200 by 1995. On 6 December 1995, WL 15005 named Sher-e-Punjab, the last broad gauge locomotive from Ferozepur to Jalandhar in Punjab ceased to run.
Steam engines were completed removed from services by 2000, though some still run on heritage circuits, like in Rewari.
At present, there are 5,714 diesel and 5,065 electric locomotives in the national carrier's fleet which helped carry 8,224 million passengers in 2014-15.
Inaugurated in 1893, the Rewari shed, under the jurisdiction of Bombay-Baroda and Central Indian Railways, was home to 65 meter gauge locomotives with a crew of nearly 500 including 395 drivers. The shed primarily held class 2 engines and was a junction of six lines with a part of its track connecting Delhi and Peshawar.
The shed had an active working life span of 100 years. As steam locomotives started phasing out in the early 1990s, the shed was closed down in 1993 and by 1994 all but two locos— PG 3415 and PG 3438—were cut up and sold as scrap.
The shed now has just 10 locomotives left.
In 2001, it was planned to convert the shed into a heritage shed. "In 2002, when current Bihar chief minister Nitish Kumar was the minister of railways, he visited the shed and said it should be given a heritage status. The few locomotives that were left, Kumar asked to give them heritage status as well," Ganpat said.
The revival
The Rewari shed had an active working life span of 100 years.
Despite getting the heritage tag, the shed remained neglected for years.
After a gap of almost 10 years, Ashwani Lohani, the current Air India chairman and managing director, was appointed as the divisional railway manager (DRM) of Delhi who took upon himself the task of resurrecting the shed.
"In 2010, the renovation of the shed took place. The then-DRM of Delhi Ashwani Lohani started the process of resurrecting the shed. A tender was issued for the renovation of the shed. The work went on for around a year and after that meter gauge routes were converted to broad gauge," Ganpat says.
The shed now has 10 fully functional locomotives, out of which four are meter gauge— Rewari King, Sahib, Sultan, Sindh—and six are broad gauge, namely Fairy Queen, Angadh, Akbar, Azad, Sher-e-Punjab and Virat.
"In December 2009 when I came back as the DRM of Delhi, we took up the shed for resurrection. We resurrected the shed and did a lot of work there. It became functional and all the engines were in good shape," Lohani says.
Lohani explained that the idea to bring the shed back to life came from the nostalgia for steam engines following the discontinuation of the locomotives all over the world.
"The steam locomotives started going out of railways in the 1970s and 1980s in various countries. This was the demise of steam engines. Then a lot of nostalgia for steam engines started building up all over the world. When I was the director of the Rail Museum in New Delhi from 1993 to 1998, that is when we first decided to run the world's oldest steam train—the Fairy Queen," he says.
At present the shed, which operates for tourism purposes only, offers a two days-one night package from Delhi Cantonment station to Alwar in Rajasthan and back, covering a distance of 300km.
"We conduct two trips a month and in each trip 40-60 people can be accommodated. The coach that we have has a capacity of 60 seats. The two-day package is priced around Rs.12,000 and leaves at 9:50am from Delhi Cantonment station and reaches Alwar at 2pm with an overnight stay at the Sariska Tiger Reserve," Ganpat says.
Long live the Fairy Queen
Almost 90 years after the engine was laid to rest by the East Indian Railway, the Fairy Queen began operations again in 1997 marking the birth of steam engine heritage tourism in India.
"The idea of creating a steam shed in Rewari was for it to serve as a focal point of steam engines in India after it had gone out of the mainline," Lohani says.
According to its current pilot Ravinder Singh, the Fairy Queen runs majestically even after 160 years.
Built in 1855, the Fairy Queen is the oldest working steam locomotive in the world, a feat that earned it a name in the Guinness Book of World Records.
According to its current pilot, Ravinder Singh, even though the engine is nearly 160 years old, it runs majestically barring a few quirks.
"The Fairy Queen is an attraction for tourists. Though I'm stationed in the Delhi division mainly as a diesel locomotive pilot, I've been working here since four years. But driving steam locomotives is a passion. It feels very good knowing we are preserving our heritage," Singh says.
He says the locomotive works on the same principle as that of a pressure cooker.
"It takes around five hours to start the engine. We first fill water and put coal under it and light it. As the heat rises the water, which is in the boiler, gets converted into steam. Coal is used as a fuel and steam provides power. The steam is then regulated which provides race and acts as an accelerator," Singh says.
The Fairy Queen consumes low amount of coal as it is a small engine which runs at a speed of 45km per hour and has 130 horse power.
As for the Rewari Heritage Locomotive Shed, it remains a preserver of the bygone era of steam locomotives. With a tie up with Indian Railways' subsidiary Indian Railway Catering and Tourism Corporation, the shed caters to those who like to have a glimpse of the history.
According to Lohani, the shed was set up with the hopes of being "the Mecca of steam engines" in India and serve as a preserver of steam technology in the country.
It indeed is on track.
Liked the story? Subscribe to our daily and weekly newsletter, InfraReads, to keep track of India's infrastructure space.
Editor: This article was reproduced by kind permission Anisha Dutta & INFRACIRCLE
Editor's Selection 2 Paul Salveson(Excerpts from Northern Salvo 219)
"I'm just under a mile away from Croston station, which is my gateway to the outside world (except on Sundays, when there are no trains).
It's a 17 minutes' walk or a five minute bike ride. And it's great cycling country round here, as I'm busy finding out. Just down the road is the marvellous Velo Cafe – a shrine to all things cycling, situated next to an artificial lake and serving excellent coffee and yummy cakes and 'gourmet burgers'. It feels more Danish than English (and that's a compliment by the way).
Being over on the 'west' side means that my longer distance travels are often with Virgin, which I must say offers a good service, especially when it's a Preston crew. But roll on our Arriva open access service from Blackpool to London in 2018. Preston itself is the home to Northern's new 'West' regional directorate, headed up by the lovely Sharon Keith, formerly of Tyne and Wear Metro. I'm sure she'll bring the same energy and commitment to her new role that she showed in the North-East….
…….
Cambrian Railways Re-born
Idyllic rural scene at Llynclys on the Cambrian
A victim of a previous round of cuts was the forme Cambrian 'main line' from Oswestry to Welshpool. Parts of it are being revived by Cambrian Railways Heritage – the group has just completed purchase of some of the former bay platform at Gobowen station and has bases at Oswetsry itself and at Llynclys.
A similarly fascinating publication, from the same era, was an internal BR booklet published in 1950 outlining times of an Officers' Special to inspect stations competing in the 1950 Station Garden Prizes competition in the 'North Eastern Operating Area'.
The special train set off on Monday July 17th from York, departing at the civilised time of 09.05. It called at several stations to inspect gardens including those at Burton Salmon, Moorthorpe, Tadcaster, Spofforth, Starbeck, Goldsborough returning via Cattal and calling at Marston Moor and Poppleton – which still has splendid gardens and its own community rail nursery. The special continued to Naburn, Escrick and Riccall, arriving in York at 16.02 (4.02 pm).The trips continued each weekday until Friday August 18th totalling 20 outings in all. It would be fascinating to find some photographs of the outings; they must exist. The saloon used for the trip was No. 902177, just in case you were interested. I think the particular trip I would most liked to have travelled on was Tour no. 19 which took the great and good from BR to visit station gardens at Wark, Reedsmouth, Plashetts, Kielder Forest. Marvellous. And the final 'great find' for a mere £1.30 was the Greater Manchester Council promotional booklet for The Picc-Vic Project, published in April 1975.
Oh, what might have been! The plan was for routes from Bolton and Bury joining at Radcliffe and using what is now Metrolink to a new 'Victoria Low Level' and tunnelling under the city with stations at Royal Exchange, Central, Whitworth and Piccadilly Low Level. Trains would continue to Macclesfield and Alderley Edge and Macclesfield with a future extension to Buxton. There would have been extensions from Oldham and Rochdale in a Stage 2 of the scheme. The concept is as relevant now as then (even with Metrolink) and better value than HS2 if you ask me (but maybe no-one will…).
And a late notice…take a look at this about New York Public Library, with a good practical use for a railway….https://www.indy100.com/article/this-library-has-built-a-railway-for-books-and-its-awesome-7329316?utm_source=indy&utm_medium=top5&utm_campaign=i100 (thanks Harriet)
…
With thanks to Paul Salveson for permission to repost this "Salvo"
100 Trains….the journey so far….
Iain is currently on the Spanish leg of his Global Walk for ATAXIA.
He started in Girona, in Spain's north-east corner, and has been walking down the east coast, stopping off at Tarragona , and resuming this week.
Yesterday Iain enjoyed the  perfect semicircular beach at L'Hospitalet de L'Infant, and today (Saturday 1st October 2016) he has "walked further south. And have just arrived in a wee town called L'Ametlla de Mar – looks quite nice – proper fishing boats in the wee harbour – just like we used to have in Ayr!"
Iain's efforts have not gone unnoticed either, as the following link to an article in the Daily Record shows!  http://www.dailyrecord.co.uk/…/brave-ayr-man-wont-ataxia-89…
P.S. An Anthology for Ataxia is being prepared, featuring contributed articles and/or chapters from some of the best rail and travel writers in the UK..and the world! All that is needed is a publisher! Profits from sales of the book will be donated to ATAXIA.org charity.
So, if you are a publisher – or know one – and are willing to publish well established and successful writers in this anthology, please contact the editor, Peter S Lewis at peterlewis2@gmail.com. Thank you.  
Steam Tube Photographic Highlights
Steam Tube Video Highlights
Steam Tube Blogs
Our recent change of address,  to https://www.facebook.com/steamtube/ means that we don't have many photographs or videos to select from! So, please upload freely to Steam Tube's Facebook page, and by next month, we should be in position to include a selection for this feature.
Tornado…The Story so far…


 
60163 'Tornado' Heads To The SVR – The Severn Valley Venturer – 2016 (Courtesy Marsh Steam Videos)

MEGA WHISTLE 'The Torbay Express' 60163 Tornado – Exeter St Thomas & Exeter St David's – 4th Sep 2016  (Courtesy: Harry Bennellick on Youtube)
Saturday 1

st

 October – Annual Convention
Saturday 8

th

 October – 'The Magna Carta' – London King's Cross to Lincoln – A1SLT promoted tour, bookings through 

UK Railtours

Saturday 22

nd

 October – 'Belmond British Pullman' – The Golden Age of Travel (Surrey Hills)
Friday 4

th

 November – 'Belmond British Pullman' – The Golden Age of Travel (Surrey Hills)
Saturday 3

rd

 December – Details to be confirmed
The A1 Steam Locomotive Trust is proud that Tornado will continue to be operated on the Network Rail main line by DB Cargo, which has worked successfully with the Trust since the locomotive's completion in 2008.
The Trust respectfully requests that anyone wanting to see Tornado follows the rules of the railway and only goes where permitted.
New & ReBuild News.
This feature now includes a couple of other worthy contenders for your support and consideration.
Can you get behind this project?
Merchant Navy 35011 General Steam Navigation Project
This society intends to transform this locomotive back into its original form as it was built in Eastleigh works back in 1944.
Further information at: General Steam Navigation Locomotive Restoration Society
Or perhaps your memories are for the Brighton Belle… featured in Andrew Martin's book "Belles and Whistles"?
In which case, take a look……Donate to The Brighton Belle
A 1972 newsreel depicting the final run of the Brighton Belle all-Pullman electric service which commenced services from London to Brighton (using the same stock depicted here – SR Class 5BEL/BR Class 403) in 1933. Is the large bearded gentleman passenger depicted but not named none other than the late, legendary Led Zeppelin manager Peter Grant?(Courtesy: Southern Railway Films on YouTube)
Hengist: Latest news at http://www.theclanproject.org
Engineering wise we now have all the components required for the frame assembly and the last of these are being machined at various locations. The exhaust steam spider, famed for its use of 3D sand printing to create the mould, is nearing completion with the exhaust steam spider tacked into the smokebox saddle fabrication.
Discussions are being held with our Certification Body and Riley & Son (Bury) Ltd regarding the assembly of the frames and it is planned to place the order for erection imminently.
Membership
All new members who subscribe between now and the 31st December will receive membership for 2017! A bargain with three months extra membership and an extra Clan News! Membership can be bought online or by post, details can be found here.
Fund Raising
We always say it but progress is dependent on funding, so far we have in excess of £42,000 towards the expected frame assembly costs of £50,000. The end is in sight and thoughts are already turning to where and when we will be revealing the fully assembled frames. The initial reveal will be a private member and press event so now is a great time to become a member of the project especially with the offer above!
We will also be attending the GCR Autumn Steam Gala on Loughborough platform with the sales and information stand and at Quorn with the smokebox and cab assemblies. We hope to see you there!
Heritage Railway Association
We are delighted to report that our membership application to the HRA has been approved and we are now fully signed up members! A big thank you to everyone at the HRA and to Clan Project Council members who have worked so hard together to make this possible. Full details about the HRA can be found here.
Latest progress on P2's Facebook page…..
"After our summer break, we continue with our #mikadomonthly series…The completed boiler for No. 2001 on display at Doncaster Works. At the time this was one of the largest boilers produced by the Plant! Images courtesy of the National Railway Museum / Science and Society Picture Library
Upcoming events
13 Oct 2016

to

16 Oct 2016

14 Oct 2016

to

15 Oct 2016

Courtesy: LMS Patriot Project.
Project Miller 41001 Returns!.
US Union Pacific Big Boy 4014


Ed Dickens, senior manager-Heritage Operations, introduces Scott George, the new director of Union Pacific Steam Shop Operations, and discusses renovations at the Cheyenne Steam Shop..
The Pennsylvania Railroad (PRR) T1 Steam Locomotive Trust
9-1-16
   The T1 Trust Featured in "Popular Mechanics" Magazine
In what amounts to a "first" for any Railroad Preservation effort anywhere, the PRR T1 Trust was featured in the September 2016 issue of Popular Mechanics magazine. The PRR T1 Trust's marketing plan all along has been to appeal to the general public. With this article featuring the PRR T1 Trust in Popular Mechanics, the organization has made a great leap forward in its effort to achieve mass acceptance among rail fans and the wider public at large. Popular Mechanics was particularly fascinated by the Trust's work in bringing back General Steel Castings' Nickel Steel for use in the T1's driver. The September issue of Popular Mechanics revealed details familiar to supporters of the T1 Trust.
Chesapeake & Ohio 2-6-6-2
Photo courtesy B & O Museum
Australia
Project 6029 (Beyer Garratt 6029 ex-NSWGR)
Latest news from The Project 6029 blog…..
Its been a while since I have said anything here, there has been a lot happening and a few storms have been weathered…
As this is the first update for 2016, we will cover some of the work done over summer on both 6029 and 3016 at the Canberra Railway Museum.
Both 6029 and 3016 had a long list of maintenance tasks to be performed, a list that would, as often happens, challenge both available resources and available time. 3016 had developed some excessive lateral clearance in the axle boxes through years of running, was in need of some maintenance to the air compressor and also needed to have the valve motion worked on to help correct some timing issues and wear in the eccentrics. 6029 had a list of its own, including new bushes in the rear connecting rods, some upgrades to the sanding system to meet the requirements for registration by Sydney Trains, fix the bent throttle pull rod and address an issue that was making the handbrake difficult to use. Multiple other issues were identified and addressed during this period as well.
As the work required on 3016 was by far the most time consuming, one of the first tasks was to get her off the wheels and as you can imagine, that is not an easy task when you don't have a workshop equipped like a 1950's railway workshop, so it was that the loco was lifted by two mobile cranes and set back down onto timber stands in the yard made from old and new sleepers. Looking at pictures, it reminds me of the flying train in Back to the Future Pt 3
See the pictures at http://blog.project6029.com/
Having the wheels out meant that Ben and his assistants could get on with re-metalling the axle boxes and arranging to have the eccentric straps closed up and re-machined to take up years of wear. Some of the pictures show the process of preparing to pour the new white-metal bearings and to say that there is an art to this kind of work is perhaps an understatement… It is certainly a skill that few have these days.
Once the white metalling was completed, the axle-boxes were sent off to be machined to finished size and while waiting for them be returned, work on 6029 was started with the rods removed from the hind engine unit, the front tank was removed to allow some lubrication issues to be addressed, a problematic injector was removed and really, that is just the beginning. The fact that Ben and some of his helpers are still standing is a testament to their dedication to the task at hand.
Many of the images here show the team at work (some over different days) as we all race the clock to have the locomotives ready for the Festival of Steam and scheduled appearances in Sydney's Central Station.
Should you be interested in travelling on any of tours please go to – canberrarailwaymuseum.org
The next installment will be some pictures and info of the Garratts first tip into Central in some 35 years, along with the 30 class at Thirlmere's Festival of Steam in March..
UPDATE! The buffer beam has been made. Thanks to all for your support and donations to the group so far….. More details at: http://www.claudhamiltonlocomotivegroup.co.uk/
Latest from the group's Facebook page (28th September 2016)
We are very lucky to have such a wonderful draftsman working with us on the V499 Project. NP Woolley have been simply amazing and it is because of their hard work and skills that we are at the level we're at now.
Pictured here is a majority of the tender and tank of V499 on the General Arrangement drawing. Now that the cab drawings are finished and in the hands of the fabrication company, our attention is turning to the completion of the tender tank drawings, to make the tank compatible with the ex-K class tender frame that we are currently restoring for V499.
More news and progress will be reported in the upcoming edition of The Compound Chronicle, which will be out after the weekend.
B & O Railroad Museum TV:
Each month the B&O TV Network, starring actor Michael Gross, spotlights a moment in B&O Railroad history. Take a journey into the past and view one or all of these episodes posted on YouTube.
Mainline Steam Schedule
This listing is offered in good faith, so there is no guarantee offered or implied.
Please confirm running with the relevant tour operator.
And adhere, please, to Network Rail's photographic guidelines

…..HERE
The tour schedule for October 2016..and beyond..can be found  at 

Railway Herald
On This Day in History.
October
–/10/1925
Sir Henry Fowler succeeds George Hughes as Chief Mechanical Engineer of the London, Midland and Scottish Railway.
Source:Wikipedia
01/10/1910
The Great Western Railway of England, abolishes second-class rail fares (first- and third-class remain).
01/10/1911
Nigel Gresley (later Sir Nigel) becomes Locomotive Engineer, Great Northern Railway.
Source: Wikipedia
02/10/1872
Kirtlebridge rail crash.
An express passenger train ran into a goods train that was shunting; 11 people lost their lives immediately, and one further person succumbed later. The cause was a failure to communicate between the station master in charge of the shunting operation, and the signalman. There was not full interlocking of the points and the block system of signalling was not in use.
A magazine graphic of the scene after the collision; the view is looking south and the relevant sidings are not shown properly; the signal box is behind the artist and the Solway Junction line and platforms are off the frame to the right.(Source: Wikipedia)
03/10/2002
Network Rail Ltd. took over control by buying Railtrack which was in "railway administration", from Railtrack Group plc for £500 million; Railtrack plc was then renamed and reconstituted as Network Rail Infrastructure Ltd. The purchase was completed on 3 October 2002
04/10/1883
The first ever Express d'Orient passenger train service leaves Paris for Constantinople (now Istanbul) in the Ottoman Empire (Turkey), by way of Munich, Vienna, Budapest, Bucharest, Giurgiu, then, with passengers crossing the Danube by boat, a second train from Rustchuk to Varna, and from there by boat Espero to Constantinople. The train is officially renamed Orient Express in 1891.
Poster advertising the Winter 1888–89 timetable
04/10/1976
New train speeds into service
British Rail began its new 125mph High Speed Train (HST) service today. The first London-Bristol service arrived three minutes early.
The Inter-City 125 has been introduced to provide a regular high speed service between Cardiff, Bristol and London.
British Rail will extend the HST service to other major cities over the next two years.
Powered by two diesel motors the Inter-City 125 has recorded a top speed of over 140mph in trial runs, making it the fastest diesel-powered train in the world.
A Class 43 on a London Paddington -Hereford service at Honeybourne & Paddington lineup.
05/10/1999
At least eight people are confirmed dead and 160 injured after two trains collided near Paddington Station in west London at the height of the morning rush hour.
A Thames Trains 0806 BST from Paddington to Bedwyn in Wiltshire collided with the incoming 0603 BST Great Western 125 express train from Cheltenham at 0811 BST.
Investigations revealed how 31 people died and dozens were injured because of a head-on collision when one of the trains passed a red signal.
Public inquiries were headed by Scottish judge Lord Cullen. He made dozens of safety recommendations and concluded Railtrack, the company then in charge of rail infrastructure and its investment, had failed to respond to earlier warnings about signalling problems.
06/10/1829
The directors of the Liverpool and Manchester company held a competition called the "Rainhill Trials" to find the most suitable locomotive.The winner was Robert Stephenson's Rocket which was awarded the prize of £500.
At the NRM, with George Stephenson looking on….
08/10/1952
Accident at Harrow and Wealdstone (112 deaths)
09/10/1909   
The first section of the Taff Vale Railway opens from Cardiff to Navigation House (later named Abercynon).
09/10/1834
On this day 180 years ago, the first passenger train,pulled by "Hibernia" departed Westland Row on the Dublin and Kingstown Railway; Ireland's first passenger railway.
The line in 1837.(Source: Wikipedia)
From Bradshaw's 1843 timetable:
DUBLIN AND KINGSTOWN
From both ends on week days, every half-hour from 6 a.m. until 11½ p.m., stopping at all stations, Viz: Booterstown, Black Rock and Salt Hill.
An extra train from Kingstown at 9¼ a.m. stopping at Merrion in addition to the usual stations.
An extra train every day, at 4¾ p.m., stopping at Merrion only. This train will convey passengers to Her Majesty's mail packet, starting from Kingstown at 5¼ p.m.
The 11 p.m. Up and Down, also stop at Merrion every day.
Sunday trains same hours as on weekdays, with extra trains every ¼ of an hour from 11¾ a.m. to 5¾ p.m. and from 7¾ to 10¼ p.m.
FARES — First Class 1s, second class 8d, third class 6d.

The mail bags are conveyed by the 8½ a.m. by Holyhead; 5 and 10 p.m. by Liverpool.
Source: Wikipedia
10/10/1919
Anatole Mallet, inventor of the Mallet locomotive type (b. 1837).
Anatole Mallet, and an early Mallet 2-cylinder compound locomotive working the Bayonne-Anglet-Biarritz (B.A.B.) Railway .(Source: Wikipedia)
13/10/1901
The London and South Western Railway in England completes experimental installation at Grateley on its West of England main line of automatic semaphore signals controlled bytrack circuits and pneumatics, the first such scheme in the United Kingdom.
13/10/1928
Charfield railway disaster: London, Midland and Scottish Railway night mail train crashes into shunting goods train following signal passed at danger at Charfield , Gloucestershire: 16 killed
14/10/1852
The Great Northern Railway opens Kings Cross Station,London
London Kings Cross, with the Great Northern Hotel on the left..
15/10/1907
18 die as a result of the Shrewsbury rail accident on the London & North Western Railway when a sleeping car train is derailed passing through Shrewsbury station, England, at excessive speed
21/10/1896
James Henry Greathead, inventor of the tunnelling shield used to build the deep-level tube lines, dies (b. 1844).
25/10/1923
Henry Ivatt,Chief Mechanical Engineer,Great Northern Railway of England 1896-1911 (b. 1851).
Henry Ivatt.(Source: Wikipedia)
30/10/1837
Russia's first railway stretched between St. Petersburg and Tsarskoye Selo; the 25 km-long line opened on 30 October 1837. The first train consisted of a locomotive and eight cars; the czar himself was on board.
Radstock to Frome Railway Project

Latest News from this group can be found

HERE
Christian Wolmar… Railway Historian

.
Christian Wolmar is a railway historian and commentator with an impressive list of available historical railway histories to his credit. A history on Indian Railways is eagerly awaited.
Meanwhile, hear how his writing career began..and some insights into his second railway history.."Fire and Steam"

Around the World in 80 Railways (No 75: :Alpine Reroutes-Roni on YouTube)


Alpine Reroutes, April 14-15 2016 …Due to closure of Semmering Pass these weeks for maintenance work, freight and night trains are rerouted on the Pyhrn Railway via Linz to Vienna. The rerouted passenger trains in the morning are daily EuroNight 234 Rome – Vienna and Fri/Sun EN 1238/6 Livorno – Vienna with car transporters.
Freights and local passenger trains were mostly hauled by classic ÖBB electric locomotives. Particularly still in old livery:
1144.40
1144.92
1142.567
as well as several other class 1142s. However, also a new Siemens Desiro ML "Cityjet" EMU is already on regular service trial runs – so this is the last hurrah for the oldtimer locos built 1963-77, catch them while you can! They are still found plentiful on most lines around Linz.
WATTRAIN &  APHTRO & NERHT News

Part of Wattrain's purpose is expressed on the Home Page as follows…..
"At the moment we are preparing the case for the continued use of coal in steam locomotives and how members can reduce their carbon footprint when operating steam traction. One of our longer term projects is we intend to create an electronic version of the Alexandria Library. This was set up in the eighth century BC by Ptolemy 1, Pharaoh of Egypt, to collect all the world's knowledge. Whilst we don't want to collect all the worlds knowledge we do want to collect as much knowledge on railways as possible. It is hoped that this will not only disseminate information and advice but also facilitate the search for those seeking to resource specialist parts, equipment and services.."
AGM announcement: WATTRAIN train Annual General Meeting 2016.  The meeting will be held in National Rail Museum, Chanyakapuri, New Delhi on 20th October 2016 between 09:00 and 10:00 local time

The APHTRO conference 2016 is planning to be held in New Delhi, India. Everyone with an interest in heritage railways and museums will be warmly welcomed.
Venue & Schedule
The venue of the conference is New Delhi, the capital of India.
Schedule of the conference prgramme is;
15 – 18 Oct : Pre-Conference Tours chosen from 9 options include Nilgiri, DHR and Kalka Simra, World Heritage Railway sites.
19 – 21 Oct : Main programme includes AGM & Business Sessions, Steam Train ride and visiting Railway Museum in New Delhi.
22 – 23 or 29 Oct : Post-Conference Tours chosen from 2 options, Steam Train ride to Sariska or India Maharaja Express.
APHTRO 19-21 Oct 2016 Leaflet (1)
Latest APHTRO newsletter HERE
For more information: www.aphtro.org
NERHT is a voluntary society founded in 1999 to help railway preservation in the former Soviet Union and the other ex-Communist countries in Central and Eastern Europe.
Access the latest Eastern Star newsletter: HERE
30742 Charters

Latest News from Martin Creese….
Find 30742 Charters on Facebook at 

www.facebook.com/30742charters
Around the UK Heritage Railways.

Combe Rail

 – Ilfracombe Branch (2)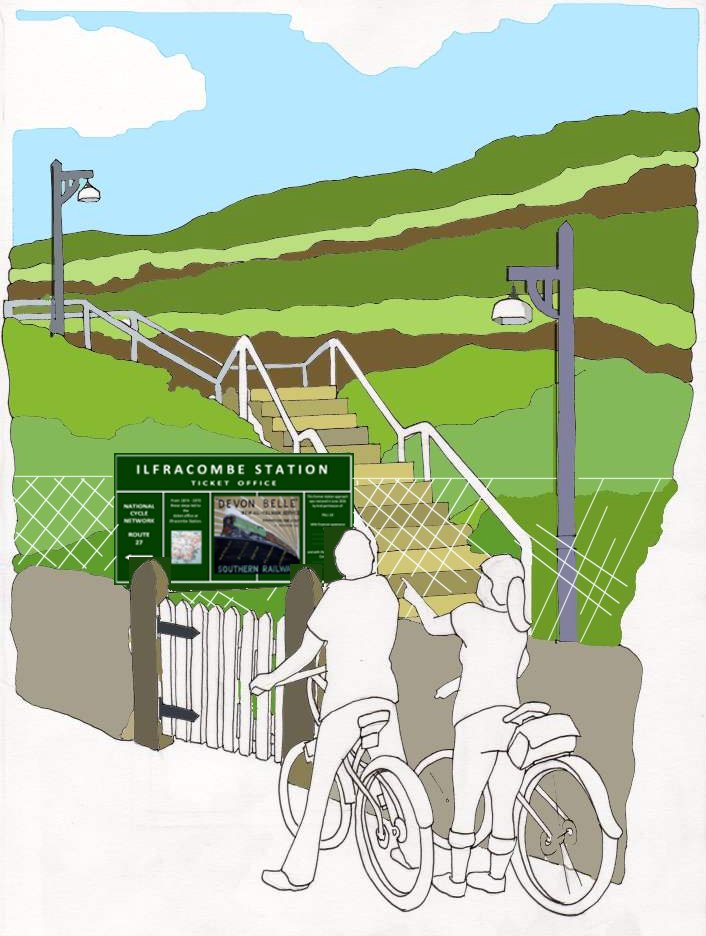 Combe Rail members' magazine – issue #3 Autumn 2016
IN THIS ISSUE….
… We have an update on our two core projects – The Railway Heritage Trail and the Barnstaple-Braunton Community Light Railway. There's a report of our first public railway exhibition and AGM. Combe Rail member (CR) Jon Kliem recalls his youthful fascinationwith the railway in Braunton, CR Tony Olsson solves a photo mystery in the North DevonJournal and artist David Halliwell explains how he created a painting from three source photos.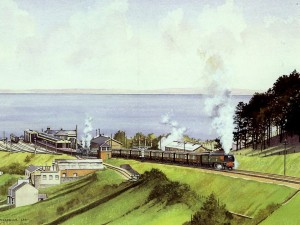 Revive this view! Join Combe Rail today!
On Shed will be keeping an eye on progress!
LATEST NEWS!!!!!!!
Project Kestrel Share Scheme Announced!

(C) Transport Topics,BRCW.
In 1967 locomotive number 711 appeared from the Brush Falcon Works in Loughborough. It's yellow ochre and chocolate brown livery wasn't the only thing different about it. It's streamlined appearance wasn't there to make it just look good but were there to help this 4,000hp giant haul passenger trains at speeds up to 110mph. The loco's number was a combination of Brush owner Hawker Siddeley and its power rating, HS4000, and a name to match that power, KESTREL.
Not only did this locomotive have the power to haul passenger trains at unheard of speeds but had the strength to haul freight trains of over 2,000 tons. Even after the loco was fitted with Class 47 bogies in an effort to reduce axle weight Kestrel regularly clipped 14 minutes off Deltic timings between London Kings Cross and Newcastle.
The loco was a testbed for several new systems, the first to use alternators instead of the standard DC generators, regenerative braking using resistors for high speed use and solid state control systems. But this all came with a weight penalty, 133 tons as built which reduced to 129 tons after Class 47 bogies were fitted still exceeded BR's requirement for a 20 ton axle load.
After the trials on passenger workings came to an end Kestrel settled down to regular freight workings around Shireoak depot. Unfortunately the writing was already on the wall. With no chance of orders for a production version Brush put Kestrel up for sale, with £127,000 being accepted from Russia.
Kestrel left the UK in July 1971 aboard the MV Krasnokamsk from Cardiff bound for St Petersburg. From there it went to the Railway Institute in Moscow for them to learn the secrets of this giant of a loco. The results were the Tep70, and later Tep70BS, which were to become the mainstay of the Russian Railways and other countries within the Warsaw Pact. After the Institute had finished testing the loco was left in dereliction for many years before finally ending its days at the Kolomna Locomotive Works. The exact date Kestrel met its end is unknown, but reports suggest it was during 1994.
Kestrel still holds the record as the most powerful diesel loco built in the UK.
We now have the chance to build a replica using modern technology to allow Kestrel to rise from the ashes. Birmingham Railway Carriage & Wagon Company Ltd was reformed in 2014 to rebuild some of the prototype locomotives and other iconic items of rolling stock currently missing from the nation's collections.
Kestrel is the first of the company's projects to reach the stage where it can be formally launched. The plan is to use a Stage 3b emissions compliant engine together with the other advances that have occurred in the last 50 years whilst keeping as close to Kestrel's classic lines as possible.
To pay for this work we are offering 500,000 shares at £10 each. There will be no minimum or maximum holding and will be available and can be purchased by regular payments to spread the cost over a number of months. Shares do not confer ownership of the loco. One share will entitle the purchaser to one years membership of the BRCW Support Group and ten will give life membership. Shareholders will be entitled to other benefits as they become available. In addition shareholders will get the chance to travel on the new Kestrel's first passenger train. Shareholders will also be able to vote for the Kestrel Project Director to oversee the project and sit on the BRCW board. All funds will be held in a separate account and treated as loans until contracts are signed to cover the required work, at which time they will be converted to donations which should then qualify for GiftAid. If the project fails to reach sufficient funds to progress all monies can either be returned or transferred to another BRCW project.
To become a shareholder please email BRCW atsimon@brcw.co (NO .UK  on the end as it will go to someone completely different) or contact us through the BRCW facebook page, www.facebook.com/brcwco,  or the Project Kestrel page, www.facebook.com/groups/kestelproject.
Back Page
Train Coming (size 10in x7in). An original oil painting on hardboard by Kevin Alun Parrish. It is for sale at £250. 10% of sale of proceeds to be donated to Steam Tube.
Class B1 no 61264 hauling a freight train of mineral wagons near Blackburn in the heyday of Steam. The locomotive is now preserved on the North York Moors Railway.
  
Late News!Project Kestrel Share Scheme Announced!