On Shed. November 2016 Edition
" Preserving the steam locomotive legacy.. and more..on film"
FRONT PAGE
Welcome…and news….
Editor's Selection 1.Railways and the 'Forgotten County'(Hugh Oram)
Editor's Selection 2 "MerzBarn and Merz Bahn" Paul Salveson Weekly Salvo 221 excerpt.
100 Trains….the journey so far….
Steam Tube Photographic Highlights
Steam Tube Video Highlights
Steam Tube Blogs.
Tornado…The Story so far…
New & ReBuild News.
B & O Railroad Museum TV
Mainline Steam Schedule
On This Day in History.
Radstock to Frome Railway Project
Christian Wolmar… Railway Historian.Global Conquest: How Railways Took Over The World.
Around the World in 80 Railways (No 75 – Alaska with Chris Tarrant)
WATTRAIN & APHTRO & NERHT News
30742 Charters
Around the UK Heritage Railways.(Dartmouth Steam Railway)
Project Kestrel Share Scheme Announced!
Back Page: A Dominik Schön Film.
 
Welcome…and news….
A warm welcome to this edition of "On Shed" – the monthly magazine of "Steam Tube- The Home of the Best of Steam on the Net!"
We hope that former members of the old Steam Tube site will migrate across to our Facebook page.Here it is somewhat easier to upload your videos..and you don't have to be a signed up member…And don't forget to upload your photographs too. We need them!!
We hope that the wall of photo and video highlights will get you coming back for more in the weeks and months ahead.
To this month's edition: Hugh Oram takes a look at Co. Donegal's railways..or "Railways and the Forgotten County, as he calls it..and his article shows why…
Paul Salveson's Weekly Salvo, an eclectic mix of railway news old and new..includes a paragraph or two on a German artist… Read about the railway connection.
Christian Wolmar, currently in the middle of writing a history of Indian Railways (due out next year sometime) will be giving a talk at the British Library, Euston Road, London (Tue 29 Nov 2016) on the theme: Global Conquest: How Railways Took Over The World. Sounds like an interesting topic…….
And Chris Tarrant is off on another series of Extreme Railway Journeys..A short excerpt from the first episode is included in this edition of "On Shed"….totally enthralling…..
Updates on new builds are also included..as updated as their respective websites allow…
And a look back on this month (November) in years gone by, railway wise, that is.
So, let's get into our first subject………..
Editor's Selection 1.
Railways and the 'Forgotten County' – An Irishman's Diary on Donegal's vanished rail network.(Hugh Oram)
Hugh Oram
Hugh Oram is an author, journalist and broadcaster living and working in Dublin. His wife Bernadette is a published poet, in English, Irish and French, who previously worked for the Department of Foreign Affairs.
He has written many travel, historical and documentary books over the years, including for Appletree Press in Ireland and has contributed extensively to such international travel editions as Berlitz, Fodor's and Michelin.
He has also written extensively about practically every department of France and many aspects of French life and has visited Paris on numerous occasions during the past 30 years. He has also broadcast on many diverse subjects during the same time, for RTÉ Radio 1 and has also contributed on occasion to the BBC in Belfast.
In addition to travel, history and documentary subjects, he has a keen interest in the progress of the media industry and has written and broadcast much on this subject. Apart from travel – and writing about it – he also enjoys classical music and has a keen interest in wine. A great believer in healthy living, he keeps fit through extensive walking.
This is the latest post from "An Irishman's Diary", reproduced by kind permission Hugh Oram.
Railways and the 'Forgotten County' – An Irishman's Diary on Donegal's vanished rail network

Co Donegal once had marvellously intricate narrow-gauge railways. At 225 miles long, it was the longest narrow-gauge system in these islands, a true marvel of railway engineering. By the end of 1959, the last sections of the system had closed.
The first lines in the county opened in 1863 and 1864, including Strabane to Stranorlar.
Other lines followed, so that by the start of the 20th century, major towns in the county could be reached by rail, including Letterkenny, Burtonport and Glenties in the west of the county, and Killybegs and Ballyshannon in south Donegal. On the Inishowen peninsula, a line went as far as Carndonagh.
A small section of the network was originally broad gauge, but soon narrow gauge became the working norm across the county. The Donegal railways also ran to Derry city, which at one stage, had four railway stations. One in the docks area linked Derry with Letterkenny, Buncrana and the Inishowen peninsula, while the Victoria Road station on the east bank of the Foyle provided a connection to Killybegs.
But consolidation came quickly to the network. In 1906, the County Donegal Railway Joint Committee was set up, with help from the Great Northern Railway (Ireland) and the Midland Railway in England. In the north of the county, services were run by the Londonderry and Lough Swilly Railway company, usually called simply "The Swilly" .
The railways were useful in helping Donegal people reach emigrant ships, sailing from Derry and elsewhere. They also played a vital and integral role in the everyday commerce of the county, and during the second World War, they were well-used by the people of the twin towns, Ballybofey and Stranorlar, and many others in the county, travelling in their vital quest to win turf.
They were also widely used for excursions, such as those by pilgrims to the Holy Well at Doon, near Letterkenny, as well as by Orangemen going to Rossnowlagh for the Twelfth, and the Ancient Order of Hibernians on August 15th.
The Donegal railways were also very innovative; diesel railcars were introduced around 80 years ago and proved economical and reliable. They helped the railways keep going for far longer than if they had been steam-worked. Thrift was everything, and in many cases carriages were kept in service for decades.
The railways also induced a sense of friendly competition, like the race between a diesel railcar and a motor car, driven by Maj Henry White of Lough Eske Castle, along the Barnesmore Gap.
One lethal crash happened in January 1925, when a train on the Letterkenny to Burtonport line was blown off the viaduct at Owencarrow. Four people were killed. In 1949, a railcar driver and two passengers were killed when two trains collided head-on near Donegal town.
But as happened everywhere else with the railways, motor cars and lorries provided unbeatable competition. The station at Carndonagh shut in 1935 after a mere 34 years in service. The line to Burtonport clung on, as far as Gweedore, until 1947, while the lines to Buncrana and Letterkenny closed down in 1953. By 1960, the last of the Donegal system had been obliterated. The Swilly company, which became bus-only for passengers, managed to last until two years ago.
Such was the attachment to the Donegal railways that after the line from Donegal town to Ballyshannon closed down in 1959, two of the railway workers continued to operate a freight service between the two towns for a month before the bosses in Dublin realised what was happening.
With so many railway memories still so vivid in Co Donegal, it's hardly surprising that the county has two excellent heritage sites. The old station in Donegal town has been converted into the Donegal Railway Heritage Centre, packed with artefacts of all kinds, and even an old railway carriage that can be hired out for functions.
At Fintown, you can take a trip in an old railcar along five kilometres of track, the last remaining segment of the Co Donegal railways, on the old Stranorlar to Glenties line. It opened in 1995 and now there are plans to restore the old station. Its lakeside setting is so spectacular that the late Brian Friel said that it was as scenic a stretch of railway as anything to be found in Switzerland or Minnesota.
Derry had the Foyle Valley railway museum dedicated to the Co Donegal railways, including old locos and carriages and a working track, but sadly, it has been long closed.
Read about Hugh Oram at www.hughoram.com
Editor's Selection 2 "MerzBarn and Merz Bahn" Paul Salveson Weekly Salvo 221 excerpt.
I had a delightful visit to the Kurt Schwitters 'merz Barn' at Elterwater, near Ambeleside, last week. Schwitters was a refugee from Nazi Germany who achieved fame (and notoriety) during the 1920s and 30s.
The Merz Barn at Elterwater.(Paul Salveson Image)
To the Nazis, his work was the epitome of 'degenerate art' and featured in the exhibition of 'kunst' organised by Goebbels in 1936. Scwitetrs lived in Ambleside for several years though never won the recognition he deserved, at least in the UK. His work isn't easy to describe and makes use of bits and bobs including tram tickets. He died in 1947 and his reputation has only recently begun to be recognised in Britain. Various events are planned for his 60thanniversary next year and maybe we could find ways of commemorating both his work and the role of railways in wartime Germany (as Steve Reich's Different Trains does). I like the idea of 'MerzBahn'!
Read the full edition of Weekly Salvo HERE
100 Trains….the journey so far….
On his ground breaking Global Walk for ATAXIA, which continues the original round the world by train epic, Iain has been experiencing the joys of Spain….
This was the introduction to the latest episode….
"My most ambitious walk to date. Almost 900 miles along the Mediterranean coast of Spain, from Girona in the north, to Gibraltar on the southern tip.
My route (roughly):
From the start at Girona, I will head to the Mediterranean coast at Sant Feliu de Guixols. Where I'll turn right (south) and walk in the resorts of Tossa de Mar, Lloret de Mar, Blanes, Malgrat de Mar, Calella, Arenys de Mar, Mataro, Badalona, Barcelona, Castelldefels, Sitges, Tarragona, Salou, Cambrils, Santa Barbara, Alcanar, Vinaros, Peniscola, Benicassim, Castellon de la Plana, Port de Sagunt, Valencia, Gandia, Denia, Calpe, Altea, Benidorm, Villajoyosa, Alicante, Torrevieja, La Manga, Cartagena, Aguilas, Almeria, Roquetas de Mar, Motril, Almunecar, Nerja, Malaga, Torremolinos, Fuengirola, Marbella, Estepona, La Alcaidesa until finally arriving at Gibraltar on the southern tip (assuming my legs carry me that far of course!). A distance of nearly 900 miles. So it might take me a few days 😉
As with all previous walks, everyone and anyone is warmly invited to join me at any stage. So if you are lucky enough to be holidaying on the coast of Spain this Summer/Autumn, please say "Hi" to the man in the kilt with the walking stick.
If you are unable to participate yourself, please please please support this event, and help me fund the continuation of these walks:
Iain's next "Walk for Ataxia"….. A Walk Across America (From Sea to Shining Sea).
Be Part Of It….HERE
P.S. An Anthology for Ataxia is being prepared, featuring contributed articles and/or chapters from some of the best rail and travel writers in the UK..and the world! All that is needed is a publisher! Profits from sales of the book will be donated to ATAXIA.org charity.
So, if you are a publisher – or know one – and are willing to publish well established and successful writers in this anthology, please contact the editor, Peter S Lewis at peterlewis2@gmail.com. Thank you.  
Steam Tube Photographic Highlights
See more at : Steam Tube 's Facebook Page…
Steam Tube Video Highlights
A selection from YouTube. Steam Tube members (from the old site!!)…we will look out for the best of steam on the net, and post here!!
Steam Tube Blogs. (Dave Wilson..Steam Age Day Dreams)
One from the GCR's Winter Gala, earlier this year – Leicester bound N2, No, 1744, makes a steamy sight as she storms away from Loughborough, bound for Leicester North.   Not far from here, in 1852, in what became known as 'the Battle of Nottingham', Midland men, captured, towed away, and held captive for 7 months, a GNR locomotive. I dare say there are those who would, do it all again today – 'just for the laugh' – !!
Of all the little gems at Tanfield, this Victorian engine house, workshop, and forge is probably the finest. Stone built with two roads, both with an inspection pit, a fully functioning, belt driven, workshop, there's even a punch clock and cards, to complete the picture. In many respects it really is just as it must have been when the last shift clocked off.
Originally constructed for the Pontop & Jarrow Railway / Bowes Railway, in 1854, it is, reputedly, the oldest engine shed in the Europe  still doing what it was constructed for, housing and servicing a fleet of working locomotives. The locomotive being tended to is former Keighley Gas Works, Hawthorn Leslie 0-4-0ST No.2, of 1911 vintage. Alongside her is LH&JCR No.14, also an 0-4-0ST and built by Hawthron Leslie in 1911. No.14 spent her working life on  the near by system – the Lambton Hetton & Joicey Colliery Railway.
If you have enjoyed my blogs – I have written a book about my 60 years involvement with railways, from trainspotter, via steam age footplateman, to railway author and photographer, this is a link to it:
http://www.amazon.co.uk/Gricing-Real-story-Railway-Children/dp/1514885751
More from Steam Age Day Dreams HERE
Tornado…The Story so far…

Images from The Belmond Pullman, The Magna Carta from October 2016
See more HERE
Tornado's packed main line and heritage railway diary for 2016 can be seen below or you can view/download the Tour Guide here: 
Friday 4th November – Belmond British Pullman – The Golden Age of Travel (Surrey Hills)

Saturday 5th & Sunday 6th November – Severn Valley Railway Gala

Thursday 1st December – 'The Bath Spa Christmas Express' – A1SLT promoted tour, bookings through UK Railtours
Wednesday 7th December – Belmond British Pullman – The Golden Age of Travel (Surrey Hills)
Monday 12th December – 'The Christmas Canterbury Tale' – A1SLT promoted tour, bookings through UK Railtours
Saturday 17th December – 'Belmond British Pullman' – The Golden Age of Travel (Surrey Hills)
The Trust respectfully requests that anyone wanting to see Tornado follows the rules of the railway and only goes where permitted.
New & ReBuild News.
Last month we launched our share scheme in order to secure the deposit on a bundle of Bulleid parts we were offered by another Bulleid project. These parts would speed up the restoration of 35011 by several years and save us thousands of pounds in the long run. The GSNLRS are delighted to report that we successfully got the funds together to secure the deposit and over the next couple of weeks we will be speaking to the Bulleid project to agree on a payment agreement for the parts. To emphasis our projects goals the first parts we will be purchasing are the two cab oil trays and an oil pump both of these parts are unique to the chain driven valve gear locomotives. The oil pump is the likely to be the last original to go on the market. In order to purchase these parts we need to keep fundraising and selling shares so if you're thinking about signing up for some today is the perfect time.
On a sadder note we were unable to get enough people together to host a stand at the upcoming Swanage Railway Autumn Steam Gala. This has meant we have had to take the sad decision to withdraw from the event. We do hope to host a stand at the railway next year at one point. For those attending the Mid Hants Autumn Steam Gala will not only get to see the first public appearance of our whistle but also some of the parts we will have purchased for the locomotive as part of the share scheme launch.
Finally for those who might have missed our news across our social media platforms a couple of weeks ago we took our whistle to Eastleigh Works to put the finishing touches on it. We did try and connect the whistle to an air line to hear what she sounded like but couldn't find a suitable fitting. Our whistle can be seen here resting on the buffer beam of 35005 Canadian Pacific inside the Works. A thank you goes to the Canadian Pacific team who gave us the chance to finish our whistle in the birthplace of General Steam Navigation.
As always thank you for your support
Or perhaps your memories are for the Brighton Belle… featured in Andrew Martin's book "Belles and Whistles"?
In which case, take a look……Donate to The Brighton Belle
A 1972 newsreel depicting the final run of the Brighton Belle all-Pullman electric service which commenced services from London to Brighton (using the same stock depicted here – SR Class 5BEL/BR Class 403) in 1933. Is the large bearded gentleman passenger depicted but not named none other than the late, legendary Led Zeppelin manager Peter Grant?(Courtesy: Southern Railway Films on YouTube)
Progress continues unabated in the background, this time it's the exciting task of compiling a build plan for the frame assembly. This involves our engineering team, Wayne Jones and Riley & Son (E) Ltd. The first draft of the assembly plan has been completed and a meeting will be held to finalise the plan.Those sentences don't really do justice to the sheer hard work that has gone into getting this far. All of the years of toil, all of the fantastic and generous donations and all of the work of the Engineering Committee and Council of Management. We have an image in our minds of the frames assembled and painted and this is now well on its way to becoming a reality.
Membership
All new members who subscribe between now and the 31st December will receive membership for 2017! A bargain with three months extra membership and an extra Clan News! Membership can be bought online or by post, details can be found here.
Hengist: Latest news at http://www.theclanproject.org
Continuing our #mikadomonthly series…The next stage of construction sees the smokebox fitted to the front of the boiler prior to its mounting in the frames. The boiler was then lagged with "Alfol" lagging to help prevent heat loss. Images courtesy of the National Railway Museum / Science and Society Picture Library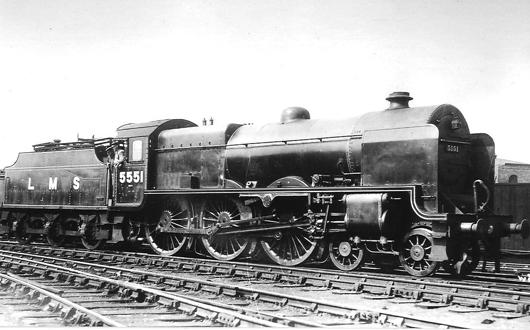 Courtesy: LMS Patriot Project.

EMT Power Cars to visit GCRN for 'HSTs at 40'
This year is the 40th Anniversary of the introduction of the Inter-City 125 and to celebrate we are holding a 'HST40' event at Great Central Railway (Nottingham) on Saturday 19th November, featuring our own Prototype 41001, matching Mk3 coaches and visiting Production Power Cars courtesy of East Midlands Trains.
Passenger services will operate to a special timetable (to be advised), featuring both Paxman Valenta and VP185 power. Tickets are available on-line or on-board, reduced fares apply for 125 Group members on production of a valid membership card, 1st Class Upgrade available on the day, see www.gcrn.co.uk for further information.
'Buffet 125' on-board our Mk3 coach 10206 will be serving hot bacon rolls and burgers, hot and cold beverages plus alcoholic drinks including bottled beer. The 125 Group sales stand will also be open on the train, selling HST40 badges, artwork and other 125 merchandise. Thanks to EMT for their kind support. We hope you can join us and celebrate 40 years of the UK's most successful train!
US Union Pacific Big Boy 4014
The UP Steam team has been busy renovating the Steam Shop in Cheyenne to accommodate all of the equipment necessary to restore Big Boy No. 4014 back to operating condition. Disassembly work is also underway to inspect and assess the condition of each component on the steam locomotive.
The Pennsylvania Railroad (PRR) T1 Steam Locomotive Trust
Prow Construction Continues
The T1's iconic shark-nose prow is one of the locomotive's most defining characteristics and will be the first thing you see as 5550 thunders towards you at speed. We are proud to announce that construction on the 'face' of the locomotive is underway, using drawings extracted from the Pennsylvania State Archives and converted into CAD. The images that follow give the reader a straightforward look at how the process of prow construction is being carried out.
Chesapeake & Ohio 2-6-6-2
Photo courtesy B & O Museum
Australia
Project 6029 (Beyer Garratt 6029 ex-NSWGR)
Latest news from The Project 6029 blog HERE
UPDATE! The buffer beam has been made. Thanks to all for your support and donations to the group so far….. More details at: http://www.claudhamiltonlocomotivegroup.co.uk/
With design work well underway and the cab being handled by the fabricators, we would now like to ask for your continued support.
By signing up to pledge $5 a week ($22 per month) we will be able to produce more new parts and drawings of V499.
If you would like to help us out and see the locomotive built, please visits our website and click the PayPal buttons.
Welcome to the official website of the Victorian Steam Locomotive Company, which will keep you up to date and informed about the V499 Project.
B & O Railroad Museum TV
Each month the B&O TV Network, starring actor Michael Gross, spotlights a moment in B&O Railroad history. Take a journey into the past and view one or all of these episodes posted on YouTube.
Mainline Steam Schedule
This listing is offered in good faith, so there is no guarantee offered or implied.Please confirm running with the relevant tour operator.
And adhere, please, to Network Rail's photographic guidelines…..HERE
The tour schedule for October 2016..and beyond..can be found  at  Railway Herald
On This Day in History.
November
–/11/1920
H. P. M. Beames succeeds Charles Bowen-Cooke as Chief Mechanical Engineer of the London and North Western Railway
01/11/1929
The Southern Railway celebrates the 21st "birthday" of the Southern Belle passenger train with ceremonies at each end of the train's route between London and Brighton
(For an opportunity to travel five journeys through time on Britain's Trains, including the Brighton Belle, get Andrew Martin's book.."Belles and Whistles" Available here.)

01/11/1907
Terence Cuneo, British railway artist (d. 1996).
01/11/1908
The London, Brighton and South Coast Railway introduces the Southern Belle passenger train between London and Brighton.
??/11/1908
Following experiments, the Great Western Railway of England begins to introduce Automatic Train Control on its main lines
04/11/1925
Opening of Khyber Pass Railway, from Peshawar to Landi Kotal
05/11/1967  
At least 40 rail passengers have died and 80 more have been wounded after a commuter train derailed in south-east London.
The 19:43 express train was travelling from Hastings to Charing Cross when at 21:16 it crashed off the rails between Hither Green and Grove Park stations near the Southern Region Continental goods depot.
It happened just over a mile from the scene of the Lewisham train crash in 1957 in which 90 people were killed and 175 were injured.
06/11/2007
The queen re-opens the renovated and rebuilt London St. Pancras station
(Source : Wikipedia)
Thomas Brassey, the railway contractor, is born. By 1847, it is estimated he had built about one-third of the railways in Britain, and by time of his death in 1870 he had built one in every twenty miles of railway in the world.
07/11/1885
The last spike was driven into a newly constructed track in British Columbia fulfilling promises made to link Canada by rail.
09/11/1903
The 2 ft 6 in (762 mm) gauge Kalka-Shimla Railway opens in India
11/11/1918 
The Armistice with Germany is signed between 5:12 AM and 5:20 AM in Marshal Foch's railway carriage, CIWL #2419, in Compiègne Forest bringing an end to World War I.
(A David Dore Film)
13/11/2014
New Eurostar train (e320, built by Siemens) unveiled at London St Pancras
13/11/2014
THE first of three pre-series Super Express Trains (SETs) being supplied to Britain under the Department for Transport's Intercity Express Programme (IEP) was revealed to the press at Hitachi's plant in Kasado, Japan, on November 13.(IRJ)
13/11/1851
Opening of the St. Petersburg and Moscow  railway.
18/11/1822
The Hetton colliery railway, near Sunderland, opens for locomotive traction. It is designed by George Stephenson to be wholly steam worked.
(Source: Wikipedia)
18/11/2008
November 18th 2008, the date of  "Tornado's" final main line test run, York-                        Newcastle-York….
(Source: Wikipedia)
Sir John Fowler, civil engineer and builder of railways, dies. He was Chief  Engineer of the Manchester, Sheffield and Lincolnshire Railway and was engineer of the East Lincolnshire Railway, the Oxford, Worcester and  Wolverhampton Railway and the Severn Valley Railway. In 1853, he became chief engineer of the Metropolitan Railway. He was also engineer for the District Railway and the Hammersmith and City Railway.

Construction of the Metropolitan Railway close to King's Cross station in 1861
(Source: Wikipedia)
23/11/1984  
Almost 1,000 passengers were trapped in smoke-filled tunnels for three hours after a fire at London's busiest underground station, Oxford Circus.
Emergency services arrived at Oxford Circus within minutes of the blaze breaking out. There were no deaths and only minor injuries.
But the damage caused was substantial, and it is expected to be many days before normal service resumes at the station.
The cause of the fire, which started at about 2220 GMT in a tunnel connecting the northbound Bakerloo and Victoria lines, is thought to have been caused by an electrical fault on a train or in tunnel cabling.
27/11/1965       7029 Clun Castle heads final steam train on WR
27/11/2014
East Coast Mainline(ECML) franchise awarded to Stagecoach/Virgin consortium.- Inter City Railways.
28/11/1864
The first Bombay Baroda and Central India (BB&CI) train on the western coastal lines of Bombay (now Mumbai) came into Grant Road station from Ahmedabad in Gujarat.
30/11/1934
On 30 November 1934, running a light test train, 4472 "Flying Scotsman" became the first steam locomotive to be officially recorded at 100 mph (160.9 km/h).
Radstock to Frome Railway Project

Latest News from this group can be found HERE
Christian Wolmar… Railway Historian.

Next event:Tuesday 29 Nov 2016
Talk: Global Conquest: How Railways took over the World
Venue: Conference Centre
The British Library
96 Euston Road
London
NW1 2DB – See more at: http://www.bl.uk/events/global-conquest-how-railways-took-over-the-world#sthash.ui5wcZhy.dpuf
..and check ticket availability…

In 1830,  the world's first railway opened between Liverpool and Manchester. By the end of the century, there were 200,000 miles of track across the world, and this continued unabated into the 20th century, with the world's longest, the Trans Siberian, completed in 1916. By the time Harry Beck produced his influential London Underground map in 1933, cities and whole countries had been re-shaped by the possibilities of mass transit. Author, commentator and railway historian Christian Wolmar charts how the iron road spread so rapidly and extensively. – See more at: http://www.bl.uk/events/global-conquest-how-railways-took-over-the-world#sthash.ui5wcZhy.dpuf
Around the World in 80 Railways (No 75 – Alaska with Chris Tarrant)
"Extreme Railways with Chris Tarrant"
Channel 5 has just started showing the third series of this enthralling subject..
This is how the series is described on the Channel 5 website…
"Documentary series in which Chris Tarrant explores the world's most extreme railway lines. Chris heads to the Arctic to explore a railway which probably should never have been built, the Alaska Railroad. Constructed when the USA's largest state was barely populated, Chris wants to find out how and why it has become such a success.."
(Trailer) The first episode in the new series!

WATTRAIN & APHTRO & NERHT News

Part of Wattrain's purpose is expressed on the Home Page as follows…..
"At the moment we are preparing the case for the continued use of coal in steam locomotives and how members can reduce their carbon footprint when operating steam traction. One of our longer term projects is we intend to create an electronic version of the Alexandria Library. This was set up in the eighth century BC by Ptolemy 1, Pharaoh of Egypt, to collect all the world's knowledge. Whilst we don't want to collect all the worlds knowledge we do want to collect as much knowledge on railways as possible. It is hoped that this will not only disseminate information and advice but also facilitate the search for those seeking to resource specialist parts, equipment and services.."
WATTRAIN train Annual General Meeting 2016.  This meeting was held in National Rail Museum, Chanyakapuri, New Delhi on 20th October 2016 as part of the WATTRAIN 2016 Conference. Reports will follow…
The next WATTRAIN Conference is in 2018 in Frisco Texas.

The APHTRO conference 2016 was held in New Delhi, India (19-21st October 2016)
One of the speakers was Adrian Shooter, who presented "The Economic Value of Tourist Railways". The presentation included a slide show showing the variety of UK locations, stunning scenery, imaginative marketing , recreating steam era days events (e.g. Victorian, World War 2..etc..)and community benefits from a successfully run heritage..tourist..railway.
As a case in point..the North Yorkshire Moors Railway..29 km long, and carries 300,000 passengers per year…each person stays an average of just over 6 days in the area..total spend of visitors is £36 million..with £10 million spent on accommodation, £8 million on food, and £6 million on shopping.
And a total of 730 indirect jobs are supported as a result….
More reports from the conference in future editions of "On Shed"
For more information: www.aphtro.org
NERHT is a voluntary society founded in 1999 to help railway preservation in the former Soviet Union and the other ex-Communist countries in Central and Eastern Europe.
Access the latest Eastern Star newsletter: HERE
30742 Charters

Latest News from Martin Creese….
Find 30742 Charters on Facebook at www.facebook.com/30742charters
Around the UK Heritage Railways.( Dartmouth Steam Railway)
WELCOME TO THE DARTMOUTH STEAM RAILWAY & RIVER BOAT COMPANY
Based on the glorious South Devon coastline in South West England, enjoy your days out in Devon on our steam trains, boat trips and paddle steamer – the only attraction in Devon that lets you enjoy the delights of Torquay, Paignton, Brixham, Dartmouth and the River Dart, Kingswear and Totnes on your day out!
Website: http://www.dartmouthrailriver.co.uk/
Project Kestrel Share Scheme Announced!
 
(C) Transport Topics,BRCW.
In 1967 locomotive number 711 appeared from the Brush Falcon Works in Loughborough. It's yellow ochre and chocolate brown livery wasn't the only thing different about it. It's streamlined appearance wasn't there to make it just look good but were there to help this 4,000hp giant haul passenger trains at speeds up to 110mph. The loco's number was a combination of Brush owner Hawker Siddeley and its power rating, HS4000, and a name to match that power, KESTREL.
Not only did this locomotive have the power to haul passenger trains at unheard of speeds but had the strength to haul freight trains of over 2,000 tons. Even after the loco was fitted with Class 47 bogies in an effort to reduce axle weight Kestrel regularly clipped 14 minutes off Deltic timings between London Kings Cross and Newcastle.
The loco was a testbed for several new systems, the first to use alternators instead of the standard DC generators, regenerative braking using resistors for high speed use and solid state control systems. But this all came with a weight penalty, 133 tons as built which reduced to 129 tons after Class 47 bogies were fitted still exceeded BR's requirement for a 20 ton axle load.
After the trials on passenger workings came to an end Kestrel settled down to regular freight workings around Shireoak depot. Unfortunately the writing was already on the wall. With no chance of orders for a production version Brush put Kestrel up for sale, with £127,000 being accepted from Russia.
Kestrel left the UK in July 1971 aboard the MV Krasnokamsk from Cardiff bound for St Petersburg. From there it went to the Railway Institute in Moscow for them to learn the secrets of this giant of a loco. The results were the Tep70, and later Tep70BS, which were to become the mainstay of the Russian Railways and other countries within the Warsaw Pact. After the Institute had finished testing the loco was left in dereliction for many years before finally ending its days at the Kolomna Locomotive Works. The exact date Kestrel met its end is unknown, but reports suggest it was during 1994.
Kestrel still holds the record as the most powerful diesel loco built in the UK.
We now have the chance to build a replica using modern technology to allow Kestrel to rise from the ashes. Birmingham Railway Carriage & Wagon Company Ltd was reformed in 2014 to rebuild some of the prototype locomotives and other iconic items of rolling stock currently missing from the nation's collections.
Kestrel is the first of the company's projects to reach the stage where it can be formally launched. The plan is to use a Stage 3b emissions compliant engine together with the other advances that have occurred in the last 50 years whilst keeping as close to Kestrel's classic lines as possible.
To pay for this work we are offering 500,000 shares at £10 each. There will be no minimum or maximum holding and will be available and can be purchased by regular payments to spread the cost over a number of months. Shares do not confer ownership of the loco. One share will entitle the purchaser to one years membership of the BRCW Support Group and ten will give life membership. Shareholders will be entitled to other benefits as they become available. In addition shareholders will get the chance to travel on the new Kestrel's first passenger train. Shareholders will also be able to vote for the Kestrel Project Director to oversee the project and sit on the BRCW board. All funds will be held in a separate account and treated as loans until contracts are signed to cover the required work, at which time they will be converted to donations which should then qualify for GiftAid. If the project fails to reach sufficient funds to progress all monies can either be returned or transferred to another BRCW project.
To become a shareholder please email BRCW atsimon@brcw.co (NO .UK  on the end as it will go to someone completely different) or contact us through the BRCW facebook page, www.facebook.com/brcwco,  or the Project Kestrel page, www.facebook.com/groups/kestelproject.
Back Page
Test drive of a steam locomotive 475.179 30.10.2016.(Dominik Schön on YouTube)