Pictures: Remembering the Unknown Warrior at Victoria Station.(Network Rail)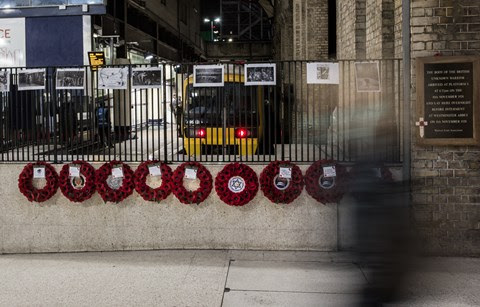 Commuters stream past wreaths laid in honour of the Unknown Warrior at Victoria Station.(Network Rail Image)
Representatives from the Western Front Association, Network Rail, Southern, The Association of Jewish Ex-Servicemen and Women, The Sea Cadets Corps and many other organisations gathered at London Victoria station last night (Thursday, November 10) to pay tribute to the Unknown Warrior.
Network Rail's station manager, Henry Bates, said: "For a short time 96 years ago, our station was the resting place for the Unknown Warrior. I'm proud that we are able to pay tribute to this soldier and through him, all our fallen heroes, and keep the memory of their courage alive."
The body of the Unknown Warrior was brought from France to the UK by boat and train in 1920, arriving at London Victoria's Platform 8 on the evening of November 10.
He remained at the station overnight, a period commemorated each year in a ceremony organised by the Western Front Association and a plaque on the station.