Rail Tube in Discussion with Steve Featherstone about "Formation Flying"!!
"Formation flying" engineering trains – two 09 4s combined Dynamic Track Stabiliser (DTS) tampers.(Network Rail Images)
Earlier this week(15th February 2017) , Network Rail released news of an innovative maintenance procedure that will save millions….The article/press release was headed:World's first "formation flying" engineering trains will upgrade the railway faster and cheaper
Summary: In a bid to increase efficiencies and reduce delays for passengers, Network Rail is trialling "formation flying" engineering trains to repair and renew the 20,000 miles of railway track it's responsible for maintaining. The new approach to engineering could potentially save taxpayer-funded Network Rail £250,000 per week in costs by allowing trains to run at higher speeds once engineering is complete.
Rail Tube put the following questions to Steve Featherstone, Network Rail's programme director for track about this time – and money -saving procedure…..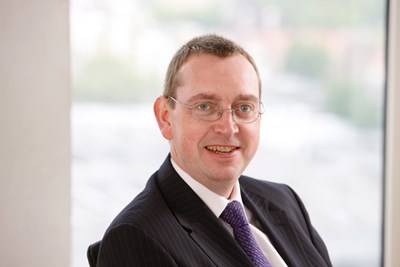 Steve Feathersone.(Network Rail Image)
What prompted the move to this new procedure?
"An interesting question. It was down to one particular job. About three years ago, we were tasked with a major track upgrade at in Lancashire. Four sets of renewals had to be completed during a nine day blockade. If all four were handed back with a 50mph speed restriction in place, then the Virgin timetable just simply would not have worked and we would have been in trouble. So our area director, Martin Frobisher, challenged us to handback one of the lines – at Wigan Springs – at 80mph to allow the timetable to work. I'm pleased to say we were successful and it marked the start of our 'high speed handback' journey."
How much planning does this kind of operation involve?
"A lot. Planning begins at least three years out – mainly focussed on agreeing access, planning and trains. Closer to the job – around one year out – we work with all our industry partners and colleagues to formulate a more detailed logistical plan of rosters, equipment, track access, safety etc. It has to be meticulously planned, with detailed contingences to minimise the impact on passenger services at all times."
There is obviously a set programme of track renewals. How long between renewals? (I suppose this would be dependent on location and usage)
"This depends on how much traffic a section of track receives, the weather conditions and environment e.g. track degrades faster inside a damp tunnel. Typically, track lasts 30 – 40 years before needing to be renewed. We're responsible for 20,000 miles of railway across the whole country."
With increasing use of the railways, maintenance procedures will be fully stretched to keep pace. How many sets of track renewal equipment does Network Rail have at its disposal?
"We have around 70 tampers in the fleet, but only two S&C tampers fitted with Dynamic Track Stabilisation (as seen in the press release)."
The savings sound quite considerable…£12million per year (@ 250,000 per week…)Are there other savings apart from not paying compensation for delays?
"Yes, there are other ways this method can save on costs. If the track quality is good enough, then we won't have to do a second follow-up tamp – this can save an additional £15k – £20k. Staff costs can also be reduced by completing all the work during core shifts."

 
Rail Tube would like to thank Steve Featherstone, and Dan Donovan(Network Rail Media Relations Manager) for help in compiling this article.