How does Britain's railway really compare with its European counterparts?(RDG)
Biggest shift to rail from other transport of any railway in Europe since 2009
One of Europe's busiest railways – punctuality comparable with other countries
Below-average running costs, train companies returning money to taxpayers
Britain investing more than any country in Europe to improve rail
Britain's railway does better than other European networks on several measures and its passengers are among the most satisfied in the continent, according to a new report.
Since 2009 Britain's railway has seen the biggest shift to rail from other modes of transport of any railway in Europe, says the report from the Rail Delivery Group (RDG) which represents train operators and Network Rail.
Growth in passengers has been accompanied by a strong safety record second only to Ireland in terms of accidents per million train km between 2010 and 2013 (ERA reported by ORR 2015). There were no passenger fatalities in train accidents during 2015-16, the eighth year in succession that no passengers have died as a result of a train accident.
Great Britain (78 per cent) was second only to Finland (80 per cent) in terms of passenger satisfaction in rail travel and came top for satisfaction in rail stations (73 per cent) following the most recent cross-European comparison survey. Finland's railway carries fewer passengers each year than pass through London Victoria station.
The relative success of Britain's railway comes despite a challenging backdrop. Its network is the second busiest in Europe, after the Netherlands, in terms of the number of kilometres travelled by trains per kilometre of track (RMMS 2016). Britain is also investing more than any other railway in Europe in enhancing its railway, good for passengers in the long term but challenging while work is going on. Despite this, punctuality on Britain's railway is comparable with its European neighbours.
On cost, the UK has delivered operating costs below the European average, performing better than France (second highest), Belgium, the Netherlands and Austria. Whereas in Britain, train operators are returning a payment to the Government, in France over 20% of the cost of train operations is supported by the taxpayer (RMMS 2016).
Paul Plummer, chief executive of the Rail Delivery Group which represents train operators and Network Rail, said:
"Britain's railway keeps the country moving with over 4.6 million passenger journeys every day. This is thanks to the combination of government investment and commercial drive which has created the safest and fastest growing railway in Europe.

"With the number of passengers having doubled in the last 20 years and expected to rise further, rail companies are delivering more than £50billion of investment – the biggest of any railway in Europe. This will provide better trains, stations and more lines, keeping Britain at the forefront of rail travel.

"Together, the industry will continue to minimise disruption as major upgrades are carried out but the disruption will be worth it, with the railway better connecting people and making journeys easier."
Notes:
1. The following charts, from the RMMS 2016, show:
a. high or good satisfaction score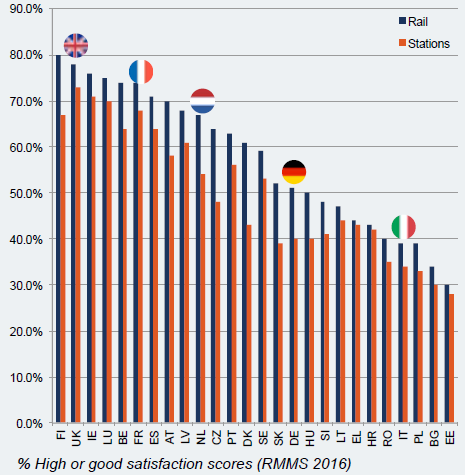 b. the change in passenger km between 2009 and 2014: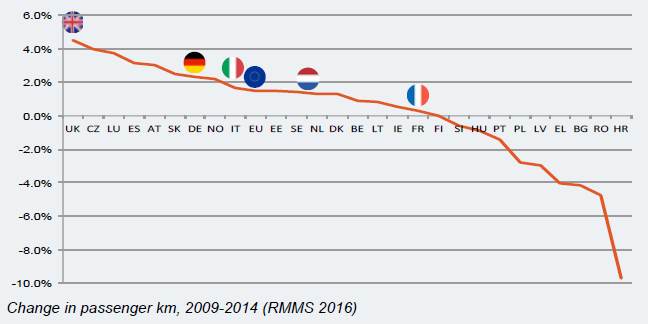 c. subsidy for train operations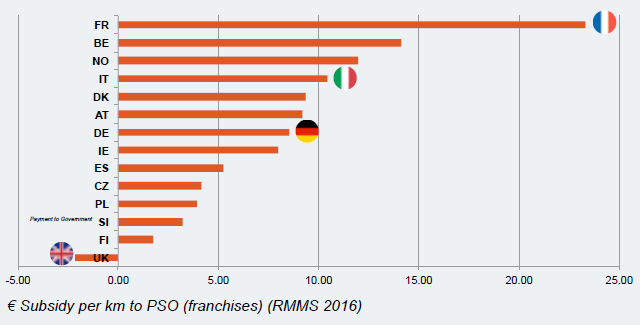 d. investment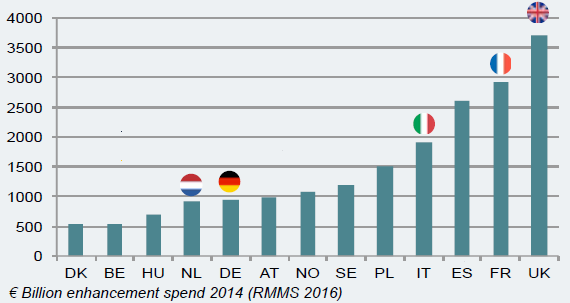 (All graphics courtesy Rail Delivery Group)