" Preserving the steam locomotive legacy.. and more..on film"
Now features at  Wonderful World of Trains & Planes, Birmingham
FRONT PAGE
Ian Cryer's Painting "Travelling Post Office: Sorting"  used as a Royal Mail Stamp  15th February 2017
Welcome…and news….
Editor's Selection
1. Ian Cryer,Artist: An Introduction
2. The Vale of Berkeley Railway
3.  West Somerset Railway and Lineside Passes
4. Paul Salveson: Along the West Highland Line. 
100 Trains….the journey so far….
Steam Tube Photographic Highlights
Steam Tube Video Highlights
Steam Tube Blogs (Dave Wilson,Steam Age Daydreams)
Tornado…The Story so far…
New & ReBuild News.
B & O Railroad Museum TV
Mainline Steam Schedule
On This Day in History.
Radstock to Frome Railway Project
Christian Wolmar… Railway Historian.
Around the World in 80 Railways (No 80:Trondheim – Bodø (Summer) Nordland Line
WATTRAIN & APHTRO & NERHT News
30742 Charters
Back Page.(A Roni Video:Wild West, February 17-28 2017) 
Welcome…and news….
A warm welcome to this April 2017 edition of "On Shed"– the monthly magazine for "Steam Tube- For The Best of Steam on the Net!"
This month "On Shed" features an introduction to the artist  Ian Cryer, a visit to the Vale of Berkeley Railway at Sharpness, WSR's decision regarding lineside passes, and Paul Salveson's trip on that most iconic of lines ,the West Highland Line.
The Steam Tube highlights (Videos) includes those posted on Steam Tube's Facebook page…hopefully former Steam Tube members will feel urged to post the best of their work here too..and there have been plenty of events to cover, not least the trip by Flying Scotsman earlier this week on the reopening, after a devastating (almost) landslip, of the iconic Settle-Carlisle line.
The usual features are included in this edition….progress on new builds and rebuilds, along with a nostalgic look at railway events in April through the years. Please feel free to contact me (peterlewis2@gmail.com) if you would like "On Shed" to include regular updates on a project that you are involved with….or any other preservation/railway related topic that you think could do with a good airing!
And we finish up, on the BACK PAGE, with an excellent video from Roni..an early and loyal supporter of Steam Tube!
So, on with this edition…
Editor's Selection :1. Ian Cryer,Artist: An Introduction
I made a trip down to Bristol to see Ian,in February 2017. I had seen an article about his railway art, and read about one  of his paintings being used by the Royal Mail for a stamp in the "Mail by Rail" series. I wanted to meet the artist…..
According to his website (www.iancryer.co.uk) Ian is based in the West Country Artist and best known for his Oil Paintings of Landscape, Railways, interiors and Characters.  The hallmarks of his work are freshness and spontaneity , a style which has evolved from his working life. . Although he does not like to be restrained by labels or a rigid working method "British Impressionism" is a cap that fits in many ways and  English painters from the early 20th century but especially the 1930's (such as the great Terence Cuneo)are very much an influence on his work. 
He is President of the Royal Institute of Oil Painters, and has  exhibited with professional  Art Societies since 1979 including RA Summer Show RBA, RP, NEAC, RSMA, RWA.
The local newspaper featured Ian and his painting……….
Ian has plans for the future regarding his considerable collection of railway items and memorabilia. And indeed, there is much more to show of his paintings,and writings. More of which in future editions of On Shed.
You can visit Ian's website at www.iancryer.co.uk
Editor's Selection 2: The Vale of Berkeley Railway
In February 2017, I made a visit to the Vale of Berkeley Railway at Sharpness, Gloucestershire.
Dashcam still showing swing bridge into Sharpness Dock
Sharpness carries the faded glory of a previously well used inland port (minerals, coal from the Forest of Dean). The original Old Dock opened, with the canal, in 1827..and over the years various improvements to the dock, and its locks, were made to encourage traffic. Competing railways (the Midland and Great Western) had lines (and separate bridges!) into the dock. But as is the case in so many other instances, one event tends to have long lasting effects…
On the night of Tue Oct 25th 1960, in thick fog and a high tide, two barges, Arkendale H and Wasdale H missed the entrance to Sharpness Docks and hit column 17 of the bridge. The barges were carrying about 10,000 gallons of petroleum which ignited, fracturing the gas pipeline on the bridge, resulting in 2 of the 22 spans collapsing on the barges, sadly killing 5 of the crews.As a result of the accident, the passenger service was severed and by 1964 the stations were closed. The bridge itself was never repaired and in 1967 work started on it's demolition, being completed in 1970.
But the preservation group have plans! According to their website (which fills out the details of the history of the Docks and line)
"The Vale of Berkeley Railway, having now established a temporary base in the Old Diesel Shed on the edge of Sharpness Docks, which has enabled us to establish an engineering workshop to help progress restoration work and recruit volunteers, is now turning it's attention to the development plans required to open a Heritage Railway along the Sharpness Branch Line."
The plans are detailed here….
Sharpness
At Sharpness phase one would involve the following activities:
Establish a platform (possibly temporary) at Forest Sidings.
Building a Shed for storage of the loco and coaches at Forest Sidings.
Building basic facilities at Forest Sidings to allow a Heritage Train operation including toilets, ticket office, watering facilities, coaling etc.
Laying track in Forest sidings connecting the shed and platform to the Sharpness branch line at Oldminster junction loop.
Berkeley
At Berkeley phase one would involve the following activities:
Build a run round loop at Berkeley Pad to enable DRS trains to run round at the pad rather than travelling all the way to Oldminster junction.
Build a platform at Berkeley Station.
Courtesy: VoBR
Graham Sturgess kindly showed me around the Old Diesel Shed. There is considerable history in the Shed..and renovation/rebuilding work in progress, as the following few shots show….
There is work to be done, but the VoBR is equipped to do it…. and one project that is getting under is to restore Kingmoor Black 5  No 44901 to its former glory… as shown in this painting by Jonathan Clay..
(C) Jonathan Clay  http://www.jonathanclay.co.uk/
Kingmoor Black 5 group maintains a website and facebook page providing details of her history and restoration progress. The team are always looking for new volunteers to help with the project.
"On Shed" will follow with interest this developing preservation project, and wish the members and volunteers (why not join them!!) every success in their endeavours.
Editor's Selection:3. West Somerset Railway and Lineside Passes
From 1st January 2018, the WSR will no longer issue lineside passes.(LSP)
This has caused some concern amongst railway enthusiasts, photographers and videographers.
"On Shed" made contact with the West Somerset Railway. Paul Conibeare kindly responded.
This is the announcement….:
PLC BOARD ACTION MEMO
25 March 2017
For Immediate Implementation
To the Head of Commercial Services
Cc GM and all Heads of Service

LINE SIDE PASSES

At the Board meeting (25 March 2017 refers) the Board unanimously agreed the following action with regard to Line Side Passes:

It is the Boards intention to withdraw the issue of Line Side Passes (LSPs) with effect from 1 January 2018 and not reissue any in the future.
Renewals for the rest of this year, including Flying Scotsman visits can recommence immediately. Charging for renewals can, at the discretion of the Head of Commercial be at pro rata amounts.
The Board will open a dialogue with the HRA to see what is the general opinion with regards to LSPs.
The Board has consulted with the Company's Insurers and the following conditions need to be introduced immediately:

All renewing holders must have a PTS pass via an attended course.
The online PTS course is abandoned.
Any current pass holder not holding an attended PTS course must attend one before their pass is useable. At the discretion of the Head of Commercial a replacement PTS course can be offered free of charge for renewals only.
Any new requests will be offered a pass but must be aware that the PTS must be taken and passed and the LSP and PTS will expire on the 31 December 2017. At the discretion of the Head of Commercial the charge can be varied pro rata.
The PLC will issue an updated map showing 'NO GO' areas with a written explanation.
The pass holder will be required to complete and return a letter of acceptance for these changes for the LSP to become effective.

The PTS documentation will be amended so that a holder of a valid confirmed LSP will be able to access areas of the line (shown in the documentation) on the basis of taking photographs and video film. This change is to satisfy the requirements of the SMS that anyone accessing the lineside has a requirement of the Railway to access the line.

Issued 27 March 2017

K J Davidge, Director Safety Audit, WSR PLC
PP WSR Board
I replied as follows…
Good morning Paul,

Thank you for your prompt and courteous response to my enquiry.

So , am I to understand from this Press Release that LSPs have been withdrawn on insurer's advice? 

I recognize the obvious need for Personal Track Safety certification..a sensible provision.

There seems, in the release,unless I missed it(!!) no explanation given as to the reason for LSP withdrawal….

..and yet there is reference to seeking HRA's thoughts on the matter…

Can you elucidate further for me?

Kind regards,
..and Paul Conibeare's reply..
Dear Peter,

There will be a Board Briefing out in due course, which will be on the WSR Website to  answer your concerns.

We will be asking HRA if there any plans to issue a Guidance Note on LSPs.

Yours Sincerely

Paul Conibeare, General Manager WSR
The WSR website contains this update: 
Ken Davidge, the WSR Plc's Safety Audit Director, has issued a statement. Here is the opening paragraph:
Just to try and help here are some of the facts about line side passes. Despite training all out line side pass holders to obtain a PTS accreditation we still have difficulties with 'unsafe practices' and trespass especially during galas. This has been a concern to senior managers and board members of the Railway for some time. As a result the WSR plc has decided to issue a notice which states it is the Company's intention to cease the use of Line Side Passes from December 31 2017. However the Company is holding a dialogue with the Heritage Railway Association on this matter. Further I will raise this matter with the Heritage Safety Officers Group in May.
Hopefully, a dialogue will continue between all relevant stakeholders, but the WSR's position is obviously safety driven, and illustrates all too well what happens when photographers and members of the public, play scant regard to safety, and presume upon their right to photograph from wherever they like. On Shed supports Network Rail Guidance on the matter of railway photography, and heritage railways' safety regulations on the matter.
Network Rail and British Transport Police guidance for photographers can be found HERE
Editor's Selection:4. Paul Salveson: Along the West Highland Line. 
(From Salvo 237)
Paul Salveson produces his salvo on a regular basis, and in the latest edition, there is an account of a trip along that most iconic and beautifully scenic line , the West Highland Line and the extension to Mallaig….
These are excerpts from same...
"..It's always best to sit on the left from Glasgow so you can get great views of the Clyde and then the Gareloch.

But you should probably hop across to the other side of the carriage to see Loch Lomond, especially this time of year before trees block the view (why don't we accept that removing trees to open up views on a line promoted as one of Europe's great scenic railways isn't a fluffy marginal thing to do but vital to building business?). I arrived in Crianlarich to be met by Hege of the West Highland CRP (and Glenfinnan Station Museum and numerous other things). Sadly the famous station tea rooms were closed, despite the large numbers of passengers decamping to the rail replacement bus to take them on to Fort William. Again, the grasping capitalist (or social entrepreneur) in me wondered why this was so.

We took the train to Tyndrum (Lower) and alighted to sample fish and chips in The Real Food Cafe. And they were good. Then it was rail replacement bus to Fort William and a swift half in the nearby pub, which succeeded in deterring us from having an extra half because of the excruciating muzak (remember 'Chirpy Chirpy Cheep Cheep'? I never in my worst nightmares thought I'd ever hear it again). Train from Fort William to Glenfinnan, allowing time to recover.

The next stage involved catching the first Sunday train of the season, leaving Glenfinnan at 12.26. Fair few people on board. Nice coffee – in the open air – in Tea Gardens Cafe at Mallaig. Recommended.
(Two shots of "Concrete Bob" McAlpine's Glenfinnan Viaduct taken from service train May 2015 .PSL )
Glenfinnan: it's more than Harry Bloody Potter
Glenfinnan, about half way between Fort William and Mallaig on the magnificent 'West Highland Extension' has many things to recommend it.

By far the most famous 'modern' attraction (I exclude the 'Bonny Prince Charlie' monument) is the viaduct, immortalised, if that's the word, in Harry Potter. Each day, dozens of tourists from all parts of the globe descend on the place to see where the film was shot. Which is a good thing for the Highland economy and a particularly good thing for the West Highland Line and Glenfinnan Station Museum. As a paid-up card-carrying member of the Grumpy Old Men's Club I disapprove of all this film-oriented hype but have to reluctantly admit that it has its benefits. The Mk2 carriage which doubles as the dining car does particularly well out of the influx of what seem to be mostly teenage girls, of all nationalities. Hopefully they have time to look round the station museum, which demonstrates that there is much more to the place than Hollywood films. The restored signalbox is very well done, with computerised interlocking so you can pull levers and see the signals go 'off' on screens. And very recently the original down home signal (I think) was re-erected on site, but at right-angles to the running line to avoid confusing drivers. It also has its 'back' to the view, which seemed a bit unnecessary to pedantic ex-signalmen like me. The really exciting development is the creation of a steam-operated miniature railway on the site, which is planned to open later this year. Volunteer navvies are urgently sought. Glenfinnan is a truly magical place. It was magical before Harry Potter and will be long after he is forgotten. But in the meantime, thank you J K Rowling and Warner Bros.
100 Trains….the journey so far…
Before I continue my Global Walk for Ataxia (Next Walk: A 1,000-mile walk around the coast of Ireland), I will be walking around the Isle of Arran at the end of April 2017.
Really just to make sure that these old legs of mine are still up to long-distance walking, before I fly out to Ireland.
The walk around Arran is being done over 4 days, starting from Brodick. The clockwise route then takes in Lamlash, Whiting Bay*, Lagg, Blackwaterfoot*, Pirnmill, Lochranza*, Sannox and Corrie, before finally returning to Brodick [* = overnight stops].
As with all previous walks, everyone and anyone is warmly invited to join me for as long, or as short, as desired.
I am already being joined on the 55-mile walk around Arran, by Karen Servadei and Graham Fryatt. In 2014, they climbed Kilimanjaro with Graham's son (another Iain who spells his name properly ? ).
Once you realise that Iain suffers from Friedreich's Ataxia, and reached the summit in his wheelchair/trike, the story becomes rather inspiring.
Read up on IainsKiliChallenge – and prepare to be seriously impressed!
We wish Iain well with his project. He deserves to succeed
Steam Tube Photographic Highlights
A further batch of photographs, of varied types, and from various countries, come from the collection of Mr Dick Pennoyer, courtesy Mr Hugh Cantlie.
There are plenty more where they came from! The only downside is the lack of type,location and date in some captions or notes on these photographs, but I daresay the knowledgeable amongst us should be able to fill in the details!!
Steam Tube Video Highlights
There are some Steam Tube members who have realized that they can upload the best of steam shots and films to our Facebook page..
Here are some examples…and others from YouTube…

LMS Royal Scot 46115 Scots Guardsman at Patricroft Railway Station with 'The Midday Scot'
LMS Royal Scot Class 4-6-0 number 46115 'Scots Guardsman' passing Patricroft Railway Station…(Chris Lawton)

Transport of 556.0506 on the track Rakovník – Hýskov.
lokomotiva/locomotive: ČD 2-10-0 No. 556.0506 nickname "Štokr" (built by Škoda, works no.3531(Dominik Schön)

110th anniversary of the track Jindřichův Hradec – Obrataň. The subjective view of the driver on the track Jindřichův Hradec – Kamenice nad Lipou.(Dominik Schön)

Strictly Bulleid Pt 6
Four engines took a turn working a short fright train between Swanage and Corfe Castle. B.R. Std 4MT had been renumbered for the event and took out the last ...(Clive Town)

Severn Valley Railway SVR Spring Steam Gala 2017 featuring 34081, 41312 and 92214 – a 4K video.(John Edkins)

EXPO 2017 – AAMCS (14 & 15/01/2017). Saint-Amand-Les-Eaux (59)(Philbru Production)

SOLE SLIP: Great Eastern T26 No 490.(Chris Eden-Green)

60103 Flying Scotsman reopens the Settle & Carlisle on the 31/3/17.(Stephen G Thompson)

Ribble Steam Railway Diesel Gala March 2017.(Mollsmyre.co.uk)

45699 Galatea THE CATHEDRALS EXPRESS 21st March 2017.(XxBec3509 on YouTube)
Steam Tube Blogs (Steam Age Daydreams)
SCOTS 0 BLACK FIVES 2
It seems the Black 5s, especially those operated by Ian Riley, are becoming the rescue remedy of choice – reliable, ubiquitous, and durable. The North Yorkshire Moors Railway is the latest line to press a Black 5 into service, with the failure of No.46100 Royal Scot, on Wednesday evening. Thursdays duties for the Scot are now being covered by not one, but two Black 5s, Nos. 45407 and 45212, which is pictured above, with the NYMR's Pullman Dining service, the 13:20 from Grosmont, rounding the curve at Beckhole.
No.45212 is the latest Black 5 to emerge from Ian Riley's workshops,in Bury, and join the 'main line fleet'. On the NYMR web site No.45212 is described as 'providing support services for No.46100 Royal Scot' and on No.46100's first run, on Saturday 25th, she did act as banker. However, it is doubtful that a banker was actually needed, as subsequent runs appeared to be undertaken without one.
The NYMR describe Royal Scot's problem as 'minor' and expect her to be repaired by Friday, which is handy as I was planning on going to photograph her again, on Saturday, if weather conditions are right.
If you have enjoyed my blogs – I have written a book about my 60 years involvement with railways, from trainspotter, via steam age footplateman, to railway author and photographer, this is a link to it:
http://www.amazon.co.uk/Gricing-Real-story-Railway-Children/dp/1514885751
Tornado…The Story so far…
Tornado's packed main line and heritage railway diary for 2017 can be seen below or you can view/download the Tour Guide here:
Saturday 29th April – 'The North Briton' – Leicester to Carlisle – A1SLT promoted tour – bookings through UK Railtours – SOLD OUT
Monday 1st May – 'The Heart of Midlothian' – Peterborough to Edinburgh – A1SLT promoted tour – bookings through UK Railtours
Saturday 6th May – 'The Talisman' – London King's Cross to Darlington – A1SLT promoted tour – bookings
through UK Railtours
Monday 29th May – 'The Cornishman' – London Paddington – Penzance – A1SLT promoted tour – bookings through UK Railtours – SOLD OUT

Monday 28

th

August – 'The Easterling' – London King's Cross to Great Yarmouth – A1SLT promoted tour- bookings through

UK Railtours

Saturday 16th September – 'The Border Raider' – Birmingham for the Settle & Carlisle Railway – A1SLT promoted tour – bookings through

UK Railtours

Saturday 7th October – 'The Tees-Tyne Express' – Dorridge to Newcastle and return – A1SLT promoted tour – bookings through

UK Railtours
The Trust respectfully requests that anyone wanting to see Tornado follows the rules of the railway and only goes where permitted.
New & ReBuild News.
General Steam Navigation Locomotive Restoration Society
Last month was a rather busy month for the General Steam Navigation project which saw the launch of the 'Cranking up the pressure' appeal. The appeal to convert our plain flawed middle axle into a crank axle was successfully launched at the start of February. There has been had a good response to the appeal and we have been featured in several railway magazines. The wheelset has now been prepared for its move to the South Devon and is due to leave Sellindge in the coming weeks.
In the meantime we have a long way to go to fully fund the appeal and contributions can be made in several ways: monthly standing order of perhaps £10 a month, making a one off donation or by purchasing shares which are available in blocks for £250 (also available at £25 pcm. for 10 months).
On March 18th we hosted our first Annual General Meeting at the Nog Inn in Feniton and we are delighted at the turn out we had.  The minutes from the AGM will be going out to members in the next issue of 'The Packet' which is scheduled for release in early May. A big thank you goes to Mke the Landlord of the Nog Inn and John Masters for arranging the event, also thank you to those who turned up and contributed to a productive and enjoyable meeting.
At the AGM we also unveiled our new range of GSN themed merchandise will be sold on the society stands to raise funds for the project.  These include mugs, magnets, keyrings, badges and the engraved pint glasses. These will be for sale at the 'Strictly Bulleid' gala at the Swanage railway and be online shortly.  All profit made from the sale of these items goes towards the restoration of 35011.
The first society sales stand of the year was the Watercress Lines 'Pre-Spring gala'. The event was a good success with the sale of membership and merchandise proving again that the visitors to the MHR are excited Bulleids and our project.
Our next event is the 'Strictly Bulleid' event at the Swanage Railway which looks to be an exciting event with 5 Bulleid Light Pacifics in steam. Our stand will be at Swanage Station where you can find out more about our project, buy some merchandise and enjoy watching some Oliver Bulleids fine machines in action.
After the Swanage Gala we have our first working weekend of 2017 from the 10th to 16th April. Our aims are to continue preparing GSN for a move, clean up the locomotive and catalogue the loose components that have been removed over the years. We have a press visit pencilled in on the Saturday so we are looking to make a great impression.
The Clan Project..72010 Hengist
Another big step towards the frame erection has seen the rear truck pivot completed as seen in the picture above on the left. This has been completed at CTL Seal and is now ready to join the other components ready for assembly.
Above right is a CAD image of the cylinders for Hengist. These have been produced by our CAD expert, Keith Greenhow, to assist pattern maker Tony Dance who has agreed to make the patterns for the cylinders in the traditional manner – from best quality timber. The pattern making process will start within the next couple of months. An appeal to raise much needed funds to have the cylinders cast will be announced later in the year. Any donations towards these, or any other parts, will always be gratefully received.
Latest News at  www.theclanproject.org
The Brighton Belle
Excursion programmes will be launched in early 2017!
FINAL STEEL CASTINGS ORDERED FOR BRITAIN'S MOST POWERFUL STEAM LOCOMOTIVE
Over £1m spent on the construction of No. 2007 Prince of Wales to-date
The final steel castings for new Gresley class P2 steam locomotive No. 2007 Prince of Wales have been ordered from William Cook Group of Sheffield. This fourth and final batch of 61 steel castings comprises three piston crossheads, the remainder being for the tender including horn blocks, spring safety brackets, tender axleboxes, spring hook brackets and buffer casings. In total 127 steel castings have been ordered for No. 2007 to-date of which 66 have already been cast and machined.
William Cook Group (WCG) has been principal sponsor to The A1 Steam Locomotive Trust through its chairman Sir Andrew Cook CBE since 1994, providing all the steel castings for No. 60163 Tornado and No. 2007 Prince of Wales – including all the wheels – at preferential rates and on generous terms. WCG also owns Tornado's tender which is leased to the Trust under a fifteen-year loan agreement which comes to an end in 2021 when it will be bought outright by the Trust.
Mark Allatt, P2 Project Director, The A1 Steam Locomotive Trust, commented:
"This fourth and final order for steel castings for No. 2007 Prince of Wales marks a significant milestone in the project to build Britain's most powerful steam locomotive. This order of 61 steel castings comprises not only the three piston crossheads but also the remaining castings for the tender. In total 127 steel castings have been ordered for No. 2007 to-date of which 66 have already been cast and machined.
"We are delighted with the level of support that the project to build Britain's most powerful steam locomotive has received since its launch only three years ago. Thanks to our supporters' continued generosity, well over £1m has been spent on construction, over £1.3m donated and over £2.3m pledged."
"The Trust owes a huge debt of gratitude to its principal sponsor William Cook Group and its chairman Sir Andrew Cook CBE. They are our most significant corporate supporter to-date and it is true to say that without their help we would not have been able to complete Tornado for many years after 2008. That WCG continues to support the Trust in its project to build No. 2007 Prince of Wales is truly remarkable and we continue to strive to live up to Sir Andrew's personal motto of 'persistence and determination winning through in the end'."
Mark concluded:
"We are confident that we will have completed the rolling chassis for No. 2007 Prince of Wales in 2017 having reached 80% of our fundraising target for The Mikado Club and we remain on-track for completion of the new locomotive in 2021. However, to maintain this rate of progress we need to raise more than £700,000 per year, which given the nature of the regular donation scheme becomes more challenging as each year passes. We would encourage all steam enthusiasts who haven't yet contributed to this exciting project to help us to meet these deadlines by becoming a monthly covenantor or joining The Mikado Club. It's time to get on board! This year will see further major announcements as the construction of new Gresley class P2 No. 2007 Prince of Wales gathers pace."
Ian Matthews assembling the sand box.
Image ©David Elliott/A1SLT
The A1 Steam Locomotive Trust has recently announced that it will be holding a series of presentations on the project to build new Gresley class P2 No. 2007 Prince of Wales at venues along the route of the East Coast Main Line from London to Edinburgh and all the way to Aberdeen during 2017. Each presentation will feature key Trust personnel including Mark Allatt (Chairman) and David Elliott (Director of Engineering) and will cover the background to the project, progress to-date, future plans and details of how to get involved. The presentations will run from 11:00hrs to 13:00hrs on each of the days listed below and are open to existing supporters and interested members of the public:
• Saturday 22nd April 2017 – York Railway Institute, York
• Saturday 13th May 2017 – Darlington Locomotive Works, Darlington
• Saturday 17th June 2017 – Newcastle Mining Institute, Newcastle
• Saturday 1st July 2017 – Edinburgh Jury's Inn, Edinburgh
• Saturday 14th October 2017 – Dundee Heritage Trust Discovery Point, Dundee
• Saturday 25th November 2017 – Aberdeen Jury's Inn, Aberdeen.

 
US Projects
"Big Boy"
Senior Manager – Heritage Operations Ed Dickens discusses the scope of work necessary to rebuild No. 4014. Read more: http://www.up.com/
The Pennsylvania Railroad (PRR) T1 Steam Locomotive Trust
Chesapeake & Ohio 2-6-6-2
Courtesy: B & O Museum.
Australia
Project 6029 (Beyer Garratt 6029 ex-NSWGR)
Latest news from The Project 6029 blog HERE
Latest News at: http://www.claudhamiltonlocomotivegroup.co.uk/
A New Entry!
LMS Ex inspection 45036 – short term aim is to have a fully restored chassis and then rebuild it as a saloon in the long term , she is located at Tanat Valley Light Railway (TVLR)
Follow progress HERE
B & O Railroad Museum TV
Each month the B&O TV Network, starring actor Michael Gross, spotlights a moment in B&O Railroad history. Take a journey into the past and view one or all of these episodes posted on YouTube.
Mainline Steam Schedule
This listing is offered in good faith, so there is no guarantee offered or implied.Please confirm running with the relevant tour operator.
And adhere, please, to Network Rail's photographic guidelines…..HERE
The tour schedule for February 2017.and beyond..can be found  at  Railway Herald
On This Day in History.
April
–/04/1916
Motor Rail deliver the first of over 900 petrol engined 60 cm narrow gauge railway locomotives for the British War Department Light Railways on the Western Front (World War I); substantially the same design is in production until the 1980s
1–4/04/2009
Hefei-Wuhan Passenger Railway opens for service in China
Shijiazhuang-Taiyuan Passenger Railway opens for service in China
01/04/1994
Railtrack takes over running of British Rail infrastructure.
01/04/1901
The West Highland Railway's Mallaig Extension Railway, operated by the North British Railway, is opened throughout to Mallaig on the west coast of Scotland.
Glenfinnan Viaduct
05/04/1969
The South Devon Railway at Buckfastleigh, reopens as a preserved
steam railway, the Dart Valley Railway.
06/04/1927       Garratt locomotives introduced on Toton-Brent coal trains
06/04/1992
First section of Manchester Metrolink opens.
09/04/1984
Saltaire Station,West Yorkshire reopens 20 years after British Railways closure
13/04/1771
Richard Trevithick, who was born in Cornwall on April 13 177, patented his steam engine in 1802 and just two years later designed the first railway locomotive. He died in 1833 at the age of 62.
14/04/1951
Southern Railway (India) created as the first zone of Indian Railways by merger of South Indian Railway, Madras and Southern Mahratta Railway and Mysore State Railway.
16/04/1853
New Delhi: Exactly 160 years ago and four years before the great revolution of 1857, India's first passenger train chugged out of Bori Bunder, in what was then Bombay, for Thane, 34 kilometres away.
The first railway passenger journey in India happened on April 16, 1853. Three steam locomotives, Sultan, Sindh and Sahib, took 400 invited passengers in 14 carriages on a 57 minute journey
19/04/1916       Ephraim Shay, inventor of the Shay locomotive (b. 1839).
21/04/2010
The Pretoria train accident occurred on 21 April 2010 when a train of carriages on a luxury tourist train operated by Rovos Rail )ran away for 12 miles (19 km) from Centurion Station and derailed at Pretoria. Three people were killed and seven were seriously injured.
22/04/1913       John Saxby, English railway signalling engineer (b. 1821).
25/04/1997
Construction on Phase 2 of Manchester Metrolink project begins.
25/04/1983
Driverless trains on Lille metro opening.
28/04/1996
Gatwick Express,Midland Mainline and Great North Eastern Railway franchises begin…
28/04/2008
Wrexham & Shropshire begin to run passenger services between London Marylebone, West Midlands, Shropshire and north-east Wales.
67015 at London Marylebone with its distinctive livery. (Wikipedia)
On 28 January 2011 operations ceased after a review concluded there was no prospect of the business ever being profitable.The last train was the 18:30 from London Marylebone to Wrexham General.
30/04/1972
Brighton Belle service between London and Brighton is suspended.
(To support the project.."Bringing Back the Brighton Belle"..make your donation at http://www.brightonbelle.com/)
Radstock to Frome Railway Project

FACTS AND FIGURES OF THE RADSTOCK TO FROME RAILWAY PROJECT
Trust web page has been visited 10,647 by 7,514 people from 98 countries.
Trust Facebook page has 913 followers.
Company has 205 Shareholders and has raised at least £300,000.
Trust has 154 Members and has raised over £2,600 in less than two years.
The details above show some of the interest and/or support.
The company continues its negotiations to purchase both track and land. Show your support by visiting the website HERE
Christian Wolmar…
Christian Wolmar has an impressive catalogue of railway histories…..
In this video talks about his latest book "Are Trams Socialist?".. a deliberately provacative title!
(Video Courtesy: London Publishing Partnership on YouTube)'

Around the World in 80 Railways(No 80: Cab Ride Norway : Trondheim – Bodø (Summer) Nordland Line.(Saalbahnhof on YouTube).. and its nearly 10 hours long!!
WATTRAIN & APHTRO & NERHT News

This obituary is found in the latest WATTRAIN newsletter :
Phil Girdlestone, steam pioneer – obituary
Philip Girdlestone, who has died of cancer aged 61, was a passionately committed engineer who made it his life's work to design a new generation of steam locomotives that were far more efficient, reliable and environmentally friendly than their conventional forbears.
Girdlestone and his fellow engineers David Wardale, Shaun McMahon and Roger Waller were disciples of the visionary Argentinian Livio Dante Porta, who was convinced that modern steam could match or exceed diesel in efficiency. Each worked with Porta on projects worldwide, and his death in 2003 left them to carry on his legacy.
Unfortunately for these innovators, the world's major railways saw even modern steam as a distraction from diesel or electric traction. Main-line steam haulage has ended almost everywhere, and most engines still working cater for tourist traffic. In the words of a colleague, Girdlestone was "ahead of his time, 20 years too late".
Philip Girdlestone was born at Perivale, Middlesex, on September 1 1954, to Len Girdlestone, a building company site manager, and his wife Mamie. He grew up in Wokingham; from Forest grammar school, Winnersh, he read Engineering at Birmingham University.
As a boy Phil was inspired by the romance of steam and just months after BR ran its final steam train, he turned, at 15, to the 1ft 11½?in gauge Ffestiniog Railway in north Wales to start his career. Joining the Ffestiniog in 1970 as a volunteer fireman, he qualified as a driver and in 1979 joined the permanent staff at the FR's Boston Lodge Works.
He was soon appointed technical assistant. In 1982 he began corresponding with Porta and Wardale about modern steam development work in South Africa and Argentina. They had re-engineered a South African Railways heavy narrow-gauge loco, nicknamed the "Red Devil", to incorporate the latest in thermodynamics including special exhausts and a modified rotary oil burner; the rebuilt engine generated 43 per cent more power than its classmates, could exceed 75 mph with a 22-car passenger train, and saved 30 per cent in coal and water.
Girdlestone sought to bring similar technologies to Britain. As works superintendent at Boston Lodge from 1983, he converted the diminutive Victorian engine Linda back from oil-firing to coal. Linda proved her worth, hauling longer trains at less than 70 per cent of the cost, but after a drop in oil prices she was re-converted to oil.
Porta reckoned Girdlestone the best draughtsman he had come across, and put him on standby to move to the US as chief draughtsman on his ACE 3000 locomotive project. Instead, however, he went to Hugh Philips Engineering in South Wales, making South African-style improvements to Sudan Railways locomotives.
He designed new boilers for the Brecon Mountain Railways' engines, and consulted on the company's acquisition of BR's narrow-gauge Vale of Rheidol branch. In 1988 the 2?ft gauge Alfred County Railway in South Africa resumed steam haulage of freight and passengers over a 75-mile route using articulated Garratt locomotives, and appointed Girdlestone its chief mechanical officer.
Note: his full Obituary can be found at www.telegraph.co.uk

Catch up on the latest news at https://www.facebook.com/groups/1534918893466735/
NERHT is a voluntary society founded in 1999 to help railway preservation in the former Soviet Union and the other ex-Communist countries in Central and Eastern Europe.
Access the latest Eastern Star newsletter: HERE
30742 Charters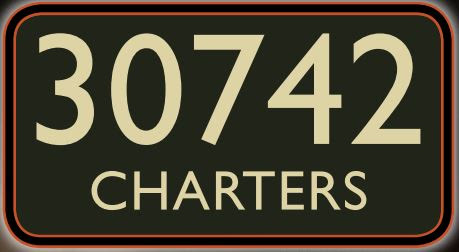 Latest News from Martin Creese….
Find 30742 Charters on Facebook at www.facebook.com/30742charters
BACK PAGE
Road trip from and to Salt Lake City through Utah, eastern Nevada and northern Arizona featuring as main railroad highlight the 2 1/2 day Nevada Northern Museum Railway winter steam photo shoot in Ely, but also some modern traction along the way.
Including: Nevada Northern #40 steamer, #105 and #109 ALCo diesels, UTA TRAX and FrontRunner, BNSF and UP freight, Las Vegas, Grand Canyon Railway F40FH, AMTRAK California Zephyr.
———- clickable index —————-
0:17 Salt Lake City UTA TRAX and FrontRunner to Ogden, UP freight
5:20 Nevada Northern Railway day 1, double ALCo freight, steam wrecking crane
8:28 day 2, #40 passenger Keystone Line
14:07 day 2, #40 freight High Line
16:25 sunny day 3, #40 freight High Line
25:28 day 3, #40 and ALCos Keystone Line
29:14 Las Vegas, BNSF freight Kingman Canyon, Route 66
31:30 Grand Canyon Railway, Monument Valley
33:35 California Zephyr #5 and #6 near Green River, Utah