On Shed – May 2017 Edition
" Preserving the steam locomotive legacy.. and more..on film"
Now features at  Wonderful World of Trains & Planes, Birmingham
FRONT PAGE
Welcome…and news….
Editor's Selection:1. FW Stevens..An appreciation
Editor's Selection:2. Flying Scotsman (Chris Eden-Green)
Editor's Selection:3. "An A-Z of World Heritage Railways". ARGENTINA
100 Trains….the journey so far….
Steam Tube Photographic Highlights
Steam Tube Video Highlights
Steam Tube Blogs (Dave Wilson,Steam Age Daydreams)
Tornado…The Story so far…
New & ReBuild News.
B & O Railroad Museum TV
Mainline Steam Schedule
On This Day in History.
Radstock to Frome Railway Project
Christian Wolmar… Railway Historian.
Around the UK's Heritage Railways A – Z 
WATTRAIN & APHTRO & NERHT News
30742 Charters
Back Page.
Welcome…and news….
A warm welcome to this May 2017 edition of "On Shed" Steam Tube's monthly magazine…
In this month's edition we introduce a new feature…"An A-Z of World Heritage Railways", starting , this month, with Argentina..and the "El Tren Del Fin Del Mundo", The Train At The End of The World.( In the Editor's Selection).
We also get an introduction to a new blog, The Railway Revivalist(Terry Harris), and a feature on the Uk's Heritage railways…
Editor's Selection
1. FW Stevens..An appreciation


Frederick William Stevens (11 November 1847 — 3 March 1900) was an English architectural engineer who worked for the British colonial government in India. A Documentary by Rajesh Latkar.
2. Flying Scotsman (Chris Eden-Green)

3. "An A-Z of World Heritage Railways". ARGENTINA
There are hundreds of railway heritage sites around the world. Some countries are blessed with many, others, with few. And there are heritage railways in the most obscure and unlikely of places.
Argentina's railway heritage has been the subject of some well known and publicized books and films. Most famously, perhaps, the romance of the Old Patagonian Express is the one most likely called to mind. In his book, Paul Theroux had started out from Boston.. and the last train he took-The Old Patagonian Express- in southern Argentina, is almost at the end of the world –  but not quite.
Just over a week ago, I had the pleasure to meet two gentlemen who were visiting the UK under the auspices of the International Railway Heritage Consultancy. Steve Davies, former Director of the NRM York (more in another edition of On Shed) introduced the two Argentinians from El Tren del Fin del Mundo (The Train at the End of the World) Deputy Chief Engineer – Fabian Papatryphonos and Mechanical Engineer – Jorge Molina Bahamonde.
Within a few hours of landing at Heathrow, they were keen to get on the footplate of ex-GWR 2807 at the Gloucestershire Warwickshire Railway for a brief look at the footplate.. and could be seen taking a close look at the motion of the locomotive as it waited its next trip.
Jorge & Fabian…with Steve Davies examining 2807's motion at Toddington,GWSR.
And here is  El Tren del Fin del Mundo (The Train at the End of the World) the graphic shows the route..and the introductory video gives a feel for the line….
100 Trains….the journey so far….
Regular readers will know that Iain is an ATAXIA sufferer, and his goal is to raise awareness of the condition, and raise funds for the ATAXIA.org Charity.
Initially, Iain had intended to travel around the world by train..but these plans have had to be reassessed in the light of his condition, so he now arranges for walks around the world, as his health allows.
Just recently he completed a walk around the Isle of Arran..
You can read about this HERE
What's next on the agenda for Iain?
Well, theproblem of choosing his next walk…….
He outlines his thinking on the matter as follows….
Summer Walk 2017. Where to go?
Ireland or France?
And I need to make a decision soon (not a bad problem to have really).
My original plan for a walk this Summer, was to walk around the coast of Ireland.
And although the total journey would be well over 1,000 miles, each day I was planning to walk a more manageable 8-10 miles.
But two things may have changed my plans.
The first of these is my overall walking ability:
Roads with any kind of elevation are becoming harder to walk along. And I only expect that this new situation will get worse for me as ataxia progresses. So, ideally, I am now looking for a more level walk.
The second reason is more practical:
In Spain last year, on the occasions where I could not arrange "couchsurfing" accommodation, the hot nighttime temperature allowed me to sleep on isolated beaches.
However, the weather in Ireland/France will not be so warm, so for this reason I will carry a lightweight one-man tent with me this Summer. And simply camp when necessary.
The extra weight, which I will have to carry, will mean that I can cover less ground each day (but has the advantage of allowing me to stop whenever I want).
And, while researching my coming walk along the Canal du Midi, I have now found a route in the southern half of France which follows canals and major rivers (the Canal du Midi, the Loire, the Canal d'Orleans, the Canal de Briare, the Canal du Centre, the Saone & the Rhone – so an extremely level walk). So no hills – or traffic!
And as the weather will be a wee bit better in France than in Ireland, France is now emerging as the preferred destination for my walk this Summer.
As pressing decisions go, I guess that this is a good decision to have to make ?
You can support Iain and ATAXIA.org HERE
We wish Iain well with his project. He deserves to succeed
Steam Tube Photographic Highlights
Over the years that Steam Tube has been around (since January 2009), many accomplished photographers have graced our pages with some fantastic steam railway images.
Adrian Vaughan, perhaps better known for his railway histories, most notably his volumes on Isambard Kingdom Brunel, is an accomplished photographer too! Not for him digital cameras, but he still makes use of what some may consider"obsolete" equipment. But the results are what count! And his studies of railway activities ..black and white images..(taking advantage of moments of quiet between signalling duties on the North Norfolk Railway, at either Sheringham..or Weybourne) are second to none.
Below, a recent selection of his work….
You can see more of Adrian's photographs on his Facebook page
And for a good read on railway history, you can find Adrian's books HERE
and a great shot from John Rumming..
Great Bedwyn: Braunton dressed as Lord Dowding held for over 10 minutes by a red signal.(11/03/17)
Steam Tube Video Highlights
Steam Tube members have been busy, as ever, on the mainline, and heritage lines, to get the best of the action..
Notably this last month "Tornado" joined the 100mph club, and "Flying Scotsman" was involved with Virgin Train's spectacular on the East Coast Mainline, celebrating the great iconic locomotives that have appeared there over the decades…
Below is a small selection of these videos….

Bodmin and Wenford Railway – Branch Line Day – Boscarne Junction Station.(Christopher Lawton)

Swanage Railway – 'Strictly Bulleid' Spring Steam Gala 2017 – Corfe Castle Station (Christopher Lawton)
 

34052 Lord Dowding hauls the Cathedrals Express 22 April 2017.(John Edkins)

LMS 46115 on the late running Cumbrian Mountain Express 22/4/17.(Stephen G Thompson)

5043 Earl of Mount Edgcumbe hauls the Llandudno Victorian Extravaganza 29 Apr 2017.(John Edkins)

Flying Scotsman to Southall seen at Barnacle near Nuneaton.
With before and after train movement all in the space of 45 mins.(Chris Spencer)

EXPO 2017 – AAMCS (14 & 15/01/2017). Saint-Amand-Les-Eaux (59)(Philbru Productions)

60163 TORNADO "stand clear"(XxBec3509)

Parní lokomotiva 475.179 "Pětasedma" na trati 120.(Dominik Schön)

FourTrains Event – 23/04/17 (Courtesy:Virgin Trains East Coast on YouTube)
Steam Tube Blogs (Dave Wilson,Steam Age Daydreams)
PENNINE TORNADO
Thirteen on and not a Box to be seen. Running 12 minutes late and a long way short of the 'ton', No.60163 Tornado is seen here, crossing Lunds viaduct, a couple of miles beyond Garsdale. The weather wasn't quite  the forecast 'bright' day and there was a nippy breeze. Despite the glum weather and the bleak surroundings I wasn't the only soul on the hill side, such is the lure of steam, even new build.
When you see these wild fells, where even trees are in short supply, you can scarcely believe that men, with little more than picks and shovels, donkeys and dynamite, built a double track railway across them. This section was part of Contract No.2, there were 5 in total. The contract was awarded, in 1869, to Benton & Woodiwiss and covered the 17 miles from Dent Head to Smardale, possibly one of the most difficult and remote parts of the line, Ais Gill summit, Rise Hill and Shotlock tunnels as well as a series of viaducts at Dandry Mire and the oft photographed ones Arten Gill and Smardale are all in this section.
When the diggings were in full swing 1,400 men were at work on this portion of the line, many lived in camps of wooden huts built around Dent Head, Arten Gill, and Smardale. Attracting sufficient labour was a constant source of trouble, as was keeping them at work. Strikes, fights with the locals, militia men, and the police were not uncommon, deaths were a common place, as were spells in Wakefield prison – one book on the subject, by W.R.Mitchell & N.J.Mussett, used the title "Seven Years Hard"' – a fitting epithet, for the entire project.
If you have enjoyed my blogs – I have written a book about my 60 years involvement with railways, from trainspotter, via steam age footplateman, to railway author and photographer, this is a link to it:
http://www.amazon.co.uk/Gricing-Real-story-Railway-Children/dp/1514885751
Railway Revivalist.(Terry Harris)
Championing the cause of railway revival across the United Kingdom post the Beeching cuts of the 1960's and beyond.
Becoming Involved in the Railway Preservation Movement
The Magic Ingredient – Perseverance
Are railway preservationists visionaries who think ahead of their time, or people sadly deluded by their burning passion to recreate a missing part of their community's history. This is a question I have often asked myself. The answer to this burning question are very much dependent on the merits of the project and those involved. There are no doubts that in the 'hustle and bustle' of the modern world, we are all craving a form of escape and some time out from the rat race. Not that there is any thing wrong with this -we all crave a simpler life and share a need for recreation. Nostalgia in this country is a large and growing industry, with heritage railways contributing in excess of £250 million to the UK economy and creating much needed employment in many rural areas. But, if you think reopening a railway line that closed many decades ago is easy, speak to anyone with an involvement in such a venture and they will categorically state it most definitely is not. However, despite all the setbacks and challenges that will inevitably lie-ahead, you must set out in your own mind that you are it for the long haul. To qualify you must be highly motivated, determined, and show great commitment.
But where do I fit in?
This is dependent on many factors. What are your aptitudes (God given talents and abilities) and passions? It is a quest to find your niche and be of the most benefit to the organisation you wish to serve. With a plethora of fascinating community railway projects operating across the country – as selecting a football team to support, you're spoiled for choice. I would recommend opting for a group that is easily accessible to you and has most caught your attention and fired your interest.
So how do I qualify?
There are no limits imposed on anyone wishing to become a volunteer, but before you can offer your services no one can do so without becoming a fully-paid up member of your chosen railway. It doesn't matter whether you're young or old, any new volunteer will only need to be willing to help out in some capacity and have the best interests of the organisation at heart. From making the tea, becoming a part of the track gang, or doing a spot of gardening. Any contribution, whether big or small will make a big difference.
The Apprenticeship
But please don't let this put you off. There are many rewards to be gained from such an experience. During the process of volunteering you will get the opportunity to meet like-minded people and make many new friends along the way. By making that important decision on what you would like to do and taking your first crucial step forward to become actively involved, your fellow colleagues will be at hand to help train you and fulfill your potential. There are no boundaries to what you can achieve. This is truly a team effort and everyone collectively benefits from working together  This will in the process enlarge the available skills bank and pool of experience to draw upon – vital foundations to build a success venture upon upon. For me personally, there is nothing more liberating than going beyond your comfort zone and pushing the boundaries of your own abilities and learning new skills. You'll never know what you're truly capable of until you try something new. I like to think of it as a 'voyage of discovery' – but there is an added bonus too, these qualifications can over-spill and benefit other areas of your life. As the old saying goes… You have nothing to lose, but everything to gain!
Tornado…The Story so far…
Monday 1st May – 'The Heart of Midlothian' – Peterborough to Edinburgh – A1SLT promoted tour – bookings through UK Railtours
Saturday 6th May – 'The Talisman' – London King's Cross to Darlington – A1SLT promoted tour – bookings
through UK Railtours
Monday 29th May – 'The Cornishman' – London Paddington – Penzance – A1SLT promoted tour – bookings through UK Railtours – SOLD OUT

Monday 28th August – 'The Easterling' – London King's Cross to Great Yarmouth – A1SLT promoted tour- bookings through UK Railtours

Saturday 16th September – 'The Border Raider' – Birmingham for the Settle & Carlisle Railway – A1SLT promoted tour – bookings through UK Railtours

Saturday 7th October – 'The Tees-Tyne Express' – Dorridge to Newcastle and return – A1SLT promoted tour – bookings through UK Railtours
The Trust respectfully requests that anyone wanting to see Tornado follows the rules of the railway and only goes where permitted.
New & ReBuild News.
General Steam Navigation Locomotive Restoration Society
April was another busy month for the GSNLRS which began with our society stand at the Swanage Railways 'Strictly Bulleid' gala. Our stand was inside the booking room at Swanage station and was our most successful ever event in terms of money raised through merchandise sales. A thank you to goes out to all those who visited us, helped man the stand or signed up to the society. The society is looking at hosting stands at the Bodmin Railway for the visit of Tornado and the GWSRs Workhorse gala at the end of May. Both events are dependent on getting volunteers in place so if you are able to help out please do get in touch.
April also saw our first working party of 2017 on the locomotive at Sellindge which lasted 9 days. To ensure our members are the first to know about what was achieved full details will be in the next issue of the Packet which is due for release in the next couple of weeks and will appear online soon after. On the 10th we were presented with an original GSN house flag from a former employee of the shipping company. It's believed to have come from the MS Gannet. Thank you John for visiting us at Sellindge and donating the flag. The society also had a visit from Steam Railway who will be doing a feature on us in an upcoming issue.
On the 28th saw another milestone with our flawed central axle leaving Sellindge for the South Devon. With the Southern Electric Group moving 3 of their COR coaches to Sellindge we have managed to secure a deal that will transport our axle using the empty trailer after the coaches have been dropped off. This arrangement will see us only pay around half the price of what it would have normally cost us. Thank you to all those who helped with the move and John Piper for supplying photos like the one below.
We still have a long way to go to fully fund the appeal but we've made a positive start and are confident in fully funding the work within the next 18-24 months as originally planned. Contributions can be made in several ways: monthly standing order of perhaps £10 a month, making a one off donation or by purchasing shares which are available in blocks for £250 (also available at £25 pcm. for 10 months).
As always thank you for your support.
Shares in 35011 HERE
The Clan Project..72010 Hengist
News update – 19th April
It may appear to have been a quiet couple of months but we have various components being machined and collating all of the QA documentation for our Certification Body.
A bolting diagram has now been produced and agreed with the certification body and is now with Ian Riley & Son (Bury) Ltd. The frames will be soft bolted to allow for alignment and then hard bolted as all of the parts come together which is standard practice. Comment has been made on the bolting arrangement drawings created by our engineering team on how well presented they are. The 3D model has also certainly helped to describe and demonstrate how the assembly will come together.
The year is marching on though and I look forward to writing the new article stating that the parts are now coming together.
It has always been an aim of ours that for milestones such as the assembly our members will be the first to know and the first to be able to physically touch the loco when the assembly is complete. Now is a GREAT time to join the project, help the loco build and get involved with Hengist as she takes shape.
Membership can be purchased online here.
Latest News at  www.theclanproject.org
The Brighton Belle
Excursion programmes will be launched in early 2017!
The A1 Steam Locomotive Trust has recently announced that it will be holding a series of presentations on the project to build new Gresley class P2 No. 2007 Prince of Wales at venues along the route of the East Coast Main Line from London to Edinburgh and all the way to Aberdeen during 2017. Each presentation will feature key Trust personnel including Mark Allatt (Chairman) and David Elliott (Director of Engineering) and will cover the background to the project, progress to-date, future plans and details of how to get involved. The presentations will run from 11:00hrs to 13:00hrs on each of the days listed below and are open to existing supporters and interested members of the public:
• Saturday 13th May 2017 – Darlington Locomotive Works, Darlington
• Saturday 17th June 2017 – Newcastle Mining Institute, Newcastle
• Saturday 1st July 2017 – Edinburgh Jury's Inn, Edinburgh
• Saturday 14th October 2017 – Dundee Heritage Trust Discovery Point, Dundee
• Saturday 25th November 2017 – Aberdeen Jury's Inn, Aberdeen.
February to April has seen a healthy increase in component sponsorship, with 17 individual components being sponsored, raising a further £7,755.00 before gift aid. This month's sponsored components included the steam stand casting including machining and valve details, the LH leading coupled wheel tyre, the LH and RH upper and lower water gauge body castings, the crank axle stub axle RH forging, the RH cab side screen hinges and details and various bolts and handrail knobs! We are most grateful to all of our supporters who have responded to the Dedicated Donations campaign!
Components sponsored through the Dedicated Donations Scheme range in price from one of over 1,000 driven bolts & nuts for £25, to the complete exhaust steam injector for £15,000.
If you would like to sponsor a component on No. 2007 Prince Of Wales, or you know of a business owner or company who may be interested in sponsoring an item, please contact us at dedicated.donations@p2steam.com
US Projects
"Big Boy"
Updates: Big Boy: www.up.com
The Pennsylvania Railroad (PRR) T1 Steam Locomotive Trust
Chesapeake & Ohio 2-6-6-2
Project 6029 (Beyer Garratt 6029 ex-NSWGR)
Latest news from The Project 6029 blog HERE
Latest News at: http://www.claudhamiltonlocomotivegroup.co.uk/
A New Entry!
LMS Ex inspection 45036 – short term aim is to have a fully restored chassis and then rebuild it as a saloon in the long term , she is located at Tanat Valley Light Railway (TVLR)
Follow progress HERE
B & O Railroad Museum TV
Each month the B&O TV Network, starring actor Michael Gross, spotlights a moment in B&O Railroad history. Take a journey into the past and view one or all of these episodes posted on YouTube.
Mainline Steam Schedule
This listing is offered in good faith, so there is no guarantee offered or implied.Please confirm running with the relevant tour operator.
And adhere, please, to Network Rail's photographic guidelines…..HERE
The tour schedule for May 2017.and beyond..can be found  at  Railway Herald
On This Day in History.
May
02/05/1859
The Royal Albert Bridge, two 450 feet arched spans over the River Tamar, linking Devon and Cornwall, is opened
(C) Andy Thompson
03/05/1903
The Mersey Railway, operating between Birkenhead and Liverpool by tunnel beneath the River Mersey, England, converts from steam to electric traction
03/05/1926
U.K. General Strike commences, continuing to affect railways until May 12
06/05/1994
The Queen and France's President Francois Mitterrand have formally opened the Channel Tunnel during two elaborate ceremonies in France and Britain.
After travelling through the tunnel, which took eight years and billions of pounds to build, the Queen said it was one of the world's great technological achievements.
The tunnel is the first land link between Britain and Europe since the last Ice Age about 8,000 years ago.
The first leg of the Queen's journey took her from London's Waterloo station through the tunnel by high-speed Eurostar passenger train.
She arrived at Calais at the same time as the President Mitterrand's train which had travelled from Paris' Gard du Nord via Lille.
Nose to nose encounter
The two locomotives met nose to nose – a computer that prevents two trains travelling on the same track was switched off for the occasion.
09/05/1904
City Of Truro heads the Ocean Mail special down Wellington bank at a reputed 102.3mph
This was taken at Challow in 1960 when 3440 came back 'light' from Swindon after hauling a failed 'Warship' and its train from Didcot.Much sport was had by the keen diesel crew now driving a proper engine and all staff along the line turned out to cheer!  (C) Adrian Vaughan 
12/05/1911
Electric trains begin work between London Victoria station and Crystal Palace
15/05/1929
Golden Arrow 1st class Pullman service introduced Victoria-Dover and Calais-Paris
17/05/1906
The Simplon Tunnel between Italy and Switzerland, the world's longest tunnel until 1979, opens to rail traffic
19/05/1907
Benjamin Baker, British civil engineer, designer of the Forth Railway Bridge (b. 1840).
20/05/1892
Last Broad Gauge train runs from Paddington to the West of England.
"Iron Duke" at Toddington,Gloucestershire Warwickshire Steam Railway
22/05/1915
In the Quintinshill rail crash, four trains including a troop train collide, the accident and ensuing fire causing 227 fatalities and injuring 246 people at Quintinshill, Gretna Green, Scotland; the accident is blamed on negligence by the signalmen during a shift change at a busy junction
24/05/1900
Nottingham Victoria railway station opens in Nottingham, England
31/05/1879
The first electric railway opens at the Berlin Trades Exposition
Radstock to Frome Railway Project

FACTS AND FIGURES OF THE RADSTOCK TO FROME RAILWAY PROJECT
Trust web page has been visited 10,647 by 7,514 people from 98 countries.
Trust Facebook page has 913 followers.
Company has 205 Shareholders and has raised at least £300,000.
Trust has 154 Members and has raised over £2,600 in less than two years.
The details above show some of the interest and/or support.
The company continues its negotiations to purchase both track and land. Show your support by visiting the website HERE
Christian Wolmar…
WOLMAR'S RAILWAY LIBRARY
This is a collection of classic railway history books which I have selected for reprint and which you can buy in either e-form or as special editions.
A collection of the world's finest railway books personally selected by Britain's leading railway historian
Wolmar's Railway Library is a collection of the world's finest railway books that I have personally selected. Many of these books are long out of print and Wolmar's Railway Library presents an opportunity to bring them back as luxurious special editions, as well as eBooks for the digital generation.
The Library tells the story of the railway – whether traversing American prairie, Siberian tundra or African savannah, each book here conjures up the world's greatest engines, the lines they ran on and the stories of the heroes and rogues who built them.
Wolmar's Railway Library is launching with a collection of six titles. To support the Library, you can pledge to a single book, or subscribe to the whole library. By subscribing to Wolmar's Railway Library, you'll be funding the rediscovery of more than two centuries of railway literature.
The Books
All of the titles in Wolmar's Railway Library are available as luxurious hardback editions for the very first time. Featuring specially commissioned contemporary cover art, cloth quarter binding, foil blocked lettering and ribbon markers, these collectable editions would make a valuable addition to any railway enthusiast's bookshelf. Pledge for one of these beautiful editions, or subscribe to the whole library, and receive a digital edition of your chosen title(s) for free.
THE WORLD THE RAILWAYS MADE by Nicholas Faith
This book has the best title of any railway book I have encountered. It does precisely what it says on the cover. Nicholas Faith explains in great depth and with rigorous argument how the advent of the railway affected virtually every aspect of the way people lived. The book only lacks a chapter on what the railways did not change. It would have been a short one.
THE RAILWAY NAVVIES by Terry Coleman
The construction of the railways was the most ambitious engineering project ever attempted. We remember the Stephensons, the Brunels and the other greats, but rarely do we think of the navvies, who died in their thousands to create 20,000 miles of railway in just over 75 years — that is five miles a week – with their bare hands, a few basic tools and a lot of explosives. Terry Coleman's vivid study is a brilliant study of a magnificent and vanished race of men.
I TRIED TO RUN A RAILWAY by Gerard Fiennes
Quirky, whimsical, eccentric, iconoclastic and funny… This is the book that railway managers always refer to when asked to choose one that explains how a railway operates and how best to manage it. This book has wider resonance than the railways. It is about coping with the pressures of working in a big organisation and the way that decisions – good and bad – are made.
THE LUNATIC EXPRESS by Charles Miller
Branded by Winston Churchill as 'one of the finest expositions of the British art of muddling through', the 'lunatic line' was a 660-mile triumph of guts, engineering ingenuity and sheer persistence in the face of drought, pestilence and man-eating lions.
A TREASURY OF RAILROAD FOLKLORE by B.A Botkin and Alvin F. Harlow
By far the best source of reading matter for anyone interested in the first century of railroad history in the United States, including as it does hundreds of stories of individual railroadmen, their successes, failures – and only too often their courage – but also many lighter items, including the scores of a dozen railroad songs – as well as the role of the scandal-mired Erie Railroad as the butt of hundreds of jokes.
A BOOK OF RAILWAY JOURNEYS by Ludovic Kennedy
There have been only too many books assembling samples of other people's works on railways. Fortunately this one is different, or, to put it bluntly, superior. The reason is simple, the compiler, Ludovic Kennedy, based his selection on a single criterion: to include exclusively items of 'what has informed, delighted and amused me'.
Christian Wolmar 2015
Select your copy HERE
Around the UK's Heritage Railways A – Z 
A is for……
List of railways by name
| | | |
| --- | --- | --- |
| Alderney Railway | | |
| Alford Valley Railway | | |
| Aln Valley Railway | | |
| Amberley Museum | | |
| Amerton Railway | | |
| Appleby Frodingham Railway | | |
| Astley Green Colliery Museum | | |
| Avon Valley Railway | | |
WATTRAIN & APHTRO & NERHT News
Wattrain is governed by a Council of Management led by David Morgan (UK) as President who is also President of FEDECRAIL, the European Federation of Museum & Tourist Railways, and a former Chairman of the Heritage Railway Association of Britain and Ireland (HRA), Chris Le Marshall (AU) and Bob La Prelle (US) as Vice Presidents and a Board of Directors composed by Ian Leigh (UK), Gabriela Galizia (AR), Stefano Benazzo (IT) and Rajesh Agrewal (IN). Supported by our chief executive David Madden (UK),Wattrain is also supported by three Honorary Patrons: Major General Courtney Wilson (CEO of the B&O Railroad Museum, USA), Lord Faulkner of Worcester (President of HRA, UK) and the Hon. Tim Fischer (former deputy Prime Minister of Australia).

NERHT is a voluntary society founded in 1999 to help railway preservation in the former Soviet Union and the other ex-Communist countries in Central and Eastern Europe.
Access the latest Eastern Star newsletter: HERE
30742 Charters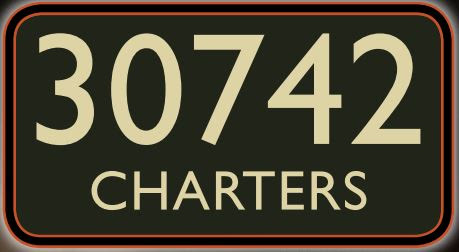 Latest News from Martin Creese….
Find 30742 Charters on Facebook at www.facebook.com/30742charters
 
In the yard at Bridgnorth,Severn Valley Railway. June 2016