Over one million eTickets sold in first six months.(RDG)
Train travellers are snapping up new mobile-friendly eTickets, with more than one million sold in the first six months.
New eTickets, the latest product of the rail industry's collaborative work to harness and develop technology to give customers more choice and convenience, can be stored on a smartphone or mobile device and used through the train company app, in Apple Wallet and by email.
Virgin Trains West Coast, in partnership with Trainline, were the first to offer eTickets in August last year. Gatwick Express and TransPennine Express followed suit and Caledonian Sleeper will offer eTickets soon. In the six months since launching over 1.4million eTickets have been sold.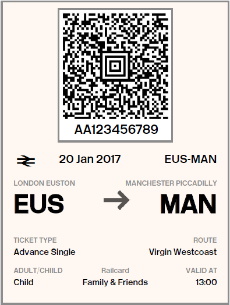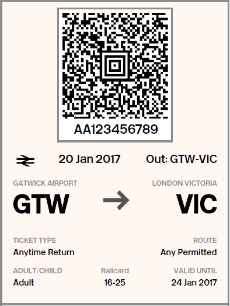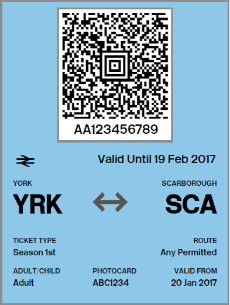 Images: eTickets – advance purchase single ticket, return ticket and one month season ticket (left to right)(Courtesy: Rail Delivery Group)
Latest figures from the Rail Delivery Group (RDG), which represents train companies, show that 85% of tickets sold online by Gatwick Express are eTickets. Virgin Trains West Coast reports that almost half (47%) of those customers presented with the option to purchase eTickets over paper options choose to do so. Research by online ticket retailer Trainline, who sell Virgin West Coast eTickets, show that four in five customers (82%) rated using eTickets as 'good' or 'excellent' and that almost nine in ten (89%) would buy one again.
The eTicket design was collaboratively developed by the train companies, RDG and two of the industry's technology suppliers – Trainline and Assertis. The eTicket design and format will be developed further to cover a wider range of ticket types and fares and to include clearer, simpler information for passengers.
The RDG is working with train companies to enable passengers across the country to use smartphones as tickets by 2018. Train companies have pioneered different types of mobile-friendly electronic tickets including the current m-Ticket on services operated by Chiltern Railways, CrossCountry, Great Western Railway, Greater Anglia, Northern, London Midland, ScotRail, TransPennine Express and Virgin Trains East and West Coast.
Dennis Rocks, RDG Managing Director of Technology Services, said: 
"The railway must move with the times. All train companies are improving and modernising how they sell tickets, developing mobile-friendly, smarter types of electronic tickets to make it quicker and easier for people to pay to travel by train.  

"It's great to see 1.4 million eTickets sold in just six months. More and more train travellers are discovering the benefits of being able to buy tickets online and download them to a smartphone or other device rather than having to rely on the old orange paper type."
John Sullivan, Chief Information Officer at Virgin Trains on the west coast, said:
"Our focus on providing customers with the best experience possible has seen us lead the way in digital ticketing for the industry – eighty percent of all rail eTickets bought to date have been for travel on our services. In just seven months more than 1.1 million eTickets have been purchased for travel with Virgin Trains on our west coast route via our website, mobile site and Trainline.com. Customers can now just open these on their smartphones, removing the requirement to collect or print tickets, and eliminating the need for the traditional orange ticket."
Angie Doll, Gatwick Express Passenger Services Director, said:
"With these online eTickets passengers really can glide to Gatwick. They feature a 10% discount and we're selling 65,000 a month. They're brilliant for the very large number of people making simple journeys to and from the airport – a logical and positive innovation that moves us from the antiquated era of the orange paper ticket to the modern systems used by airlines across the world.

"Passengers have the immediate reassurance of seeing the ticket on their phone or device the moment they have bought it. They don't have to queue to collect it from a machine when they arrive at the airport – indeed eTickets and the roll out of Oyster and Contactless at Gatwick have slashed queues at the airport."
Ian Humphreys, Head of Retail Strategy for TransPennine Express, said:
"It's great to see that lots of people are taking advantage of our paperless eTickets.

"Mobile tickets provide customers with a really straightforward way to travel.  TransPennine Express has a commitment to create an enhanced service that will take the North further and modern, innovative ticketing forms a key part of this."
John Davies, Retail Director at Trainline, said:
"We have worked closely and collaboratively with the industry to develop an innovative approach to rail ticketing, using everyday consumer technology to deliver entitlement to travel in a way that suits customers. Our eTicket journey began with Virgin Trains West Coast, and the customer benefit and popularity was immediately clear. I am delighted that our trial with Virgin has paved the way for more industry partnerships and wider adoption of eTicketing. In our experience, when we as an industry collaborate, everyone benefits – especially the customer."
Alistair Lees, Managing Director of Assertis, said:
"eTickets enable customers to get their tickets immediately, without the need to download an app, and to use either their smartphone or an A4 print-out to travel – whichever they find easiest. We are pleased to have been able to work collaboratively with train companies and other suppliers to take this from an idea to a successful roll out in such a short space of time, and are looking forward to helping roll it out nationally."
Notes:
eTickets allow passengers to access their tickets at any time through the train company app, in Apple Wallet and by email (which can also be printed).
eTickets can be bought:

in advance on First TransPennine Express and Virgin West Coast services
in advance and on the day on Gatwick Express services
on the day and season tickets between York and Scarborough on First TransPennine Express services

Trainline customer satisfaction survey – eTickets on Virgin West Coast services:

92% of customers rated buying as excellent or good.
83% of customers rated travelling with eTicket as excellent or good.
89% of customers would buy eTicket again.
(259 customers surveyed)