Railway reopens after successful Easter upgrades are completed on time.(Network Rail)
The new bridge deck being installed at Albrighton station
The railway between London and Scotland via the West Midlands and north west has reopened after a number of upgrade projects over Easter were successfully completed on time.
Network Rail's orange army worked round-the-clock over the Easter weekend on improvements including track renewals, infrastructure upgrades and bridge replacements.
Upgrades which will help provide passengers with a better, more reliable railway included:
– Further progress to the Ordsall Chord development in Manchester
– Track renewal on the West Coast main line, through Northchurch Tunnel near Berkhamsted
– Significant progress to replace a railway bridge in Albrighton (still closed as part of an extended planned closure)
– Embankment improvements in Watford
– Removing an old 'cattle creep' – which historically allowed cows to walk under the railway – between Buxton and Stockport
– Track renewal on the West Coast main line between Preston and Carlisle
Martin Frobisher, route managing director at Network Rail, said:
"This work was part of our ongoing Railway Upgrade Plan which will provide customers with a better railway. There is never a good time to carry out work that affects services but we worked closely with the train operators for it to cause the least amount of disruption. I would like to thank passengers for their understanding while we completed these vital upgrades."
Passengers can plan their journeys and check before they travel on the National Rail Enquires website at www.nationalrail.co.uk.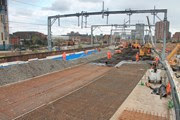 Between Buxton and Stockport,at Penrith, and the Ordsall Chord site.(Network Rail Images)