Lichfield MP goes trackside with Network Rail and London Midland..(Network Rail)
Michael Fabricant MP helps inspect the track near Lichfield Trent Valley(Network Rail Image)
The MP for Lichfield, Michael Fabricant, met with Network Rail and London Midland today (Friday 14 July) to see first-hand how the railway in his constituency is run and maintained.
Mr Fabricant was taken on track where he saw Network Rail's orange army repair a track fault just outside Lichfield Trent Valley station before visiting the nearby signal box where he found out about how trains are safely operated through the area.
He also discussed the cross city line, which London Midland operate and serves Lichfield City and Lichfield Trent Valley stations; the future of the line between Lichfield and Burton; as well as the upcoming HS2 work at Euston station over August bank holiday which will affect train services between Lichfield and London on the Saturday and Sunday.
Michael Fabricant MP said:
"As a chartered engineer, I was fascinated to witness for myself track maintenance just outside Lichfield Trent Valley station and see what Network Rail works entail.

"This was a relatively simple job. Even so, precautions have to be in place to prevent any injury from oncoming trains and the line had to be blocked for a while.

"The problem that had been detected a few days earlier was that part of the track had subsided by a few millimetres. The track had to be jacked up, ballast inserted underneath and then compacted so that the line was level again. I was really grateful to the Network Rail site team for finding the time to explain all this to me."
Martin Ball, head of maintenance delivery for Network Rail in the Birmingham and Lichfield area, said:
"Michael saw for himself the hard work that goes on to keep trains in and out of Lichfield and further afield moving safely and on time.

"He was very interested in the railway, the work we do and delivering a good service to passengers and it was a pleasure to show him the front line of our industry."
Rob Hornsey, head of cross city services for London Midland, said:
"It was a pleasure for London Midland to work collaboratively with Network Rail to help Michael understand and see for himself all the hard work that both Network Rail and the train operating companies regularly undertake to enable a safe and reliable train service.
A thoroughly enjoyable morning was had by all."
On the signal box visit and the future of the line through Lichfield to Burton, Mr Fabricant added:
"I also welcomed an opportunity to visit the nearby signal box and meet Steve Wood the signal operator. The signal box at Lichfield Trent Valley operates the points on the freight line that runs through Alrewas to Burton and is currently just used for freight. It is one of the few signal boxes left that still uses traditional levers. I am keen that the line be instated for passenger traffic to relieve existing routes and take passengers to the National Memorial Arboretum. I've taken this up with the Department for Transport and it would relieve congestion on the A38 too."
For information on train travel visit www.nationalrail.co.uk or www.londonmidland.co.uk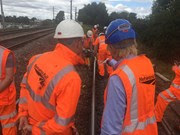 Track repairs(1), Rob Hornsey,Michael Fabricant MP; and Martin Ball(2) ..(Network Rail Images)