On Shed – July 2017 Edition
" Preserving the steam locomotive legacy.. and more..on film"
Now features at  Wonderful World of Trains & Planes, Birmingham
FRONT PAGE
In the beginning… (C) Robin Coombes
Welcome…and news….
Editor's Selection:1.Full STEAM ahead for STEM — — 24,000 UK primary schools set to receive free STEM-themed storybooks
Editor's Selection:2 Lost Railway Twins? One in Scotland, another in India.(Rajendra B Aklekar)
Editor's Selection:3. Wye Valley Railway, 1950s – Film 46153.(Huntley Film Archives on YouTube)
100 Trains….the journey so far….
Steam Tube Photographic Highlights
Steam Tube Video Highlights
Steam Tube Blogs 1:Rough Trip(Dave Wilson)
Steam Tube Blogs 2.BR 2: The New Age of the Train? – Part 3.(Railway Revivalist)
Tornado…The Story so far…
New & ReBuild News.
B & O Railroad Museum TV
Mainline Steam Schedule
On This Day in History.
Radstock to Frome Railway Project
Christian Wolmar… Railway Historian.
Around the UK's Heritage Railways A – Z
WATTRAIN & APHTRO & NERHT News
30742 Charters
Back Page.
Welcome…and news…..
A warm welcome to this month's edition of "On Shed"
And it's all about discovery….
Discovering that Seaton Tramway have joined the Heritage Ability Scheme to help empower people with disabilities..
Discover the joys of engineering..with Peter's Railway and a generous gift to 24,000 schools..
Discover an interesting artefact connection between India and Scotland.
And, speaking of India, Christian Wolmar helps us discover, if we didn't already know,"How Britain's Colonial Railways Transformed India.."…. not necessarily for good…!!
The usual features appear, so , start on your voyage of discovery for July 2017!!
Seaton Tramway joins Heritage Ability scheme to help empower people with disabilities.
Seaton Tramway are committed to inclusivity and have seized an exciting opportunity to team up with other historic sites in the South West as part of the new Heritage Ability scheme, designed to build a greater understanding of the barriers experienced by disabled and Deaf people when visiting heritage sites.
Thanks to National Lottery players, the Heritage Lottery Fund (HLF) has just awarded a grant of £527,000 to the scheme to support heritage sites in becoming more accessible.
There are 18 sites in the South West currently taking part, eight of which are located in Devon including: Cockington Country Park, Kents Cavern, National Trust Castle Drogo / Fingle Woods, National Trust Killerton, Royal Albert Memorial Museum, Seaton Tramway, Seaton Jurassic and Seaton Wetlands.
This scheme is delivered by charity, Living Options Devon, which was set up in 1990, and of which 80% of Trustees and volunteers, and over 50% of staff have disabilities or are Deaf. The project aims to improve access for people with physical disabilities, establish British Sign Language as part of each sites' interpretation, whilst also making adaptations to improve experiences for those with autism.
Jenny Nunn, Chief Executive at Seaton Tramway said:
"Seaton Tramway is proud to be involved in a project focused on making long-term changes to the accessibility of heritage in the South West. Here at the Tramway, we take into careful consideration the needs of those who require specialist access, and understand the importance of continuous growth and development in order to provide an excellent experience, making it inclusive for everyone."
To discover how you could help and for more information about the project, please contact Jessica Holroyd, Engagement and Communications Officer at Heritage Ability, by emailing Jessica.holroyd@livingoptions.org or phoning 01392 459222.
You can also join the story on social media, by visiting @HLFSouthWest & @HeritageAbility and by using hashtags #heritageability and #NationalLottery
Notes:
For the past 47 years Seaton Tramway has been running from the main car park in Seaton for three miles inland through Colyford to Colyton, much of it along the former Seaton to Seaton Junction branch line between the picturesque estuary of the River Axe and the Axe Estuary Wetlands.
All our double-deck trams have open top decks, providing 360 degree panoramic views, but for inclement days there are enclosed single deck trams making it an all-weather family attraction. The fleet of 14 passenger carrying single and double-deck electric trams were purpose built by the company from classic designs based on heritage trams that served our towns and cities in the first half of the 20th century.
Open Daily: 11 th – 19 th Feb., 25 th Mar. – 29 th Oct., 27 th Dec. – 1 st Jan. 2018.
Open Weekends only: 25 th Feb. – 19 th Mar.
Birdwatching, Birthday Parties, Tram Driving Experiences and Lessons available all year.
The Fairy Special: 8 th Apr., 29 th May, 4 th , 11 th , 18 th , & 25 th Aug., 1 st Sept.
The Dinosaur Tram Adventure: 16 th & 23 rd Apr., 1 st & 28 th May, 23 rd & 30 th Jul., 6 th , 13 th , 20 th , 27 th & 28 th August.
Pirate Tram: 28 th July & 26 th August.
Halloween Tram of Terror: 23 th -29 th October.
The Polar Express Tram Ride: 1 st – 3 rd , 8 th – 10 th & 15 th – 24 th Dec.
Full sized versions of photographs available on request. For further information, please contact Bracken Stockley on 01297 20375 or e-mail: bracken@tram.co.uk
(Seaton Tramway Image)
Editor's Selection:1.Full STEAM ahead for STEM — — 24,000 UK primary schools set to receive free STEM-themed storybooks —–

A pioneering project from an author and an engineer to supply free copies of STEM-themed story books to all primary schools in the UK will see 24,000 primary schools receive three books from the "Peter's Railway" series, with access to online educational resources.
The project aimed at encouraging an early interest in STEM subjects, hopes to help foster a greater level of technical interest amongst young children.
The Peter's Railway collection, written by Scottish-based author Christopher Vine, follows Peter, a young boy with a love of trains, railways and engineering.  The traditional illustrated storybooks, named after the author's son feature a friendly narrative and stand-alone sections exploring STEM related topics such as energy, biology and climate.
The project has been funded by engineer Nick Jarmany, founder of Quixant Plc, a UK-based company engaged in development and supply of computer systems. Nick Jarmany became a fan of the Peter's Railway books after reading them to his young children.
Christopher Vine, said:
"The Peter's Railway books combine real science and engineering with true stories and adventures helping to feed inquisitive minds. Our lives are increasingly dominated by technology of all types, meaning there will be an ever-accelerating need for technical experts, innovators and entrepreneurs in the future. This represents an amazing opportunity for the youngsters of today, which is why we want to foster an early interest in STEM subjects and give more children a chance to enjoy science and engineering."
Nick Jarmany, said:
"As a father of two young children, I came across a wonderful series of books that manage to combine traditional story telling with 'how it works' explanations. I was surprised how my son latched onto the technical aspects and wanted to learn more. Our simple aim is to encourage a growing interest in STEM subjects, and through this early interest to encourage more girls and boys to pursue exciting technical careers." 
=================================
Editor's Selection:2 Lost Railway Twins? One in Scotland, another in India.(Rajendra B Aklekar)
Regular readers may well wonder where Rajendra's weekly column "The Great Indian Railway Romance" on Rail Tube has disappeared to!
Well, to those who follow Rajendra's Facebook page, it seems like he is on something of a railway tour..and this item has certainly piqued a few people's interest….
The story of the abandoned rail ballast stone crusher (W.H Baxter- 1878) found near railway tracks at Lonavala by Jayant Ramdasi has taken a curious turn.
The stone crusher near Lonavala was probably used by the engineers along the Great Indian Peninsula Railway, India's first railway company, to break stones for maintaining rail tracks and other construction-related activities in the tough mountainous terrain between Mumbai and Pune.A very similar stone crusher with similar markings and etchings has now been found at Isle of Skye, Scotland in a similar state. Here I put up a collage of both of them. Two brothers- one in Maharashtra, India, another at Isle of Skye, Scotland.
While Ramdasi spotted it near railway tracks in Lonavala in Maharashtra and put up on the social media, scientist, engineer from Scotland Lindsay Wilson reacted saying "there's one near where we live on the Isle of Skye in Scotland and put up a pic. Isn't it interesting?
However, it is not clear how old the machine could be as records suggest that the orders with WH Baxter and Company were placed till as late as 1955, by which time the original Great Indian Peninsula Company had been renamed as Central Railway.
In fact, it was in 1878 that the WH Baxter Company was established and the date on the plaque could be an indicator that as well. But whatever is the case, it is a fact that the W.H Baxter stone breakers were known to be revolutionary, having crushed tons of stones per hour at a comparatively lesser power requirement.
It is recorded that the new one experimented and could break as much as six tonnes of stones per hour and that two machines of this company could be used at the same amount of power required for one of any other sort.A news report in a construction journal of 1880, The Building News, stated that that the latest version of the stone breaker that year was a much better performer than the earlier one, though it did not demonstrate well.
It was in 1878 that engineer William Henry Baxter of Albion Street, Leeds established the company W. H. Baxter and Co. to manufacture various construction-related equipment.
Whatever may be the case, the antique stone beaker, now with its twin in England, deserves to be salvaged from Lonavala, Maharashtra, and preserved locally or shifted to the National Railway Museum in New Delhi, as an extraordinary piece of 20th century engineering marvel.The Grace's Guide states that it was an exhibitor at the 1881 Royal Agricultural Show at Derby and was incorporated as a limited company in 1898 and had received a large order for stone-breaking machines for India.
Journalist. Author of two books on trains and railways in India. Biographer: India's Railway Man– Dr E Sreedharan  and Halt Station India, best-selling book on the romance and history of India's first rail line, short-listed as Best Non-Fiction at Bangalore Literary Fest 2015, now into its fourth imprint. Get copies here: https://goo.gl/SMcdnS
Twitter: https://twitter.com/rajtoday Facebook: https://www.facebook.com/rajendrab.aklekar

Editor's Selection: 3. Wye Valley Railway, 1950s – Film 46153.(Huntley Film Archives on YouTube)
The Wye Valley Line in Wales and Herefordshire
Steam railways and pannier tank locomotives with Ross signal box, though a tunnel to Kerne Bridge and Chepstow station (junction for Wye Valley Line ) Brockweir and Monmouth (Troy) station. Train filmed crossing the River Wye. People on the station platforms.
Locomotive 3726 Pannier Tank.
With thanks to Robert Dewar at Huntley Film Archives.
100 Trains….the journey so far….
Regular readers will know that Iain is an ATAXIA sufferer, and his goal is to raise awareness of the condition, and raise funds for the ATAXIA.org Charity.
Initially, Iain had intended to travel around the world by train..but these plans have had to be reassessed in the light of his condition, so he now arranges for walks around the world, as his health allows.
Just recently he completed a walk around the Isle of Arran..
And YOU can help keep me walking!
In my race against time, and having just completed a 500 mile walk in Spain, I am already planning my next walking/fundraising adventure.
Obviously, it has to be something even bigger! So:
A wee wander around France it is. From Nice on the Mediterranean, to somewhere (possibly Dunkirk) on the north coast [but because of a knee injury sustained on my previous "walk" (along the Canal du Midi) which is currently preventing me from doing much "walking", I will also use public transport where possible].
Over the Summer of 2017.
And you can be part of it!
As well as physically helping myself on these walks (my GP did say to walk as far as possible – I doubt he meant *this* far though), I am also raising money for Ataxia UK, the registered ataxia charity here in the UK.
Therefore, wherever possible, I am trying to minimise expenses. All money saved is added to the funds that I have already raised for Ataxia UK.
So to help fund my walk through France, I am seeking a limited number of overall walk supporters, and up to 100 supporters of the specific days when I'll be walking.
And the good news for supporters?
This is now a very visible event.
It has to be – as my main aim for these walks (over-and-above raising funds for Ataxia UK), is to raise public awareness of the ataxia condition.
As a result of this, I am always looking for positive publicity.
Which, in turn, generates extremely positive, and widespread PR, for those helping to fund the continuation of my walks too.
And I'm now extremely happy to report that the national media (here in Scotland), as well as media outlets in France & Italy, are now reporting on my walks:
https://kiltedwalker.com/2017/01/10/kilted-walker-in-the-media/
There are 3 different ways (including an absolutely cost-free option) that you can help fund the continuation of my walk through France and, by doing so, become an integral part of this event:
Option 1. Major Supporters.
As with the previous walk in Spain, I envisage only a handful of major supporters.
Major walk supporters' logos are displayed on the page detailing a particular walk, and these logos are linked directly to the official websites of the supporter.
In addition to this permanent feature, major supporters are "tagged" in various social media posts, and their products/services/support are highlighted as being vital to my walks. For an example, please see how Hi-Tec (a supporter of my Spanish walk – they are my walking boot suppliers) are mentioned/promoted in this recent article that I posted on Facebook (with a photograph of their product/boots of course):
https://www.facebook.com/kiltedwalker/posts/896465993820365:0
The cost of becoming a major supporter of my Summer 2017 walk is just £250.
The funds raised in this way will be used to pay for flights and insurance. As previously stated, all funds that are unused at the end of the walk will be added to the sum donated to Ataxia UK.
I use PayPal to securely process all financial transactions. They do take a small commission for processing the payment, but I have found that this is the most cost-effective way to collect funds for the trip.
If you would like to support any of my awareness-raising/fundraising walks, by becoming a major supporter, please click the PayPal "Buy Now" button below:
Option 2. Day Supporters.
"Day Supporters" are supporters of each of the individual days of the walk. Every social media post that I make on (or of) that day includes a link to that day's supporter's website and/or social media pages. This will be in addition to a daily post in which I will specifically thank that day's supporter, for making the day possible.
The money that I raise from "Day Supporters" will be used to feed & water myself each day.
So I expect that there will be lots of French foodie pics this Summer ?
The cost of becoming a "Day Supporter" is just £25.
Again, any funds not used by myself on these walks, will be added to the sum donated to Ataxia UK.
If you would like to support my walks, by becoming a "Day Supporter", please click the PayPal "Buy Now" button below. You are then able to support as many days as you wish:
Option 3 (completely free). Online shopping.
There is a cost-free way to support me too (and you could even save yourself a few quid at the same time!). Simply do your online shopping, at some of the biggest names in online shopping, via the links in the "KW Fundraising Shop" at:
https://kiltedwalker.com/the-kw-shop/
You just shop (and save) as normal, via the retailers' own websites. The retailer gives me a few pennies for sending you their way.
You save. I walk some more. Everybody wins!
Thank you for your very kind and generous support!
Steam Tube Photographic Highlights
Here are some pictures from our museum ..some very rare things ….an amazing collection of gate signs, engine number plates and lots of other stuff.. the museum alone is worth the journey..Somerset & Dorset Railway – at Midsomer Norton.(C) Sean Dudden
And this selection from Steam Tube's co-founder and prime mover, Andy Thompson. Guess where?
And a selection from Robin Coombes, with his permission..
Castles and Culloden
Darkness and Lineup
Steam Tube Video Highlights
The Cathedrals Express, 60103 Flying Scotsman, on the new Bicester Chord Line, 9th June 2017.(Dave Wadley)
Belmond British Pullman, 60163 Tornado, 16th June 2017.Filmed at Virginia Water (Lyne Lane) and Gomshall (Hackhurst Farm).
(Dave Wadley)

Flying Scotsman Departs Prince's Risborough.60103 is seen on the Chiltern Hills Luncheon train on June 9th 2017.(Clive Town)
Amerton 2017 Summer Steam Gala Pt 7.LIASSIC was one of three visiting engines taking part in the Gala. This Peckett tank, Works No. 1632 of 1923, was one of two from the Statfold Barn Railway.
On Day 2 of the Gala Liassic only worked Passenger trains..(Clive Town)
N&W #611: Ferry Move to Roanoke and a Switching Engine.It's May 8, 2017, and after a successful weekend of excursions between Lynchburg, VA and Petersburg, VA, Norfolk & Western 4-8-4 #611 is ready to come home to Roanoke, VA. But first, a late-morning/early afternoon ferry move from Lynchburg, over the Blue Ridge Grade, and into downtown Roanoke. We catch the train flying out of Lynchburg, uphill at Villamont, and passing the N&W's East End Shops heading into town.
Afterwards, we see a short clip of the big 4-8-4 doing some switching in the Virginia Museum of Transportation's yard – which means we get to see her using her rarely-seen front coupler in action as she pushes a flatcar and two locomotives forward to make room for her consist. Enjoy!(Big Jim Video Productions)
Nákladní manipulační foto-vlak na trati (210) Praha – Dobříš v čele s "Čtyřkolákem" 434.2186
Cargo manipulation phototrain on the track (210) Prague – Dobříš headed by a steam locomotive "Čtyřkolák" 434.2186
trasa/track: Praha Braník – Vrané nad Vltavou – Měchenice Mníšek pod Brdy – Dobříš
lokomotiva/locomotive 2-8-0 no. 434.2186 nickname: "Čtyřkolák" (built by Breitfeld & Daněk ve Slaném works no.95 of 1917) depot Praha Vršovice. termín/date: 6.2.2014. (Dominik Schön)
Hot and Cold Leftovers around Vienna, January 6 – July 1 2017.A few unpublished video I took over the past months.
Including a steam special to Semmering with B&B 50.1171 on January 6, night trains leaving Vienna into all directions on the first summer holiday weekend, Tramwaytag nostalgic tram and a brief visit to Bratislava main station.(Ronik24)
Steam Tube Blogs (Dave Wilson,Steam Age Daydreams)
ROUGH TRIP III
No we didn't acquire assistance at Basingstoke! However, after Worting Jct. the road down to Southampton is pretty easy and though we didn't make up any of the lost time we didn't lose any more, well at least not to Eastleigh. Beyond Eastleigh, a series of checks saw us lose more time to Southampton. We took water at Southampton but, all too soon we were underway again, and with work to do. The one crumb of comfort was that now it wasn't all bricquettes, there were some decent lumps of coal coming down onto the shoveling plate.
Our next stop was Brockenhurst, about 17 miles, most of which was against the grade, apart from a couple of dips after Beaulieu Road and then just beyond Woodfiddly Gates and both of these were used to good effect as the routine of juggling the injectors, and firing,  to keep steam above the 180 mark, continued. Things still weren't going well but, at least we hadn't lost any more time. At Brockenhurst the train for the Lymington branch and services to the Isle of Wight had been held for our arrival and station staff were calling passengers to it.
The couple of minutes station time allowed enough breathing space to see the needle creep beyond the 200 mark, for the first time since we'd left Waterloo. It's quite a pull out of  Brockenhurst, up to Sway, and the few extra lbs of pressure would come in handy. It was nearly over now, only the little drag out of Christchurch up to Boscombe and we could clean up, as best we could, and wait for our relief at Bournemouth Central.
The pint of brown and mild, in the BRSA club, at the London end of the 'down' platform, went down a treat, and just time for a game of bar billards and another pint before we had to cross over to the 'up' side ready to work back to Waterloo.
The photograph shows No.  73129 piloting No.45337 at Burrs on the East Lancashire Railway.
If you have enjoyed my blogs – I have written a book about my 60 years involvement with railways, from trainspotter, via steam age footplateman, to railway author and photographer, this is a link to it:
http://www.amazon.co.uk/Gricing-Real-story-Railway-Children/dp/1514885751
BR 2: The New Age of the Train? – Part 3.(Railway Revivalist)
Could Britain be about to enter a new 'Golden Age' of rail travel?
With the UK facing a general election this Thursday and Labour stating its wish to re-nationalise Britain's railways, in the final installment of a three-part blog I weigh up all the pros and cons to determine whether this would be a good idea or not!
NATIONALISATION
Jeremy Corbyn (Leader of the Labour party) has long expressed his opposition to the privatisation of the country's 'crown jewels', the selling off to the private sector our public utilities (electricity, gas, water), the post office, and the franchising of rail services. The big question is in whose hands are these industries best placed to deliver the best possible service and value-for-money to the consumer.
In a recent interview: Corbyn believes that our rail services can be brought back into public hands at no additional expense to the tax payer by simply allowing each rail licence to expire, with the government stepping to run these services. Undoubtedly on the surface this appears to be a good idea, but would take many years to complete (with such a policy only permitted after leaving the European Union). Unfortunately due to the time scale this would require, it would only take a future administration (Conservative government) to reverse this decision and derail the process. Can we really go back to how things once were, and is there the political will across the board for this to happen. Would the government of the day truly want to pick up the bill to invest in new rolling stock, or simply prefer to leave the private sector to pick up the tab. Good old-fashioned economics would come into play, with the Chancellor of the Exchequer far more in favour of receiving money than giving it out!
However, there is a valid argument to simplifying the current system; where there is a greater ease of use and a way found of keeping spiralling ticket prices under control.
PRIVATISATION
Is privatisation of the nation's railways a bad idea, or does the concept have some merit? From a my observation it is a workable system that has been badly executed. The big issue is that the industry is neither fully nationalised or privatised, having a 'one foot in, one foot out' approach. The track, signalling and infrastructure is back under government control with the creation of Network Rail by Labour in 2002) – the successor to RailTrack, with the operations side ran by a myriad of different companies across the network. This two-tier system has seen the industry laden with unnecessary red tape. Weighed down by a millstone of seemingly endless rules and regulations, a suing culture has developed as a consequence; with both sides battling it out to whom is held responsible for each incident or delay occurring in the daily operation of our railways, without passing the inherent costs of such conflict onto the consumer.
Perhaps we could draw inspiration from the Railways Act 1921 that brought together (grouping) the many various railway companies into a manageable structure of four distinct zones (a memorable piece of legislation that gave birth to the GWR, LMS, LNER & Southern Railway in 1923). Each company was responsible for both the track/signalling/infrastructure and operational side of the business. Everybody knew where they stood, a clear pricing policy was in place, and this minimised the number of tickets required to travel from one end of the country to the other. It has become abundantly clear that the current situation is somewhat lacking in current sense, greed orientated by the UK government, and not fit for purpose. Change is needed; but the question is what direction do we take, do we modify the current system, or has the time come for British Rail to re-emerge on the scene?
My overall conclusion
Forget about bringing back British Rail, what about carving up the rail network into four regions as it was prior to nationalisation pre-1948 and adopt the 1923 business model. The government is best placed to running the country and doesn't support wearing a business mat. Two damning words that would strike sheer panic in the hearts of any free-marketeer is 'British Leyland', the production of sub-standards cars offset by threats of perpetual strike action did very little to inspire confidence in the consumer or our reputation abroad. Our railways if 100% set free from government interference – with sensible and workable terms and conditions firmly laid down in their contracts regarding levels of investments in infrastructure and rolling stocks, and safeguards put in place over what is deemed acceptable when it comes to rises in ticket prices, could see a new golden age of rail travel return across Britain.
Editor's comment: The views expressed here are those of the author, and included here for information. Inclusion does not mean agreement!!
Tornado…The Story so far…
 Sunday 2nd July – 'The Torbay Express' – Bristol to Kingswear and return – 

Torbay Express

Sunday 23rd July – 'The Torbay Express' – Bristol to Kingswear and return – 

Torbay Express

Saturday 5th August – 'The Towy Tornado' – Eastleigh to Carmarthen and return – Pathfinder Tours
Monday 28th August – 'The Easterling' – London King's Cross to Great Yarmouth – A1SLT promoted tour- bookings through UK Railtours
Wednesday 6th September – 'Belmond British Pullman' – London to Bristol (return with No. 35028 Clan Line) – Belmond British Pullman
Sunday 10th september – 'The Torbay Express' – Bristol to Kingswear and return – Torbay Express

Saturday 16th September – 'The Border Raider' – Birmingham for the Settle & Carlisle Railway – A1SLT promoted tour – bookings through 

UK Railtours

Saturday 23rd – Sunday 24th September – Barrow Hill Roundhouse 'Pacific Power' weekend

 Saturday 7th October – 'The Tees-Tyne Express' – Dorridge to Newcastle and return – A1SLT promoted tour – bookings through 

UK Railtours
The A1 Steam Locomotive Trust is proud that Tornado will continue to be operated on the Network Rail main line by DB Cargo, which has worked successfully with the Trust since the locomotive's completion in 2008.
The Trust respectfully requests that anyone wanting to see Tornado follows the rules of the railway and only goes where permitted.
(A1 Steam Trust Image)
New & ReBuild News.
General Steam Navigation Locomotive Restoration Society
June saw the first feature length article on the General Steam Navigation project appear in the latest issue of Steam Railway magazine. Its reported to be the first time a locomotive in Barry condition has had a 4 page feature in Steam Railway since the Duke of Gloucester nearly 30 years ago. You can find the article in issue 468 which went on sale June 15th.
The first 2 weekends of July will see our sales stand be on display at Ropley during the Mid Hants 'Summer Gala'. The event commemorates 50 years since the end of southern steam and the Summer Gala will run across two weekends in July with eight Bulleid Pacifics and a fantastic line up of locos, intensive timetable, freight train and real ale bar – an event not to be miss out!
We'll be hosting a stand at Eastleighs commemoration of 50 years since the era of steam trains ended at Eastleigh.
To mark the 50th anniversary of the end of the age of steam in the town– a steam locomotive that served Eastleigh and other Southern Railway stations will be the stunning centrepiece of an exciting weekend of events for all the family.  Wadebridge, the 140-tonne steam locomotive and tender will make a very special stop – not at Platform Three of the busy Eastleigh rail station, but in the centre of the main shopping precinct at the north end of the town centre!
The event takes place over the weekend of 15-16 July from 10am to 6pm. The Borough Council has been working closely with the Mid-Hants Railway/Watercress Line to make it possible.
As well as a chance to see Wadebridge at close hand, we are looking for stallholders, community groups and enthusiasts to join us for other plans for the 60s-themed event include:
· A 1960s classic car rally
· Model railways
· Themed stalls
· Heritage displays at Eastleigh Museum and The Point
· Rare film footage
· Live Music
· Children's rides
And it is not just the firebox aboard the loco that will be generating heat – on the Saturday the town's annual Chilli Festival takes place in the Leigh Road Rec, alongside the steam-themed celebrations.
More news HERE 
The Clan Project..72010 Hengist
The Annual General Meeting of the 'Clan Projects' parent organisation, The Standard Steam Locomotive Company Limited, will be held at 'Steam' the Museum of the Great Western Railway, Firefly Avenue, Swindon SN2 2EY, at 14:00 on the 15th July 2017, in the Sir Daniel Gooch Suite.
Members and non-members are welcome to attend, though only members with a valid 2017 membership card or life membership card may vote on motions placed to the meeting. So if you want to meet the team behind the construction of this new locomotive, why not come along and talk to us? Better still, become a member, and have a voice at the meeting itself.
We look forward to meeting you!
The Brighton Belle
Excursion programmes will be launched in early 2017!
The A1 Steam Locomotive Trust has recently announced that it will be holding a series of presentations on the project to build new Gresley class P2 No. 2007 Prince of Wales at venues along the route of the East Coast Main Line from London to Edinburgh and all the way to Aberdeen during 2017. Each presentation will feature key Trust personnel including Mark Allatt (Chairman) and David Elliott (Director of Engineering) and will cover the background to the project, progress to-date, future plans and details of how to get involved. The presentations will run from 11:00hrs to 13:00hrs on each of the days listed below and are open to existing supporters and interested members of the public:
• Saturday 14th October 2017 – Dundee Heritage Trust Discovery Point, Dundee
• Saturday 25th November 2017 – Aberdeen Jury's Inn, Aberdeen.
LATEST CAD RENDERING
Sandbox news
Tuesday, 20th June 2017
Assembly of the sandboxes has continued, it is a tight squeeze to get these in between the frames but the finished result is a credit to the design and fabrication teams!  The original class P2 locomotives were fitted with gravity sanders for the leading coupled wheels and steam operated forward sanders for the driving coupled wheels. No backward sanders were fitted. No. 2007 is likely to do significant work in reverse, mostly on heritage railways, but from time to time hauling substantial loads over significant gradients on the main line running tender first. The leading and forward driving sanders have been altered for air operation (as per Tornado) and new backward sandboxes and fillers have been designed. All six sandboxes and fillers have been assembled and fitted to the frames. Photo by Bob Hughes.
Components sponsored through the Dedicated Donations Scheme range in price from one of over 1,000 driven bolts & nuts for £25, to the complete exhaust steam injector for £15,000.
If you would like to sponsor a component on No. 2007 Prince Of Wales, or you know of a business owner or company who may be interested in sponsoring an item, please contact us at dedicated.donations@p2steam.com
US Projects
"Big Boy"
The Pennsylvania Railroad (PRR) T1 Steam Locomotive Trust
Chesapeake & Ohio 2-6-6-2

Project 6029 (Beyer Garratt 6029 ex-NSWGR)
Latest news from The Project 6029 blog HERE
Latest News at: http://www.claudhamiltonlocomotivegroup.co.uk/
A New Entry!
LMS Ex inspection 45036 – short term aim is to have a fully restored chassis and then rebuild it as a saloon in the long term , she is located at Tanat Valley Light Railway (TVLR)
And…
Andrew Barclay 2352…
Andrew Barclay 2352 has been brought by a private individual from the Swindon and Cricklade railway last month and is in need of restoration.A fund raising page had been set up for the boiler build etc….HERE
We're raising £50,000 to Help get Andrew Barclay 2352 steaming for years to come by donation towards getting her boiler finished…The plan is to contract the work out and get them to first shape the back plate and attach it to the firebox followed by then the creation of the inner firebox and the throat plate so that the barell can then be offered up to the firebox and attached together with then the tube plate and tubes made then finally the ashpan and smokebox and door made and fitted before a out of frame boiler test.
B & O Railroad Museum TV
Each month the B&O TV Network, starring actor Michael Gross, spotlights a moment in B&O Railroad history. Take a journey into the past and view one or all of these episodes posted on YouTube.
Mainline Steam Schedule
This listing is offered in good faith, so there is no guarantee offered or implied.Please confirm running with the relevant tour operator.
And adhere, please, to Network Rail's photographic guidelines…..HERE
The tour schedule for July 2017.and beyond..can be found  at Railway Herald
On This Day in History.
July
01/07/1904
The Great Western Railway of England introduces the express train between London Paddington and Penzance in Cornwall which becomes known as the Cornish Riviera Express
01/07/1908
Public inauguration of Midland Railway Lancaster–Morecambe–Heysham electrification system (6.6 kV A.C. at 25 Hz), the first overhead wire scheme on a passenger railway in England
03/07/38
"Mallard" Gresley A4…set new world record speed of 126 mph over 300 yards near Peterborough,(Driver Duddington, Fireman Bray from Doncaster) Over 5 miles maintained an average of 120 mph.
04/07/1881
Darjeeling Himalayan Railway opened throughout to Darjeeling, India
04/07/1953
On 30th June 1953, the first 'The Cornishman' express ran between the Midlands and the West Country, travelling over what was to become the Gloucestershire Warwickshire Railway
05/07/1931
Bournemouth Belle  all Pullman service introduced.
05/07/32
The first main-line electric express runs from London Bridge station to Three Bridges in Sussex
05/07/37
UK: The "Coronation Scot" breaks record  from London to Edinburgh.
06/07/1978
1978: Eleven die in sleeper train infernoEleven people have been killed and seventeen injured in a blaze on the Penzance-to-Paddington sleeper train.
Early reports suggest that the fire was started by a discarded cigarette or an electrical fault near one of the top bunks in a second-class compartment.
An attendant pulled the emergency cord on the 2130 from Penzance and the train stopped, half a mile from its next scheduled halt at Taunton, Somerset at 0248 BST (0148 GMT).
08/07/59
British Rail given the go ahead to raise fares by 50%
15/07/07
Munich: Experimental train reported to average 81 mph and reaching 98mph maximum
15/07/1913
Opening of the Bern-Lötschberg-Simplon railway in Switzerland, including the 14.6 km (9 mi) Lötschberg Tunnel
16/07/1927
Opening of Romney, Hythe and Dymchurch Railway on the English Channel coast (8.25 mi (13 km) of 15 in (381 mm) gauge)
19/07/1931
Sudbury Town station on London Underground Piccadilly line opens as rebuilt by Charles Holden, the first of his iconic modern designs for the network
19/07/00
Paris Metropolitain (or metro underground system) opens.
19/07/1926
Atlantic Coast Express introduced. Leaves Waterloo at 11am for Devon and Cornwall destinations.
20/07/1874
The Somerset and Dorset Railway opened their northern extension from Evercreech Junction to Bath , to a junction with the Midland Railway half a mile from Bath station.
21/07/1904
The Trans-Siberian railway is completed
23/07/1952
A £350,000 order from the National Coal Board for steam locomotives has been secured by the Hunslet Engine Co. Ltd., of Leeds. The locomotives are for shunting and marshalling at pitheads. The contract will spread over five years, and during the period the company will be working on a previous order from the N.C.B. for 12 locomotives and another order for 14 from the Ministry of Supply. (Yorkshire Post)
26/07/1910
The London_and_South_Western_Railway introduces a new Continental service, Southampton-Le Havre
28/07/1914
Compagnie Internationale des Wagons-Lits announces that due to the assassination of Archduke Franz Ferdinand of Austria this day at Sarajevo, the Orient Express will terminate in Bucharest and not go on to Constantinople
April to July 1932
Intermittent operation of Ro-Railer between Blisworth and  Startford-upon-Avon and the Welcombe Hotel.
26/07/1803
Surrey Iron Railway (Wandsworth to Croydon) opens.Double tracked and horse operated.
27/07/1905
The Hall Road rail accident,near Liverpool in England kills 21 people.
Radstock to Frome Railway Project
Latest News from this group can be found HERE
Christian Wolmar…Railway Historian
How Britain's Colonial Railways Transformed India.
This article appears in "Reconnecting Asia", and text and images reproduced courtesy the author, Christian Wolmar
Nowhere other than India is the railway so indelibly connected with the image of the nation. Just as there is no single country on earth that has such a broad cultural, ethnic, and racial mix as India, there is also no railway system that has played and, crucially, continues to play such a fundamental role.
There are endless paradoxes about the Indian railways. They were the greatest gift left by the colonial power, and yet they were not built to serve the needs of local people. The fact that they did so, and continue to do so, was almost incidental. The British companies that laid down the tracks had not envisaged that people would pour en masse onto the iron road to take advantage of the immeasurably improved experience of traveling across the vast sub-continent offered by train services. Even though for the best part of the first 100 years of the railway age, they were owned and controlled by companies based 5,000 miles away in the United Kingdom, they immediately assumed an Indian identity, which only became stronger over time. A neat illustration of that is the fact that Indian Railways adopted a rather bowdlerized version of the famous London Underground roundel on its station signs.
The Indians took to the railways, not just physically, but emotionally. Railways and India are a good fit, an enduring one since not only are the Indians still building new lines, but virtually none have ever been closed. The railways delivered much for India. Just as with the United States of America, they bound the country together. They allowed fast travel between one end of the country and the other and cemented relationships between the various provinces. They enabled goods to be carried around the country far more cheaply than ever before. They allowed the development of markets in foodstuffs and other agricultural produce that increased their availability and, eventually, did make famines less likely. They created an infrastructure that in India was unprecedented in its sophistication and extent. They gave the opportunity of secure jobs to millions of Indians and enabled many of them to acquire new skills. They helped the development of the trade union movement. They laid the foundations of the large Indian middle class. They brought sophisticated technology to the sub-continent.
And so much more. They were transformative in so many ways, creating the India we know today. As Theroux summarizes, 'The railway was the bloodstream of the Raj, and it affected nearly everyone. It linked the centers of population; and the cities, which until then had been identified with their temples and forts, became identified with their railway stations, Howrah with Calcutta, Victoria with Bombay, Egmore and Madras Central with Madras.' He goes on to suggest, with some justification, that India only functions thanks to its railways.
That is not to say that the railways were always welcomed by Indians. Indeed, they were the subject of huge controversy because they were seen as the principal instrument of colonization. The British, with their small army, could not have kept hold of a turbulent country for so long without the ability of the railways to move troops around quickly. After a slow start in 1853, the construction of the railway network envisaged by Lord Dalhousie was sped up rapidly after the 1857 Rebellion. The railways were an instrument of control. The stations became fortresses, the white and, later, the Eurasian, staff became an auxiliary army, and the tracks became lines of communication in the event of conflict. The 1857 Rebellion, coming as it did at a crucial stage in railway development, had an enormous impact on the railways' eventual shape and the attitude of the British colonial rulers to their Indian subordinates. This was a nakedly military project, but not solely one. There were immeasurable economic benefits, too, and though the very design of the railways was as conduits to and from the ports to help British imports and exports, inevitably the Indian economy received a stimulus through their construction.
There was another source of mounting antagonism: the treatment of third-class passengers who were virtually all Indian. While the Europeans traveled in world-class luxury in first-class, the masses were crammed into world-class squalor. There was even a long battle for them to have toilets on trains and conditions remained squalid well into the twentieth century. This proved to be a great source of dissent and encouraged nationalistic sentiment. The invention that did most to keep the Indians in check proved to be double-edged, stimulating the nationalistic forces which eventually triumphed. Gandhi made great use of the railways but also criticized the conditions that third-class travelers – of which he deliberately was one, despite his relative wealth – endured.
At times it seemed that the authorities set out wilfully to ensure that the railways antagonized the local population. In the mid-1880s, various lines were built supposedly to relieve famine, though they were a remarkably inefficient way of doing so. The Bengal-Nagpur line, for example, was built with funds from the Rothschild family but the British government decided that their guaranteed profits should be paid by an extra tax on the local peasantry. Consequently, the profits accrued by the richest family on earth were being provided from a group that was certainly among the poorest. You could not make it up.
Quite apart from the antagonism created by their construction and operating, the railways could have done so much more for India had they not been first and foremost a colonial project. There was a fantastic missed opportunity whose ramifications stretch far beyond transport considerations. If the British had nurtured the skills of their Indian workers and used the economic clout of the railways to stimulate the Indian economy, and if the companies had treated their third-class as customers rather than as chattels, much of the anger towards the colonial power might have been allayed. That is not to say independence would not have happened, as clearly decolonization was an irresistible historic force, but the horrors of Britain's rapid departure might have been avoided.
The failure was, above all, economic. In an analysis of the impact of railways, John Hurd, an economist who has written extensively on India, concludes that India only enjoyed limited economic development under the Raj precisely because the railways were not allowed to be the catalyst for growth that they proved to be in so many other countries. While they undoubtedly enabled the cheaper flow of goods, stimulated increased agricultural output, and created many jobs in modern industry and mining, "these changes did not affect the basic structure of the economy. Not until Independence when economic development became a conscious and pursued policy did the railways begin to realize their potential for assisting in the transformation of the Indian economy."
The failure was cultural, too. Imagine if the British had allowed far greater mingling of the races on the railways; if they had consciously helped to develop a managerial class of Indians able to share the burden of running the railways with them; if they had, essentially, seen Indians as partners rather than subordinates. Who knows, there might still be a group of Europeans working on India's railways today.
Christian Wolmar is the Author of Railways and the Raj, how the steam age changed India forever which will be published by Atlantic Books on November 2, 2017.
Revolutionary Railroad: The Trans-Siberian 1891 – 1920
The extraordinary story of the world's longest and greatest railway
The subject of battles and overtaken by troops, the world's longest railway has a difficult past.
Built to solidify Russia's hold over its eastern territory, it was the cause of the Russo-Japanese war of 1904 – 5 and played a key role in the aftermath of the 1917 Revolution. The Western allies, led by the US, briefly considered using the line to invade Russia and troops from several Western countries were sent to Vladivostok, only for the plan to be abandoned by war-weary governments.
Christian Wolmar, railway historian and author of To the Edge of the World, the story of the Trans-Siberian, recounts this little known aspect of the history of the First World War and its aftermath.
Enjoy food and drink purchased from the Knowledge Centre Bar from 18.00 and after the event until the Bar closes at 22.00.
Details
Name:
Revolutionary Railroad: The Trans-Siberian 1891 – 1920
Where:
Knowledge Centre
The British Library
96 Euston Road
London
NW1 2DB
Show MapHow to get to the Library
When:
– 
Price:
Full Price: £10.00
Member: £7.00
Senior 60+: £8.00
Student: £7.00
Registered Unemployed: £7.00
Under 18: £7.00
Enquiries:
+44 (0)1937 546546
boxoffice@bl.uk

Book now

* Please note that there is a £1.50 transaction fee when tickets are posted, or for telephone sales when an e-ticket is requested.
Around the UK's Heritage Railways A – Z
WATTRAIN & APHTRO & NERHT News

Wattrain is governed by a Council of Management led by David Morgan (UK) as President who is also President of FEDECRAIL, the European Federation of Museum & Tourist Railways, and a former Chairman of the Heritage Railway Association of Britain and Ireland (HRA), Chris Le Marshall (AU) and Bob La Prelle (US) as Vice Presidents and a Board of Directors composed by Ian Leigh (UK), Gabriela Galizia (AR), Stefano Benazzo (IT) and Rajesh Agrewal (IN). Wattrain is also supported by three Honorary Patrons: Major General Courtney Wilson (CEO of the B&O Railroad Museum, USA), Lord Faulkner of Worcester (President of HRA, UK) and the Hon. Tim Fischer (former deputy Prime Minister of Australia).


Catch up on the latest news at https://www.facebook.com/groups/1534918893466735/
NERHT is a voluntary society founded in 1999 to help railway preservation in the former Soviet Union and the other ex-Communist countries in Central and Eastern Europe.
Access the latest Eastern Star newsletter: HERE
30742 Charters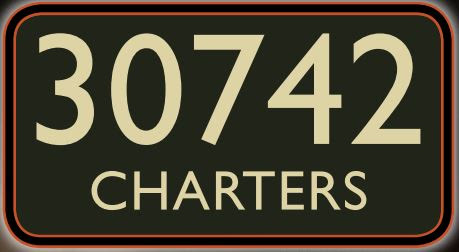 Latest News from Martin Creese….
Find 30742 Charters on Facebook at www.facebook.com/30742charters
BACK PAGE
Self explanatory! (Courtesy: Hugh Cantlie)