Sustainability at the heart of Network Rail as Thameslink Programme wins double gold.(Network Rail)
London Bridge.(Network Rail Image)
Network Rail's Thameslink Programme has won two coveted gold awards as part of a national campaign to find the most caring companies.
The International Corporate Social Responsibility awards recognise companies that go above and beyond their normal business practices to benefit others. The Thameslink Programme won gold for its 'community commitment', winning praise for its established programme of community outreach.
The second was won by the Network Rail and Costain team behind the £1bn London Bridge station redevelopment project, which was recently recognised as the "Greatest Contribution to London" by the Institute of Civil Engineers. The team was praised for its on-going commitment to sustainability, which has been a driving factor throughout the design and construction, allowing the project to increase resource efficiency and reduce waste and carbon production.
The London Bridge redevelopment leaves a lasting social legacy, as well as a transformed, entirely accessible new station, able to meet the demands of this century by increasing passenger and rail capacity by 40%. Its achievements include:
Providing work experience for 27 students, training to over 200 unemployed local residents and 56 apprenticeships
Donation of almost £90,000 to charitable causes
Over 98% of waste diverted from landfill
Annamarie Compton, consents manager, Network Rail, said:
"This is fantastic recognition for the project and really helps to cement all we're trying to achieve. There's still more we want to accomplish before the project ends and we hope we can build upon our recent award successes and leave a real lasting legacy in the local communities in which we work."
Graham Dean, community and security manager, Costain, said:
"To win this award, against a really strong field of projects, means an awful lot to us. Community engagement has been at the heart of the redevelopment and continues to be so as we work towards opening the finished station next year."
The Thameslink Programme is a key part of Network Rail's Railway Upgrade Plan. From 2018, the journeys of the millions of passengers who travel to and through London from the south east of England each year will be improved by reduced delays, increased reliability and better connections, as well as trains every two to three minutes through central London at the busiest times.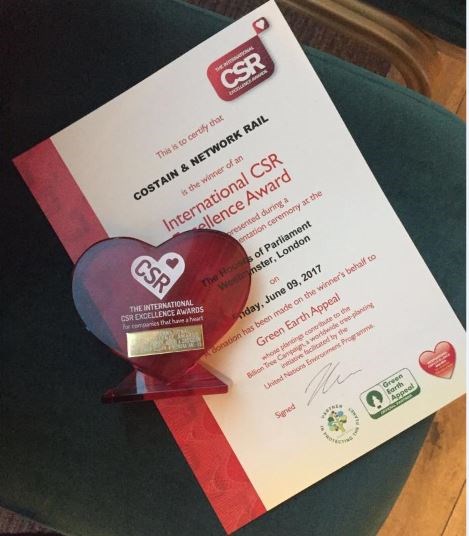 The International Corporate Social Responsibility Award.(Network Rail Image)