"Heart, brain and soul" for the new S-Bahn.(Deutsche Bahn)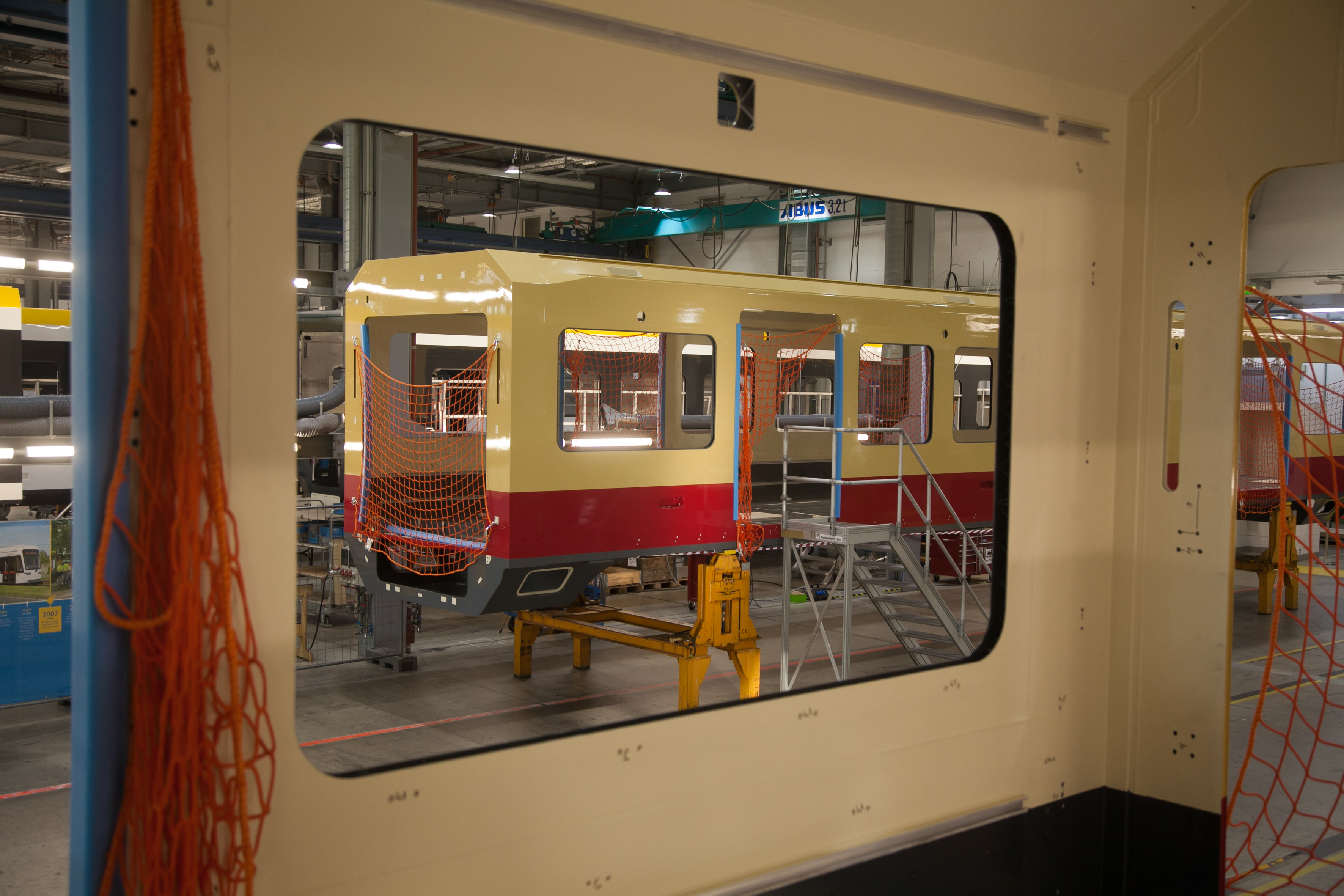 Installation start new S-Bahn (Source: German Bahn AG / Christian Kielmann)
900-million-euro investment for higher performance of the S-Bahn-operation – in Berlin-Pankow, the assembly of the new red-yellow vehicle fleet for the federal capital and the surrounding areas begins
(Berlin, November 20, 2017) The anticipation of Berlin's new S-Bahn has long aroused – now it's very concretely go! the technical equipment and the interior of the still naked car bodies for the youngest member of the vehicle family in the S-Bahn Berlin – in the Stadler plant in Berlin-Pankow installation begins.
The exterior finish of the first body shell is a real eye-catcher in the day-lit assembly hall. 220 kg of red and yellow color at around 17 meters car length leave no doubt that you are working here on Berlin's S-Bahn future. Made in the Stadler plant in Hungary, the first end car reached the city on a flatbed truck.
The technicians of the manufacturing consortium Siemens / Stadler get started. First, it's about 30 cars of the pre-series. Five consistently walk four-car units and five two-car trains will be equipped in the coming months. More 352 cars follow in the coming years.
Gradually "heart, brain and soul" is being put in, with the start of assembly in the red-yellow car bodies. The "heart" is the drive container with the traction motors and the electrical equipment. The guidance and control technology is symbolic of the "brain" of the car. The soul finally are the extensive comfort features that was created by the development team working closely with S-Bahn customer and passenger associations. This includes the timely continuation of the classic red-yellow color design that makes the Berlin S-Bahn distinctive for almost 100 years.
Peter Buchner, CEO of S-Bahn Berlin, is pleased with the achieved milestone:
"We are on schedule. Just two years after the contract is signed, the assembly of the eagerly anticipated by our passengers new trains will begin. As early as next year, the first fully equipped train will stand on its own bogies. "
Ulf Braker, CEO Stadler Pankow GmbH, said:
"It makes us proud today to officially announce the start of the installation of the new commuter trains together with our partners. A product of Berlin, Berlin is created here in the coming weeks."
Sabrina Soussan, CEO of the Mobility Division of Siemens explains:
"We are building the new Berlin trains often a proven components. A proven and robust technology that has already proven in many vehicles in the world a high reliability. We designed the trains particularly error-tolerant, so that Berlin can look forward to very reliable vehicles. "
As a result, the joint hard work of two experienced manufacturers of rail vehicles are after delivery in the years 2021 to 2023 a total of 85 new four-car trains and 21 two-car units for the suburban train operation on the ring road and the south-eastern access routes to available. The S-Bahn Berlin is investing around 900 million euros in the new vehicles and the need to adapt the workshop in Grunau.