South Western Railway passengers to benefit from £50m train refurbishment upgrade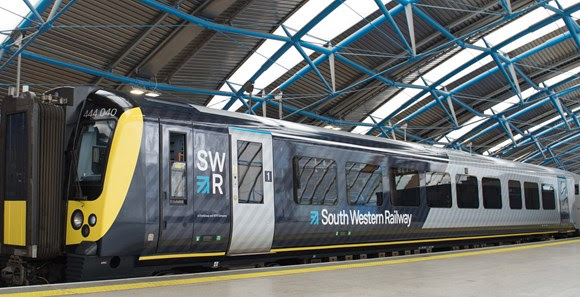 South Western Railway brand launch.(SWR Image)
South Western Railway (SWR) announced today that as part of its £1.2bn investment plans, it has signed contracts worth £50m with Siemens to refurbish its existing 172-strong Class 444 and Class 450 Desiro fleet of trains, which currently operate across the SWR network.
The enhancement programme, with work beginning in December 2017, will deliver a full interior refurbishment of all trains; including, at seat power points for mobile devices and real-time information displays and carpets. Additional benefits for First Class customers include new leather seats and new tables incorporating innovative inductive charging. The programme is expected to take around 12 months to complete.
The train enhancement programme is part of South Western Railway's £1.2bn investment plan to transform the customer experience during its tenure. The plan includes the introduction of new and as-new train fleets to increase capacity; longer, more frequent trains; quicker journey times and better connectivity; and station improvements and a better ticket buying experience. It will also work to support the communities it serves, driving regional economic growth and improving its social and environmental responsibility.
Neil Drury, Engineering Director, SWR, said:
"We are delighted to have appointed Siemens to carry out the refurbishment of our Class 444 and 450 Desiros. This significant investment in our fleet of trains will see a step change for our customers, and investment in local facilities and suppliers. We have a long relationship with Siemens, who I am confident will deliver a high quality product."
Vernon Barker, Managing Director of Rail Systems, Siemens, said:
"Siemens is proud to secure this major partnership with South Western Railway having worked closely with the operator's parent companies FirstGroup and MTR throughout their bid for the new franchise.

"The refurbishment of the rolling stock will go a long way to supporting South Western Railway to deliver on the commitments it set out at the start of the franchise, including improving the passenger experience through renovations which will deliver better trains and more seats for travellers across the region."
Work will be undertaken at Eastleigh, with investment being made in local facilities as well as procurement from Axminster Carpets, located on the South Western Railway network.
Notes: 
Siemens, which built the existing fleet of trains, will carry out a complete refurbishment of the train interiors, and provide increased seating capacity to help South Western Railway deliver on its commitment to boost peak seats at Waterloo by 30% by December 2020.
Passengers travelling across the South Western Railway network will benefit from new seat upholstery, renovated toilets and new charging sockets, as well as more space and improved communication and travel advice via new technologies.
The upgrade works, which will be carried out at Eastleigh in Hampshire, are expected to start over the next two months, with the full refurbishment completed by December 2018. The project is expected to create up to 200 jobs for local workers in the Eastleigh area.
(Class 450 Interior Standard,left and 1st Class)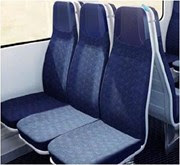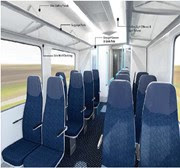 (Class 450 Interior Standard, left, and Class 444 1st Class & Standard)
All images courtesy: South Western Railway.