South Western Railway scoops two Golden Spanners at national industry awards.(SWR)
Pete Blackman – Fleet Engineer from Porterbrook, Shayne Copp – Planning Manager (Salisbury Depot), Mark Hetherington – Technical Performance Manager (Salisbury Depot), Jo Archer – Fleet Performance Analyst Manager, Ian Walmsley, Karl Hetherington – Production Manager (Salisbury Depot).(SWR Image)
South Western Railway wins two Gold awards at the Golden Spanners ceremony
Class 455 and 159/0 train fleet recognised for reliability
South Western Railway (SWR) passengers are using some of the most reliable trains in the UK according to the latest industry awards, hosted by Modern Railways magazine.
The Golden Spanners awards recognise the most reliable fleets in the country and the ceremony took place on Friday 24 November.
SWR's Class 455 units run on the busy Suburban lines and won the award for the most reliable former British Rail electrical multiple unit, with 68,516 miles completed between technical faults. The Class 159/0 units won Gold in the former British Rail diesel multiple unit category, with 104,263 miles between any technical faults.
Neil Drury, Engineering Director for South Western Railway, said:
"We are absolutely delighted to be recognised in this way by these prestigious industry awards. I'd like to thank congratulate our colleagues from across the fleet team who make sure our trains are reliable and, therefore, as punctual as possible for our passengers."
The annual Golden Spanner Awards recognise improvements in train reliability across the UK rail industry. The awards are based on statistical data and are regarded as being an accurate assessment of fleet reliability.
Different classes of trains operating throughout the network are ranked on the distance they cover between technical faults by Rail Delivery Group's Fleet Reliability Improvement Programme.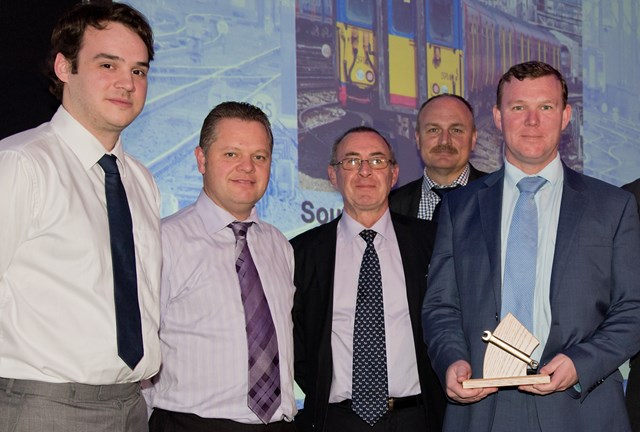 Andy Thain – MB3 from Wimbledon Depot, Richard Faithful – Production Manager from Wimbledon Depot, Stuart Boatfield – Fleet Engineer from Porterbrook, Glen Laishley – Head of Fleet Production (Inner), Neil O'Connor – Head of Fleet Performance.(SWR Images)