Historic Wigan Wallgate station given new lease of life thanks to £1m+ upgrade.(Network Rail)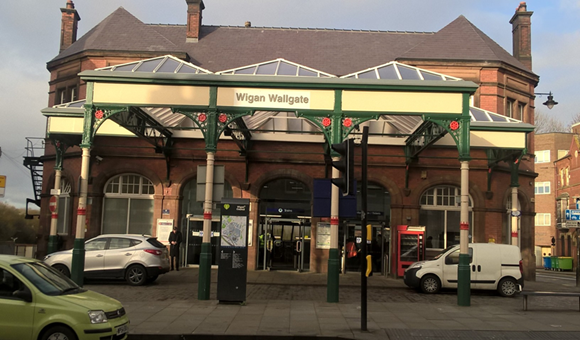 Wigan Wallgate.(Network Rail Image)
Wigan Wallgate station has been preserved for future generations thanks to a £1.014m upgrade to the main building and canopy.
The listed building and canopy at the front of the station was suffering from leaks and were in need of an overhaul to return both to their former splendour.
As part of the Great North Rail Project, Team Orange has completely transformed the look and feel of the station area with a new roof, new windows and a stunning canopy refurbishment.
Work started on 15 June 2016 and the whole building was wrapped in scaffolding until this week when the project was completed.
Journeys to and from the station were unaffected throughout he work and everything was done to minimise the impact at the station.
Liam Diviney, scheme project manager for Network Rail, said:
 "This upgrade, part of the Great North Rail Project, means passengers will have a much better experience when visiting Wigan. The new canopy looks fantastic and, coupled with the extensive improvements to the station building, has given the whole station a boost in time for Christmas.

"Work to refurbish the station building and canopy was carefully planned to not disrupt journeys and the investment means the station will be a welcoming gateway for decades to come."
The work was funded by Network Rail with a contribution from the Railway Heritage Trust.
Andy Savage, executive director of the Railway Heritage Trust said:
 "The trust is delighted to have been able to support this work with a grant. We are most impressed with the quality of the slating work on the roof of the station building, and the way that the new canopy glazing brightens up the whole station. We hope the project will help bring the station back to life as it is now so welcoming."
Joan Nickson, Northern station manager at Wigan Wallgate, said:
"This work has been a long time coming, but Network Rail has done a phenomenal job in transforming the station. It wasn't an easy task – they even had to deal with a 70s psychedelic ceilings from the old nightclub – but the result is fantastic.

"Thanks to the Great North Rail Project our customers now have a bright and airy station. This will complement our own modernisation work which will see the introduction of new and upgraded trains, more frequent services and further work to improve our stations – all delivered by 2020."
For more information on the Great North Rail Project visit www.networkrail.co.uk/gnrp.
Save A Train.. Travel More For Less