Investment in Westerton gives station accessibility a lift.(Network Rail)
Rona Mackay MSP officially opens new station footbridge at Westerton.(Network Rail Image)
Westerton station's new, fully-accessible footbridge and lifts have opened to passengers, completing the multi-million-pound transformation of the East Dunbartonshire station.
The installation of the £2.8m bridge provides step-free access via lifts to both platforms and has been completed as part of the government-funded Access for All initiative, which is designed to improve access within stations for people with impaired mobility, travelling with luggage, children, cycles etc.
Constructed over the last nine months, the bridge includes lifts and stairs and replaces the old station footbridge which was no longer fir for purpose.   The new bridge and stairs opened in November to enable the old bridge to be craned out and the lifts commissioned for service.
Westerton station footbridge and lifts open.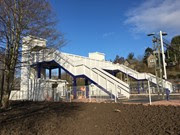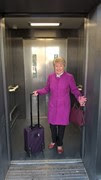 Westerton AFA bridge, with lift(bottom left) and first passenger(2nd from right) Network Rail Images)
The project was delivered from a compound with in the station car park by Story Contracting on behalf of Network Rail. Given the number of residential properties surrounding the station, a key focus of the team was to minimise noise and disruption throughout the work – both for those who live beside and those who travel on the railway.
The addition of the new and removal of the old bridge structures meant there was a need to resurface the approach footpaths, sections of the platforms and to reconfigure some of the parking spaces within the car park – particularly disabled parking spaces, to make it easier for passengers to access the new bridge.
Rona Mackay, Member of the Scottish Parliament for Strathkelvin and Bearsden said:
 "Westerton is an important part of the local transport network and so I welcome the investment made in this station allowing it to be far more accessible for many more of my constituents.

Step-free access between platforms will undoubtedly make travelling easier for those with mobility issues, the elderly, people with luggage or parents travelling with prams or buggies. It will improve the overall rail journey experience for everyone in our community."   
Jeremy Spence Network Rail programme manager said:
"Rail travel is more popular now than ever before and we are continuously seeking opportunities to make our stations and services more accessible.

"This new bridge delivers modern standards of access and is a real positive for those going to or from Westerton. It will help ensure that everyone in the community has the opportunity to access the station which will in turn, make journeys easier and improve the overall travelling experience for all of our customers."
Bill Reeve, Director of Rail, Transport Scotland said:
"We want to make rail as accessible as possible to all passengers, including those with mobility impairment, as well as the elderly and parents travelling with young children in prams or buggies. The new step-free access will undoubtedly enhance overall journey experience for all customers."
The Access for All programme is delivered by Network Rail on behalf of Transport Scotland.