Liverpool to stay on the move this summer during the final phase of Lime Street's major upgrade.(Network Rail)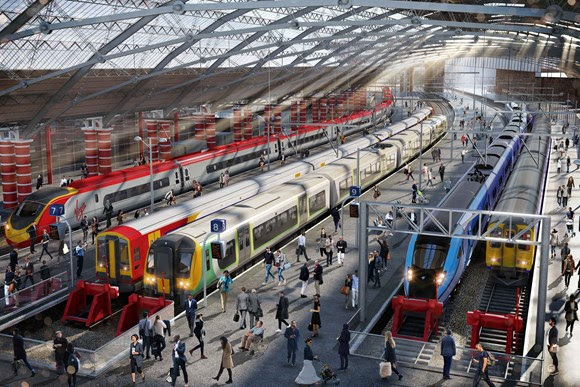 Liverpool Lime Street upgrades CGI. (Network Rail Image)
Train customers will still be able to travel in and out of Liverpool this summer when the final, major phase of work to upgrade Lime Street station takes place.
Today (19 February), transport partners in the Liverpool City Region unveiled plans that will keep passengers on the move and Liverpool open for business during the eight week station transformation between 
2 June and 29 July 2018
.
Lime Street's transformation is a key part of the £340m railway investment in the Liverpool City Region, which sits within the Great North Rail Project.
This work follows the successful 23-day upgrade completed in autumn 2017 and will include completely remodelling station platforms, bringing the two new platforms built last year (platforms 7 and 8) into use and completing extensive signalling upgrades.
Liverpool Lime Street timelapse 2017
The travel plan will be similar to phase one: keeping as many passengers as possible on trains.
Many main line services will start/terminate at Liverpool South Parkway where passengers can easily access the Merseyrail network to and from Liverpool city centre. Where rail replacement buses are offered, they will be high quality and offer express and stopping options.
Martin Frobisher, Network Rail's London North Western route managing director, said:
"This major upgrade, and the wider Great North Rail Project, is part of our commitment to transform rail travel in the Liverpool City Region and across the north of England.

"With passenger figures expected to double during peak periods by 2043, the work is vital to boost station capacity – making room for more frequent, longer trains, with more space for passengers.

"We cannot safely complete the majority of the work while the station is open so have carefully planned it, with our partners, to cause the least amount of disruption to passengers as possible."
Frank Rogers, chief executive at Merseytravel, said:
 "Completing the upgrade at Lime Street is an important step in modernising rail transport for our City Region and is the first in a number of exciting rail projects which are due to be completed between now and 2020.

"Planning is underway to make sure passengers can continue to get to where to they need to go during this final phase and we will continue to work with Network Rail and partners to make sure up to the minute service information is able to help people plan their journeys in and out of Lime Street.

"Once completed, the works will enable Lime Street to handle an additional three services per hour and this increase in capacity will generate very significant economic benefit for the entire Liverpool City Region for many years to come."
Chris Nutton, major projects director at TransPennine Express, said:
 "These essential enhancements will allow rail companies to run longer trains with more seats as well as brand new services such as our new Liverpool Lime Street to Glasgow Central service which we are planning to introduce in December.

"In order for the work to take place, there will be significant changes to regular train services over the eight week period but customers will still be able to travel in and out of the city."
Andy Heath, managing director at Merseyrail, said:
"Merseyrail will play a vital role in keeping the city region moving during this final stage, with our services being strengthened to carry passengers from further afield between Liverpool South Parkway and the city-centre.

"Key transport projects like Lime Street, a gateway to the city region, will ultimately boost the local economy, and we are keen to get behind them."
Work will also take place on Sunday 8 April and Sunday 2 September to complete further key upgrades outside of the summer works. This will mean changes to customer journeys. More information can be found at www.networkrail.co.uk/lcr