Network Rail closes Britain's busiest foot crossing – keeping families safe from 90mph trains in Surrey village.(Network Rail)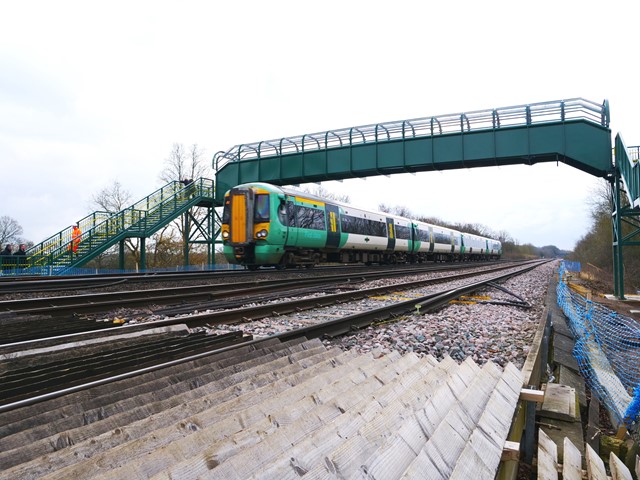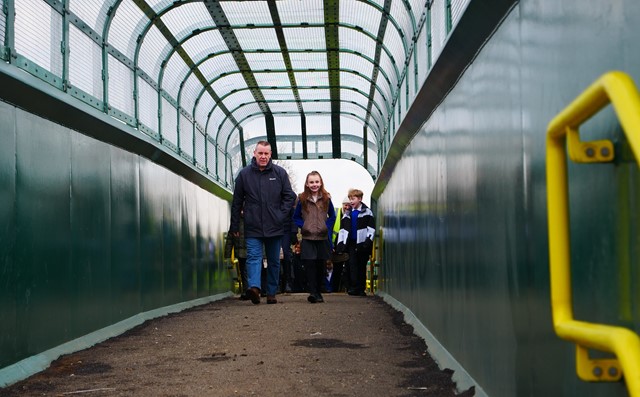 Dean Farm School Using New Footbridge.(Network Rail Images)
Britain's busiest footpath railway crossing, with more than 760 trains each day, has been closed and replaced by a footbridge.
The opening of the £1.5m footbridge in the village of Salfords, Surrey, means Dean Farm crossing over the Brighton Main Line is now closed and residents, including children from a nearby primary school, can now cross the railway safely.
Nationally, Network Rail has closed more than 1,000 level crossings, many of which are in the South East.
Simon Morgan, Network Rail's safety director for the South East, said:
"With more than 760 trains day , running at speeds of up to 90 miles per hour, this crossing was an unacceptable risk and I'm really pleased it has closed.

"I walked over the new bridge with a group of children from Salfords School on Monday and one of the little girls who used to use the foot crossing said how scary it was, so this is a huge improvement in safety for her and for everyone in the community."
Built over Christmas, and craned into place on Boxing Day, the bridge links Copsleigh Avenue with a network of paths in fields the other side of the line. The crossing went over four tracks on the busy Brighton Main line, where Gatwick Express, Thameslink, Great Western and Southern trains to London, Brighton, Reading and other parts of Sussex run.
A group of children and parents from Salfords School were the first to use the new bridge on Monday.
Salfords School Co-Headteacher Carrie Christer said:
"Our school is so close to the railway and many of our children cross the line with their families, so it is great that with this new footbridge they can now cross safely."
Cllr Barbara Thomson, of Surrey County Council and Reigate and Banstead council, helped Network Rail celebrate the bridge's opening. She said:
"It's great news for the village that we can finally cross the railway here without having to face walking across all four tracks. The path links people's homes to rural fields and paths and will be much safer as a result. We are working with Surrey County Council to divert the footpath to make it easier to reach the bridge."
Network Rail has closed more than 1,000 crossings nationally over the past five years and improved safety features at many more. Most recently in the South East, Willingdon Trees crossing near Eastbourne was replaced by a bridge, and the company is also working to close Glebe Way crossing, in Whitstable, Kent.
*Dean Farm crossing was the country's busiest crossing in terms of the number of trains going over it. There have been a number of near misses at the site over the years, some involving children, and a recent increase in patrols improved safety until the bridge could be built.