New ticket machines part of Chiltern's long-term plan for change..AND a new app!!(Chiltern Railways)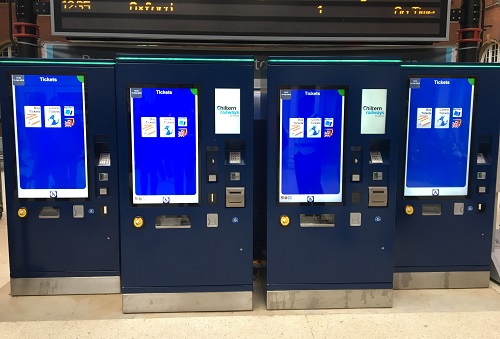 (Chiltern Railways Image)
Chiltern Railways has invested £2 million in a project to replace the ticket vending technology at all stations on its network, with new machines already in place at London Marylebone, Kings Sutton, Leamington Spa, Gerrards Cross and Princes Risborough stations.
In addition to being faster and easier to use, the new machines will have bigger screens, contactless payment facilities and be wheelchair accessible with a screen that can be lowered to accommodate wheelchair users.
The project marks the launch of Chiltern's 2018 Continuous Improvement Plan, which also includes a £1.5 million investment in on-station improvements like waiting and customer facilities, as well as a range of on-train enhancements.
Alan Riley, Customer Services Direct at Chiltern Railways, said:
"We're investing to improve the experience for our customers at every point in their journey. We've listened to the feedback our customers have provided, and this new, easier-to-use ticket vending technology is part of our long-term plan for change as we continue to put the customer at the heart of everything we do."
And:

We are looking for customers to trial our innovative new app that allows you to travel on our trains without buying a ticket beforehand.
This revolutionary new app means no more queuing for tickets, it provides up-to-date information on your journey and only charges you the best possible fare for all your journeys at the end of each day. We have even modified the station gates to use bluetooth technology to work with the app and allow you through without the need for a ticket, contactless card or barcode – tap your smartphone and you're through!
This pilot is currently only available on Apple iPhone (6 and above) and is for journeys between Oxford Parkway, Bicester Village, Bicester North, Islip and London Marylebone.
If you'd like to be a part of this exciting new trial please complete the form by clicking the button below.