COMMISSION ACCOMPLISHED! EXTRA RAIL LINE BETWEEN KETTERING AND CORBY ENTERS INTO USE.(Network Rail)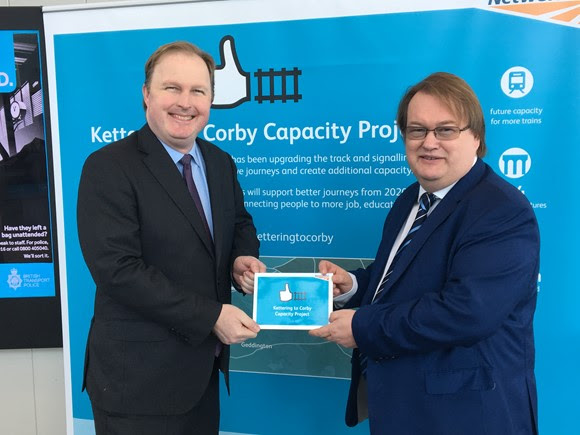 Jake Kelly, Managing Director at East Midlands Trains(left) and Spencer Gibbens, Principal Programme Sponsor at Network Rail.(Network Rail Image)
Passengers between Kettering and Corby have begun using newly commissioned track and signalling installed by Network Rail marking the successful completion of a £130million capacity project.
Since construction began between the two Northamptonshire towns in 2014, a significant amount of work has been carried out to improve the capacity, speed and resilience of the Kettering to Corby route, helped by the railway partnership between East Midlands Trains and Network Rail, as well as the patience and understanding of both passengers and local communities along the railway.
This project is a key part of the Midland Main Line upgrade, which is an investment of over £1bn. From 2020, this upgrade will enable improved long distance passenger services between Sheffield, Nottingham and London, as well as improved services between Corby, Kettering and London. There will be more seats and faster intercity journeys during the peak, which will in turn strengthen the railways contribution to the economy.
Fourteen bridges and viaducts have been strengthened, 21km of track laid (12km of new track and renewal of 9km of existing track), 4km of drainage installed, 15km of railway embankment has been stabilised and 73km of cabling laid. Further work will be delivered between Kettering and Corby to get the route ready for electric trains services.
Whilst the full benefits of this work will arrive in 2020, with over 1000 additional extra seats into London in the peak, an increase of around 50%, the immediate benefits include the improved reliability for passengers, the removal of a temporary speed restriction, an improved diversionary route and the ability to accommodate freight containers helping to remove traffic from local roads.
Rail Minister Jo Johnson said:
"We are investing in the most significant upgrade of the Midland Main Line since it was completed in 1870 to transform services for passengers. This will mean more than 1000 extra seats available on services into London in the peak and faster intercity journey times on greener trains.

"The double tracking of the route from Corby will help to deliver 50 per cent more seats in the peak between Kettering, Corby and London, and is essential to meet the growing demand for rail in the Midlands."
Spencer Gibbens, Principal Programme Sponsor for Network Rail, said:
"This is a milestone moment for the Midland Main Line – which is undergoing its largest upgrade since being completed in 1870. Last week saw the final piece of this part of the project completed as the newly installed signalling equipment was tested and commissioned. Passengers and the local community will really see the benefits of this investment in the future and I'm grateful for their patience whilst the work was carried out."
Jake Kelly, Managing Director, East Midlands Trains, said:
"We have worked in partnership with Network Rail since 2014 to deliver this important upgrade between Kettering and Corby and it is fantastic to see the line now in use by our services.

"In the short term, it improves reliability of our services but it is also a critical part of the wider Midland Main Line Upgrade which will boost capacity and provide a better service for customers.

"I would like to thank our customers and local communities for their patience and understanding while this work was carried out and we look forward to further enhancements to come."