Londoners overwhelmingly back new Cycle Superhighway in southeast London.(TfL)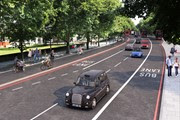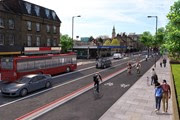 Deptford,Rotherhithe,Jamaica & Bermondsey.(TfL Images)
More than 80 per cent of respondents support a major new cycle route between Tower Bridge and Greenwich, including four kilometres of segregated track
Cycle Superhighway 4 will bring the first high-quality segregated route to southeast London and link to the wider network
Proposals also include five new pedestrian crossings and the upgrade of more than 20 existing crossings
Transport for London (TfL) today published the initial results of a public consultation into the proposed Cycle Superhighway 4 (CS4), with overwhelming support given to the plans.
More than 3,000 people responded to the consultation on the route between Tower Bridge and Greenwich, with 83 per cent in favour. Many respondents suggested that it would make cycling safer, increase the number of people choosing to cycle in the area and help reduce air and noise pollution.
TfL has worked with Lewisham, Southwark and Greenwich councils on the proposals and will be continuing to work closely with them to take the plans forward.
The new Cycle Superhighway would provide the first high-quality segregated cycle route in southeast London, linking with the cycle network across the capital. Previous analysis has shown strong demand for high-quality walking and cycling facilities in southeast London. Sections of the route along Tooley Street and Jamaica Road are among the top one per cent of areas for cycle demand in London, while the CS4 route as a whole is in the top five per cent.
TfL is investing record amounts in cycling in London, including in a network of new cycle routes across the capital. This forms a central part of the Mayor's Transport Strategy, which aims to reduce reliance on car journeys, tackle congestion and clean up London's air by encouraging greater use of public transport, walking and cycling.
London's Walking and Cycling Commissioner, Will Norman, said:
"I'm delighted that our plans to improve cycling facilities in southeast London have received such overwhelming support. We know that this is an area with huge potential and these results show what a great demand there is for a safe, segregated route. Cycle Superhighway 4 will encourage many more local people on to their bikes and improve the area for pedestrians, benefiting the whole community. I look forward to working closely with the boroughs to take our plans forward."
Councillor Alan Smith, Deputy Mayor of Lewisham and Cabinet Member for Growth and Regeneration, said:
 "We're very excited about the CS4 coming to the borough. For many years we have worked with partners to improve cycling routes across the borough and the new Cycle Superhighway will make it safer to travel by bike in Lewisham and will help improve the quality of our air." 
In addition to CS4, TfL is working with Southwark Council on a potential new cycle route between Rotherhithe and Peckham and has just announced strong public support for a new walking and cycling crossing between Rotherhithe and Canary Wharf, following a consultation on that scheme.
CS4 will connect with Quietway 14 via the proposed segregated cycle lane on Tanner Street. This Quietway would link the North-South Cycle Superhighway with the proposed Cycle Superhighway 4. Plans for the section on Lower Road, which will incorporate the regeneration planned for Canada Water, will be consulted on at a later date.
Fran Graham, Campaigns Coordinator at London Cycling Campaign, said:
 "London Cycling Campaign is delighted to see the overwhelming support for Cycle Superhighway 4, demonstrating just how much a physically-protected cycle route in southeast London is needed. CS4 will enable many more people to cycle safely and enjoyably, and will connect to future routes such as the Canary Wharf – Rotherhithe walking and cycling crossing. CS4 is also vital to progress on the Mayor's pledge to Londoners and the London Cycling Campaign to triple the mileage of protected cycle tracks during his first term."
Matt Winfield, London Director at Sustrans, said:
"The overwhelming support for the CS4 consultation, with 83 per cent in favour, just shows the hunger across London for more high quality cycle routes. A fully protected cycle route in southeast London will be a huge step forward in tackling congestion and cleaning the air. Londoners are starting to feel the benefit of their capital's new cycle routes, which is good news for everyone. We are seeing, through Sustrans' work with boroughs, more and more Londoners backing changes that will make their neighbourhoods more welcoming and encourage walking and cycling." 
Gareth Powell, Managing Director of Surface Transport at TfL, said:
"It's fantastic to see that so many Londoners support this new cycle route, which will dramatically improve the safety of a series of junctions in southeast London. Cycle Superhighway 4 is a key part of our work to make cycling more accessible across London and complements proposals for a new cycle route between Rotherhithe to Peckham, the proposed Rotherhithe to Canary Wharf crossing and our growing network of Quietway routes."