On Shed – March 2018 Edition
" Preserving the steam locomotive legacy.. and more..on film"
Now features at  Wonderful World of Trains & Planes, Birmingham
Welcome…and news
Editor's Selections:1. GIRL POWER BUILDING GIANT NEW STEAM LOCOMOTIVE
Editor's Selection: 2.MODELMANIA 2017 (25 & 26/11/2017). Monchecourt.(Philbru Productions)
100 Trains….the journey so far….
Steam Tube Photographic File
Steam Tube Video Vault
Steam Tube Blogs. Volunteers bring new life to the Somerset and Dorset railway.(railwayblogger)
Tornado…The Story so far…
New & ReBuild News.
B & O Railroad Museum TV
Mainline Steam Schedule
On This Day in History.
Radstock to Frome Railway Project
Christian Wolmar… Railway Historian.
Around the UK's Heritage Railways A – Z "L"
WATTRAIN & APHTRO & NERHT News
30742 Charters
Back Page.
Welcome..and news..
A warm welcome to the March edition of "On Shed".
A slightly delayed and truncated edition for march! And what a wintry start tot the month!
Still, that means we have time to watch railway documentaries on TV!!
Great American Railroad Journeys with Michael Portillo(BBC iPlayer), The Flying Scotsman.. a 2 part documentary tracing the story of the legemndary locomotive..and including a segment featuring Peter's Railw..with Chris Vine and Bongo!(Channel 5) …..and the North Yorkshire moors Railway is featured in another Channel 5 documentary "All Aboard".
So much to see, and so little time to do it in!!
The regular features are include here..perhaps lacking a few appropriate steam traction photos..so send them in, and we may well use them later!
Editor's Selections: 1.GIRL POWER BUILDING GIANT NEW STEAM LOCOMOTIVE
The project to build Britain's most powerful steam locomotive has appointed Daniela Filová as its Assistant Mechanical Engineer. This coincides with the money spent to-date on the new Gresley class P2 No. 2007 Prince of Wales passing the £1.5m mark – 30% of the estimated £5m total. Daniela's appointment will help to ensure that the project remains on schedule for completion in 2021 and enable the Darlington-based team to complete the wheelsets, continue the boiler procurement, order the cylinder block, design & order the first motion parts, continue to progress work on the tender and commence the electrical design during 2018. Daniela joins the young female team working for The A1 Steam Locomotive Trust with Gemma Braithwaite as Office Manager and Sophie Bunker-James as Railtours Marketing Manager, proof that building and operating new steam locomotives is no longer just jobs for the boys!
Girl Power in front of No. 2007 Prince of Wales. From right to left, Daniela Filová, Gemma Braithwaite and Sophie Bunker-James. Credit A1SLT
The class P2 2-8-2 'Mikado' locomotives were the most powerful passenger steam locomotives to operate in the UK, designed by Sir Nigel Gresley to haul 600 ton trains on the arduous Edinburgh to Aberdeen route. Sadly, the design was never fully developed and they were rebuilt in 1943/44 and scrapped by 1961.  The A1 Steam Locomotive Trust (registered charity and builders of famous 100mph new steam locomotive No. 60163Tornado) is building the seventh member of this class over seven years at an estimated cost of £5m. The project will demonstrate how the design can be fully realised through use of modern computer design techniques, enabling the new locomotive to deliver its full potential hauling passenger trains at high speed across today's national network.
Daniela, who is from the Czech Republic, has relocated to Darlington to be part of the team building Britain's most powerful steam locomotive. She has a background in intellectual property and has also run her own live steam model engineering and manufacturing business, Daniela also has considerable experience in the use of the Solid Works 3D Computer Aided Design software used by on the project and has already put this to good use, producing the manufacturing drawing for the cylinder covers.
It was anticipated at the outset of the project that extra resources would be required as the build developed and the decision was taken by the Trust in September 2017 to recruit an Assistant Mechanical Engineer to expedite production of manufacturing drawings. Daniela Filová was appointed following a recruitment process carried out in collaboration with Teesside University.
Public interest in seeing a new Gresley class P2 become a reality sooner rather than later is high and over 840 people have already signed up to the 'P2 for the price of a pint of beer per week' (£10 per month or more) covenant scheme since its launch.  In addition to this core scheme, funds have been raised through The Founders Club (over 360 people have donated £1,000 each – target 100 people, now closed), The Boiler Club (almost 140 people have pledged £2,000 each – target of 300 people), The Mikado Club (over 180 people have pledged £1,000 each – extended target of 200 people), The Cylinder Club (almost 90 people have pledged £1,000 each – target 100 people), Dedicated Donations (over £220,000 from existing supporters sponsoring a variety of components) and the sponsorship of the locomotive's distinctive front-end by The Gresley Society Trust. This means that the project has already raised – including Gift Aid – £1.8m and received pledges of £2.8m of the required £5m.
Progress building Britain's most powerful steam locomotive continues at Darlington Locomotive Works and includes:
Frame plates for engine and tender rolled and profiled; engine's frames erected at Darlington Locomotive Works; all major engine frame stays, brackets, horn blocks, axle boxes and buffers cast (44 in total); over 1,000 fitted and driven bolts ordered and delivered, approximately 800 now fitted to the frames
All 20 wheels for engine and tender cast and proof machined; roller bearings for all engine and tender wheelsets and engine axles (including crank axle), tyres and crank pins delivered, tender axles, tyres ordered and first wheelset complete
Preliminary discussions held with boiler manufacturers and forged foundation ring corners manufactured and machined; start made on boiler fittings with castings for combined injector steam and delivery valves, steam stand and superheater header
Study into ride and suspension completed using rail industry standard Vampire® software; finite Element Analysis completed on re-designed crank axle to ensure complies with modern standards; assessment and notified body appointed to oversee certification – first site visit made
Cab erected and cab side window frames fitted; engine footplating and splasher kits delivered and permanently fitted to frames
Smokebox door pressed details made and door completed, door frame manufactured, smokebox delivered and erected; chimney cast and fitted
Crosshead castings delivered
Boiler cladding assembly jig built, cladding crinolines and hoops rolled and fitted to jig, cladding sheets procured, rolled and being fitting to the jig
Tender frame construction under way, axlebox and other tender castings delivered from William Cook Cast Products
Nameplates and chime whistle delivered
Mark Allatt, P2 Project Director and Trustee, The A1 Steam Locomotive Trust, commented:
"We are delighted to welcome Daniela Filová to the team building new Gresley class P2 No. 2007 Prince of Wales at Darlington Locomotive Works. Daniela joins the young female team working for The A1 Steam Locomotive Trust, proof that building and operating new steam locomotives is no longer just jobs for the boys or even old men! Now is the time to get on board this ground-breaking project and help the Trust to raise the £5m needed to ensure its completion in 2021."
The A1 Steam Locomotive Trust will be holding a series of roadshows about the project to build new Gresley class P2 No. 2007 Prince of Wales across the UK in 2018. Each presentation will feature key Trust personnel including Mark Allatt (P2 Project Director) and David Elliott (Director of Engineering) and will cover the background to the project, progress to-date, future plans and details of how to get involved. The presentations will start promptly at 11:00hrs and run until 13:00hrs on each of the days listed below and are open to existing supporters and interested members of the public:
Saturday 10th February 2018 – The Great Northern Hotel, Peterborough
Saturday 3rd March 2018 – The Principal Hotel, York
Saturday 7th April 2018 – Darlington Locomotive Works, Darlington
Saturday 19th May 2018 – Sheffield Hallam University, Sheffield
Saturday 9th June 2018 – Glasgow Royal Concert Hall, Glasgow
Saturday 8th September 2018 – Derby Conference Centre, Derby
Saturday 3rd November 2018 – Manchester Conference Centre, Manchester
Saturday 8th December 2018 – Hilton Leeds City Hotel, Leeds.
Editor's Selection: 2.
MODELMANIA 2017 (25 & 26/11/2017). Monchecourt .(Philbru Productions).
Some pictures of model railroad layouts presented at the MODELMANIA exhibition on 25 and 26 November 2017, the club Modelers Monchecourt (59). (To be viewed preferably in HD and large screen).
100 Trains….the journey so far….
AROUND THE WORLD. BY TRAIN. AND FOR CHARITY
One epic, and collaborative, voyage. 40 individual train trips.
(Iain McGeachin  ..https://kiltedwalker.com/rtwbytrain/)
Steam Tube Photographic File
Steam Tube Video Vault

Midnight steam express double-heading Czechoslovak steam locomotives "Pětasedma" 475.179 a 475.196 on the track Prague – Lysá nad Labem – Nymburk – Chlumec nad Cidlinou – Hradec Králové. (Dominik Schön on YouTube)

3 steam locomotives of the Myanmar Railways (YD967, YD964 and YC629) are seen on three different lines. All trains shown are charters, except one: YD967 was used to haul service train No. 85 up (mixed freight-passenger train from Bago to Mottama).
(KochersbergTV)
Steam Tube Blogs. 
Volunteers bring new life to the Somerset and Dorset railway.                              (railwayblogger)
After a 40 year absence I had the opportunity to work on the P-Way again relaying track. This time it was actual reinstatement of a line closed in March 1966. The much lamented Somerset and Dorset Railway. Mourned by huge numbers of people and now at least part being reborn..
Continue reading HERE
Tornado…The Story so far…
Saturday 3rd to Sunday 11th March – North Yorkshire Moors Railway
Friday 16th to Sunday 18th March – Severn Valley Railway
Saturday 24th March – 'The Sulis and Sarum Express' – West Midlands Stations to Bath and Salisbury  – bookings through UK Railtours
Friday 30th March to Monday 2nd April – East Lancashire Railway
Saturday 14th April – 'The Ebor Flyer' – First 90mph train – London to York  – SOLD OUT
Saturday 21st April – Midland Railway Centre
Saturday 28th April – 'The Ynys Mon Express' – East Midlands and North Staffordshire stations to North Wales Coast (Option: Ffestiniog and Welsh Highland Railway)  – bookings through UK Railtours
Tuesday 3rd to Sunday 13th May – Nene Valley Railway
Saturday 19th May – 'The Canterbury Tale' – Peterborough, St. Neots, Stevenage, Potters Bar and Finsbury Park to Canterbury and Dover Coast –  – bookings through UK Railtours
Friday 25th to Tuesday 29th May – Bluebell Railway
Saturday 2nd June – 'The Yorkshire Pullman' – Belmond British Pullman luxury train from London to York and Scarborough – bookings through UK Railtours
Saturday 21st July – 'The Talisman' – London to Durham (Option: Beamish) and Newcastle. Return journey with Deltic diesel locomotive D9009 Alycidon  – bookings through UK Railtours
Saturday 28th and Sunday 29th July – 10th Anniversary Party – Darlington
Wednesday 1st August – 'The Mad Hatter' – 10th anniversary train – Darlington, York and Wakefield to Chester  – bookings through UK Railtours
Saturday 11th August – 'The Settle & Carlisle Golden Tour I' – Bristol to Appleby via Carlisle – Pathfinder Tours
Wednesday 15th August – 'The Settle & Carlisle Golden Tour II' – Didcot to Appleby, return via Carlisle – Pathfinder Tours
Saturday 18th August – 'The Bard of Avon' – Manchester Piccadilly to Stratford-upon-Avon – bookings through UK Railtours
Saturday 13th October – A1/P2 Convention – Darlington
The Trust respectfully requests that anyone wanting to see Tornado follows the rules of the railway and only goes where permitted.
New & ReBuild News.
General Steam Navigation Locomotive Restoration Society
"Hengist" – The Clan Project
(Click on images below!)
US Projects
"Big Boy"
C & O  2-6-6-2. No 1309 
Australia
LMS Ex inspection 45036
The short term aim is to have a fully restored chassis and then rebuild it as a saloon in the long term , she is located at Tanat Valley Light Railway (TVLR)
Andrew Barclay 2352…
Restoration Progress on Andrew Barclay No. 2352.
First 2018 Volunteer Work Week (5 March 2018 – 11 March 2018)
Tanat Valley Light Railway Company
SY10 9HW Nantmawr, Shropshire
6880 Society (6880 "Betton Grange")
B & O Railroad Museum TV
Each month the B&O TV Network, starring actor Michael Gross, spotlights a moment in B&O Railroad history. Take a journey into the past and view one or all of these episodes posted on YouTube.
Mainline Steam Schedule
This listing is offered in good faith, so there is no guarantee offered or implied.Please confirm running with the relevant tour operator.
And adhere, please, to Network Rail's photographic guidelines…..HERE
The tour schedule for March 2018…and beyond…can be found  at Railway Herald

On This Day in History
March
05/03/1872
An air brake system  based upon a design by George Westinghouse  was patented on March 5, 1872. In various forms, it has been nearly universally adopted.
The Westinghouse system uses air pressure to charge air reservoirs (tanks) on each car. Full air pressure signals each car to release the brakes. A reduction or loss of air pressure signals each car to apply its brakes, using the compressed air in its reservoirs.
10/03/1906
The Baker Street and Waterloo Railway opens in London
12/03/1914
George Westinghouse, American inventor; developed the Westinghouse air brake (b. 1846) died.
George Westinghouse, Jr (October 6, 1846 – March 12, 1914) was an American entrepreneur and engineer who invented the railway air brake and was a pioneer of the electrical industry.
Westinghouse was one of Thomas Edison's main rivals in the early implementation of the American electricity system. Westinghouse's system, which used alternating current (AC), ultimately prevailed over Edison's which used direct current.
1869 Invented the air-brake for railways; patented in 1872
1871 Shortly after a visit to Europe, George Westinghouse set up the Europe Brake Company[1].
1875 George Westinghouse's company purchased the rights to the patents of the Vacuum Brake company for USA and Canada so that both vacuum and air braking systems could be offered[2]
By 1880, 37,000 sets of the Westinghouse brake apparatus had been supplied to railways around the world[3].
1881 A public company, the Westinghouse Brake Company was registered on 7 November. [4]
1885 Westinghouse imported a number of Gaulard-Gibbs transformers and a Siemens AC generator to begin experimenting with AC networks in Pittsburgh.
1886 He established the Westinghouse Electric and Manufacturing Co in Pittsburgh, USA.
1889 The name of the company was changed to Westinghouse Electric Corporation. The Westinghouse Electric Co Ltd of London was established as an agency for selling and installing Westinghouse products in the UK[5].
1899 Seeing the opportunities in the UK, George Westinghouse formed British Westinghouse as a limited company as a manufacturing subsidiary of the American company[6].
1907 Westinghouse USA went into receivership with the result that executive control of the company was taken away from George Westinghouse, though he remained as President. (Courtesy: Grace's Guide)
17/03/1900
Great Eastern Railway of England introduces 'Claud Hamilton' 4-4-0steam locomotive from its Stratford Works.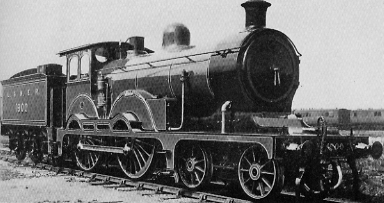 Courtesy: CHLG
18/03/1916
Karl Gölsdorf, Austrian steam locomotive designer  dies.(b. 1861)
Karl Gölsdorf and the ten-coupled Class 180 No. 180.01 in Strasshof Railway Museum
Gölsdorf became especially well known as a result of his inventing the radially-sliding coupled axle for steam locomotives, the so-called Gölsdorf axle. The first engine to be equipped with this was an eight-coupled steam locomotive in 1897, the Class 170. The ten-coupled Class 180, whose first, third and fifth axles were able to slide sideways in the frame, demonstrated that, in almost all cases, locomotives with multi-part frames and complicated articulated designs would be superfluous. From that time forward this type of construction became the standard for heavy goods locomotives.
21/03/1963
Train drives itself
The first automatic train on the London underground could be hurtling into stations in three weeks, the government has revealed.
The trains, which operate without a driver, are currently undergoing a series of trials commissioned by the Ministry of Transport before passengers are allowed on board.
But the public has the chance to glimpse the trains today, which have cost £60,000 to test, as they are demonstrated in South Ealing, west London, by the London Transport Board.
27/03/1963
The Beeching Report!
The Reshaping of British Railways – Part 1: Report
The Reshaping of British Railways – Part 2: Maps
Map of Great Britain, showing "major lines" identified by Beeching II in bold.
(Looks like HS2……………)
Channel 5 have just concluded(March 2017) a 3 part "The Railways That Built Britain", with Chris Tarrant. The 3rd episode takes a look at the Beeching Report……..
Radstock to Frome Railway Project
Latest News from this group can be found HERE
Christian Wolmar… Railway Historian.
Dear subscriber, 
I am going to try to revive my regular newsletters, fallen into disuse for some time because of overwork and idleness. However, with nigh on 2,000 subscribers, and lots to say, it seems a waste, and therefore I will redouble my efforts in coming months, especially as I have now become a master of MailChimp.
My political career has foundered somewhat after I lost by just 8 votes out of 400 this week from getting the selection to be the Labour candidate for the marginal Cities of London and Westminster seat.  I will keep trying, though…
So apart from a couple of years worth of articles which brings the total on the website to over 1,300 – has anyone read them all? – the big news is that I have written a couple of new books and you can have signed copies at a discount.
My Railways and the Raj book covers the history of Indian railways and you can have one for £20 post free from me, signed of course.
Driverless Cars: On a road to nowhere is my small polemic about why the whole concept is a nonsense. Just send me a tenner, P and P free, to 48 Crayford Road, N7 0ND or pay by BACS
For more details of Christian's speaking events..go HERE
Around the UK's Heritage Railways A – Z "L"
List of railways by name
WATTRAIN & APHTRO & NERHT News



NERHT is a voluntary society founded in 1999 to help railway preservation in the former Soviet Union and the other ex-Communist countries in Central and Eastern Europe.
Access the latest Eastern Star newsletter: HERE
30742 Charters

Latest News from Martin Creese….
Find 30742 Charters on Facebook at www.facebook.com/30742charters
Back Page.