Sir Ken Dodd statue to return for fond farewell.(Network Rail)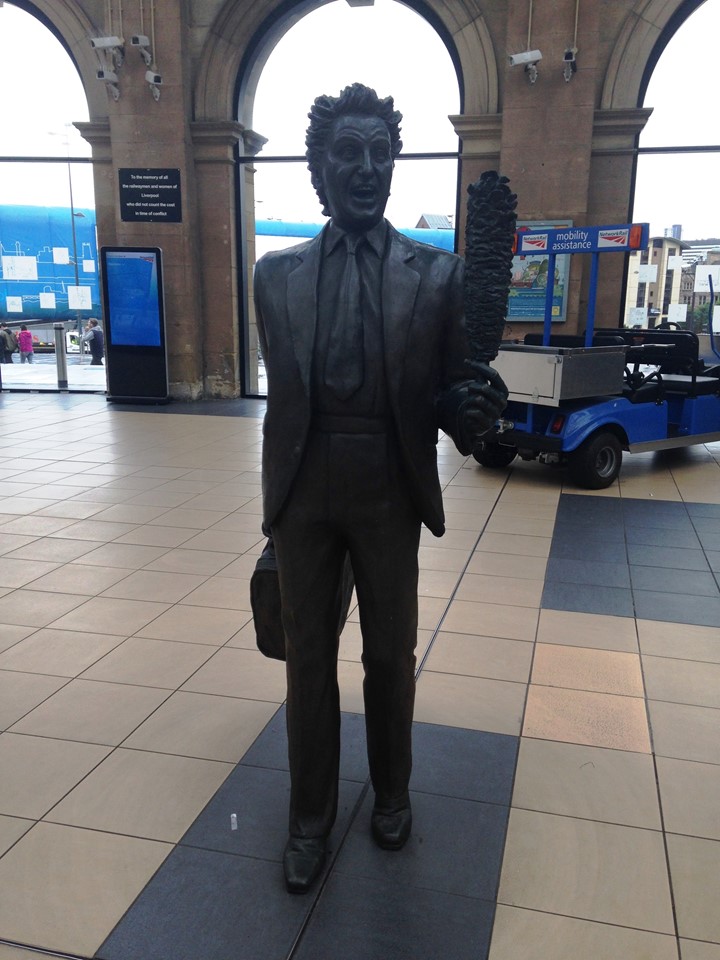 Ken Dodd statue Lime Street.(Network Rail Image)
Comedian Sir Ken Dodd will return to Liverpool Lime Street station tonight – as thousands prepare to line the city's streets tomorrow for his funeral.
The iconic bronze statue of Sir Ken, who died aged 90 earlier this month, was removed last autumn for safe-keeping and restoration as major station upgrades began.
Martin Frobisher, Network Rail's London North Western route managing director, said:
 "Sir Ken Dodd has stood inside the entrance to our station since 2009. It's right he returns today as we remember the laughs he gave us over the years."
Steve Rotheram, metro mayor for the Liverpool City Region, said:
 "I fully support the decision by Network Rail to temporarily return the statue of Sir Ken Dodd as we say goodbye to him.

"Sir Ken will go down in history as a comedy genius. It is fitting that he takes pride of place in our city region's busiest transport hub, where no doubt his continued presence will evoke happy memories among the millions who pass through the station each year."
Doddy's return to Lime Street station is temporary. Finishing touches to the restoration of his statue will be completed later this year. Work includes adding the Knighthood he received in 2017 to his plaque.
Sculptor Tom Murphy's 'Chance meeting' of Sir Ken and MP Bessie Braddock will permanently return to the main station concourse in September.
The work is a much-loved landmark. Often people are overheard arranging to meet at 'Ken and Bessie.'
Liverpool Lime Street's major upgrade forms part of a £340m investment in the Liverpool City Region sitting within the Great North Rail Project to transform train travel for customers across the North.
This is the biggest investment the station has seen since the 19th century. It will boost capacity within the station, making room for more frequent, longer trains, with more space for more passengers. Further work takes place Sunday 8 April and from 2 June to 29 July before completion in October this year.