Capacity at Bristol Parkway set to expand as Secretary of State unveils plaque to mark official opening of brand new platform.(Network Rail)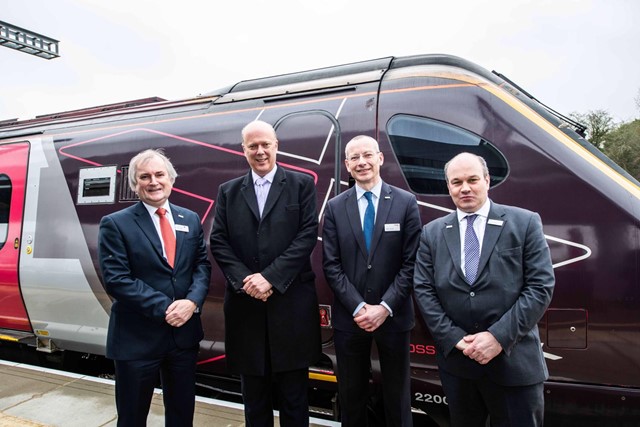 Chris Grayling, with managing directors of Crosscountry, GWR and Network Rail's Western route officially opened the new platform at Bristol Parkway.(Network Rail Images)
A new era of train travel for Bristol was ushered in today when Secretary of State for Transport Chris Grayling officially opened a new platform at Bristol Parkway station, which will allow for a more frequent train service on a more resilient network.
The official opening of the new platform was attended by representatives from train operating companies Great Western Railway (GWR) and CrossCountry, and train enthusiasts were treated to the rare sight of a brand new GWR Intercity Express Train standing nose-to-nose with a CrossCountry Voyager on the new platform.
The installation of the new platform is part of Network Rail's Railway Upgrade Plan in the west of England, representing a multi-million pound investment and including its biggest ever signalling upgrade which took place earlier this month in the Bristol area.  The brand new platform 1 will allow for an increase in capacity on the network, enabling new services to be introduced and reducing delays.
Bristol Parkway is an important station in the west, servicing passengers from Wales and south west England as well as Birmingham, the midlands and beyond. Train operating companies GWR and CrossCountry will benefit from the increased capacity on the network, and improvements to the track layout will be advantageous for freight companies such as Freightliner.
Unveiling a plaque to mark the official opening, Transport Secretary Chris Grayling said:
"We are investing in the biggest modernisation of the railways since the Victoria era, delivering better, more frequent and faster journeys for passengers.

"This vital upgrade at Bristol Parkway is a fantastic example of how we are enhancing rail travel up and down the country, benefitting millions of passengers. These improvements will boost reliability, increase the number of trains serving Bristol and along the route, and also allow new intercity trains to stop at the station too."
Mark Langman, route managing director for Network Rail's Western route said:
"The opening of the brand new platform 1, together with the extension of existing platforms at Bristol Parkway marks another key milestone in the Greater West Programme.

"This region will continue to benefit from investment in the railway as later in the year we will be doubling the number of tracks into Bristol allowing more services to run to London and the west, as well as improving reliability and punctuality for services to the south west, Birmingham and the north.

"Over Easter we completed Network Rail's biggest ever signalling upgrade in the city which together with the doubling of the tracks and installation of this new platform are key enablers for future expansion of the suburban rail network around Bristol. Freight operators will also benefit from the updated track layout at Bristol Parkway, easing strain on the network overall. I would like to thank passengers for their patience and understanding whilst we have been undertaking these upgrades to transform the railways around Bristol".
The work will allow for greater reliability and operational resilience of the infrastructure.
CrossCountry's managing director, Andy Cooper, said:
"This additional platform will help alleviate an historical railway bottleneck, where trains travelling north, south, east and west are all sharing the same small piece of railway infrastructure. By increasing the number of platforms at Bristol Parkway, Network Rail will be able to offer a more robust timetable and more capacity, enabling us to operate more trains, on time."
GWR managing director, Mark Hopwood said:
"This new platform, alongside wider signalling upgrade work, will help unlock railway services in the north of Bristol.

"With doubling of the track through Filton it will allow us to run more Intercity Express Trains from South Wales and Bristol Temple Meads through Parkway from early 2019, providing more seats and reducing journey times to London Paddington."