Everybody on board to drive railway improvements in the Anglia region.(Network Rail)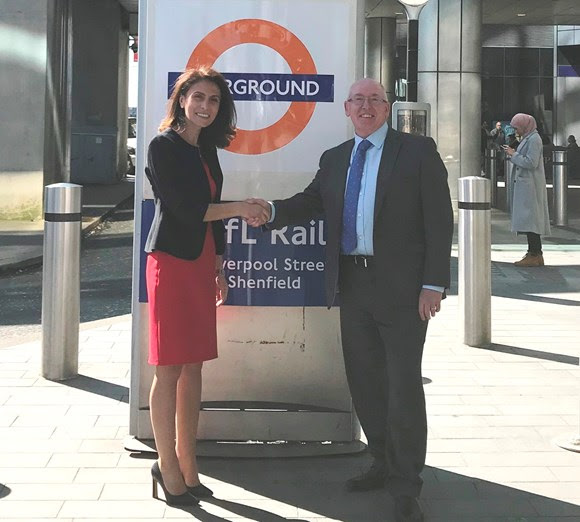 Meliha Duymaz and Arthur Leathley – outside Stratford station.(Network Rail Image)
Network Rail has joined with passenger, train and freight organisations in the Anglia region to form a dedicated Route Supervisory Board to drive improvements to the region's rail network.
The supervisory board will be formed of senior representatives of Network Rail, the passenger and freight operators in the Anglia region, a representative from Transport Focus and will be chaired by Arthur Leathley. Arthur has been involved with the rail industry for more than 15 years, mainly as a director at Virgin Trains during a period of great growth, and improved customer satisfaction on Virgin's inter-city routes. He currently represents passenger interests as chair of London TravelWatch and on the board of Transport Focus.
Route Supervisory Boards aim to facilitate a one-railway approach for the passenger, operators and infrastructure owners to plan and deliver excellent performance and service. The cross industry representation and support of an experienced independent chair drives collaborative discussions that will enable more effective decision making.  The first meeting will be held in May.
Arthur Leathley said:
"There has been huge investment and hard work put into improving rail travel in the Anglia region recently, and so it is an exciting time to really focus attention on customers as new trains and timetables come into service over the next two years."
Meliha Duymaz, Network Rail's route managing director for Anglia, said:
"Working together with our industry partners we can better focus on our customers and stakeholders' needs. This will help us deliver improvements that will make a real difference to the growing number of passengers in the region and drive economic growth as part of our Railway Upgrade Plan."
Jamie Burles, managing director, Greater Anglia, said:
"We're pleased to play our full part in the new Anglia route supervisory board.  As the main passenger train operator for East Anglia, we are embarking on a £1.4 billion investment programme to replace every single one of our trains with brand new trains during 2019/20, to give customers, communities and the wider region a transformed service, which also supports economic development.  Other passenger operators and the freight operators are making improvements too, so by us all working closely together with Network Rail, aided by the new supervisory board, we can help maximise the benefits of the upgrades for passengers and ensure we are continually improving all aspects of the train services we offer – including rolling stock reliability, rail infrastructure performance and timetabling."
Steve Murphy, MTR Crossrail's managing director, said:
 "MTR Crossrail fully support this collaborative approach and believe it is pivotal to the successful delivery of CP6. The shared goals and focus on customer benefits will allow us to make improvements to the Anglia route for the future Elizabeth line services we will be operating from December. We also welcome Arthur Leathley who will chair the group and look forward to working together"
c2c managing director Julian Drury said:
"I am looking forward to being part of the new Anglia Route Supervisory Board, which is a great opportunity to work with our stakeholders and rail industry partners across the region to get the best out of the network for the benefit of customers and the taxpayer."
Will Rogers, Arriva Rail London's managing director, said:
"Establishing the Anglia Route Supervisory Board is an important step towards creating a partnership aimed at delivering the best outcome for our customers, both now and in the long-term. By working together and towards a shared goal, we can make a real different to our customers and communities."