Students from London to Carlisle learn how to stay safe on the railway.(Network Rail)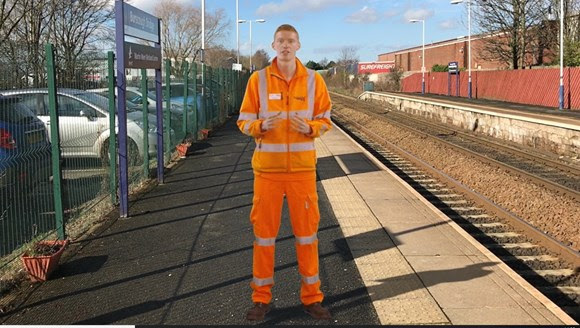 Nick Jordan LNW community safety manager.(Network Rail)
More than 60,000 young people from across the country have so far taken part in a live interactive broadcast to help keep them safe on the railway.
Network Rail has partnered with Learn Live, which produces and runs interactive live broadcasts direct into classrooms, to educate children and young people about the dangers of the railway and how to stay safe when on or near one.
Safety education is vital, especially for young people who might not be aware of the dangers and by using a new interactive way of engaging with students, Network Rail has been able to educate them about electric railway lines, level crossings and general railway safety.
Nick Jordan, community safety manager for Network Rail, said:
"Many young people use the railway for travel to school and in their own time, or live close by, and it's essential we help them know how to use the railway safely.

"Those who don't could find themselves in the wrong place at the wrong time and at serious risk of causing harm to themselves and others.

"The interactive live broadcast allows us to talk directly to students in the classroom and gives them the opportunity to ask questions. It means we can reach hundreds of students every day, making sure more young people are educated."
The technology and sessions are free to schools and can be viewed using interactive whiteboards or projectors.  For more information on rail safety for young people visit: https://www.networkrail.co.uk/communities/safety-in-the-community/safety-education/