The countdown is on! – Summer train timetables released with 100 days to go until huge railway upgrade in Derby.(Network Rail)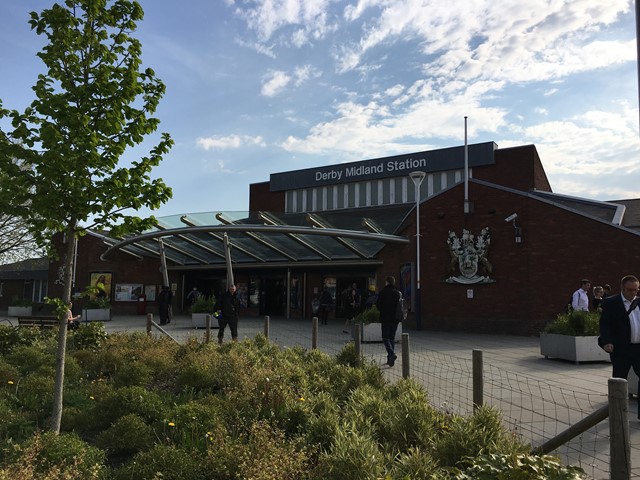 Derby Midland Station.(Network Rail Image)
The first temporary timetables for passengers travelling in the East Midlands during 79 days of major engineering work are now available online, as Derby gets ready for the biggest upgrade to the railway since the Victorian era.
Working together, Network Rail, East Midlands Trains and CrossCountry have now started to publish temporary timetables for journeys between 
22 July and 7 October
 and the timetables for East Midlands Trains services between Derby and Crewe, as well as CrossCountry services are available online.
Timetables for East Midlands Trains services between Matlock and Newark and services between Sheffield, Derby and London are expected to be made available next week, along with confirmation of local bus replacement services between Burton on Trent and Derby and Derby and Nottingham.
Passengers can find out how their journeys are affected during the work to upgrade the signalling and improve the track layout by visiting dby2018.co.uk. Timetables will also be available in stations over the coming weeks and months, with travellers able to pick up a leaflet, speak to a member of staff or follow #DBY2018 for more information.
The timetables support major work at Derby as part of the Midland Main Line Upgrade to modernise the existing track layout and upgrade the signalling, which will provide a more reliable railway with reduced delays.
With 100 days to go to until the main improvement work, which takes place from 22 July- 7 October during 79 days of engineering work, Network Rail has already carried out a significant amount of work as part of the scheme. Work completed to date includes installing over 1.5kilometres of new track and 90kilometres of new signalling cable.
In addition, Network Rail engineers have installed a new principal supply point, which will be used to power the upgraded signalling, as well as renewing points and track crossovers that allow trains to move from one track to another. As much work as possible has been done before the blockade, in order to reduce the length of time that this project impacts on passengers.
Rob McIntosh, Route Managing Director at Network Rail, said:
"This work is a huge upgrade into the railway in Derby and the benefits will be felt across the whole of the East Midlands. We have already done a vast amount behind the scenes in preparation for this project, including installing new track and signalling equipment and we'd like to thank passengers for their patience whilst we have carried out this work.

"We look forward to moving on to the main work in July and, whilst this upgrade will affect train journeys for a short time, the long term benefits will be huge and will provide a modern, reliable railway with fewer delays, which will meet the needs of the communities and economies our railway serves."
Jake Kelly, Managing Director at East Midlands Trains, said:
"Work at the station and behind the scenes is progressing well, as we gear up for 79 days of work starting 22 July.
"We are working very closely with Network Rail and CrossCountry to make sure our customers are kept fully up to date with the temporary changes to their journeys and how they can continue to travel while this work takes place.

"Therefore, we are really pleased the first of the temporary timetables are now available online and they will be in stations shortly. I would ask all customers to check their timetable as soon as they can and understand how these temporary changes will affect them."
Andy Cooper, CrossCountry Managing Director said:
"As we reach this 100 day milestone we wanted to ensure that our customers have as much information as possible, to give them the confidence that they will be able to complete their journeys during the Derby Resignalling work.

"We will continue to work with Network Rail and East Midlands Trains to secure all the benefits this project can deliver for better, faster journeys for our customers."
Anthony Smith, chief executive of the independent watchdog Transport Focus, said:
"Passengers will be pleased they can now view the first of the temporary timetables to understand how their journey will be affected and what alternative arrangements are in place.

"During this major work, staff at Derby station will need to be on hand to provide passengers with the necessary help and information to minimise the disruption.

"Using our research CrossCountry, East Midlands Trains and Network Rail will be able to better understand passengers' needs and monitor their experiences during this period of change."