Iconic Northamptonshire landmark preserved for decades to come.(Network Rail)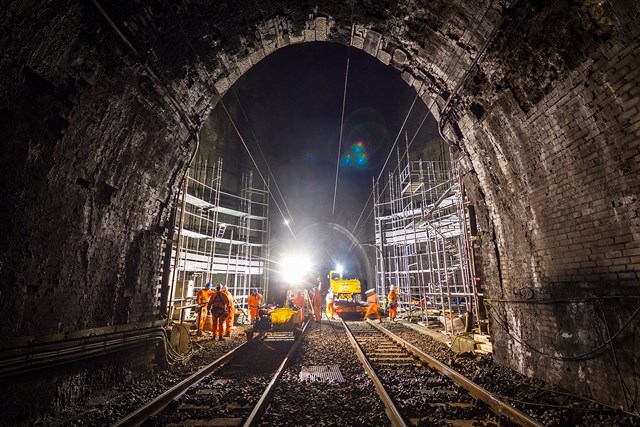 Great Northern Shaft and Kilsby Tunnel.(Credit GBickerdike)
A historic Grade II listed landmark on the West Coast main line near Rugby is being preserved for decades to come, thanks to Network Rail.
Repair and maintenance work has been carried out inside the impressive Victorian Great Northern Shaft which was originally built to provide light and ventilation inside the 1.5 mile long Kilsby Tunnel.
A huge scaffolding structure has been installed around the inside of the shaft, directly above the railway, so the work can be carried out while nearly 400 trains continue to travel at 110mph on the West Coast main line below every day.
The £3.5m refurbishment project, part of Network Rail's Railway Upgrade Plan, has taken nine months and has included soot removal, brickwork repointing and repairs.
Hasan Shah, scheme project manager at Network Rail said:
 "This stretch of the West Coast main line is vitally important to local, regional and national rail travel. We've carefully planned the repairs to allow trains to run while we completed this essential work.

"Not impacting passengers and freight was vital and the huge, complex scaffolding structure has allowed us to do this with around 400 trains a day travelling up to 40 metres below us. The result will be a Victorian local landmark preserved for decades to come."
Great Northern Shaft repair facts:
Kilsby Tunnel is around 1.5 miles long and is situated on the West Coast main line in Northamptonshire
The tunnel was built in the 1830s using an estimated 30 million bricks
Kilsby Tunnel has two 'Great Shafts' and 12 ventilation shafts
Around one million bricks were used to build the Great Northern Shaft which weighs over 4000 tonnes
A unique scaffolding structure was built from the bottom of the shaft to the top to allow the work to take place
A protection deck, around 8m above the track, has allow the team to complete brickwork repairs while working above over 25,000v overhead lines
Around 400 trains per day run underneath the worksite on one of Europe's busiest mixed use (passenger and freight trains) stretches of railway
The important work will make the rail network safer and more reliable for millions of passengers travelling on the West Coast main line every year. It will also preserve an iconic Victorian local landmark for future generations.