Safety reminder as Tram Train project continues.(Network Rail)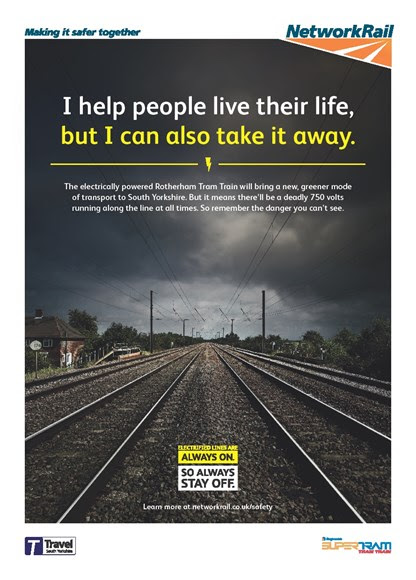 Tram Train electrical safety poster.(Network Rail Image)
"Electrified lines are always on – so always stay off." That's the stark message at the heart of a safety campaign by Network Rail as work to introduce Tram Trains to Sheffield and Rotherham progresses.
New overhead lines have been installed through Rotherham Central station and over the new tracks out to Parkgate and Tinsley to power the Tram Trains.
Community Safety Manager at Network Rail, Vicki Beadle, has been visiting local schools to deliver the safety message. She explained:
"Many people – and not just children – think that the overhead line only carries electricity when trains, or Tram Trains, are coming through.  That's simply not true.  The wires are electrified all the time and these ones carry 750 volts.  We don't want anyone's life to be irreversibly changed by coming into contact with that so we are making our message clear – the electricity is always on, so stay off the tracks."
Work continues to progress on the project which has moved into the final stages of construction, including building new low level platforms at Rotherham Central.
Vicki added:
"Regular tram users will be used to crossing directly between platforms, across the tramlines. We need to remind people that this simply isn't safe on the rail network as a train could be coming through on the other lines and the driver can't swerve and won't be able to brake in time.  Please remember to use the footbridge if you need to change platforms."
The project remains on schedule to deliver the infrastructure to our partners in South Yorkshire Passenger Transport Executive and Supertram to allow driver training to begin while the final infrastructure work and testing is completed this Summer.