Key milestone reached in delivering vital rail safety message to school children across Wales and the Borders.(Network Rail)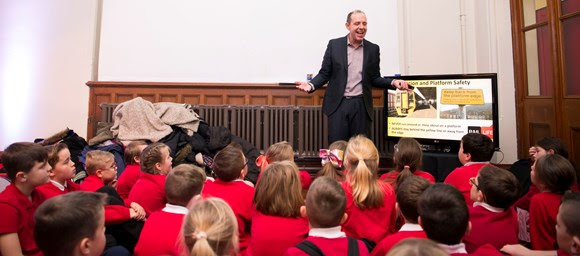 (Network Rail Image)
Over 40,000 children from 1,000 schools across Wales and the Borders have received vital rail safety education in under three years.
Network Rail reached this key milestone last week during sessions delivered to school children across the Vale of Glamorgan, organised as part of the Crucial Crew safety initiative, which first partnered with Network Rail in October 2015.
The number of trespass and railway incidents in the Vale of Glamorgan are some of highest of all the counties across the Wales and Borders. Between April 2017 and March 2018, there have been 44 railway incidents, 33 of these were trespass incidents.
Emily Coughlin, community safety manager for Network Rail Wales and Borders, said:
"We're so pleased to have reached this key milestone and to have shared our crucial rail safety message with so many young people.

"The Crucial Crew sessions are fun and interactive, so we really engage with young people and drive home these extremely important safety messages.

"As the railway continues to get busier we continue to work even harder to keep young people safe by making them aware of the dangers that exist. Taking a short cut or messing around on the tracks can result in serious life-changing injuries or death."
The Crucial Crew sessions are currently being hosted for schools across Neath and Port Talbot as Network Rail Wales continues its work and commitment to delivering vital rail safety education to young people.
This milestone comes just in time for Rail Safety Week, an industry-led initiative focusing on rail safety for all, which runs from 2 to 8 July.
Note:
Crucial Crew is a multi-agency event delivering life-saving safety and personal, social, health and economic (PSHE) workshops to 10-12 year olds across Wales led by RESOLVEit.
Further details on safety education can be found on the Network Rail website: www.networkrail.co.uk/safetyeducation and www.rail-life.co.uk