Rail industry joins forces to back 'The Big Listen' at Waterloo.(Netwrok Rail/SWR)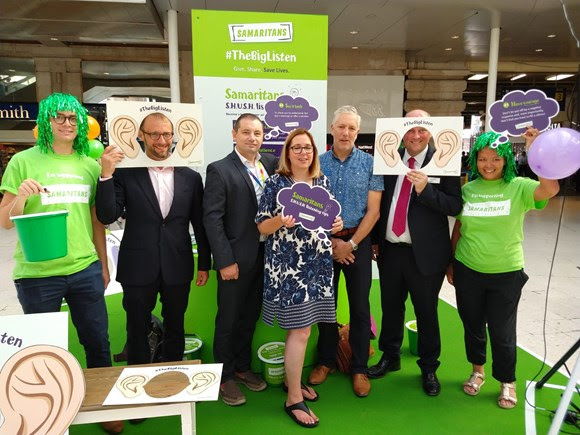 Samaritans Big Listen Waterloo.(Network Rail/SWR Images)
The rail industry came together this morning to support Samaritans' 'The Big Listen' campaign, to raise awareness and funds for Samaritans, and at the same time show how really listening to another person can be the first step to saving a life.
Network Rail's Wessex route chief operating officer, Jason Bridges, and suicide prevention programme manager Ian Stevens, were present at the launch event at London Waterloo today with Paul Plummer, chief executive of the Rail Delivery Group, Andy Mellors, managing director of South Western Railway, and Ruth Sutherland, CEO of Samaritans.
The event takes place in conjunction with more than 120 events nationwide as part of a marathon 24-hour event which kicked off at midday on 24 July (24/7), chosen to reflect Samaritans' emotional support services, which are available 24-hours a day, 7 days a week.
Elsewhere on the South Western Railway network, 'The Big Listen' events are taking place throughout the day at Basingstoke, Guildford, Haslemere and Winchester stations.
'The Big Listen' is being launched to emphasise that listening is crucial to helping people find their way through their problems, and Samaritans are hoping to encourage people to seek help early, rather than when they reach a crisis.
Funds raised by 'The Big Listen' will help Samaritans keep its services free for anyone who needs them, and help recruit, train and support volunteers as well as run local branches across the UK.
Jason Bridges, chief operating officer for Network Rail, said:
"We are pleased to support Samaritans' 'The Big Listen' initiative, together with our colleagues in the rail industry.
"Taking the time to listen, to empathise and to better understand how to approach those in need could save a life. These skills are something we can all learn to make a real difference.
"More than 1,300 members of rail staff across the south western rail network have already benefitted from Samaritans'-led courses and we're committed to ensuring that all our staff have the opportunity to learn these skills."
Ian Stevens from Network Rail, who manages the suicide prevention programme on behalf of the rail industry, said: 
"Our partnership with Samaritans is a vital part of suicide prevention on the rail network and our most recent campaign Small Talk Saves Lives encourages us all to take the time to talk to those that may be at risk around the railway.

"Of course, the other crucial part of any conversation is to make sure that we listen to what is being said. That's why we are supporting 'The Big Listen' and the events that will be held at more than 120 railway stations around the country."
Andy Mellors, managing director of South Western Railway, said:
"South Western Railway is committed to supporting 'The Big Listen' initiative. We work closely with Samaritans and Network Rail to help prevent suicides on the rail network. As part of this, we provide specialist training to our station and train staff to recognise, approach and help people who might be considering taking their lives.
Paul Plummer, chief executive of the Rail Delivery Group, said:
"Together, Britain's rail companies are proud to be welcoming Samaritans volunteers into stations to help promote 'The Big Listen'. Millions of people from all walks of life travel through our stations every day: challenging them to take the time to listen, and listen more effectively, is a positive message that we're delighted to be helping Samaritans deliver."
Ruth Sutherland, chief executive of Samaritans, said:
"Three times more people die by suicide than from road accidents. Samaritans volunteers are trained to be good listeners, but this is a skill we can share and everyone can learn. Together we will save lives."
There are lots of ways to get involved in 'The Big Listen': make a donation, learn about listening or plan your own fundraising event. Find out more at: www.samaritans.org/media-centre/big-listen.
You can follow #TheBigListen @samaritans on Twitter, @samaritanscharity on Instagram, or via Samaritans' facebook page at https://www.facebook.com/samaritanscharity/.