Network Rail urges HGV drivers to wise up and size up following spike in bridge bashes.(Network Rail)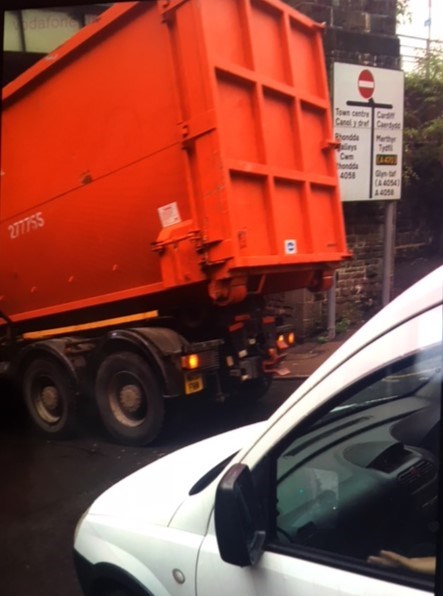 A bridge strike at Bute Street Rail Bridge in Cardiff(left) and at Pontypridd.(Network Rail Images)
Network Rail in Wales and Borders is urging HGV drivers to check the height of their vehicles following eight bridge strikes – when a lorry that's too big hits a bridge – in just seven days.
Since April 2017, there have been 128 bridge strikes in Wales and Borders, causing 8,809 minutes of delay to passengers and costing the taxpayer thousands in damages and delays.
Alison Thompson, chief operating officer for Network Rail in Wales and the Borders, said:
"We work closely with our train operating partners to get passengers on the move as quickly and safely as possible when a bridge strike does occur, but we need HGV drivers to help us make bridge strikes a thing of the past.

"Around 1,800 vehicles crash into rail bridges across the UK every year. We're encouraging drivers to wise up and size up their vehicles and plan their route before every journey."
Bethan Jelfs, Customer Services Director at Arriva Trains Wales said:
"Bridge strikes can cause huge and unnecessary problems on the railway, causing real inconvenience to customers. We will continue to work closely with our Partners in Network Rail to get up and running again as quickly as possible afterwards, and support their public campaigns to raise road users awareness so they can complete their own journeys as safely as possible."
To combat bridge strikes, Network Rail has recently launched its 'Lorries can't limbo' campaign aimed at professional HGV drivers and others who drive high-sided vehicles.
The campaign, focused on "the four E's": education of drivers and employers, engineering and signage, enablement technology in HGV cabs, and the enforcement of penalties, has been developed together with partners[1] across the haulage industry. These partners are helping the rail company to educate drivers on how to wise up and size up their lorry by using a toolkit provided by Network Rail, which offers advice on educating drivers around the impact of strikes.
To learn more about the 'wise up, size up' campaign visit: https://www.networkrail.co.uk/communities/safety-in-the-community/safety-campaigns/wiseupsizeup
To learn more and about bridge strikes and how you can report a bridge strike please visit: www.networkrail.co.uk/wiseupsizeup