Ruth Smeeth MP welcomes scheme to improve access at Kidsgrove station.(Network Rail)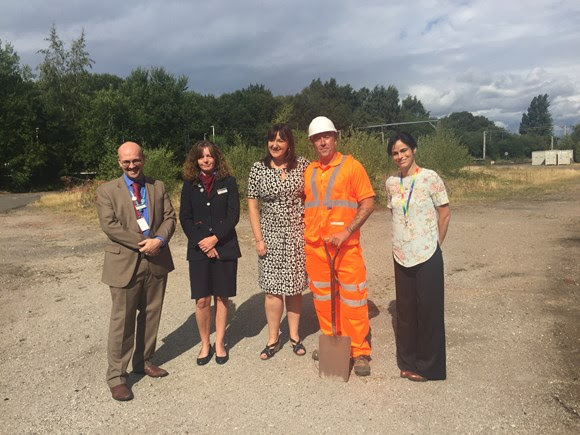 Ruth Smeeth MP and representatives from Network Rail and East Midlands Trains.(Network Rail Image)
Kidsgrove railway station in Staffordshire is to be fitted with a brand-new footbridge to make it more accessible for all train passengers.
The £5m 'Access for All' improvement is a programme managed by Network Rail and funded by the Department for Transport, with the aim of improving accessibility at train stations. This includes installing lifts and ramps to make stations step-free and accessible to all passengers, including those with reduced mobility, children, heavy luggage or shopping.
The programme will see the removal of the existing footbridge and a brand-new footbridge installed with lifts, improving accessibility for all customers who use the station for connections to Derby, Stoke and Crewe. Construction is due to begin in the autumn and is set to be completed by next summer.
In addition, East Midlands Trains has started work on a new 200 space car park for the station which is expected to be complete in the autumn.  There are also further plans being developed with Staffordshire County Council to create a new station interchange.
Ruth Smeeth, MP for Stoke-on-Trent North said:
 "I'm delighted that this work is finally set to begin. Local residents have been campaigning for these improvements for years, and I personally lobbied the transport minister to secure the additional investment that we need.

"This is a well-used train station and these improvements will make a huge difference to passengers, especially those with disabilities, and will be a real boost to Kidsgrove town."
Paul Atherton, Network Rail's scheme project manager for the Kidsgrove station improvements, said:
 "The 'Access for All' project helps make using the railway even easier for millions of people who travel by train every year. The work forms part of Network Rail's multi-billion-pound Railway Upgrade Plan to provide a bigger, better, more reliable railway for passengers across Britain."
Ross Heaton, Project Manager for East Midlands Trains, added:
"We're really pleased to be working with Network Rail and Staffordshire County Council to be making these improvements to Kidsgrove station.  As well as the new 200 space car park, we're also looking at developing a new station interchange. Coupled with the work that Network Rail are leading on the new footbridge, there will be some major benefits for customers using Kidsgrove station.  We were pleased to welcome Ruth Smeeth MP to the station to talk her through our plans".
For more information on the 'Access for All' programme please visit: https://www.networkrail.co.uk/communities/passengers/station-improvements/access-for-all/