Stadler wins order for Wales & Borders for 71 trains.(Stadler)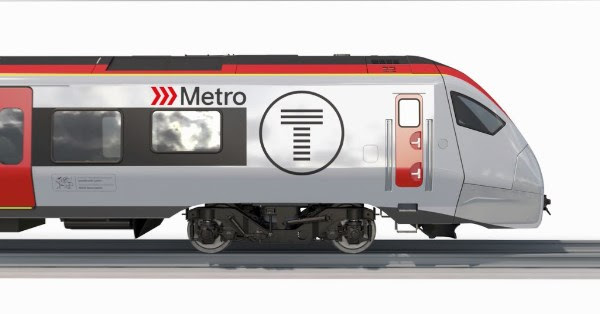 Stadler Image
Stadler CITY LINK Tram-Trains and FLIRT EMUs will soon become a familiar sight on the transport networks of Wales and Borders and South Wales Metro. On both networks 71 Stadler trains will be traveling from the 2022.
Stadler again wins a large contract in the UK. Wales & Borders ordered Stadler 36 three-part tram trains of the type CITYLINK and 35 multiple units of the type FLIRTs – total 71 moves.
On the lines of Cardiff to Treherbert, Aberdare and Merthyr Tydil 36 tripartite CITYLINK Tram Trains will go – with a combined 25-kV electrical and a battery. These trains are for the return of tram operation in the streets of Cardiff to more than 70 years. Of the remaining 35 ordered units of the type FLIRTs 11 are operated diesel-electric (DMU) and their 24 have a trimodal drive which uses the possibilities of a diesel-electric drive, an electric drive and battery operation. The 11 DMU will come on the power of the South Wales Metro between Maesteg, Ebbw Vale and Cheltenham are used. The 24 trimodal multiple units are received via the south to Cardiff Vale of Glamorgan in diesel operation with destinations north of the Welsh capital in electric mode connect.
The use of batteries in trams and the concept of a tri-modal drive are both forward-looking and cost-efficient solutions to ensure on the one hand the environmentally friendly operation on electrified lines north of Cardiff and to enable a so-called "Intelligent electrification". This "smart electrification" means that the trains can be ensured even on non-electrified lines completed in electric mode without the same high infrastructure costs to cause that would be incurred, such as the 55 bridges had to be retrofitted on the track.
All trains will be equipped with air conditioning, electrical outlets at all seating and large screens that passengers are provided with current information. Furthermore, all trains have pitches for up to six bikes and a flat start, to facilitate getting in and out with pushchairs and mobility scooters. The noise and vibrations have been reduced to a minimum – a total of the new fleet of Stadler trains thus marks a great asset to the passenger experience and supports transport of Wales about to realize the vision of the Welsh Assembly Government for public transport in Wales.
Stadler already has a significant presence in the United Kingdom: Twelve Vario trains are since 2012 in Croydon, London, in action and seven CITY LINK trains on the network of Supertram. Starting in 2019, 58 new Stadler trains will be introduced in the operational area of Greater Anglia and from 2020 52 new METRO trains will form the backbone of the transport system in the region Liverpool.
Ralf Warwel, sales manager at Stadler says:
 "Stadler is very proud to have been selected to be able to provide this unique and innovative fleet of rolling stock for Wales & Borders. Passengers in South Wales, the new trains will appreciate not only due to the high levels of comfort, but also because of the use of the latest battery technology. If this new technology is used across the country for use, it will lead the industry one step closer to climate neutrality. " 
Ken Skates, Minister of Economy and Transport, said:
"With an investment of five billion pounds in rail transport, we introduce innovative, cost-effective and environmentally friendly travel solutions that put the needs of our passengers at the center. Stadler tram trains will make an exciting part of our new rail services in South Wales and I look forward to introducing them. " 
James Price, Director of Transport for Wales, said:
"We are at the beginning of an exciting new journey, if we transform our transport network and provide a new vision for the traffic, the people and places of Wales at the heart of our mission are. The rolling stock of Stadler will play a key role. "

Colin Lea, head of mobilization and rail services by Transport for Wales, said:
"We would like to thank Stadler that they have worked with us to develop features that enable the presented innovative South Wales Metro solution. This will completely change the passenger experience and provide a hundred percent electric mode on the valley routes north of Cardiff. This power is generated from renewable sources and half of that comes from Wales. These outstanding features will help us to shorten the travel time to increase the capacity and to bring Wales to the forefront of technologies for intelligent electrification. "